Take a look out in your back yard. Does you above ground pool look lonely out there? All alone in the middle of your yard? Maybe it's time to give it some company, make getting in and out of the pool easier, and enhance your back yard while you're at it. Above ground pool decks can do all that and more.
But before you go out and buy a ton of lumber, you'll need to take a few things into consideration. If you're going to take on a project like this, you want to do it right from the get-go.
Benefits of Above Ground Pool Decks
Is a deck a necessary component of your swimming pool? Of course not. You can enjoy your pool just fine without a deck around it. But you may not have considered all the advantages to an above ground pool deck.
Getting in and Out is Easier
Right now, you're probably relying on a ladder to enter and exit your pool. Nothing wrong with that. They work well. But they may also make it a little more difficult for smaller kids and seniors to get in and out of the pool.
There's the ladder on the outside of the pool, then they have to go down a second ladder inside the pool. This can be taxing. It's much easier to step directly from a deck onto the in-pool ladder.
Bonus Benefit: Your family and friends can sit down on the deck and dangle their feet in the water if they just want to cool off without swimming.
Your Yard Will Look Nicer
A nice wood deck can just be a beautiful addition to any back yard. Aside from the deck's appearance, though, it can keep your actual yard looking better.
Between splashout and weather, if you haven't installed hardy above ground pool landscaping, there's nothing to keep the ground around your pool from quickly becoming a major muddy mess. Then swimmers have to step into that area before they climb the ladder to get into the pool, which means they could be bringing dirt and mud into the pool with them. Yuck.
Above ground pool decks do away with this problem. There's no need to step on the ground at all before getting into the pool, which helps keep the water clean.
And you don't have to build a raised deck to see this benefit, either. You could surround your pool with ground-level decking, which can both save your yard and look beautiful.
Bonus Benefit: This also means your sanitizer doesn't have to work as hard, and can last longer, saving you time and money.
You Can Create Built-In Seating
If you're going to spend the time and money to build your own above ground pool deck, why not buy a few extra pieces of lumber to create seating too?
It doesn't even have to be fancy. Simple benches will work, and you can even add a table or two if you like. Cover the hardwood with patio cushions and you can add both comfort and color to your deck.
Bonus Benefit: Good quality patio furniture can be expensive. Spend a little more on your deck, what you would've spent on furniture can go to some other backyard amenity like a gas grill or a patio umbrella.
Above Ground Pool Deck Materials
The first thing that pops into your head when you think of an outdoor deck is probably wood. But did you know you have another option?
Wood
This is the most common material used to build decks, and the types of wood most often used are cedar, redwood, and pressure-treated wood. They're strong, cost-effective, and you can stain or paint them any color you like.
Wood does have some drawbacks, though. Over time, the stain will fade under ultraviolet (UV) light exposure. And if you don't take good care of a wood deck, it will eventually start to become weak, warp, and rot.
Frustrated by adding chemicals and trying to keep your pool clear all the time?
We cut out all the confusion of pool maintenance in this easy-to-read illustrated ebook and video course. It'll help you save $100 right away on pool care!
Click Here to Learn More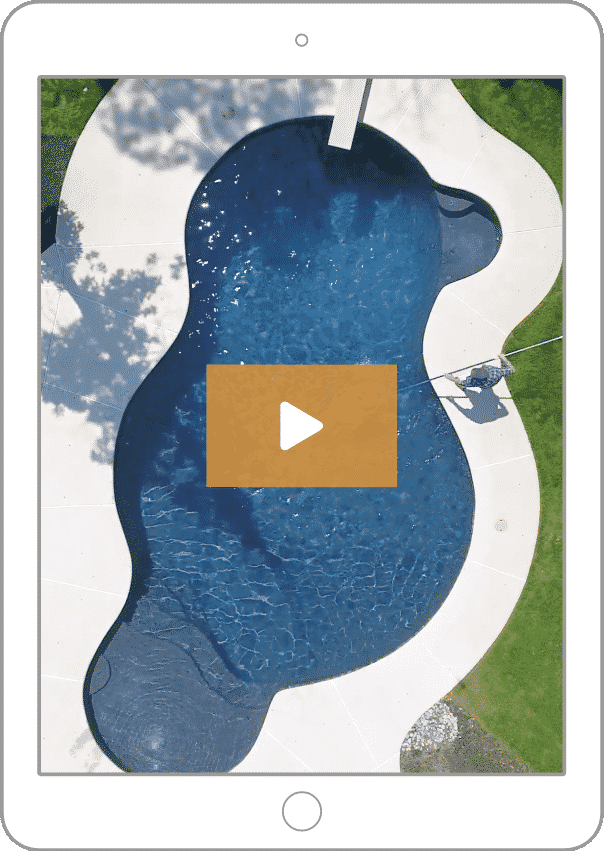 Another problem is, when wood stays damp, it can grow mold, which can also weaken it while also making it look terrible. You can try mold inhibitor, but sealing it is a much better preventive measure.
Finally, just one word: splinters.
Still, as long as you take the time and put in the effort to care for it, a wood above ground pool deck can last you for decades.
Composite
Like wood, but better, for a few reasons. Composite, as its name suggests, is made of a blend of recycled wood. Some brands add recycled plastic for more strength and durability. This preserves trees, makes the composite strong, and helps it last longer than regular wood.
Composite resists fading, splintering, and mold. It may also come prestained and oiled so you don't have to do the work of staining or waterproofing it. And it has a wood-grain pattern so you get the beauty of wood without the maintenance.
Prices will vary from brand to brand, so do your homework to find the most affordable and cost-effective option for you and your pool.
Caring for Above Ground Pool Decks
An outdoor deck needs protection from the elements. But a deck around a pool filled with chemical-laden water needs even more.
Seal Your Deck
If you build your own wood deck, and if you decide to stain it, you'll need to seal it. Being constantly bombarded with water, whether from the pool or the sky, your beautiful stained deck is going to look gray and ashy in no time. Use a high-quality sealant to keep the beauty in and the water out.
Some sealants also include UV protection to offer even more protection against the sun's rays. Check
Also remember that sealant doesn't last forever. While it's doing its job of protecting your above ground pool deck, it's taking a beating, and will eventually start to wear out. How often you need to reseal your deck will depend on the weather where you are, and how much wear and tear your deck sees. Keep an eye on its condition so you can reseal it before the wood suffers too much exposure.
Use Paint Made for the Outdoors
This one seems like a no-brainer, right? Until you buy a house and find out the previous owner painted the entire interior with matte outdoor paint. So apparently, some people need to know that there's indoor paint, and there's outdoor paint.
If you decide to paint your deck rather than leave the wood natural or stain it, be sure to choose an outdoor paint. It's made to stand up to harsh sunlight and rain beating down on it and not crack or flake at the first sign of winter. It will also seal the wood, meaning you don't have to put a sealant over the paint.
Keep it Clean
What? Why should you have to clean a deck that's constantly being splashed by chlorinated water?
Because it's constantly being splashed by chlorinated water. The sanitizer and other chemicals in your pool water will take a toll on your above ground pool deck, whether it's made of wood or composite. Plus, there's just dirt and pollen flying around, dead bugs, grass, and the inevitable spills that will happen when you have friends over for a cookout.
Sealant will help wood stand up to all of those things, but keeping it clean will help the sealant last longer. Sometimes, just hosing off the deck will be enough to combat dirt and stray bits of grass. If you have a tougher dirt dilemmas, follow the sealant's instructions for cleaning to make sure you don't damage the surface of your deck.
Also in the plus column for composite, it can be easier to clean than wood. For most dirt and spills, all it takes is spraying it down with a garden hose. For more stubborn dirt or grease, you can use a power washer (no greater than 3,100 psi), then give it a gentle scrub with a soft-bristled brush.
All Hands on Deck!
What are you waiting for? A mud pit to form around your pool so you can wrassle? That's just asking for trouble. Start planning your above ground pool deck now. There's never a bad time to beautify your yard, and make your pool area safer and more sanitary.
Happy Swimming!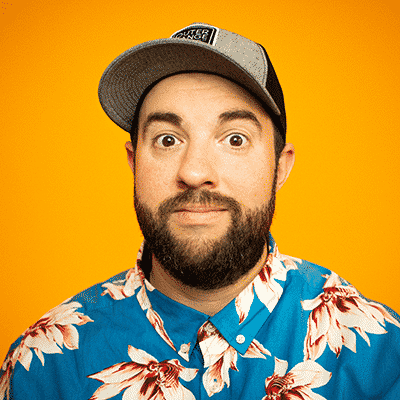 Matt Giovanisci is the founder of Swim University® and has been in the pool and spa industry since 1995. Since then, his mission is to make pool and hot tub care easy for everyone. And each year, he continues to help more people with water chemistry, cleaning, and troubleshooting.
A Cheat Sheet For Perfectly Balanced Pool Water and Crystal Clear Swimming
Download this FREE printable cheat sheet to keep your pool clean and clear without any fuss. You'll never worry about your pool again with this easy-to-use guide.
Click Here For The FREE Cheat Sheet