Whether it's due to climate change, or the sun god Ra being angry about how we're polluting the planet, there's no denying it's hot outside. Even before summer officially arrives, your air conditioner is probably working overtime, and you've taken to standing in front of an open refrigerator just to "decide what to make for dinner."
Wouldn't it be nice to have a cool, clear pool to jump into? To float around in, relax, and escape Ra's brutal wrath? Of course it would! But what if you don't have an inground pool? Or a backhoe? That's where above ground pools come in! So you don't have to settle for competing with the kids for sprinkler time.
Above Ground Pools Make Summer Better
Let's be honest. Inground pools are wonderful, but they're expensive to install. If you buy a house without one, you could be looking at tens of thousands of dollars to have one built in your back yard. It may not be a priority if you need to do other things with your house like replace the siding, or renovate the interior. But that doesn't mean you have to spend your summer in the sweltering heat.
Above ground pools give you the best of both worlds—cool water to swim and splash around in at a fraction of the cost of installing an inground pool.
Tip: If you rent a home without an inground pool, an above ground pool could bring a lot of fun and summer relief to your family too. Just remember to talk to your landlord before you put one up. No, it's not digging a big hole in the ground, but it will kill the grass underneath it, and could be too heavy for some patios. There may also be liability insurance concerns for the landlord—and for you.
Once you decide it's a good solution for you, how do you choose the best above ground pool? What do you look for when making that purchase? They're not as expensive as inground pools, but they're not cheap like little plastic kiddie pools, either. You want to know what you'll be getting for your money before you spend it.
Above Ground Pool Types
Knowing what your pool is made of will help you care for it properly so it lasts longer. You'll also need to choose one that suits the space where you want to place it.
Resin Frame
Stronger and easier to care for than many other plastics, resin is used to make everything from patio furniture to jewelry, and hundreds of other products we use every day.
Resin is a more expensive construction material, but it's used to make frames for the best above ground pools because it:
is resistant to oxidation, which makes it resistant to rust and corrosion;
tolerates heat and moisture well, both of which can be damaging to other, weaker materials;
will last longer than many other materials that are exposed to the elements;
stands up to minor damage like dents, and resists warping in the hot sun; and
remains cool to the touch, even in the sun.
Steel Frame
Before resin came along, steel was the frame material of choice for above ground pools. Though resin does have some advantages over it, steel is still used for many pools because it:
is lightweight;
can be installed on a deck because it's lightweight;
can be easily bent into numerous shapes; and
is less expensive than resin.
Hybrid
Want the best features of both resin and steel? Then you want a hybrid above ground pool, which combines the two materials to:
be resistant to water and heat;
have the strong support steel provides;
be resistant to corrosion and rust; and
be resistant to discoloration and chipping.
Radiant
Have a little more money to spend, but still don't want the large expense of installing an inground pool? The radiant type will be the best above ground pool for you.
Sometimes called a semi-inground pool, a radiant pool can be partially installed into a slope or hill. This gives it the illusion of being an inground pool while still offering the benefits of an above ground pool, such as affordability and ease of installation.
Radiant pools can even look more like inground pools because they're available in shapes other than round or oval. This allows them to conform even more to the space they occupy, and look like a more natural part of the landscape.
If you're a true DIYer, you may even be able to install a radiant pool yourself. They come in kits with all the parts and hardware you need. If you're not comfortable with the idea of installing a pool into a hillside, though, you may want to seek the help of a pro.
Intex
Probably one of the best-known brands for above ground pools, Intex goes the extra mile by making more than just Intex pools.
The company offers filters, pumps, maintenance tools, and all kinds of accessories to go with their pools. And Intex pool setup is easy, though it'll be a lot easier if you have a friend to help.
Wondering how to take care of your brand-new above ground pool? Find all the tips and tricks in our handy Pool Care Handbook and Video Course!
Frustrated by adding chemicals and trying to keep your pool clear all the time?
We cut out all the confusion of pool maintenance in this easy-to-read illustrated ebook and video course. It'll help you save $100 right away on pool care!
Get Instant Access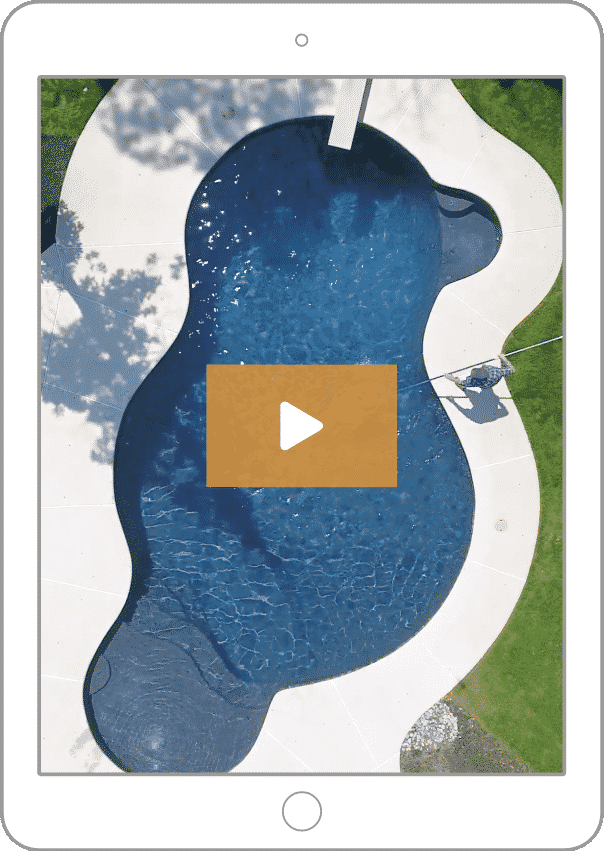 Above Ground Pool Features
Before you decide on your pool's features, you'll need to determine who'll be using it. Do you have children? Maybe the grandkids visit often? How old are they? And just as important, how tall are they?
If you're getting an above ground pool primarily for the kids to use, the pool's height is going to be one of the most important factors to take into account. Small children will be safer in a pool with lower walls
Important: Do not ever leave a child unattended in a pool, regardless of the pool's size or wall height. Children can drown in very small amounts of water—even just a few inches—especially if they fall, hit their head and are rendered unconscious. Two in ten people who die each day from drowning are children 14 or younger. To prevent tragedy, consider installing safety measures such as a fence and a pool alarm.
Once you've determined who'll be using the pool the most, you can consider that when choosing other features.
Size
Another major influence on this feature is going to be the size of your yard. You don't want the pool to take up every square inch of space, especially if the kids or your dog need room to run around. It'll also make it difficult to get around the pool for cleaning and maintenance.
If your neighborhood has a homeowners association, they may also have rules about how large an above ground pool in your yard can be. And some cities may also have ordinances about it.
Check with those organizations before you buy your pool. The last thing you want is to have the pool installed, filled with water, and ready to use, and then have to take it all down again, not to mention, pay a fine.
Shape
Most standard above ground pools are either round or oval. Some brands, such as Intex, also offer square and rectangular pools. And remember those radiant pools come in all kinds of shapes to look more like inground pools.
Depth
How deep your above ground pool is will depend on how high the walls are. Pool wall heights range from 42 inches high to 54 inches high.
Of course, pools with higher walls will hold more water. This is important to know, not just for safety, but also because it will affect the amount of pool chemicals you'll need to use to keep the water clean and balanced. Not to mention, it will just take more water to fill it, which will also contribute to the overall expense of the pool.
Above Ground Pool Liners
The outer frame isn't enough to hold the water in your pool. It would slowly seep out between the frame's joints, and you'd end up with quite a mess in your yard. You'll need a liner to keep the water in.
But an above ground pool liner does much more than that. It also protects the pool frame from being in constant contact with chemical-laden water, which can contribute to discoloration and corrosion, including rust, if you have a steel frame.
Tip: When you put your above ground pool together, make sure to get all the wrinkles out of the liner around the bottom of the pool. Once the pool is full of water, it'll be impossible to manipulate and adjust the liner floor, and wrinkled or puckered vinyl is very uncomfortable to walk on.
You can choose from four types of liners for above ground pools:
J-Hook: The top of this liner is thick and curved like a J, and hooks over the top of the wall, hence its name. It's also called a universal or unibead liner.
Beaded: Thick vinyl beads on the liner snap into a track along the pool's top rail.
Overlap: This liner gets its name from the way it overlaps the top edge of the pool, and is then secured with coping strips.
Expandable: As the name suggests, this type of liner can be expanded to custom depths or lengths in order to fit your pool, regardless of its shape and size.
Above Ground Pool Equipment
While they're similar to inground pools in a lot of ways, above ground pools also require slightly different care and some different equipment. This is especially important because of the soft vinyl liners they use, and the fact that there's no permanent plumbing installed.
Heater
Rather than trying to install a heater into the very short distance between the filter and the return jet, you'll find it much easier to heat your above ground pool with a solar pool heater.
Pump
Why would you need a different pump for an above ground pool? Because they're smaller than inground pools, and don't require as powerful a pump. You'll find that the best above ground pool pumps run on 1 to 1.5 horsepower, while some inground pumps offer up to 3 horsepower.
Filter
Your above ground pool's volume is much smaller than most inground pools, so you'll need a smaller filter. There's no sense in paying more money for a filter that's too large for your pool.
The key to choosing the right filter is to know how much water your pool holds, which you can easily figure out with a pool calculator.
Above Ground Pool Accessories
Again, due to their different size and the fact that they're not installed into the ground and surrounded by concrete, some of the pool accessories you use will need to be specific to above ground pools.
Ladder
While inground pools will only have ladders inside the pool, if you don't have a deck around your above ground pool, you'll need a ladder on the outside of it as well.
Trying to climb over the wall would not only be difficult, it could be dangerous. At best, you'd pull the wall down, and release several thousand gallons of water into your yard. At worst, you'd pull the pool down on top of yourself, and possibly be injured. Always use an above ground pool ladder to enter and exit your pool.
Important: Make sure any children who use your above ground pool know not to try to climb up the outside of it. They could be seriously injured if the wall gives way, or simply by falling to the ground. We reiterate the importance of never leaving a child unattended around any type of pool.
Above Ground Swimming Pool Ladder 42"
A Bestway® Pool Ladder is a great addition to your above ground pool for a safe and easy entry and exit. The 42" ladder features rust-resistant metal frames, heavy-duty steps and easy construction. For your swimming needs, a pool ladder by Bestway® is a must!
Buy Now On Amazon
If you click this link and make a purchase, we earn a commission at no additional cost to you.
Ladder Mat
Vinyl liners can be expensive, not to mention a hassle to replace since you'll have to completely empty the pool. Then you'll have to refill it and balance the water, which means a higher water bill, and more chemical expense.
Placing the in-pool ladder directly onto the liner can cause additional wear on the liner, or could even damage it. The solution is an above ground pool ladder mat. It provides a barrier between the ladder and the liner, and keeps the ladder from slipping while in use.
Fence
As hard as you try to keep an eye on your kids, it's difficult to do that every single moment. Turn your back for just a few seconds, and your toddler could be out the back door, and running straight for the pool. And that's just a tragedy waiting to happen.
Add a level of security by putting an above ground pool fence up. Be sure it has a locking gate, and make it even more secure by putting a pool alarm on the gate that sounds if it's opened when it should be closed.
In some cities, you may be required to have a fence around your pool as well. Be sure to check with your local government to ensure you're in compliance.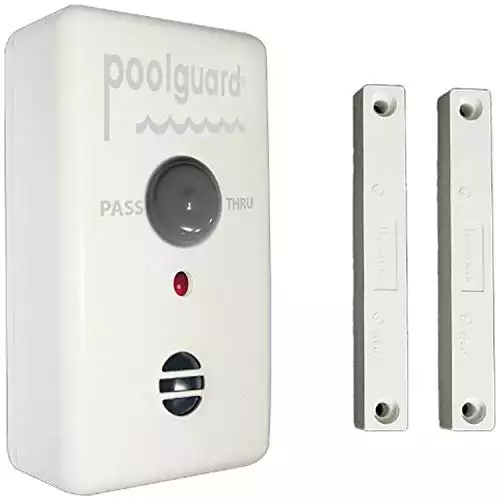 PoolGuard Outdoor Pool Gate Alarm
Made for any gate, outside door, or screen, this alarm protects access to your pool. The alarm automatically resets and is always on, preventing anyone from accidentally leaving your gate open for children or pets to wander to your pool.
Buy Now On Amazon
If you click this link and make a purchase, we earn a commission at no additional cost to you.
Cleaning Supplies
The vinyl liner in an above ground pool is much more vulnerable to damage than the one in an inground pool. You'll need to use cleaning equipment made specifically to keep that damage from happening.
Automatic Cleaner
While it takes the drudgery out of pool cleaning for you, an above ground pool automatic cleaner is also gentle on the liner and walls of the pool.
Our Top Pick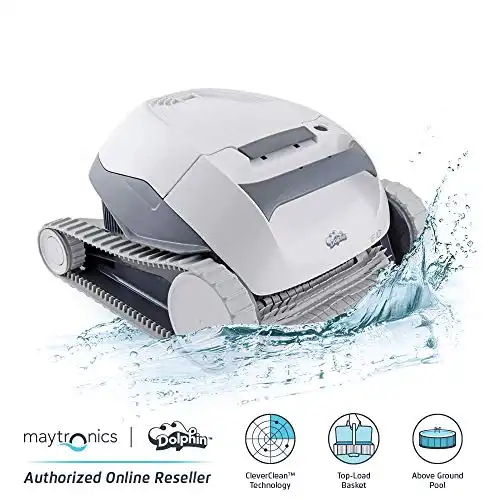 Handheld Vacuum
Use too powerful a pool vacuum on an above ground pool liner, and you risk damaging it, possibly beyond repair. You also don't need to use the long telescopic pole you'd use for an inground pool. You'll find a handheld vacuum will be just the right size for your shallower pool.
Here's our guide on how to vacuum an above ground pool manually.
Get Ready to Beat the Heat!
Stop spending your time peeking over the neighbor's fence, staring longingly at their inground pool. It'll just make you sad. It also makes you creepy. Get an above ground pool instead, and then enjoy a nice, cool swim in your own back yard anytime you like.
Happy Swimming!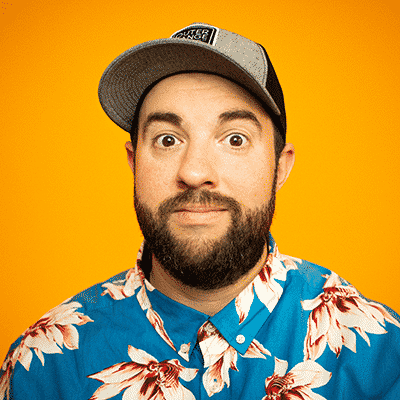 Matt Giovanisci is the founder of Swim University® and has been in the pool and spa industry since 1995. Since then, his mission is to make pool and hot tub care easy for everyone. And each year, he continues to help more people with water chemistry, cleaning, and troubleshooting.