Look at it. Your hot tub. Sitting out there all by itself looking naked. Every part of the cabinet exposed to the elements. It looks lonely, doesn't it? Maybe a little forlorn? You can't exactly wrap it up in a bankie. So what can you do to make your outdoor hot tub more attractive and easier to use? Install a hot tub deck.
What's that? You already have a deck? Well you could just use that—maybe. Or maybe that would be asking for all kinds of trouble. Before you go to all the trouble of moving your hot tub or putting a spa deck around it, you need to make sure you do it right the first time. Otherwise, you're just wasting money, and possibly creating a dangerous situation.
Hot Tub Deck Types
You have two options when installing decking for your spa.
Support Deck
This looks like a regular deck you might have connected to the back of your home, and the hot tub sits on top of it. It might be just a few inches off the ground, or elevated by several feet, with crawlspace below it.
That space is important because it will give you access to your spa's cabinet and the equipment inside. You can't properly maintain a hot tub if you can't get into the cabinet. It'll also make it easier to access the drain plug when it comes time to change the spa water.
Surround Deck
You've seen hot tubs that look like they're sunken into a deck, with just the top few inches exposed, with winding paths of decking around it. This kind of spa deck can be a simple square around your spa, or get into some pretty elaborate designs with steps, benches, planters, and all kinds of features.
But a surround deck may not completely surround the spa. It may only connect with one, two, or three sides of it, or just part of a round hot tub. The top of the deck may also be a little lower than the top of the spa, or possibly even a couple of inches higher.
It all depends on the space your hot tub occupies, and what kind of look and functionality you want. The possibilities are endless if you have a good design and the time and money to implement it.
Do I Need a Special Hot Tub Deck?
Perhaps you're thinking, "But what about the deck I already have in your back yard? The one where I do all your grilling and hanging out on weekends? Can't i just put a hot tub on top of that deck and call it a day?"
It depends. Do you want to be able to use your hot tub, or do you want it to completely destroy your deck and cost you thousands of dollars in repairs? Easy answer, right?
Here's the thing. When you build a backyard deck, it's made to withstand the weight of some patio furniture, maybe a grill, and people walking and sitting on it. Now think about:
Empty Hot Tub Weight: A spa can weigh about 600 pounds (272 kilograms) or more, depending on the size.
Filled Hot Tub Weight: Some hot tub models hold about 400 gallons of water. One gallon of water weighs 8.34 pounds (3.8 kilograms).
Bather Weight: Let's say one person weighs an average of 150 pounds (68 kilograms).
Let's do a little math.
empty hot tub weight + water weight + four bathers
600 lbs. + 3,336 lbs. + 600 lbs. = 4,536 lbs.
272 kg. + 1,520 kg. + 272 kg. = 2,064 kg.
So the deck originally meant to withstand a few hundred pounds now suddenly has to hold up a few thousand more. You see the problem.
Now, this isn't to say you absolutely can't use that deck. You can—if you take certain precautions.
Tired of trying to keep your hot tub clean all the time and dealing with chemicals?
You'll save $100 right away with this easy-to-follow digital ebook and video course. This is the ultimate maintenance guide that hot tub manufacturer doesn't provide you.
Get Instant Access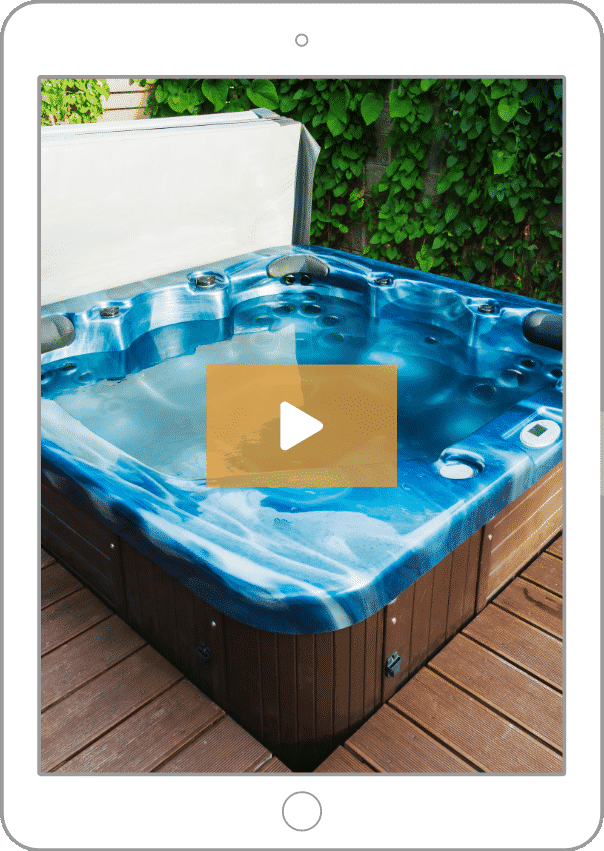 Using Your Existing Deck
You can put a hot tub on your backyard deck. It just needs to be reinforced.
The first thing to do is consult with an engineer. This isn't like other DIY projects. We're talking about making sure your deck can withstand thousands of pounds of spa, water, and people.
Reinforcement must be done absolutely correctly, or you run the risk of damaging your hot tub and your deck. Worse, if an accident occurred, you, your family, or your friends could be injured.
An engineer will be able to make all the necessary measurements and calculations, and provide a plan to properly reinforce the deck. They'll also tell you what materials to buy, such as lumber for new joists, ledger board fasteners, wood screws, and anything else you'll need.
If you're handy with tools, you can follow the engineer's plan and reinforce the deck yourself. Or, if you're not comfortable with the job, you can always hire a pro.
Important: We can't stress strongly enough how imperative it is to consult with a professional engineer before undertaking this project yourself. For this reason, we're not going to list a step-by-step process for hot tub deck reinforcement. We're not engineers, and we want you to take the necessary steps to keep yourself and anyone who uses your deck or hot tub safe.
Note: If your deck is just a few inches off the ground, you may be able to put a hot tub on it without any reinforcement. Emphasis on the may. Your best bet is to still consult with an engineer to make sure. Spas are expensive. You don't want to damage yours when it can be so easily avoided.
Installing a Custom Surround Deck
If you have the know-how, the time, and the inclination, you can build a custom surround deck yourself. The benefits to this are you don't need to worry about it holding the weight of a full hot tub, and you'll be able to create a deck system that offers everything you want and need.
Space for a deck box to hold towels and other hot tub accessories? Sure! Built-in planters for nice flowers and plants to add to the ambience? Absolutely! A diving platform? Whoa, too far. Leave the diving for the pool, OK?
A quick online search will lead you to deck design tools and free deck plans that you can either use out of the box, or as a starting point for your own custom design.
Spa Deck Materials
Before you either build a spa deck or have one built for you, you'll need to decide what material you want to use.
Wood
Well, of course. Most decks are made from some kind of wood. They're sturdy and can last a long time—if they're properly maintained.
A wood hot tub deck will need to be painted, stained, or sealed to prevent water damage. Moisture will discolor the wood, but more importantly, will cause it to warp and weaken over time, or possibly even rot.
And it won't be enough to pain or seal it once. You'll need to repaint and reseal from time to time. But before you can do that, you'll have to remove the old paint or sealant, usually by sanding it off. It's a lot of work, but can be worth it for the look real wood offers.
Eventually, though, no matter how vigilant you are about maintenance, you'll likely have to replace some or all of the wood. It can only take so much exposure to water and weather before it starts to give out.
Composite
The beauty of wood without the upkeep, that's composite. A mixture of approximately equal parts recycled wood fibers and recycled plastic, composite decking is impervious to rot, and will last much longer than a real wood deck.
You'll never have to paint, stain, sand, or seal composite, either, and you won't need to worry about warping or discoloration. Just hose it off regularly, and if it gets really dirty, scrub it with a mild soap and a soft-bristled brush.
Composite costs more up front than wood, but it more than makes up for it in lifespan and low need for maintenance.

Simple Green All-Purpose Cleaner
Revolutionary, all-purpose cleaner. Strong enough to degrease your cars engine, yet gentle enough to remove stains from fine fabrics.
Buy Now On Amazon
If you click this link and make a purchase, we earn a commission at no additional cost to you.
Concrete
You can completely do away with the concern about whether your deck can hold a full spa by placing it on a concrete pad. This includes your patio. As long as it's not cracked or otherwise damaged, your back patio may be able to accommodate your hot tub.
There's that may again.
Concrete weakens over time. If your home is relatively new, the patio is likely strong enough to withstand the weight of a full hot tub. But if you live in an older home, and the earth has shifted under the patio, putting a spa on it could damage both the patio and the hot tub.
So you know what we're going to recommend? That's right—talk to an engineer. Make sure your patio is stable enough to hold it before you put your spa on it. And if it's not, you can either replace it, or have a new concrete pad installed just for the hot tub.
Also, if you're going to place your hot tub on a concrete pad, you may want to seal the pad first.
Gorilla Waterproof Seal Liquid
Gorilla Waterproof Patch and Seal Spray is a flexible, rubberized coating that seals out water, air and moisture to stop and prevent leaks.
Buy Now On Amazon
If you click this link and make a purchase, we earn a commission at no additional cost to you.
Should You Go Pro?
If you're not the handiest person with a hammer and nails, or you simply don't have the time to get out in the back yard and build your own spa deck, you can hire a professional to do it for you.
Make sure you get a pro who specializes in hot tub decks so all the weight considerations aren't neglected, and safety is the primary concern.
Will you spend more than if you'd bought the materials and built it yourself? Probably. It's a tradeoff to spend your time on other pursuits, or have it done professionally and not worry the deck is going to collapse every time you step into your hot tub. That peace of mind alone is worth the added expense.
Deck the Hot Tubs!
Just not with boughs of holly. You keep all that green stuff out of your spa. Instead, add a nice hot tub deck to your backyard setup, and relax in style.
Happy Soaking!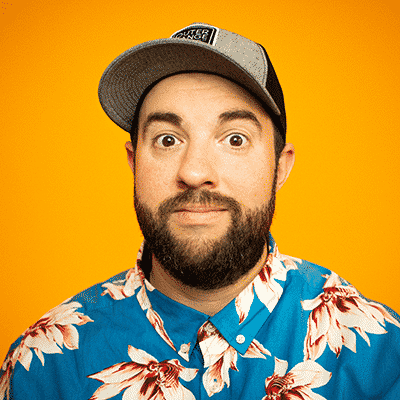 Matt Giovanisci is the founder of Swim University® and has been in the pool and spa industry since 1995. Since then, his mission is to make pool and hot tub care easy for everyone. And each year, he continues to help more people with water chemistry, cleaning, and troubleshooting.