There's your hot tub, sitting out in the open on your patio or deck, inviting nosy neighbors to peek in on you. Not exactly the relaxing environment you'd hoped for. You could fix it with a spa enclosure. Maybe you've imagined something rustic with stone detail. Maybe you love the look of silky drapes flowing in the breeze. But do you know whether a hot tub gazebo, a pergola, or a solarium would best allow you to enjoy fresh air while you soak? Are you sure the spot where you'd like to put up privacy screens won't amplify the sound of your spa motor?
Though it's not exactly rocket science, choosing the best enclosure for your yard involves a few considerations you might not have thought of yet. From keeping you cool to protecting you from your neighbors' prying eyes, choosing the best spa enclosure will increase your enjoyment of your spa tenfold, or maybe even twelvefold, but who's counting?
Hot Tub Gazebos and Other Enclosures
Whether you're new to spa ownership or you've had one sitting on your deck for years, you may be surprised by the wide variety of enclosures available.
Gazebos
A popular way to add a roof over your spa and create a bit of privacy is with a gazebo. They can comprise a wooden roof on stilts, metal panels with screens, or even stone pillars. That's just a few of many possibilities.
Build one right in your yard or get a prefabricated version. Some gazebos are even designed to be (somewhat) portable. You won't want to try to fit one in your back pocket, but it won't need to be cemented into place, either.
Hot tub gazebos can be small enough to cover little more than a spa or large enough to create an outdoor room with other furniture, lighting, and decor. You may incorporate yours into an existing pool and spa deck or patio area, but your yard doesn't need to look like a water park for a gazebo to work for you. Prices run the gamut, so you're likely to find one in your budget.
Outdoor Hardtop Gazebo
Size: 12' X 16'. Outstanding teak-finish powder-coated aluminum frame, sturdy for 4 seasons of use, always catches your eye.
Buy Now On Amazon
If you click this link and make a purchase, we earn a commission at no additional cost to you.
Pergolas
The main difference between a hot tub gazebo and a pergola is the roof. The latter typically just has slats of wood, rather than a solid roof. Your pergola could have screens, glass panels, metal shingles, vines and flowering plants, fabric drapes, or any combination of those to add more privacy and style to the standard pergola design.
Pergolas add shade while allowing air flow. They tend to be more open than gazebos, but that can sometimes just be a matter of design. You can add what's called a pergola canopy, which is a flat fabric panel that can be secured across the sides and roof of your pergola.
If you're looking for something with solid walls or a lot of privacy, a pergola probably isn't for you.
Outdoor Retractable Pergola
Featuring an adjustable canopy for customizable shade, a sturdy, rustproof aluminum frame with a natural wood finish, and a durable, water & UV resistant polyester canopy, this retractable pergola offers the perfect party space outside, adding elegance and ambiance to your garden, pool, deck, patio, or yard.
Buy Now On Amazon
If you click this link and make a purchase, we earn a commission at no additional cost to you.
Privacy Screens
Cut down wind and street noise, and create a bit more intimacy in your spa without hiring a contractor or spending a fortune by using privacy screens. You could build permanent privacy screen–style walls around your spa, but if you're on a budget, regular ol' outdoor privacy screens will do the trick.
Wicker, treated lumber, and resin privacy screens designed to hold up to outdoor weather are perfect for hot tub privacy. They're portable and collapsible, so you can adjust them when the sun moves or remove them entirely whenever you wish. You won't spend nearly as much on privacy screens as you would on building a pergola or having a solarium installed.
If you've got a portable hot tub and you're looking for equally temporary shade and privacy, a few of these screens will do nicely.
Solariums
Commonly called sun rooms, solariums are rooms designed with lots of windows to maximize sunlight. Build your own with a kit or from scratch, hire a contractor, or split the difference and have a pro install a prefabricated solarium. You could even use a greenhouse kit as a Do-It-Yourself hot tub enclosure, as long as you live in a region that doesn't get too hot.
Solariums designed specifically as hot tub enclosures boast features such as retractable sections and built-in sun shades that make them a little extra convenient and comfortable.
Combination Gazebos and Automatic Covers
Ah, technology. The source of delightfully simple microwave popcorn, but also painfully complicated "smart" devices. In the world of hot tub enclosures, you can thank technology for gazebos that fold down into spa covers at the turn of a key. One moment, a roof overhead; the next, a safety cover for your hot tub.
Like standard gazebos, the combo version can have pull-down shades for extra sun protection. Like your standard spa safety cover, it can close down tightly to protect your hot tub and keep loved ones safe through the winter season.
Indoor Rooms
If you're a talented builder and hardcore DIYer, or you prefer to hire a contractor, this is the most permanent solution to making your hot tub usable year-round.
You must take some special considerations into account if you choose this route, such as floor drainage in case of overflow, and proper ventilation. It's obviously not a space where you'd want to hang wallpaper, that is, unless you enjoy that peeling-walls look.
For similar reasons, you won't want to install a hot tub in your garage without some serious planning and precautions.
Hot Tub Enclosure Benefits
Though a spa enclosure isn't necessary to owning or enjoying your spa, it can have several perks. Some may even save you money in the long run.
Privacy
Whichever style you choose, having an enclosure around your spa will keep nosy neighbors and street sounds at bay. If one of the main concerns you'd like to address with a hot tub enclosure is privacy, consider whether you want permanent, solid panels between your spa and a specific spot, such as your next-door neighbor's kitchen window. Shades or drapes may work best when you want situational privacy.
Adding walls around your hot tub may also amplify the normal sounds your spa makes. Under most circumstances this won't be a big deal. But if you put a loud motor in a small space, it just might drive you bonkers.
While you're planning the best placement for privacy, remember you might need to consider noises inside your spa enclosure, too.
Spa Protection
Putting a roof over your spa protects it from sun and weather, sure. But it also helps protect the cabinet around it, the water inside, and even your hot tub cover.
Protecting your spa and cabinet from the damaging effects of direct sunlight, snow, and wind can prolong its lifespan. When your hot tub is uncovered, the water evaporates more quickly, which means you'll have to continually add water and chemicals.
An open spa's water chemistry is also subjected to sunshine, which can deplete the sanitizer. Not to mention, leaves, dirt, and sometimes animal-introduced contaminants that also deplete sanitizer, cause pH imbalances, and may even allow algae or infection-causing biofilm to flourish.
Reducing your spa's exposure to the elements with a hot tub gazebo or enclosure may reduce your need for chemicals, vinyl repairs, spa cover replacements, extra water, and other spa-related expenses. Protecting your spa with the enclosure of your choice can save you time and money.
People Protection
You can expect some shade from your hot tub gazebo, but depending on your needs, the right enclosure also protects you from rain and snow so you can use your hot tub year-round.
Some enclosures can also help your hot tub retain heat so you can hop in whenever you want to without waiting forever for the water to heat up.
Tired of trying to keep your hot tub clean all the time and dealing with chemicals?
You'll save $100 right away with this easy-to-follow digital ebook and video course. This is the ultimate maintenance guide that hot tub manufacturer doesn't provide you.
Get Instant Access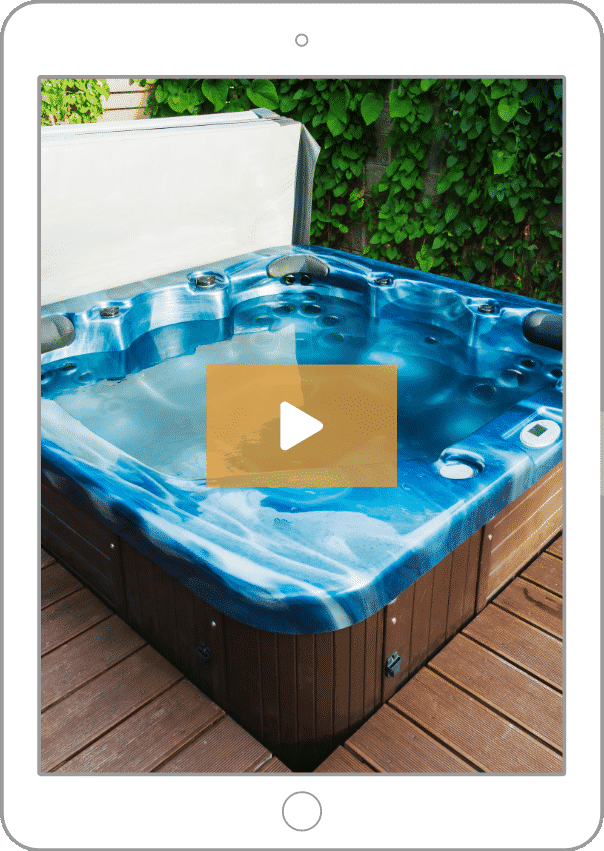 Installation Considerations
You've chosen the hot tub gazebo or enclosure that best suits your needs and taste. Now consider a few more important details before you throw down your credit card.
Winter Weather
Are you using your spa during very cold weather? A hot tub gazebo will do a better job of sheltering you and your spa from wind, rain, and snow than a pergola will, making for much more enjoyable winter hot tubbing.
A solarium or interior room will be even better, though there's something to be said for soaking in a steamy hot tub while delicate, fluffy snowflakes fall all around you.
Proper Ventilation
Hot water produces steam, so any enclosure you choose needs a place for heat and humidity to escape. If the steam is trapped, you could wind up with mold, mildew, rust, or other moisture damage.
Keeping indoor relative humidity below 60 percent helps prevent moisture problems, such as mold. Depending on your enclosure, ventilation might be as simple as pulling back a curtain or as complicated as installing windows or a ventilator fan.
Drainage
This is mostly a concern if you place your hot tub indoors. In the event of overfills or splashout, you need somewhere for the water to go. Sealed concrete floors with drains will be preferable to carpet or wood, and if you don't already have them, are you willing to build them, or pay to have them built?
Building Permits
Adding a structure to your property usually requires a permit from your city. The exact department or entity you'll need to submit your application to varies by location, but going to your city's website and searching for "building permit" is a good way to find the information you'll need.
If that isn't an option for you, visit or call your town hall or city hall. The clerks in your city office should be able to point you in the right direction for correct permitting information.
Building Codes
Just because you got a permit that said you were allowed to build a structure for your hot tub doesn't mean you can build it any old way you want to, with the cheapest materials, and by cutting corners to save a few bucks.
Playing it fast and loose that way will end up costing you a lot more in the long run when a city inspector comes by and fines you for your structure not being up to code.
Elbow Room
When deciding how much room you need inside a spa enclosure, don't forget you'll want space beyond the sides of your spa. Properly cleaning your hot tub, using a cover lifter, and even just a towel shelf all require space larger than your hot tub dimensions.
Plus, you and your guests need room to get in and out of the spa comfortably and safely. Remember to account for the necessary extra space when deciding on what kind of enclosure to get, and where to put it.
Hot Tub Enclosure Aesthetic
The overall look of your backyard, and the look and feel from inside your spa are both important considerations in choosing a design that works well in your space. If you're not going to hire a designer to make the choice for you, a few tips can help you make the best design choices.
Architectural Elements
Does your home have a modern design? It might look funny, then, to build a hot tub pergola with massive roman columns. Choose a design that complements the structures you already have in your backyard to avoid a distracting eyesore, not to mention a tangle with the homeowners association.
Space
Will you be adding furniture, plants, or other items to your hot tub enclosure? Might you choose to do so a year from now? It's best to start with a big enough area than to try to add space later.
Function
To achieve a welcoming look and feel to your spa enclosure, function is still an important consideration. You can build a beautiful pergola, but if you live in a rainy region, and that pergola doesn't shield you and your spa from precipitation, is it really the best choice?
Don't Let the Walls Come Tumbling Down
Adding an enclosure around your hot tub has virtually no downsides, as long as you remember to account for things like ventilation, drainage, and space. Hot tub gazebos and other enclosures offer privacy and protection you just can't get from plopping a hot tub on your open deck.
Choose materials made to withstand the elements so your hot tub enclosure will last, but be sure to build and install it correctly—or hire a professional who can. Even the sturdiest materials won't make a difference if your enclosure can't stand up to a slight breeze. The last thing you want is a structure that collapses on your head while you're trying to relax. No one wants to be that relaxed.
Happy Soaking!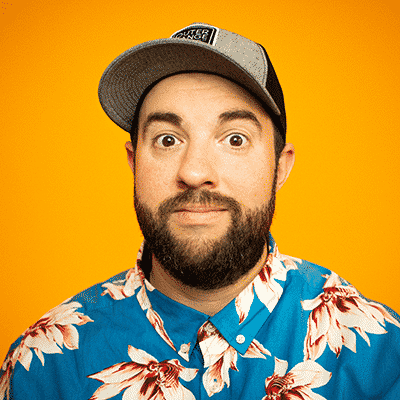 Matt Giovanisci is the founder of Swim University® and has been in the pool and spa industry since 1995. Since then, his mission is to make pool and hot tub care easy for everyone. And each year, he continues to help more people with water chemistry, cleaning, and troubleshooting.