There's a lot of information in your life you can rattle off from memory. Your social security number. The lyrics to your favorite song. That passage from Macbeth you had to memorize to pass high school English. OK, some pieces are more useful than others.
But we're willing to bet how many gallons of water are in your hot tub is not one of those bits of data you have at the ready. Actually, have you ever known how many gallons are in your hot tub? Well, it's high time you figured it out.
Why You Need to Know How Many Gallons of Water Are in Your Hot Tub
One word: chemicals. How can you possibly know how much chlorine—or any other chemical you use to care for your spa water—to add to your hot tub if you don't know how much water is in the hot tub? You can't.
Without that information, you're either adding too little sanitizer and soaking in dirty water, or you're adding too much, which means you're bleaching out your swimsuit and drying out your skin.
Knowing how many gallons are in your hot tub is absolutely necessary to know how much of any chemical to add.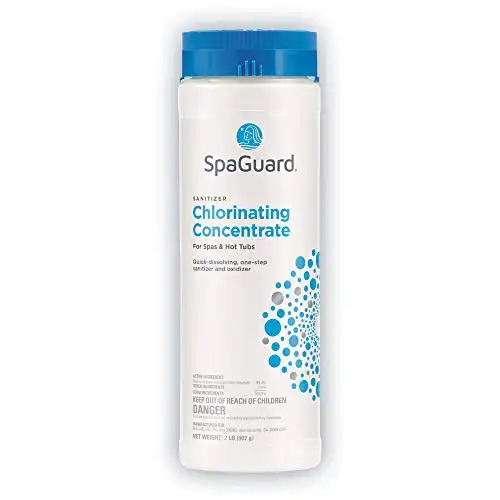 SpaGuard Hot Tub Granular Chlorine - 2 lbs.
This granular, stabilized chlorine is fast-acting and quick-dissolving. You can add it directly to your hot tub water. Because this product contains CYA (stabilizer), it's best used in outdoor hot tubs that are exposed to UV rays.
Buy Now
If you click this link and make a purchase, we earn a commission at no additional cost to you.
How to Determine How Many Gallons Are in Your Hot Tub
The first step is to know the make and model of your hot tub. Got it? Good. You're halfway there.
Consult The Manual
Well, duh. This is, of course, your first stop. The manual will tell you everything you need to know about your hot tub, including how many gallons of water it holds.
But you may not have the manual. Maybe you lost it, or maybe the hot tub came with the house you bought, and the owner didn't leave the manual behind. If that's the case, you'll need to do a little research.
Tired of trying to keep your hot tub clean all the time and dealing with chemicals?
You'll save $100 right away with this easy-to-follow digital ebook and video course. This is the ultimate maintenance guide that hot tub manufacturer doesn't provide you.
Get Instant Access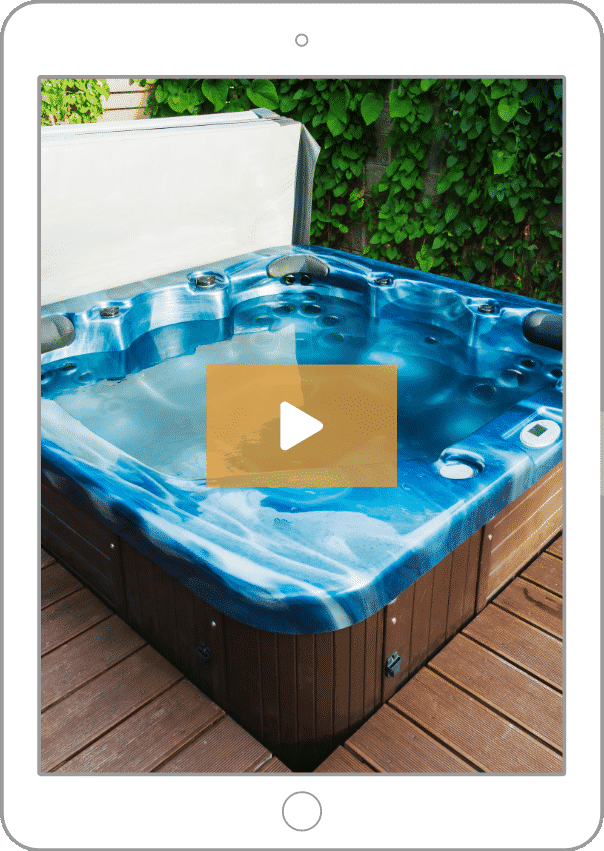 Google It
Before you fire up the computer, you need a little information to help you in your search.
Remove the panel from your hot tub, the spot that gives you access to the inside of the spa. Inside, you should find a serial or model number.
Write down the numbers you see, or snap a photo with your phone or camera.
Next, do a search. Start by entering words like hot tub gallons, hot tub volume, or hot tub capacity. Then add the numbers you found inside the spa. You may have to try a few combinations, but if you're lucky, you'll find a website with your hot tub's specs, or maybe even the manual, which you can save or print to have handy later.
If you come up empty, you still have options.
Call the Spa Dealership
If you bought your hot tub rather than inheriting it when you bought or rented your home, call up the store and ask them to help you. Someone in the store should definitely be able to recite that information off the top of their head.
If, by some odd chance, no one knows (or maybe they just don't sell that make and model anymore), you have one option left.
Our Top Pick
Intex PureSpa 6-Person Inflatable Hot Tub with 170 Jets
Pampering up to 6 people is easier than ever with 170 soothing high-powered jets that give you the ultimate spa experience in relaxing water up to 104 F (40 C). Includes a wireless touch button control panel with up to 48 hours of wireless operation. Plus a built-in hard water treatment system makes water gentler on your skin, clothes, and the entire spa system.
Buy Now
If you click this link and make a purchase, we earn a commission at no additional cost to you.
09/19/2023 02:27 am GMT
Call the Manufacturer
If all else fails, and you just can't find the information anywhere, call the company that made your hot tub. You should be able to find their phone number on their website. Also ask them where you can find a copy of the manual so you have it handy for future questions.
While you have them on the phone, you may want to mention to them that this was your last resort, and the information needs to be readily available somewhere. Their customers can't add the right amount of chemicals if they don't know how much water is in the hot tub.
Now Your Hot Tub Will Be Juuust Right
No longer will you have to eyeball water care chemicals. By knowing how many gallons of water are in your hot tub, you can add the proper amount of chlorine and other chemicals, and gain the peace of mind to fully enjoy your soak.
Happy Soaking!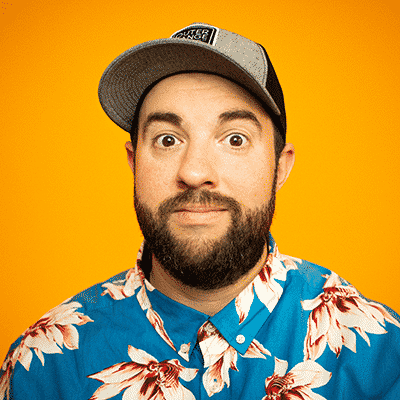 Matt Giovanisci is the founder of Swim University® and has been in the pool and spa industry since 1995. Since then, his mission is to make pool and hot tub care easy for everyone. And each year, he continues to help more people with water chemistry, cleaning, and troubleshooting.