Do you know what kind of hot tub you own? Do you know the make and model of it? Before you add chemicals to your hot tub, you at least need to know how much water it holds in gallons.
I have two methods for finding out all the information you need to know about your hot tub so you can properly take care of it.
Method #1: Consult The Manual For Gallons in a Hot Tub
This is going to sound like a no-brainer. Of course, if you have the manual, you should know what hot tub you own. However, you might not have the manual, but if you know where you bought the tub from, you can call the place where you bought it. They would have all the details on the model you purchased.
A good idea is to call the place where you bought it from to see if they can send you a PDF version of the manual, or at least just tell you over the phone how many gallons are in your hot tub. But if that fails, you can always use…
Method #2: The Google Method
Another method I recently performed for a customer was what I like to call "The Google Method." Just like the name implies, it involves using the internet and the Google search engine.
First, remove the front panel of your hot tub (the side where you're control panel is located). Inside you should find a serial or model number. Write down every number you see, or take pictures with your phone or camera. Here is some examples:
By entering these numbers into Google's search engine, you should be able to narrow down what hot tub you own. You might even find a site that lists the water capacity and other specs. The goal is to find the brand name and model you have. If necessary, you can call the manufacturer, and they can help you determine what hot tub you have.
This may even help you find the PDF manual from the manufacturer's website. I would exhaust every other option, both online and off-line, before taking the panels off of your hot tub.
Again, I recommend you write down everything you need to know about your hot tub. The most important spec is the water capacity (how much water your hot tub holds) so you can determine the amount of chemicals you need to add.
Happy Soaking!
Matt Giovanisci, the founder of Swim University®, started in the pool and spa industry at age 13 and moved to bigger companies along the way, helping thousands of pool and hot tub owners every year. He wanted to share his knowledge and unique teaching style on a larger scale, so he launched Swim University® in 2007. Since then, he's worked to make pool and hot tub care easy for over 10 million homeowners. And each year, he continues to help more people with water chemistry, cleaning, and troubleshooting.
Learn How to Keep Your Hot Tub Clean and Clear All Year Long
You'll save $100 right away with this easy-to-follow digital ebook and video course. This is the guide that hot tub manufacturer doesn't provide you.
Click here to learn more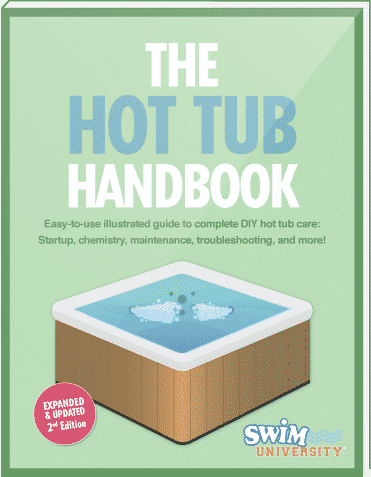 Subscribe To Our FREE Hot Tub Owner Newsletter
By entering your email address you agree to get a weekly email newsletter from Swim University. We'll respect your privacy and unsubscribe at any time.