Harsh winter weather can take a toll on your pool cover. And if you're not careful, it will fail, letting all kinds of nasty stuff into your pool, making a mess you'll have to clean up when you open it in the spring.
To keep rainwater, snow, leaves, and other debris from accumulating and damaging the pool cover, all you need is one small piece of equipment—a pool cover pump. But before you pick one up, make sure you read this entire buying guide to know what features to look for so you can choose the one that will work best for you.
NOTE: These pool cover pumps are available to buy on either Amazon and InTheSwim.com. Check both sites for availability. All the links are affiliate links which means if you click a link and make a purchase, we earn a commission at no additional cost to you. It helps us keep the lights on 💡
The Best Pool Cover Pump for an Inground Pool
Our Top Pick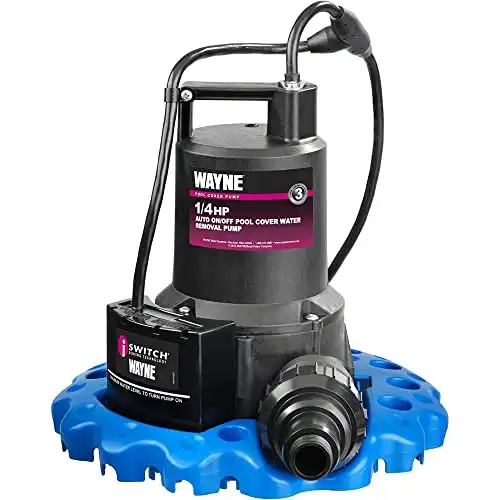 WAYNE Automatic Pool Cover Pump (1/4 HP)
Set it and forget it! The built-in iSwitch technology turns the pump on and off by sensing the presence of water and includes automatic freeze protection to prevent damage during the winter.
Buy Now
If you click this link and make a purchase, we earn a commission at no additional cost to you.
12/05/2023 05:31 pm GMT
If you really want to be hands-off, the Wayne automatic pool cover utility pump is the way to go. It's an energy-efficient, fully submersible pump perfect for keeping on your pool cover all winter. It has iSwitch technology that turns the pump on and off at a certain water level.
It has a removable intake screen to keep debris from clogging and tipping over the pump, so you can leave it to its own water-removing devices without worrying.
The pump itself can pump up to 3,000 gph (gallons an hour) with just a 1.25-inch drain hose. Its powerful flow rate can remove 50 gallons of water per minute.
It has a long 25-foot power cord and automatic freeze protection technology to protect the motor if you accidentally leave it out in freezing conditions. The kit even includes a 25-foot rope to help position the pump on the pool cover.
The Best Pool Cover Pump for an Above Ground Pool
Our Top Pick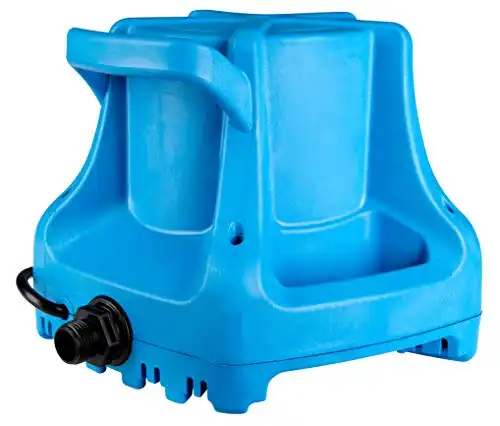 Little Giant Automatic Swimming Pool Cover Submersible Pump
This lightweight pool cover pump removes standing water from above ground pool covers. Includes a removable intake screen for easy cleaning and maintenance, 3/4-inch garden hose connection, and a 550-gallon per hour flow rate.
Buy Now On Amazon
If you click this link and make a purchase, we earn a commission at no additional cost to you.
The Little Giant pool cover pump is a fully submersible, relatively inexpensive, lightweight, yet heavy-duty option for above ground pools. Simply attach a 0.75-inch garden hose, plug it in, and start pumping. The Little Giant has an intake screen to prevent debris from clogging up your hose. And it includes a cord length of 25 feet, which should have no problem reaching any part of your pool.
It can remove water from your pool cover at about 550 gph (gallons per hour) or roughly 9 gallons of water per minute. But if you keep a regular maintenance schedule, it'll still make quick work of standing water. The motor itself is entirely submersible, so you don't need to worry about whether or not it's big enough to tackle the job.
Note: This is not an automatic pool cover pump for water removal. It's a manual pool cover pump. So pool owners must add and remove the pump manually from the cover. Do not leave the pump on the cover. Freezing could damage the pump.
Why Do You Need a Swimming Pool Cover Pump?
Your winter pool cover keeps rain, melted snow, and debris like leaves and twigs out of your pool when it's closed. But unfortunately, all those things don't magically bounce off the cover. (Hmm … trampoline as pool cover? Nah.) They have to go somewhere, and that usually means on top of your cover.
As water accumulates and becomes heavier, it will begin to gather in the center of the cover. Just one inch of rain on a square foot weighs 5.2 pounds. If your cover has a surface of approximately 280 square feet (just a little under a 12 by 24-foot pool), that's 1,456 pounds of water on your pool cover after just an inch of rain. Leaving three-quarters of a ton of water sitting on your pool cover will speed up the need for replacement.
You also have to plan for opening your pool later. That standing water will have to come off sometime, which means you'll either have to do it yourself or pay someone else to take care of it if it's too big a job. That's if your winter pool cover has held up under several hundred pounds of water for a few months.
Before we continue, are you tired of paying hundreds to have your pool closed for the winter? You can save yourself a lot of money by learning how to close and winterize your own swimming pool. Our step-by-step video course will show you exactly what to do, even if you've never opened or closed a pool before! It works for inground, above ground, and Intex/blow-up pools!
Click here right now to access our Pool Winterization Video Course today!
Ready To Close Your Pool For The Winter?
Save over $300 by winterizing your pool in our step-by-step video course. Works for inground, above ground, and inflatable pools.
Click Here to Learn More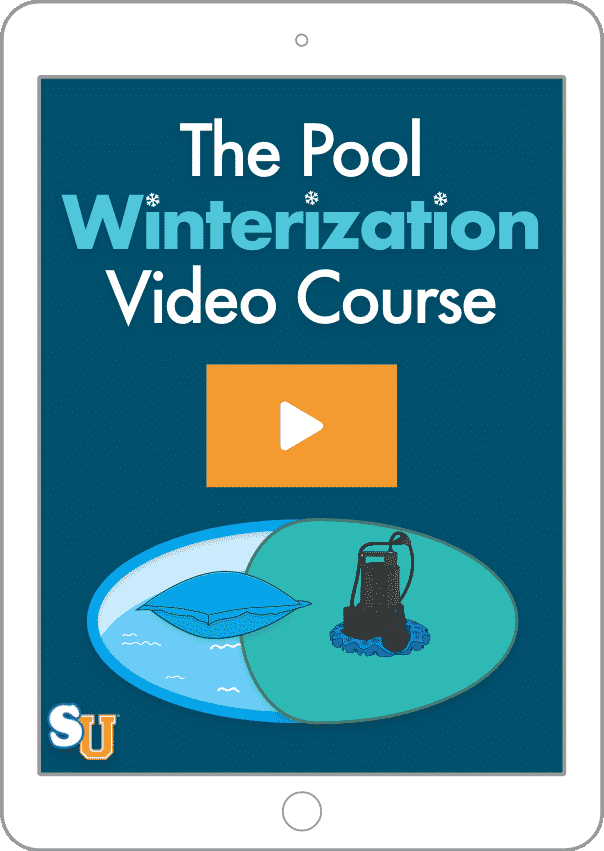 What Does a Pool Cover Pump Do?
First, it keeps that water and small debris from building up on the cover by pumping it out and into the yard, or wherever you direct it. Second, it keeps your pool from overflowing from rain and melted snow that seeps in past the cover. No pool cover is airtight.
A note about snow: A pool cover pump removes water, not snow. You don't want to leave snow sitting on your cover and wait for it to melt because it may turn to ice instead, and then you'll have an even bigger problem. Use a snow removal tool with a non-abrasive foam head that won't tear the pool cover to gently push snow off your cover to keep it from getting too heavy and causing any damage. Learn more about removing snow from your pool cover.
Manual or Automatic?
If you can splurge, an automatic cover pump is a worthwhile investment. If you're saving, a manual cover pump will still get the job done, just with a little more effort on your part.
If you choose a manual pump, you're not going to have to stand outside with a hose on your pool cover, pumping a lever up and down to remove the water yourself.
That would be a great workout, but it's not necessary. Instead, this simply means you'll have to keep an eye on your cover, and when you see water beginning to accumulate, you'll have to manually turn the pump on. Forget to check for a couple of days, and you could have a little trouble on your hands.
An automatic pool cover pump is exactly what it sounds like. Left in the center of your cover, it will automatically turn on and begin working when it detects that water has reached a certain level. You'll still want to keep an eye on things to ensure it's working properly, but you can rest a little easier.
Whatever pump you decide to invest in, just make sure it has a long power cord, a good warranty, high flow, and comes with a garden hose adapter.
Do You Need a Pump for Your Pool Cover?
Whether you go with manual or automatic, adding a pool cover pump to your maintenance arsenal can save you a lot of energy, money, and time. Not to mention the peace of mind you'll get knowing your pool and your winter cover are protected during the harsh weather months.
Plus, used regularly during the off-season, a pump means less cleaning for you when you open your pool. And that means you'll be able to get back to the fun that much sooner.
Happy Swimming!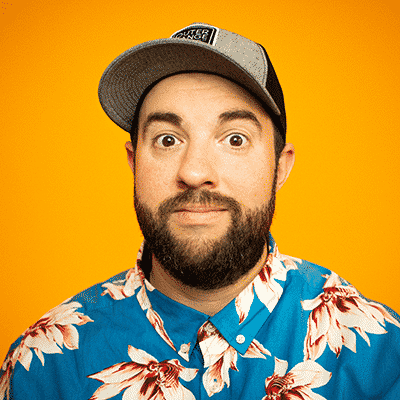 Matt Giovanisci is the founder of Swim University® and has been in the pool and spa industry since 1995. Since then, his mission is to make pool and hot tub care easy for everyone. And each year, he continues to help more people with water chemistry, cleaning, and troubleshooting.