How's your back? No, really. We want to know. Have you been lifting your hot tub cover yourself? It could be that lugging the 50- to 75-pound, bulky, awkward cover around by hand is a bit less convenient than you anticipated. Do that enough times, and you may not even be using your hot tub, or balancing the water the way you should. It's just too much trouble.
But it doesn't have to be. Maybe it's time to do yourself—and your back—a favor and invest in a spa cover lifter. And maybe not have to visit your chiropractor as often.
Why Buy a Spa Cover Lifter?
Sure, you could probably manage moving a brand-new hot tub cover by hand. They're only about as heavy as a large bag of dog food. But it's not just about the weight.
The size and shape of your hot tub cover can make it difficult, or at least awkward to remove and stow without someone to help you. Bending and lifting large, heavy things can also put your back at serious risk of injury.
If you want don't want to call for backup every time you need to remove or replace the cover, a hot tub cover lifter is just what you need. Even the simplest models enable you to uncover and cover your spa on your own with little effort.
Over time, even with the best vapor barrier money can buy, your cover will start to absorb water that evaporates from your spa. Over time, your cover's weight will start to creep upward as it retains more water. When your cover is irreparably waterlogged, you'll need to replace it, but until then, a little mechanical help in moving it will make your life easier.
Using a spa cover lifter is like having an extra pair of hands to help you open and close your hot tub. Making this task easier means you can pop your spa open for quick water chemistry checks, easy hot tub cover cleaning, and solo soaks without hurting yourself.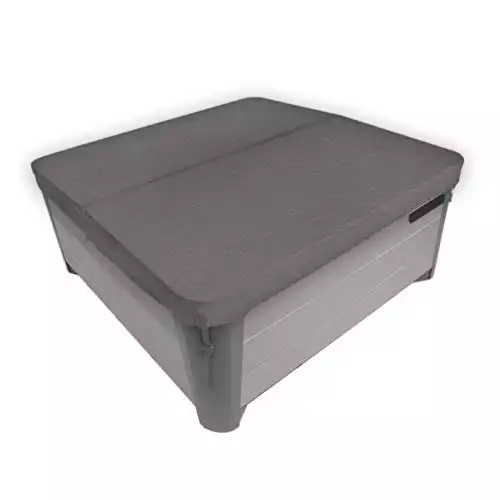 hot tub cover Lifter Types
You won't find a mind-boggling variety to choose from, but it helps to know the three standard styles of lifters, how they work, and how they help you care for your spa.
Shelf Cover Lifter
Want a simple, cost-effective way to manage your hot tub cover? This is it. It's a shelf that mounts on the back or side of your spa. We did say simple, right? All you'll need to do is fold your cover then slide it onto the shelf. Some feature rollers that make it even easier to push your cover onto the shelf.
Most shelf hot tub cover lifters take up quite a bit of space, so make sure you have the clearance available next to your spa to fit it. Some models fold down when not in use, which may be nice if your shelf will make your spa area a tighter squeeze.
Shelf cover lifters don't do any of the actual weight-bearing work of removing your cover. They just make it less difficult than fully removing and stowing the cover somewhere. If you struggle with the weight of your spa cover, a shelf cover lifter is probably not the best option for you.
Manual Pivot Cover Lifter
If you're on a budget, but you need some help with actually lifting your hot tub cover, consider a manual pivot cover lifter. It works similarly to the way you slip a pair of slacks over a hanger.
A long, metal bar fits across the middle of your spa cover. Each end of the bar is mounted to your spa on a bracket that pivots. You'll fold your cover in half (with the bar secured in the middle), then lift it upwards and push back. It will hang on the bar vertically, just like slacks on a hanger, until you pull it back into place.
The downside of this style of spa cover lifter is when your cover is off the hot tub, it will stick up past the top of the hot tub, blocking your view on that side. If you choose this style, choose where to install it with that pitfall in mind.
Hydraulic Cover Lifter
The most helpful option is also the most expensive, but with good reason. This type uses hydraulic pistons incorporated into the arms of the lifter to carry all the weight of your cover for you.
The way you use it is nearly identical to the manual pivot lifter. You install brackets on your spa cabinet, then attach an arm that will lie across the middle of your cover. You'll fold the cover back, then guide it up and back, allowing the hydraulic arms to bear the weight of the cover.
You'll likely be able to operate this lifter one-handed. While most models have the same drawback of obstructing one side, you'll find a few hydraulic spa cover lifters on the market that preserve your 360-degree view by bringing your cover down to ground level for storage.
Tired of trying to keep your hot tub clean all the time and dealing with chemicals?
You'll save $100 right away with this easy-to-follow digital ebook and video course. This is the ultimate maintenance guide that hot tub manufacturer doesn't provide you.
Get Instant Access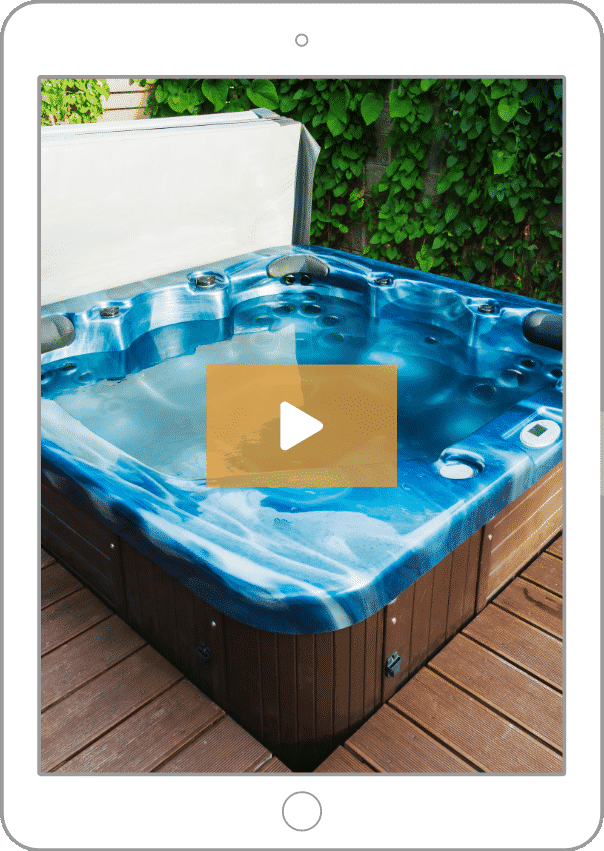 How to Install a hot tub cover Lifter
Given the three styles available, exact instructions for installing your cover lifter will be determined by which type and specific model you buy. However, the main points are nearly universal.
Shelf Cover Lifter Installation
This is the easiest lifter to install, and requires just a few tools you probably already have available.
Measure and mark the places you'll need to drill on your spa cabinet. You'll have at least four screw holes to make, two for each bracket. Follow the manufacturer's recommendations for proper placement.
Carefully drill guide holes so you won't crack your cabinet.
Install the mounting brackets using a screwdriver and the included bracket hardware.
Insert each shelf arm securely into a bracket.
Check that the arms can be folded in or down as they should per the manufacturer's instructions, and that they support your cover properly.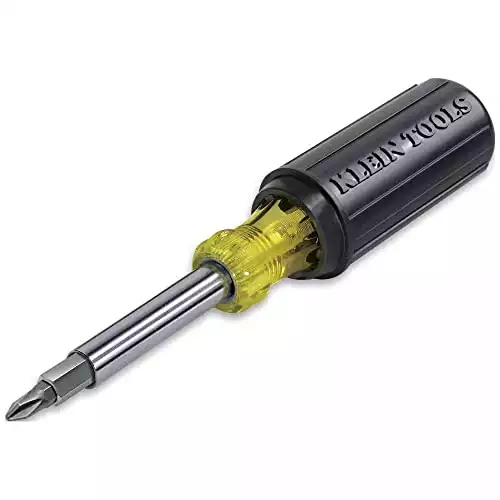 Manual Pivot Cover Lifter Installation
You may have an easier time with this one if you can get someone to help you. Wrangling that bar and the slider arms by yourself can be challenging.
Place your cover on your hot tub, making sure the corners are properly aligned.
Measure, mark, and drill guide holes for the brackets per the manufacturer's specifications.
Install the brackets.
Attach the slider arm and pivot arm to each other per the product instructions.
Place your slider arm into the bracket.
Lay the long, center bar across your cover. Insert each end into the curved support arms.
Insert the support arms into the pivot arms.
Fasten all the sections according to the product instructions.
Check that everything works properly, and adjust as needed before finishing up.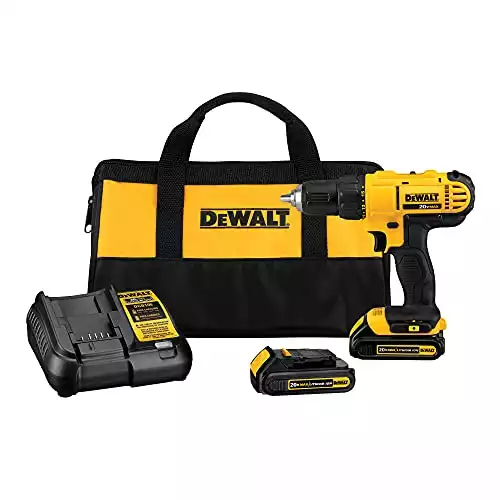 Hydraulic Cover Lifter Installation
An extra pair of hands is definitely helpful for this one. In fact, you may even find that hiring a pro to install it is the easiest way to go since this one involves an electronic mechanism.
Measure, mark, and drill guide holes, then install your brackets. If you've chosen a hydraulic lifter that doesn't require you to drill into your spa cabinet, you'll assemble the base and frame first.
Lay the long, center pole across your cover. Insert each end into the support arms.
Insert the support arms into the pivot arms, then secure them into the brackets.
Install the hydraulic arms per the manufacturer's recommendations. This step can require maneuvering the assembly, so this is where you'll probably need someone to help you.
Check that your lifter is working as expected, troubleshooting bracket placement if necessary.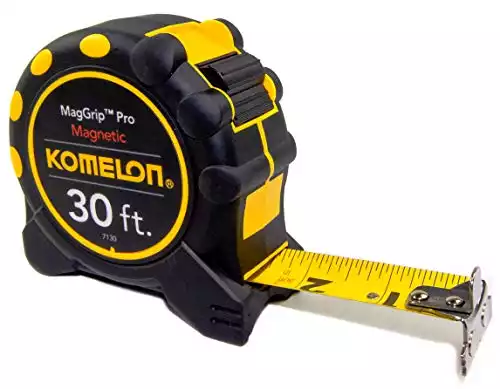 Tape Measure - 30 ft.
Buy Now
If you click this link and make a purchase, we earn a commission at no additional cost to you.
09/18/2023 11:25 pm GMT
Cover Lifter Maintenance
Because they're manufactured to be used in hot, steamy environments around water and chemicals, cover lifters are typically made from stainless steel or composite materials.
Their components resist corrosion and are simple to care for. Just keep your eye out for a few potential issues, and you can enjoy your cover lifter for years.
Inspect the Lifter Components
Whenever you use your spa cover lifter, watch the arms to see whether they're bending under the weight of your cover. If you've got a shelf lifter, be sure you inspect the arms occasionally.
As your cover becomes waterlogged over time, it will place undue strain on your lifter. You'll need to replace your cover (or at least the foam core) when this happens, but if you allow it to damage your lifter, you'll end up repairing or replacing that, too. This is part of why proper cover care is so important.
When it's time to drain and clean your hot tub—every three to four months—be sure to inspect all the components of your hot tub cover lifter. Grab a screwdriver or socket wrench and tighten up brackets and hinges, if needed.
Clean the Lifter Parts
No matter what type of hot tub cover lifter you choose, you'll need to keep it clean to keep it in good working order. There's no need for any special type of cleaner. Just a mild multi-purpose cleaner on a soft cloth is enough to give the arms a wipe down to remove grit or debris that could inhibit their movement.
If moving parts are squeaking, a little spray of water-resistant silicone lubricant should eliminate the problem. Protect your spa cabinet and shell from overspray by holding a cloth under any part you spray.
Do-It-Yourself Cover Lifter
If you've got a small budget and you're handy, you might want to try building your own cover lifter. You can build one using electrical metal tubing (EMT) conduit, elbows or a bender, conduit straps, nylon webbing, and screws. You'll only need basic tools: hacksaw, level, drill, and screwdriver.
Note: You'll find some online plans use polyvinyl chloride (PVC) instead of EMT, but we advise against that choice. Sunlight and heat can weaken PVC, warping it or potentially damaging your hot tub cover.
7 Best Spa Cover Lifters
Are you just not the build-it-yourself type? Too busy to take on another project? No worries. We've handpicked the best cover lifters across all price points, so you can buy the perfect one for your spa without blowing your budget.
1. The Slider Spa Cover Roller
Our lowest priced pick improves upon the basic cover shelf by adding wheels. Each arm has four rollers on top. When you fold your cover and push it over onto the arms, the rollers minimize resistance so it's easier to move the cover. When not in use, the arms fold down flat against the side of your hot tub cabinet.
This model says you only need a screwdriver to install, but we recommend you use a drill to make pilot holes in your hot tub cabinet before installing screws to avoid damaging your cabinet.
2. Blue Wave Low Mount Cover Lifter
Another affordable and simple cover lifter, this manual pivot style mounts at ground level so your cover will fold down behind your hot tub, preserving the full view around your spa. It's made from corrosion-resistant, powder-coated steel, so rust won't be a problem. However, this model isn't for everyone, or every spa.
It's designed for use with square or rectangular hot tubs up to eight feet with radius corners. The brackets won't install properly on spas without rounded corners. You'll also need about four feet of clearance on the side you want to store your cover so you have enough space to fold it back and down. If your spa fits within its limitations, it can make removing and stowing your cover a one-person job.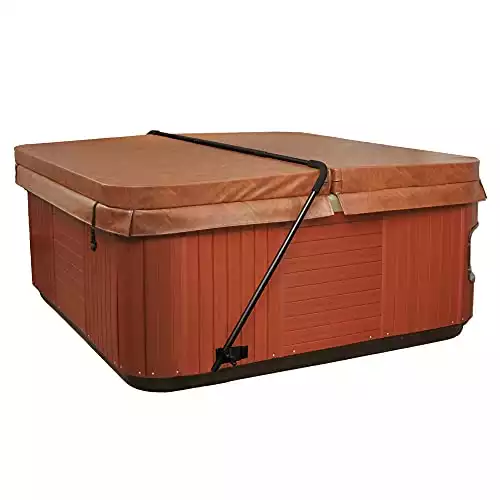 3. Smart Spa Cover Classic Bottom Mount Spa Cover Lifter
This lifter is basically a powder-coated aluminum rectangle that attaches to the bottom, back side of your spa. It needs only 18 inches of clearance to work, so it's a great solution if you're on a budget and you don't have a few feet to spare around your hot tub.
While it will impede your view a bit, only part of your cover will stick up past the side of the spa. This model is designed specifically for square or rectangular hot tubs up to 96 inches wide, and it will not work properly with sunken or inground hot tubs.
4. Smart Spa Cover Max Bottom Mount Cover Lifter
This durable powder-coated steel model can withstand harsh outdoor environments. It's pretty easy to install, mounting directly to the bottom sides of your spa. It only requires one foot of clearance, but won't work with recessed hot tubs.
Instead of hydraulics, this model uses a lower bar you press with your foot to help offset the weight you need to lift with your arms. It also has padded foam corner grips, and fits square or rectangle hot tubs measuring up to 96 inches.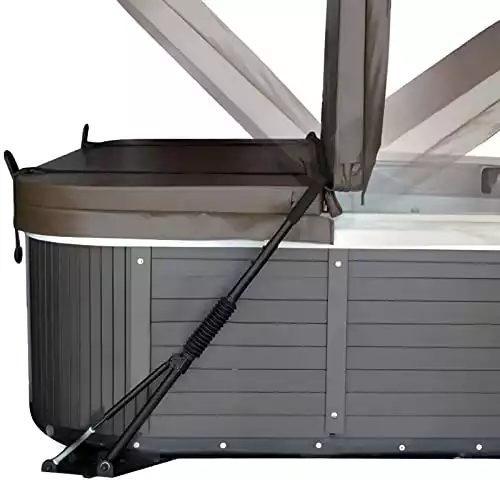 Hydraulic Hot Tub Cover Lift
Hydraulic Cover lifters help your cover last longer and help you get more enjoyment out of your spa. Don't hesitate because nobody is around to help you with that bulky hot tub cover.
Buy Now On Amazon
If you click this link and make a purchase, we earn a commission at no additional cost to you.
5. Lovatic SpaEase 200 Hydraulic Cover Lift
This one's a little on the pricier side, but for good reason. Lovatic touts the SpaEase 200 as "the only hot tub cover lifter that uses steel where it's needed, and aluminum where it's required." It fits square or rectangle covers up to 96 inches, and it only needs 10 to 12 inches of clearance behind the hot tub.
The lifter has dual pistons that use "Reverse Pneumatic Technology" (RPT) to assist in raising the cover. Once the cover is halfway up, RPT takes over and does all the work. The RPT system also helps with closing the cover, and once closed, it applies a gentle downward pressure to keep the cover sealed, helping to minimize heat loss and evaporation.
Lift Your Spirits Along With Your Cover
Installing a hot tub cover lifter will make removing your cover faster and easier. Keeping it clean will be a bit less work. Making sure your spa cover is back on after a nice, long soak won't be such a backbreaking task, either. All of which will make you happier.
Trust us. Once you start using a spa cover lifter, you'll wonder how you ever lived without one.
Happy Soaking!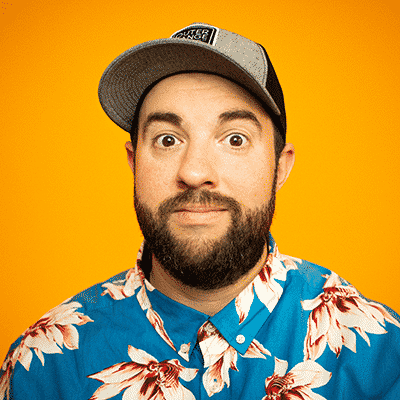 Matt Giovanisci is the founder of Swim University® and has been in the pool and spa industry since 1995. Since then, his mission is to make pool and hot tub care easy for everyone. And each year, he continues to help more people with water chemistry, cleaning, and troubleshooting.