These money-saving swimming pool tips will help you cut back spending while enjoying your pool.
1. Store Your Vacuum Head Correctly
The number one reason you may have to replace your vacuum head is because the brushes on the bottom of it have either flattened out or completely fallen off.
Store your vacuum head upside down and out of the sun. Over the winter, be sure you keep it away from any chlorine. If you do this, you will double the life of your vacuum head, which can be expensive to replace.
Our Top Pick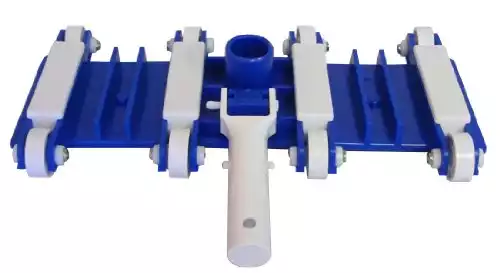 2. Close Your Above Ground Pool Yourself
It can cost hundreds of dollars to close your above ground pool. Of course, that depends on how big your pool is. The best thing you can do is learn how to winterize your above ground pool yourself.
Add closing chemicals to the water
Drain your pool 6 to 8 inches below the skimmer
Remove the hoses from your pool filter and pump
Remove all the drain plugs from your pump and filter and store them in the pump basket
Store your pump and filter in a safe place (unless you have a sand filter)
Install a winter plug in the return line
Blow up the pool cover air pillow and float it to the middle of the pool. You can use something called the Pool Pillow Pal to keep it centered
Drape the cover over the pool and secure it using cable and winch and/or winter cover clips
Add water bags to deck to hold cover in place
That's it! It's very simple and doesn't require any special technique.
Pool Winterizing and Closing Chemical Kit
This winterizing and closing chemical kit is designed to save you time and money by including all the necessary chemicals to close your pool. This kit includes winter algaecide, stain prevention, chlorine-free shock, an absorbing sponge, and a pool floater.
Buy Now on Amazon
If you click this link and make a purchase, we earn a commission at no additional cost to you.
Frustrated by adding chemicals and trying to keep your pool clear all the time?
We cut out all the confusion of pool maintenance in this easy-to-read illustrated ebook and video course. It'll help you save $100 right away on pool care!
Get Instant Access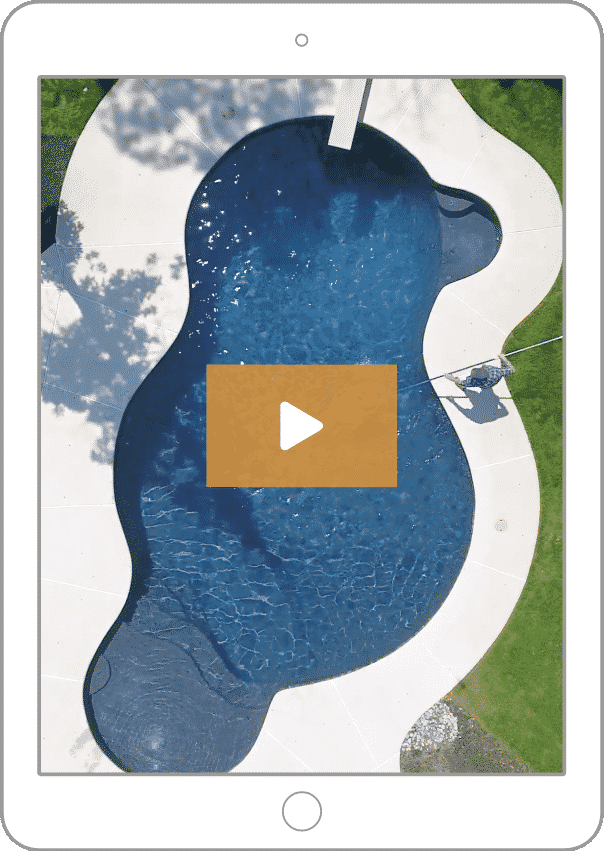 3. Use a Solar Cover With Your Pool Heater
Solar covers, also called solar blankets, maintain the heat in the pool, they keep debris out, and they help attract heat from the sun. If you use a solar pool cover only at night, it helps to keep the heat from escaping your pool.
If you have a heater, you can crank the heater up to the desired temperature, shut it off, then keep a solar cover on at night. It'll make the heat from your heater last longer in your pool water.
Read more about using solar pool covers to heat your pool and save money.
Bonus: If you don't feel like taking a solar cover on and off your pool every night, consider liquid solar covers. They're easier to use and cost much less in the short term.
Our Pick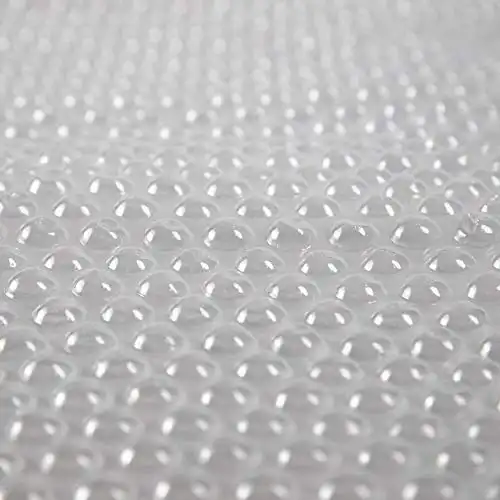 4. Use Baking Soda to Raise Alkalinity
Baking soda will increase your pool's alkalinity levels. But is it really less expensive? It depends on what type of alkalinity increaser you normally buy, but it's likely the answer is yes. Use baking soda in your pool if you need to bump up the alkalinity just a little.
Our Top Pick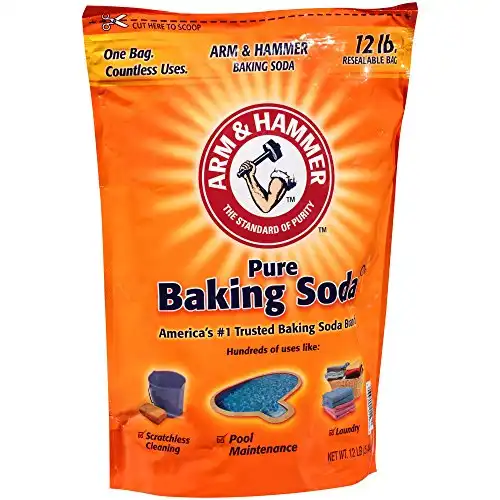 Baking Soda
Perfect for raising total alkalinity and pH in your pool along with cleaning tile and more. You'll need plenty on hand.
Buy Now On Amazon
If you click this link and make a purchase, we earn a commission at no additional cost to you.
Note: Be aware that baking soda is a little more powdery than standard alkalinity increaser. This may cause your pool cloud up. Just small amounts to avoid cloudiness.
5. Keep Your Pool Cover Clean During The Winter
When opened in the spring, your pool may look like the black lagoon. There's a better way than letting that happen, and then dumping a ton of chemicals in the water just to clear it.
Throughout the winter, use a pool cover pump to get the water off the top of your cover. Every time it rains or the snow melts, tend to your pool and get that water off the cover.
Our Top Pick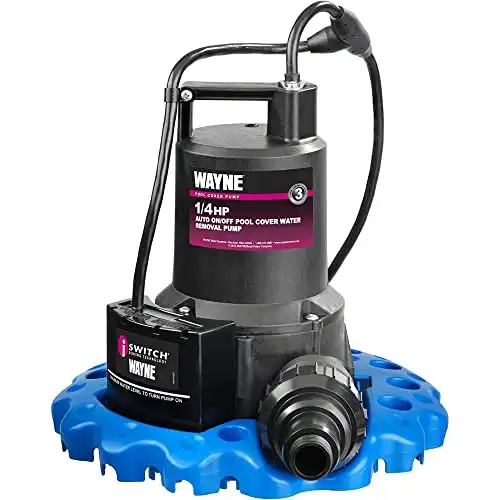 WAYNE Automatic Pool Cover Pump (1/4 HP)
Set it and forget it! The built-in iSwitch technology turns the pump on and off by sensing the presence of water and includes automatic freeze protection to prevent damage during the winter.
Buy Now
If you click this link and make a purchase, we earn a commission at no additional cost to you.
09/19/2023 07:09 am GMT
When the cover is dry, use a broom and get as many leaves and debris off the top of your cover as you can.
Come spring time you will thank yourself for keeping a clean cover. It will be much easier to remove and you'll be able to re-use your cover for the next winter. No one wants to buy a new pool cover every single year. It can get very expensive.
6. Run Your Pump Less In Mild Climates
During the hottest part of the summer, run your pump 10 to 12 hours a day. You need to keep that water clean and moving so you don't run into any problems, such as algae growth.
Algae loves warm water. This is why you're able to get away with running your filter less if you live in a mild climate.
You can either run your pump just 6 hours a day or invest in a variable-speed pump that uses less energy.
Our Top Pick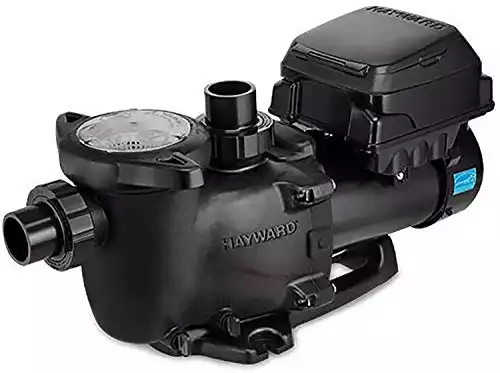 Hayward MaxFlo Variable-Speed Pool Pump
This pool pump can save you up to 80% on energy costs and is incredibly quiet thanks to the permanent magnet, totally enclosed fan-cooled (TEFC) motor. Simple drop-in upgrade that can operate in standalone mode or connect to any automation system.
Buy Now on Amazon
If you click this link and make a purchase, we earn a commission at no additional cost to you.
09/18/2023 05:26 pm GMT
7. Buy Pool Chemicals Early and in Bulk
Smaller pool stores generally run spring startup specials to entice you to get in the door early to get a jumpstart on pool season. It's a good move, especially if they have some leftover chemicals from last year they are trying to get rid of to make room for the new shipment of chemicals.
Also, buy pool chemicals in bulk at the beginning of the season, whether they're on sale or not. This is especially true for chlorine (or whichever sanitizer you use) and shock since you'll be using these chemicals frequently all summer.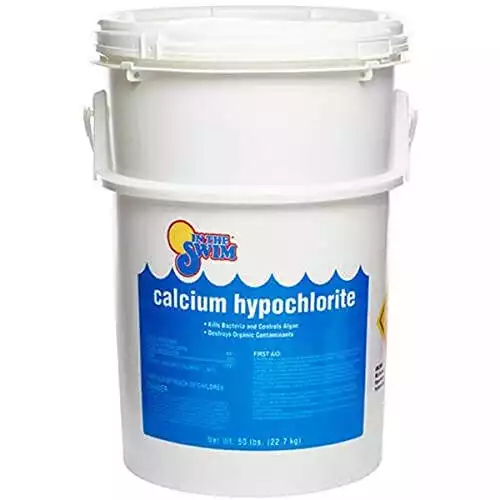 8. Run Your Pool Pump At Night
The peak hours for most electric companies are from 7:00am to 7:00pm during the week. This is when it costs the most money to use electricity.
To save some green, run your pump during off-peak hours.
9. Shock Your Swimming Pool Every Week
Let's say it's the middle of the summer and you've been good at shocking your pool every week. Your pool has been crystal clear all summer long. You've been testing your water regularly and everything is going perfectly!
Then, you decide you've been so good that you'll skip a week taking care of it. Remember, now it's hot and your kids have been swimming in it. All of a sudden your pool turns green and/or cloudy.
Now instead of following your normal routine and shocking it once a week, you are forced to triple shock it this week to get rid of the green. And you have to run your filter system 24/7 to help clear up the cloudy water. You've just spent a lot of extra money pumping more shock into your water and running the filter longer.
Shocking your pool every week helps maintain a healthy and clear pool, and saves you money.
10. Use A Robotic Pool Cleaner
These self-contained, electric units can clean an entire swimming pool faster than you. Robotic pool cleaners drive around the pool on their own, climbing up walls and stairs and collecting all kinds of debris in their fine mesh filter bags.
These filter bags also filter the water, so if you run the robotic cleaner while the filter and pump aren't running, you're actually saving money while keeping your pool clean. It costs much less to run a small pool cleaner than it does to run your filtration system.
11. Keep an Eye on the Chlorine Stabilizer Level
Chlorine stabilizer, also called cyanuric acid is a chemical that prevents the sun from eating up the chlorine you put in your pool. When you add chlorine to your pool via shock or chlorine tablets, the chlorine is unstabilized (for the most part). This means it doesn't last very long in the water to fight bacteria and other harmful contaminants.
When you add chlorine stabilizer to your water, it will help keep that chlorine in your water longer to fight what it needs to kill to keep your water sanitized.
Our Top Pick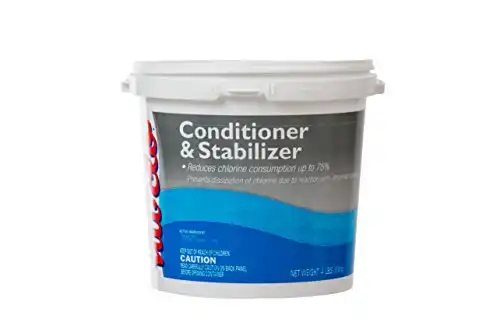 12. Conserve Pool Water
Water isn't free, nor is there an infinite supply of it in the world, especially as droughts become increasingly common and severe. While you may live in places where a simple turn of the tap releases a seemingly limitless flow of water, it's worth conserving as much water—and money—as possible.
The average pool wastes water in four ways:
evaporation
leaks
splashout
filter backwashing
While the water wasted at any given moment may be small and seemingly insignificant, it can add up to thousands of wasted gallons, which can translate to hundreds of wasted dollars.
Limit Evaporation
Evaporation is the silent, invisible water waster that plagues every pool owner, but more so in some areas of the nation than others. An uncovered 18' by 36' pool loses about an inch of water a week, or 7,000 gallons annually. In places with particularly hot and dry climates, an average pool can lose up to 25,000 gallons a year to evaporation.
To fight evaporation, make sure your pool is covered when not in use. A simple solar cover between swims is all that's needed to save precious gallons. If you use a pool heater, keep it set as low as possible.
Lastly, any wind-blocking objects that can be erected around the pool will cut down on evaporation, which can be accelerated by wind moving across the water's surface. Shrubbery, fences, or boulders can serve double duty in both fighting evaporation and blocking debris.
Our Top Pick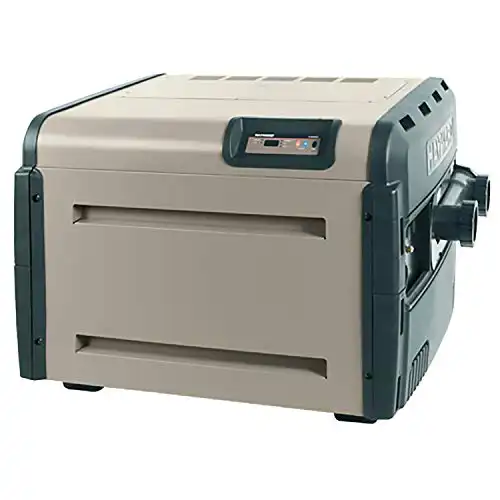 Hayward Universal H-Series Pool and Spa Heater (Natural Gas)
This heater is super reliable and long-lasting. The cupro nickel heat exchanger protects against corrosion caused by unbalanced water chemistry. And it provides major energy savings with low NOx emissions to meet air quality standards.
Buy Now on Amazon
If you click this link and make a purchase, we earn a commission at no additional cost to you.
Find and Fix Leaks
It's estimated that somewhere around 30% of pools have leaks. Most of them are small and minor, but every drop that drips out is one that has to be replaced from the spigot.
To check for a pool leak, make a grease pencil mark on the water level at the skimmer. If the level drops significantly in 24 hours, there is likely a leak.
Use a link finder dye to locate the leak so you can fix it. If you're not comfortable fixing it yourself, you can always hire a pro.

Leakmaster Pre-Filled Leak Finder Dye
This pre-filled dye tester helps you find the precise location of structural pool leaks. Simply squirt the syringe into the water close to the potential problem area and the dye will flow towards the source of a leak.
Buy Now
If you click this link and make a purchase, we earn a commission at no additional cost to you.
Minimize Splashout
Admittedly, splashing is usually the result of friends and family having a good time in the pool. You can argue that fun and games are the whole point to pool ownership and therefore splashing is to be expected. However, unnecessary or avoidable splash is worth preventing.
First, any pool game in which the object is to splash water out of the pool should be avoided. Children invariably come up with games like this, so be on the lookout.
When using fountains or waterfalls, be mindful of any excessive splash that they might cause, and turn them off when the pool isn't in use.
Finally, maintain a water level low enough that normal activity doesn't consistently send water welling up over the sides to be wasted.
Don't Backwash Your Filter Too Long or Too Often
The average two-minute backwash for a typical sand filter costs you about 200 gallons of water. That's not to say you shouldn't backwash, just that it's absolutely necessary to learn how to backwash a pool filter properly.
First, never backwash for longer than necessary. The moment the water runs clear in the sight glass, stop. Also, decrease the frequency of backwashing by maintaining a clean pool and filter system. The more dirt you force through the filter, the more frequently you'll have to backwash. Conscientious maintenance is the key.
If you follow these money-saving swimming pool tips, you'll save water and money, one drop at a time.
Happy Swimming!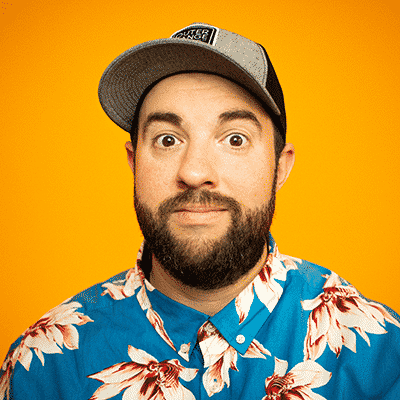 Matt Giovanisci is the founder of Swim University® and has been in the pool and spa industry since 1995. Since then, his mission is to make pool and hot tub care easy for everyone. And each year, he continues to help more people with water chemistry, cleaning, and troubleshooting.