If you're looking for a cheap, energy-efficient way to heat your pool, making your own DIY solar pool heater is a great option. Not only can you use the sun's power to heat your water, but the whole project will likely cost less than $100 (which is way cheaper than purchasing solar panels).
Here's a step-by-step walkthrough on putting together your own DIY solar pool heater. You can watch the video below or keep reading for the complete tutorial.
How a Solar Pool Heater Works
The design of this easy DIY solar pool heater is pretty simple. Colder water is pulled from your pool by a sump pump. That water then enters a coil of black tubing that's warmed by the sun. Then that heated water returns to your pool.
For this setup, you'll need a sunny spot off of the ground to set up your solar heater, and you'll need a few supplies that should cost you less than $100.
Keep in mind that this isn't nearly as powerful as purchasing an electric water heater or gas water heater, but it's extremely affordable to run and build. And this type of solar pool heating works best with above ground pools since it's not powerful enough to heat an inground pool.
Supply List for Homemade Solar Pool Heater
Here are the supplies you'll need for your DIY pool heater:
200 feet of ½ inch black irrigation hose. This polyurethane hose can be bought either online or at your local hardware store, so it's worth shopping around for a good price. Just make sure it's black since it needs to absorb the heat of the sun. Now keep in mind that you'll need more than 200 feet if you have a larger pool. Your hose length should equal at least 50% of the square footage of your pool's surface. For example, if your pool is 16 feet by 32 feet, that's a surface area of 512 square feet. And that means you'll need at least 256 feet of irrigation hose.
Submersible pump. The easiest option to get water flowing through your irrigation hose is with a sump pump. Hopefully, you already have one as a pool owner. If not, this might be the priciest supply on the list and could set you back about $50. And while you can use your pool pump, it's useful to have the heater and pump function separately.
Irrigation hose connector for your pump. These are made specifically to connect ½ inch irrigation hoses to faucets and pumps.
Plywood board and wood pieces to frame it. This is the wooden tray where your irrigation hose will sit. It will also keep your hose off the cold ground and allow you to angle it towards the sun. The size of your piece of plywood will depend on how much of the hose you're using. But a 4×4 sheet of plywood is big enough for about 200 feet of hose. You'll also want some wood to stabilize and frame your sheet of plywood. Also, an extra piece of wood is helpful to hold down your coiled hose. And to secure the wood, you'll need wood glue, a drill, or a hammer and nails.
There are a few optional supplies you might want to help your solar pool heater work even better:
Black spray paint, black plastic, or black roofing felt. Painting the wooden tray black or covering it with a black tarp or black roofing felt will add more heat to your solar heater set up. If you use plastic or roof felt, you might need a staple gun or duct tape to attach to your wood.
Clear plastic tarp. Covering the entire tray with a clear tarp will trap more heat. It's like turning your setup into a mini oven.
Black PEX tubing instead of irrigation hose. PEX tubing is usually a lot more expensive than black irrigation hose. But irrigation tubing can wear down from heat and pool chemicals after a few years. So if you want to invest in something more long-lasting, use PEX coil.
Shut-off valve or ball valve. A simple shut-off attachment at the end of your hose will help you control the flow of water and you can turn it off if it's getting too hot.
Solar blanket or solar cover. A solar blanket helps stop evaporation and heat loss at night. Without a solar cover, you'll lose any water temperature you've gained during the day. So it's critical to help keep that heat in your pool.
How to Build a DIY Solar Pool Heater
Set up your wooden tray. The goal is to keep your irrigation hose mounted on something above the ground so that you can angle toward the sun. A flat sheet of plywood can work totally fine on its own, but framing it by adding wood to the sides will help make it more sturdy.
Line your wooden tray with black fabric, black felt, or black paint. If you want to increase the amount of heat you capture, you'll want to line your tray with something black at this point. But this is optional and might not be necessary, especially if you have a smaller pool.
Coil up your irrigation hose on your wooden tray. Start coiling your irrigation hose on your wooden tray. Your hose should lie flat on the wood, almost like a record on a turntable. You want to wrap the hose as tightly as you can so you can fit as many loops as possible. Placing a 2×4 on top of the hose as you coil it can be helpful to help brace the hose. It can also help to have a second person to hold things down. Be sure you have the ends of your hose on different sides of your wooden tray. One of these ends is your inlet where cold water is pumped in. The other is your outlet where hot water leaves. They shouldn't enter and exit at the same point in your pool water.
Wrap your solar heater in the clear tarp. If you want to wrap your solar heater, now's the time to do that. But again, this is an optional step. You may want to test your heater first and add the clear tarp afterward.
Add your hose attachments. Attach your irrigation hose connector to the end of your hose that will be going into your pool. This is to connect your sump pump. Also, attach your shut-off valve or ball valve to the opposite end of your hose if you're using one.
Set up your solar heater and attach your sump pump. Place your wooden tray near your pool, off of the ground, and in the sun. Then attach your sump pump to the irrigation hose connector. Submerge the pump in the water and turn on your sump pump. Be sure your hose outlet is in the pool to return the hot water.
By the way, if you want more easy tips and tricks on taking care of your pool, check out our Pool Care Video Course.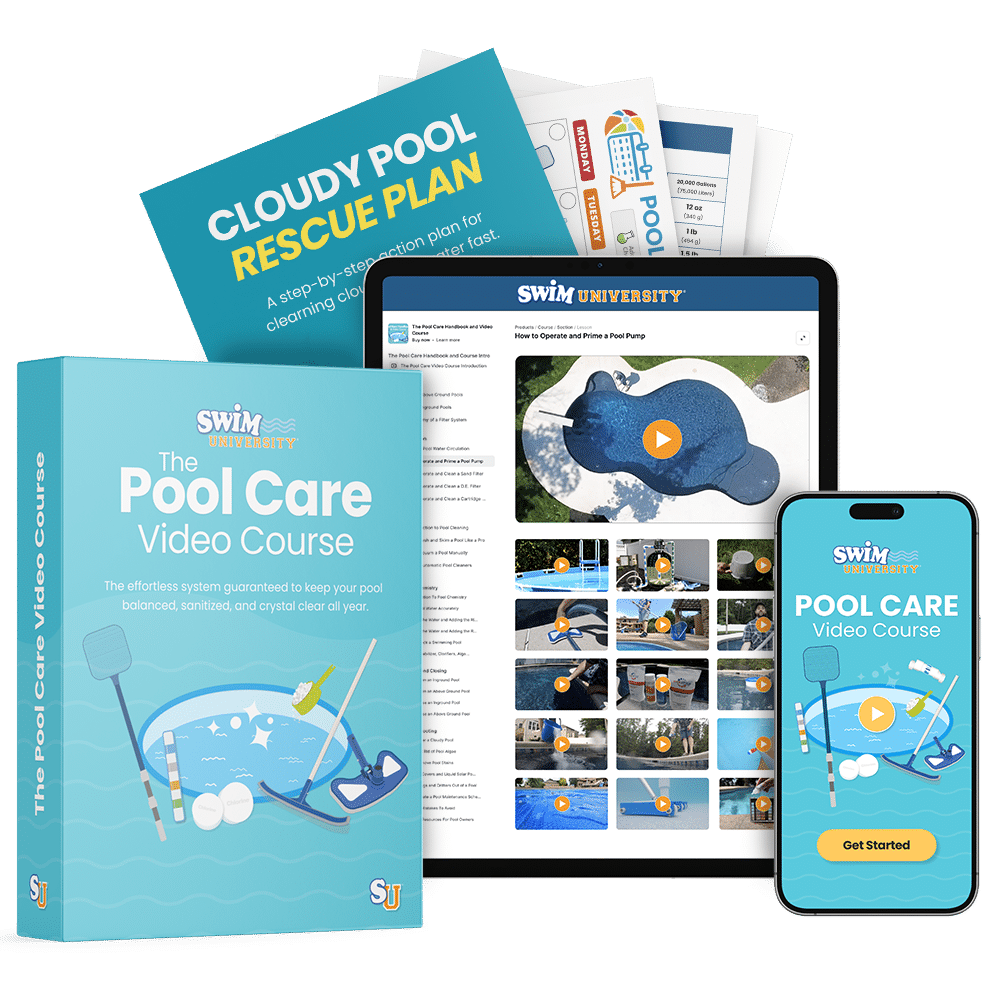 Tired of wasting time, money, and chemicals trying to keep your pool clear?
Cut the confusion with our easy-to-use video course. Save $1,000's on pool care and keep your water clean and clear for good!
Check Out The Course Here
Troubleshooting Your Homemade Solar Pool Heater
If you're having trouble getting the water to warm up, here's some troubleshooting tips:
Keep your sump pump and the returning hot water on opposite sides of the pool. Make sure that your pump that's pulling in cold water is far away from the hose that's adding in hot water. This will increase the efficiency of your solar heater. And place your pump as low as possible in the pool, since colder water tends to be at the bottom.
Increase your pump speed. The faster your flow rate, the more heat you'll transfer to the pool water. You might not notice a bigger pool temperature difference, but you'll actually increase your heat energy transfer. Aim for a 2 to 5-degree difference between the water coming out of your pool and the heated water going back into your pool. A continued, slow temperature rise means you've got an efficient heater.
Mount the coils off the ground and maximize the heat from the sun. You don't want the cold ground to cool off your tubing, so make sure it's mounted slightly off the ground. And like we mentioned before, you can also line your tray with plack plastic or cover your coils with a clear tarp for more sun absorption and insulation.
Frequently Asked Questions About Solar Pool Heaters
Looking for more help on how to build a solar pool heater for your swimming pool? Here are some common questions and answers.
Can I use a garden hose instead of an irrigation hose?
We don't recommend using a black garden hose for this DIY project. Garden hoses are made from many different materials and have different diameters than irrigation poly tubing.
How do I make a more powerful solar pool heating system?
If you don't want to do it yourself, you can purchase solar panels online. It's an easy way to create a larger version of this DIY solar water heater without having to hack together your own system (it will, however, cost hundreds of dollars more).
Store-bought solar panels usually come with connector kits, allowing you to build a series of solar collectors. You'll also need plywood, lumber, PVC pipe, a 3-way valve, clamps, and fittings.
Alternatively, you can build and connect multiple DIY pool water heater systems. But no matter what type of solar collection you use, be sure to use a pool cover, like a solar blanket or solar cover, to keep heat from escaping your pool at night.
Need More Pool Maintenance Help?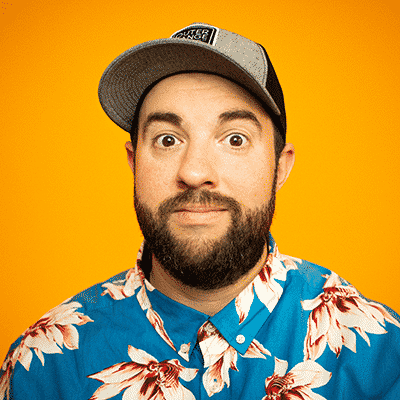 Matt Giovanisci is the founder of Swim University® and has been in the pool and spa industry since 1995. Since then, his mission is to make pool and hot tub care easy for everyone. And each year, he continues to help more people with water chemistry, cleaning, and troubleshooting.