So you've got the hot tub, your water is balanced and toasty warm, but something's missing. You can't quite put your finger on it, but you know you need something to complete your hot tub experience.
Soaking in a hot tub is divine. But you can improve your experience and create your very own paradise with some of these hot tub accessories.
Do You Really Need Hot Tub Accessories?
Well, no, yes, and maybe.
Lights and floating games? Let's be honest; the answer is no.
A drink holder and cover lifter? We say yes because it's a good idea to stay hydrated while you're soaking in hot water, and a cover lifter will keep you from injuring yourself while trying to maneuver the cover by hand.
And maybe? Well, some might say aromatherapy isn't necessary, but that all depends on your perspective. We say, if it helps you relax, get it.
Above all, though, it comes down to what you want. If you want one or all of these hot tub accessories, who's to say you can't have them?! Practical or just pretty, if it makes you happy, that's reason enough.
1. Intex PureSpa Cup Holder
What is the one thing you wish you had on your spa? You guessed it. A cup holder. This one will give you the perfect place to keep drinks and snacks within reach while you enjoy a soak.
2. superdream Solar Powered Floating Lotus Flower LED Pool Lights
Add some color therapy to your hot tub. These solar-powered floating lights will add colorful ambiance to your hot tub so you can dazzle your guests at your next outdoor spa party.
3. Hot Tub Bar Refreshment Float
Hey, there is nothing wrong with enjoying a little something to eat and drink while you relax in a hot tub. This hot tub bar refreshment float will easily attach to the side of your hot tub so you can serve food and drinks while you bathe in the warm waters.
4. inSPAration Spa and Bath Aromatherapy Sample Gift Bag
Aromatherapy is a great way to relax and unwind while in your hot tub. This gift package will let you try out several scents to find your favorite.
5. GoFloats Inflatable Palm Island Drink Holder
Maybe you want to recall those memories of your time at the beach. Now you can with the GoFloats Drink Holder that brings a few inflatable palm trees to your hot tub.
Tired of trying to keep your hot tub clean all the time and dealing with chemicals?
You'll save $100 right away with this easy-to-follow digital ebook and video course. This is the ultimate maintenance guide that hot tub manufacturer doesn't provide you.
Click Here to Learn More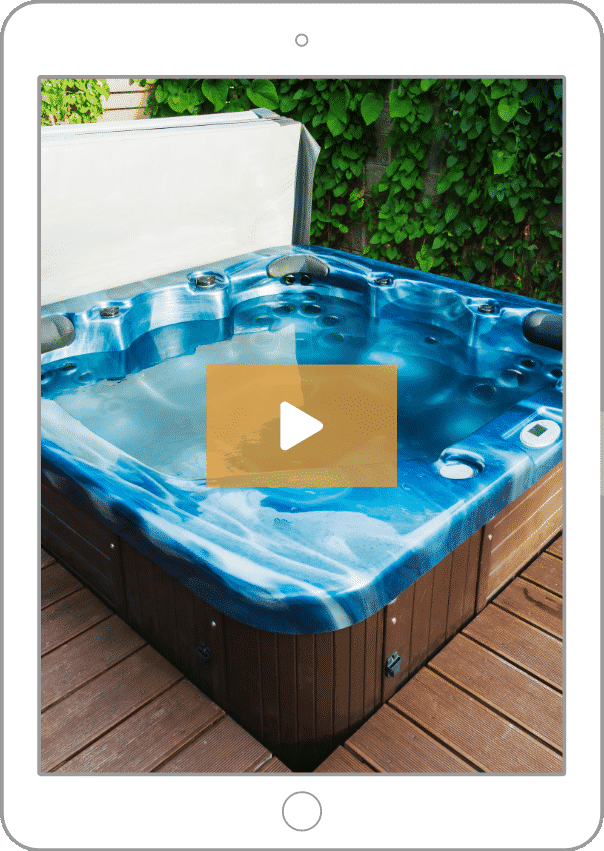 6. Gorilla Grip Non-Slip Spa Bath Pillow
If you really want to relax, your head needs attention, too. This non-slip pillow is the perfect solution, and one of the most comfortable hot tub accessories you'll find.
7. Blue Wave Low Mount Spa Cover Lift
Moving your spa cover is one of the most physically demanding parts of hot tub ownership. A spa cover lifter can make that process so much easier and can save your back.
8. Confer Handi-Step Spa Steps
One of the handiest (actually, no hands are required) hot tub accessories you can get. Stop hiking your leg over the side of your hot tub. That's an accident waiting to happen. A set of hot tub steps will make entering and exiting a lot easier—and safer.
9. Cover Valet Spa Side Umbrella
Getting too much sun while you soak? Instead of only soaking at night, try adding this umbrella to give you a bit of shade while you relax.
10. The Towel Warmer
What's the worst part about a hot tub? Getting out, of course! After a long soak in those warm waters, even a hot day will feel cold to you. This warmer will heat your towels so they're much comfier for you when you're finished with your soak.
Time to Accessorize!
As you can see, there are so many options that you can try to create a unique hot tub experience. If you have been searching for a way to improve your spa soaking sessions, one or all of these hot tub accessories will do the trick.
Happy Soaking!
Matt Giovanisci is the founder of Swim University® and has been in the pool and spa industry since 1995. Since then, his mission is to make pool and hot tub care easy for everyone. And each year, he continues to help more people with water chemistry, cleaning, and troubleshooting.
Download Our FREE Hot Tub Cheat Sheet
This free printable cheat sheet to help keep your hot tub clean and clear without messing with confusing water chemistry.
Get The FREE Cheat Sheet