A hot tub vacuum is a must-have tool to get dirt, sand, leaves, and other debris out of your spa. And when it comes to spa vacuums, you have three types to choose from: battery-operated vacuums, rechargeable vacuums, and manual vacuums (which rely on suction or pumping).
Getting the right hot tub vacuum for your spa isn't about the price alone. It's also about the power source, whether it's cordless, and attachment and nozzle options. With those things in mind, we recommend the following hot tub vacuums:
Keep reading to learn more about each type of vacuum and what to consider when looking for the right spa vacuum for your hot tub.
Best Hot Tub Vacuums
We find that the most convenient way to vacuum a hot tub is with a cordless vacuum, like the ones listed below. Here are three great options for battery-powered, rechargeable, and manual siphon-powered vacuums.
Best Battery-Powered Vacuum: Water Tech Pool Blaster Cordless Spa Vacuum
POOL BLASTER Cordless Spa Vacuum (Battery-Powered)
This battery-operated hot tub vacuum is powerful enough to capture and trap debris and dirt missed by other manual vacuums. It's designed to run up to 3 hours and is powered by five D-cell batteries. Powerful enough for smaller pools.
Buy Now on Amazon
If you click this link and make a purchase, we earn a commission at no additional cost to you.
Water Tech's Pool Blaster handheld vacuum makes short work of cleaning your pool or hot tub. This versatile device can clean up leaves, dirt, and debris from your pool or hot tub in a snap. And the Pool Blaster is extremely easy to use. Just aim the powerful suction head at the dirt and debris you want to suck up and watch it disappear. The large capacity bag means you can clean your pool or hot tub without having to stop and empty it constantly.
This vacuum is the perfect solution if you're looking for an easy way to keep your pool or hot tub clean. Because it's so quick and efficient, it's our top pick for functionality and will save you hours of tedious scrubbing. However, keep in mind that it's the heaviest unit and you'll need to replace the D batteries often. You can use rechargeable D batteries if you don't want to keep buying and replacing them.
Best Siphon-Powered Vacuum: Aura 6250 Spa Vacuum
Spa Vacuum (Siphon Powered)
This simple spa vacuum utilizes a simple siphon action to remove dirt and debris from your spa. No pumping, no batteries, and no water hook-up are required.
Buy Now on Amazon
If you click this link and make a purchase, we earn a commission at no additional cost to you.
09/19/2023 01:32 am GMT
The Aura 6250 Paradise Power Spa Vacuum is specifically designed to clean hot tubs and does not need a power source to operate. Instead, this spa vacuum uses siphon power to pick up dirt and debris. No batteries are required! And there's zero setup.
But because it's not powered by any batteries or electricity, it can take longer to work, and it's the least powerful option on the list.
By the way, if you need more help keeping your hot tub clean, check out our Hot Tub Care Video Course!
Tired of trying to keep your hot tub clean all the time and dealing with chemicals?
You'll save $100 right away with this easy-to-follow digital ebook and video course. This is the ultimate maintenance guide that hot tub manufacturer doesn't provide you.
Get Instant Access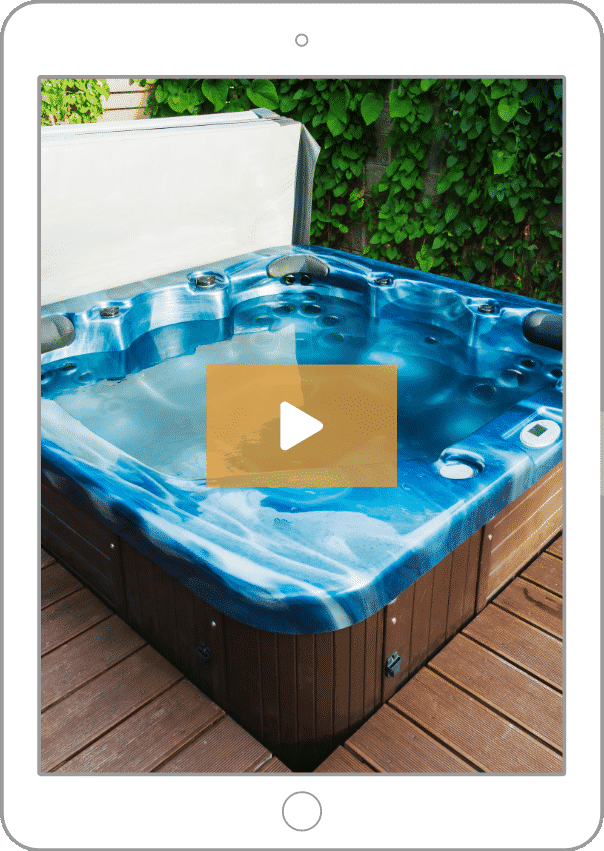 Best Rechargeable Vacuum: Intex PureSpa Handheld Vacuum
Intex Handheld Rechargeable Spa and Pool Vacuum
This vacuum's rechargeable batteries provide ongoing, powerful suction capability. Suitable for use with most hot tubs and above-ground pools up to 18 feet in diameter.
Buy Now on Amazon
If you click this link and make a purchase, we earn a commission at no additional cost to you.
This Intex Handheld Spa and Pool Vacuum is specifically designed for use with inflatable hot tubs and smaller above-ground pools. It has a three-foot-long detachable hose and a reusable debris bag. This vacuum also has an attachment for cleaning spa jets.
It's also rechargeable, saving you from constantly replacing batteries in your vacuum. But the Intex PureSpa works best on small debris. So if you have larger pieces of debris in your pool or hot tub, you may want to consider a different option.
How to Choose the Best Hot Tub Vacuum for You
Portability and power all play a part in buying the right hot tub vacuum. But you'll also want to make sure there are enough brush attachments and nozzle options to clean every crevice of your hot tub. Here's what to consider when buying a spa vacuum:
1. Power Source
You can choose between battery-powered, siphoning, manual power (siphoning or pumping), or pressurized water from a garden hose. If you want longer run times and don't want to wait for a lithium battery-powered vacuum to recharge, you might prefer a manual pump, siphon, or water pressure-powered option.
2. Corded vs. Cordless
If you have a small tub, a cordless vacuum is best because it doesn't have to cover a large area and has enough power to pick up small pieces of debris. But, if you have a bigger hot tub, you might need something more powerful to pick up larger pieces of debris.
The size of the debris is also a factor to consider when choosing a vacuum. If the debris is small like sand, dirt, or small pebbles, then a cordless handheld vacuum will be able to pick it up easily. However, you'll need a corded vacuum with more suction power if dealing with larger debris like leaves, plants, and insects.
3. Telescoping Pole
Getting a hot tub vacuum that comes with a telescoping pole or multi-section pole makes it easier to use. The aluminum pole makes it easier to reach tough places in the spa, like corners and steps. If you already have a manual pool vacuum cleaner for your swimming pool, you might already have a pole.
4. Brush Attachments
A good spa vacuum should not only have strong suction to pull in the debris but also a brush set for scrubbing surfaces. An extra brush that slides on to your spa vac or a brush that is permanently attached to the vacuum head can be helpful.
5. Sponge Included
A sponge can help a vacuum cleaner to remove thick liquid substances from surfaces such as walls. This can be useful for taking out things like lotion residue which may be stuck on the tub's walls. This isn't a universal feature, but if you find one that includes a sponge, it may be worth considering.
6. Nozzle Variety
Different types of nozzles are designed to collect various kinds of debris. Having more nozzles gives you more options for cleaning up different messes. Some desirable nozzle types include those designed for spot cleaning and for cleaning in tight corners. More nozzles mean more flexibility in cleaning ability.
7. Filtration System
Spa vacuums come with different filtration systems, and the size of the filter bag is an important factor to consider. A larger filter bag means you won't have to empty it as often. Microfilters are especially effective at trapping dirt and debris. If you have many people using your spa regularly, choosing a vacuum with a good filtration system is important.
8. Warranty
Most spa vacuums from reputable brands come with a one- or two-year warranty. But check your protection options before you make a vacuum purchase, especially when purchasing from third party sites like Amazon.
How to Keep Your Hot Tub Clean
Using a spa vacuum cleaner is important to keep things clean, but it's not the only thing you should do. To make things easier:
Rinse off quickly before getting in. Lotions, cosmetics, and oils on our skin can disrupt your hot tub's water chemistry. And it's easy to bring dirt, grass, stones, and debris into the water on the soles of our feet.
Keep it covered. When the hot tub isn't in use, keep your cover on to prevent debris from falling into the water.
Clean your filter. If you use your spa regularly, rinse off your filter once a week with a garden hose or a hot tub filter cleaner. And replace the filter cartridge if it's become too dirty.
Clean your surfaces. Use a hot tub cleaner or diluted white vinegar to remove any scum build-up on the surface or water line of your hot tub.
Drain and clean your hot tub every 3 months. This helps remove any biofilm buildup in your pipes. For more help, check out our guide on How to Drain and Clean a Hot Tub.
Frequently Asked Questions About Hot Tub Vacuums
Need more help with hot tub vacuums? Here are some common questions and answers.
What is the best way to vacuum a hot tub?
The best way to vacuum a hot tub is to start with a clean floor attachment and then use short bursts with the brush roll on high. This will remove any dirt and debris that may be stuck in the crevices of the tub. If you want to thoroughly clean the inside of the tub, you'll need to drain and clean your spa. And the hot tub surfaces should be cleaned using a damp microfiber cloth.
Do you need a vacuum for a hot tub?
Yes, you will need a vacuum for a hot tub to pick up small debris like dirt or sand. The vacuum can also help circulate the water, which can help keep the water clean and free of any build-up.
What's the best vacuum to clean the bottom of a hot tub?
A handheld spa vacuum is a great choice for small jobs and most debris found in hot tubs. It's also great for cleaning the bottom of your hot tub, as it will be much more portable than a powered vacuum.
Another great choice for cleaning the bottom of your hot tub is a cordless vacuum cleaner. It's much easier to move around than a power vac, and you won't have to worry about turning it on and off.
Finally, a corded vacuum cleaner is the last option for cleaning the bottom of your hot tub. This is the most powerful type and is best for large spaces.
Is there a vacuum for a Swim Spa or Jacuzzi?
Yes, most hot tub vacuums can be used with swim spas or jacuzzi-brand hot tubs. A battery-operated, handheld vacuum is the best option. But check your manufacturer's warranty before using.
Can I use a hot tub vacuum in my pool?
Many battery-powered, cordless, handheld pool vacuums can be used in hot tubs as well. And spa-specific vacuums can be used in most inflatable small pools or smaller above ground swimming pools. But they're likely not powerful enough for inground pools. Look for a pool-spa combo vacuum made for both hot tubs and swimming pools.
Need More Hot Tub Maintenance Help?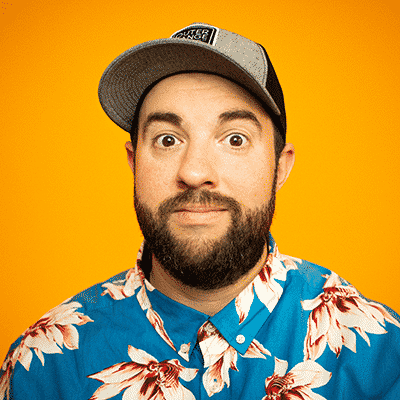 Matt Giovanisci is the founder of Swim University® and has been in the pool and spa industry since 1995. Since then, his mission is to make pool and hot tub care easy for everyone. And each year, he continues to help more people with water chemistry, cleaning, and troubleshooting.