Remember the little plastic pool you probably had as a kid? It was just one piece. All you had to do was find a fairly level spot to place it, fill it with water, and you were all set for hours of fun—and those pruney fingers and toes your mother warned you about.
So when you open up your new Intex pool, and you see how many parts you have to put together, you may be tempted to just go back to the plastic kiddie pool. All those little parts! You need tools! You have to read instructions! You just want to get to the fun!
We hear you. Take a deep breath and relax. Intex pool setup may seem intimidating, but it's not as difficult as you think it is.
Stock up on Supplies
Intex pools require a lot of the same maintenance as more permanent pools. So before summer is in full swing, you'll want to stock up on some basic pool care supplies.
You'll need:
extra pool hoses
any other pool chemicals you need to maintain water chemistry
Important: Be sure you wear protective gear like goggles, gloves, long-sleeved shirts, and closed-toe shoes when working with chemicals. Safety first!
Inventory the Pool Parts
Before you start assembling your pool, you'll also want to make sure all of your Intex pool parts and pieces are there in the box and in good condition. This is especially important for Intex metal frame pool setup. One missing bar or strategically placed screw could bring the whole thing crashing down once you fill it with water.
Lay all the parts out on your lawn or patio. Compare them to the user manual that comes with every pool to make sure you have everything you'll need to put your pool together.
If you're missing anything, you can contact the manufacturer to see whether they'll send you replacements, or you may be able to find replacements online. Either way, don't start putting the pool together until you have every single part you need.
Find a Completely Level Surface
Nothing will ruin your pool setup like putting it on uneven ground. Your Intex pool—just like any above ground pool—must be on a flat, solid, level, and stable surface. If the ground is uneven, the water can shift to one side. This can put too much stress on the pool frame and possibly lead to collapse.
If you're setting the pool up on your lawn, you can use a weed trimmer to cut the grass down to the dirt and even out the dirt. Be sure to clear the space of rocks and any other sharp objects such as twigs.
Run a leveling board, or even just a 2 x 4, over the surface to level it. Then use a level to make sure the ground is flat. The surface shouldn't vary by more than 1 to 2 inches.
Then put down a ground cloth or a tarp so the pool doesn't sit directly on the dirt. This will inhibit grass and weed growth, and help prevent damage to the liner.
Heavy-Duty Pool Tarp
The unparalleled quality of the thick material is enhanced to be more protective. It can be used as a tarp under your pool or even as a pool cover during winter months to prevent water, mud, and dirt from filling your pool.
Buy Now
If you click this link and make a purchase, we earn a commission at no additional cost to you.
12/05/2023 08:17 am GMT
To make things even easier, you can also set your pool up on a concrete patio. You'll still want to use a ground cloth or tarp, though.
Whatever you do, don't even think about setting up your pool on sand. It can shift and cause the pool to lean to one side, which will put stress on the frame. The pool's legs can also sink into the sand.
How to Set up an Intex Pool
Now that you've got the space all cleared and prepared, you can proceed to the actual Intex pool setup.
Get Help Moving the Pool Liner
The last thing you want is a hole in your pool before you even get it set up, and dragging the liner around by yourself is just asking for a big ol' tear in it.
Instead of having to immediately order a new liner and put all your pool fun on hold, get a friend to help you move and unfold it. Be sure the two filter connection holes are facing toward where you'll be setting up the filter pump and connecting to an outlet.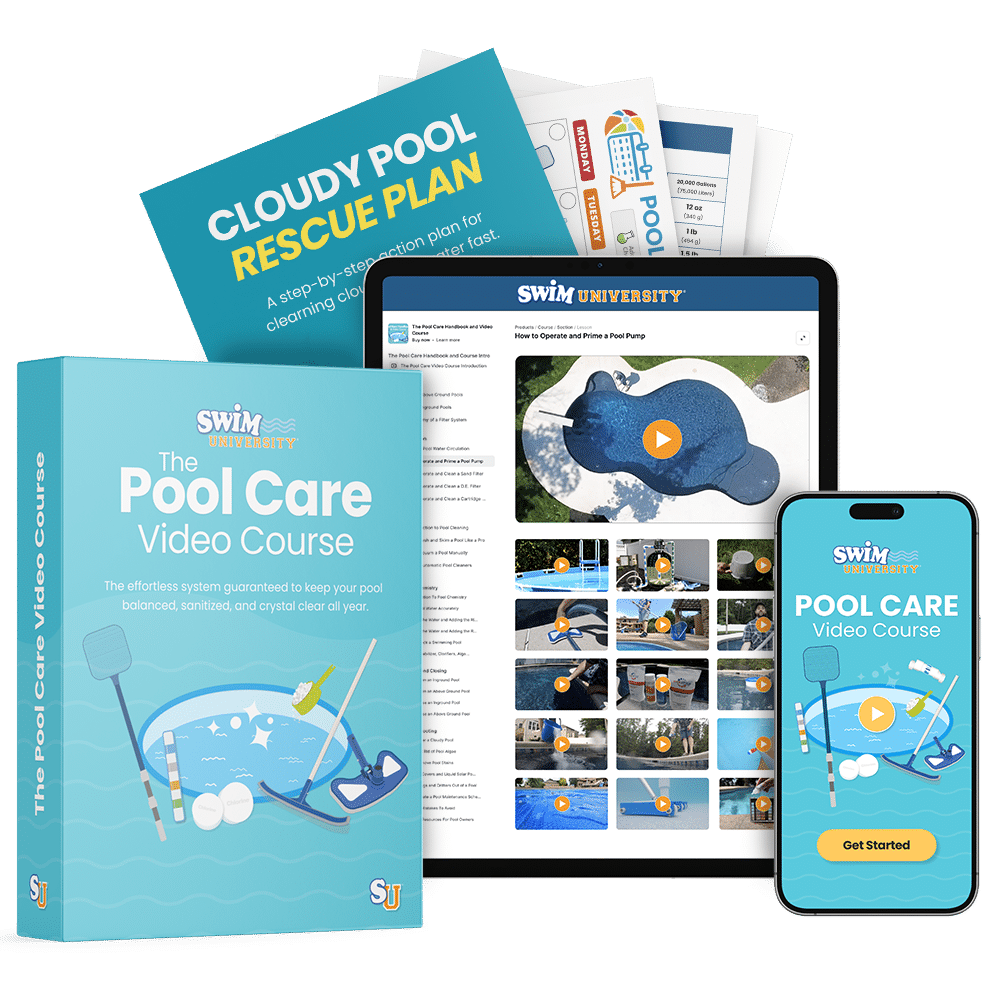 Tired of wasting time, money, and chemicals trying to keep your pool clear?
Cut the confusion with our easy-to-use video course. Save $1,000's on pool care and keep your water clean and clear for good!
Check Out The Course Here
Build the Frame
Intex pool setup is kind of like building IKEA furniture: You can do it by yourself, but it's a lot easier if you have help. And there's less chance of you throwing a hex key across the yard. So hopefully your friend will stick around to help you speed up the frame-building process.
Start by slipping the horizontal beams or poles into the sleeves of your pool liner, and connecting the first pole to a T joint.
Continue going all the way around the pool, making sure the T joints aren't resting on your liner. The last T joint is usually the hardest to connect. That's where a friendly extra pair of hands comes in, uh, handy.
Finally, add the vertical support legs. Make sure every leg is inserted into the rope or liner with a leg cap.
Set up the Filter Pump
Intex pool pumps are a filter and pump in one, which makes maintenance a little easier. It's also easy to set up.
Place the filter pump on a level surface, at least two feet away from the hose connection on the pool wall.
Place the nozzle union in the upper hose connection. This connection is located on the filter portion of the filter pump.
Place the strainer union into the lower hose connection. This connection is located on the left side of the filter pump.
Connect the hose by attaching one end to the lower connection, and the other end to the upper connection.
Use two hose clamps to secure the hose to both the pool and the filter pump; tighten with a screwdriver (usually a flat head).
Next, you'll want to test the filter pump, but you have to fill the pool first.
Adjust the Pool Liner and Frame
Once your pool is full of water, you won't be able to move or adjust it. Before you break out the hose, take a few minutes to smooth out the liner, especially on the bottom where swimmers will put their feet. Those liner wrinkles will be uncomfortable, maybe even a little painful, to walk on.
Next, tighten the support beams. Pull the bottoms of the side supports away from the liner, and make sure the pool's top beams are level.
Note: It's OK if the walls and frame structure lean inward. As the pool fills with water, the sides will slowly move outward and be supported.
Fill the Pool
Depending on pool size, hose size, and water pressure, filling your pool can be an all-day activity.
Never leave a pool completely unattended while it's filling up. Keep an eye on it, especially at the beginning, to make sure the water surface is level and there aren't any major leaks.
Once the water reaches the fill line, turn it off. Overfilling the pool can put too much stress on the frame, and possibly cause it to collapse.
Our Top Pick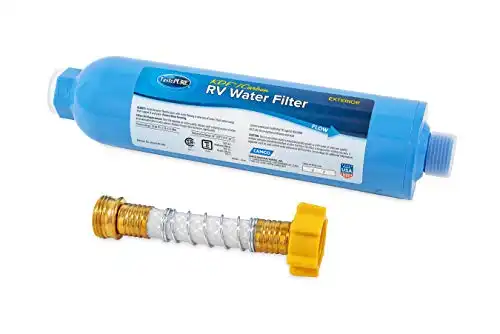 Test and Run the Filter Pump
If the pool is filled properly, the water line should be about two inches above the upper hose connection to ensure water enters the filtration system.
Plug the pool pump into an electrical outlet, and allow the system to run. Check to make sure water is entering the hose, running through the filter pump, and returning to the pool.
If it is, your Intex pool setup has been a success! Add chemicals, balance the water, and then get ready for some fun in the sun!
Do You Feel Like an Intex Pro?
Well, you should! You just cleared a level space, built a pool, and got a filtration system working, all in a matter of a few hours. Your kids and grandkids will look back on this as the day you saved them from unbearable summer heat, and bestowed upon them a cool, refreshing, new way of life.
OK, maybe that's taking it a little far. But knowing how to set up an Intex pool has to have at least earned you a little quiet time. That'll come in handy, because after all that work, you'll probably need a nap. But once you wake up, you'll be able to enjoy a nice dip in your new Intex pool.
Happy Swimming!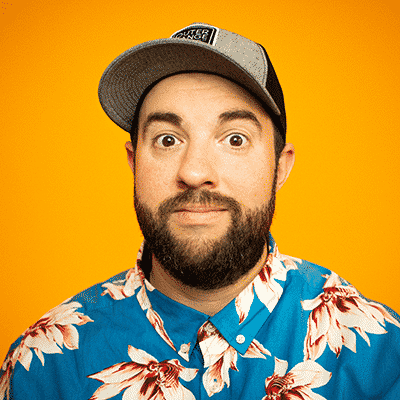 Matt Giovanisci is the founder of Swim University® and has been in the pool and spa industry since 1995. Since then, his mission is to make pool and hot tub care easy for everyone. And each year, he continues to help more people with water chemistry, cleaning, and troubleshooting.