The choice between liquid chlorine and chlorine granules is always a concern for pool owners and many aren't sure which one they should use to make sure their pool is properly taken care of year after year. You can often receiving conflicting information about these products depending on who you ask.
The truth is, there are benefits and drawbacks to both liquid chlorine and chlorine granules. The most important thing to remember is you need to choose the best product based on your budget and equipment.
Liquid Chlorine and Granules Both Sanitize
Chlorine is the main chemical that pool owners use as a sanitizer or disinfectant. Chlorine is widely used by pool owners to destroy bacteria and algae to be sure their pools remain clean, clear and safe for swimming.
Chlorine is produced by the electrolysis of saltwater and is very good at breaking the cell walls of microorganisms such as bacteria and algae and then oxidizing them. Chlorine is unstable, however, and will continue to break down until it is no longer effective. That is why you must keep adding chlorine to your pool on a regular basis.
Chlorine is also considered a hazardous material so it should always be handled with care and pool owners should take proper safety precautions before handling it such as wearing gloves and goggles when using it.
Liquid Chlorine
Liquid chlorine is made by bubbling the gas form of chlorine through caustic soda. It has a high pH level of around 13 and can simply be poured directly into the pool. Liquid chlorine is used mainly in large commercial or high traffic pools because it can added in bulk with some large commercial pool owners adding it from 55 gallon drums.
For smaller, residential pools, its cost may outweigh its efficiency. Liquid chlorine, though often cheaper than other forms, needs much more acid to be added to the water to counteract the high pH and it is highly corrosive which could lead to damage of your pool walls or bottom if great care isn't taken when using it.
Frustrated by adding chemicals and trying to keep your pool clear all the time?
We cut out all the confusion of pool maintenance in this easy-to-read illustrated ebook and video course. It'll help you save $100 right away on pool care!
Click here to learn more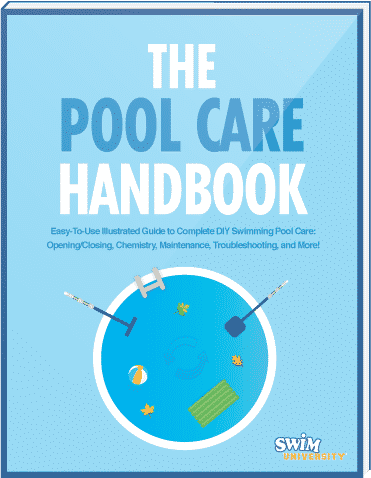 Chlorine Granules
Also called powder chlorine, granules are the most common form of chlorine used by private pool owners, it is often a little more expensive than liquid chlorine, but is much easier to use and has a lower pH, meaning you won't spend as much on acid to maintain proper pool balance.
There are three main types of chlorine granules:
Dichlor – This has a low pH or about 7 so you won't have to use as much acid to balance your water and it dissolves rapidly and begins to work on contaminants immediately. It only contains about 62% actual chlorine per pound. This product is stable and can be used as a shock treatment but is more expensive than other options.
Lithium Hypochlorite – Lithium has only about 35% chlorine per pound and its pH is rather high at 11 meaning you will need more acid to balance your water compared to using dichlor. It's main advantage is it dissolves very fast reducing the chancing of a bleaching effect occurring on vinyl pools. However, lithium hyphochlorite is very difficult to find as most lithium is now used to make batteries. If you are able to find it, chances are, it'll be quite expensive, and not a good long-term solution.
Calcium Hypochlorite – Calcium is one of the most popular chlorine treatments as it is one of the most cost effective. It contains about 65% chlorine with a pH of 12. This will require more acid to properly balance your water. It's inexpensive, but unstable, and breathing the fumes can be dangerous.
If you click this link and make a purchase, we earn a commission at no additional cost to you.
May 26, 2020 6:48 am UTC
Make Your Decision
Your decision will largely be based on how it will be used and your available budget. Liquid chlorine would be the best choice for owners of very large or public pools, but the costs associated with it and the available chlorine per pound make could mean that powder chlorine is the better option for a home owner's backyard pool.
In the end, both products will do their job and keep your pool clean and clear. Just be mindful of your budget needs and the needs of your equipment before choosing liquid chlorine or chlorine granules for your pool.
Liquid chlorine and chlorine granules both have their strengths and weaknesses. Before you choose which one you will use, examine the operating manuals of your equipment to see which type is needed and then look at your budget to decide which one you can afford.
Once you make your decision, be sure you handle the chlorine carefully and follow the instruction for adding it to your pool in detail so you can be sure your pool and its equipment doesn't get damaged in the process.
Happy Swimming!
Matt Giovanisci, the founder of Swim University®, started in the pool and spa industry at age 13 and moved to bigger companies along the way, helping thousands of pool and hot tub owners every year. He wanted to share his knowledge and unique teaching style on a larger scale, so he launched Swim University® in 2007. Since then, he's worked to make pool and hot tub care easy for over 10 million homeowners. And each year, he continues to help more people with water chemistry, cleaning, and troubleshooting.
Frustrated by adding chemicals and trying to keep your pool clear all the time?
We cut out all the confusion of pool maintenance in this easy-to-read illustrated ebook and video course. It'll help you save $100 right away on pool care!
Click here to learn more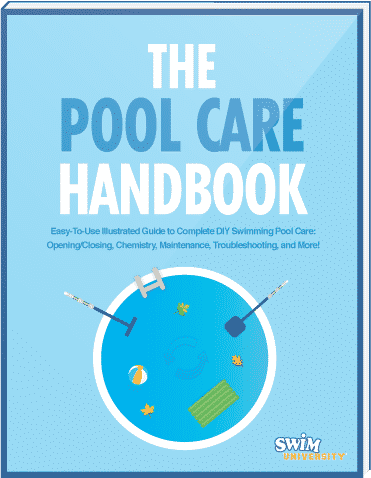 Subscribe To Our FREE Pool Owner Newsletter
By entering your email address you agree to get a weekly email newsletter from Swim University. We'll respect your privacy and unsubscribe at any time.