Your home may have smoke detectors, carbon monoxide detectors, and maybe even a security alarm. These products help protect you and your loved ones from heartbreaking tragedies inside your home.
But what about outside? If you have a swimming pool in your backyard, and you have children, the potential for an accident is high. One of the easiest and least expensive ways to prevent a child from being injured—or worse, drowning—is a pool alarm.
Why You Need a Pool Alarm
Kids and pools just go together. Sadly, unintentional drowning kills more than 700 children in the United States each year. For every child who drowns, five more require emergency room visits for nonfatal submersion injuries.
What makes these statistics even more disturbing is that every single one of these pool-related accidents is completely preventable.
While it's only one component of a comprehensive plan to make your pool safer, a pool alarm is a wise investment. And depending on where you live, you may even be required by law to install one.
Know Your Local Pool Alarm Laws
A few states require residents with pools to install pool alarms. In other states, some counties and municipalities require them, even though the state doesn't.
Be sure to check with your local code enforcement department before you buy to ensure you're in compliance with the rules and laws where you live.
When trying to head off pool accidents, you can choose from four types of alarms. Pool alarms may be on windows and doors leading to your pool area, the surface of your pool water, submerged in your pool, or on a person's wrist.
Each type works a little differently, and they can be used in conjunction to increase their effectiveness, thereby increasing safety as well as fun.
Threshold Pool Alarms
These simple devices are meant to be installed anywhere a person could gain access to your pool, such as sliding glass doors or windows. They prevent anyone from slipping out to your pool area unnoticed.
1. iSmartAlarm DWS3R Contact Sensor
For those who prefer high-tech solutions, iSmart's home security alarm is perfect. Its wireless contact sensors can be placed on doors and windows that open to your pool area. If anyone opens the door or window, the connection between the sensors is broken, and an alarm goes off.
Because it's part of a home security solution, you can add other components, such as motion detectors and cameras. It also works with an app and integrates with the popular service If This Then That (IFTTT), which allows you to do things like arm your alarm via Amazon Echo.
2. Poolguard GAPT-2 Outdoor Pool Gate Alarm
If you want to put an alarm on a gate, you might be surprised when you find out some threshold alarms don't fit quite right. A gate alarm like Poolguard GAPT-2 is made to be installed on gates and screens where other alarms might not work.
Once the gate has been open for a few seconds, the alarm will sound. Pressing the pass-through button turns the alarm off so adults can easily come and go without setting the alarm off every time. Because this is a simple matter of pushing a button, it's imperative to install the alarm control unit out of children's reach.
Pool Alarms With Surface Wave Sensors
When someone or something gets into your pool, water is displaced, causing ripples. Surface wave sensors work by floating on your pool's surface and measuring any disturbance of the water. They work for both inground and above ground pools.
3. PoolGuard Safety Buoy Alarm
If your sense of design includes a sense of humor, this bright red, safety cone pool alarm is for you. It comes with a remote receiver that works up to 200 feet away so you can hear the alarm anywhere you are.
This alarm is designed to work best in above ground pools, spas, and small inground pools. It's also certified as meeting ASTM standards for pool alarms.
4. Pool Patrol PA-30 Pool Alarm
This little blue disc looks a lot like a floating chlorine dispenser. It also features a remote receiver that works 200 feet away, so the alarm will sound through the receiver and in your pool. An indicator light lets you check with a glance whether the remote is on.
Say goodbye to false alarms. You can adjust the sensitivity of the sensing ring so it will only react to disturbances the size of a small animal or child but not, say, a breeze. This little alarm is also easy to take along when you visit someone with a pool that's not child-safe.
Frustrated by adding chemicals and trying to keep your pool clear all the time?
We cut out all the confusion of pool maintenance in this easy-to-read illustrated ebook and video course. It'll help you save $100 right away on pool care!
Click Here to Learn More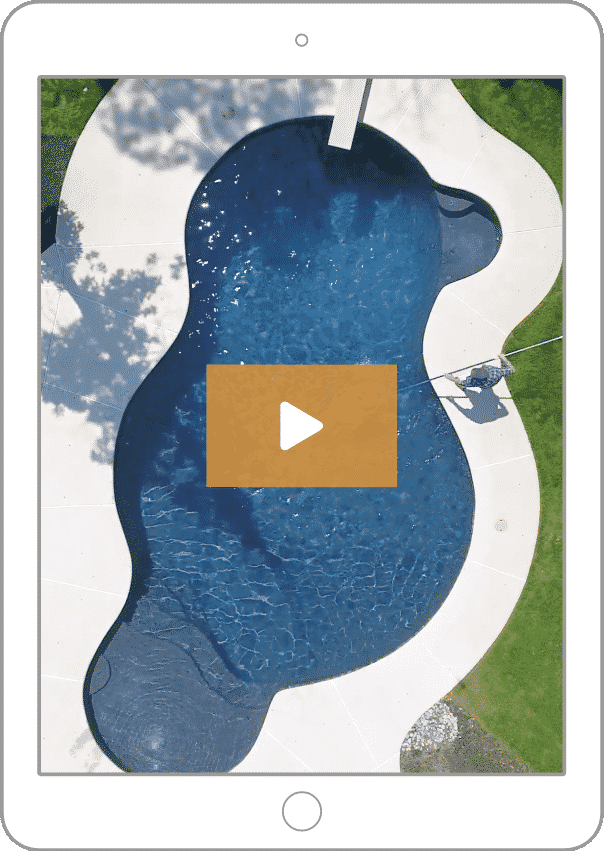 Pool Alarms with Subsurface Disturbance Sensors
If you're looking for a pool alarm you can install permanently, you'll want to buy a subsurface sensor. Once installed, the sensing arm extends down into the water and constantly monitors for water disturbances.
5. Poolguard PGRM-2 Inground Pool Alarm
If you like to keep your inground pool area looking sleek, this simple, white alarm will fit the bill. You'll need to drill a small hole in your pool deck for installation, then the alarm sits neatly on the side of your pool in the default, always-on mode. If it detects any water disturbances, the alarm will sound at the pool and through the in-house receiver up to 200 feet away.
When you want to go for a swim, put the alarm into sleep mode and remove the sensing arm from the water. As soon as you put it back into your pool, it's activated, eliminating the possibility of forgetting to turn it back on. It's also ASTM certified.
6. Blue Wave Poolwatch Alarm System
You can install this alarm on either a deck or pool rail, making it perfect for both inground or above ground pools. Be aware that you'll have to put screws into your pool rail for above ground pool installation.
It meets ASTM requirements, and will detect disturbances of 18 pounds or larger, so you shouldn't expect many false alarms where toddlers are concerned. However, if you have a small dog, you may want to consider a more sensitive alarm. While this model includes a remote receiver, it only has a 100-foot range.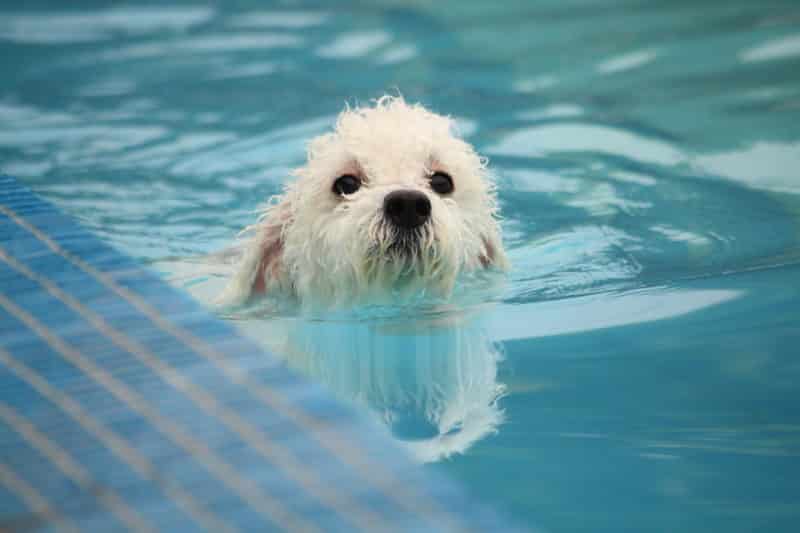 7. PoolEye Above Ground Pool Alarm
If you have an above ground pool, but you're not excited about the idea of drilling into your pool rail, the PoolEye has you covered. You'll need to remove a section of rail to install the sensor, then you can slip it right back on. It's rated for 24-foot or smaller pools.
One downfall: the PoolEye does not come with a remote receiver of any kind, so it only sounds an alarm poolside. Definitely remember to check your local code requirements before you buy.
Wristband Alarms for Swimmers
When you think about pool alarm systems, you usually don't consider strapping one to a human. However, wristband alarms are an excellent addition to your pool safety plan.
They're extra peace of mind for people with small children or loved ones who wander, such as some folks with Alzheimer's, dementia, or autism.
8. Safety Turtle 2.0 Child Immersion Pool Alarm Kit
When you buy this alarm, you get a wristband with key, base, USB cord, and power adapter. Setup only takes a few minutes. When you put the wristband on your child, you'll use the key to lock it. This way, your child can't remove it, no matter how crafty they may be.
The turtle sensor is always on, so as soon as it gets wet, the alarm will sound at the base. You can use the same base for as many wristbands as you like. Safety Turtle adapters are available for pets, too.
A Small Price to Pay to Save a Life
Installing a pool alarm is a simple, inexpensive precaution that could save the life of a loved one someday. Don't wait. Choose one that best suits your needs, install it now, and put your mind at ease.
Happy (Safe) Swimming!
Matt Giovanisci is the founder of Swim University® and has been in the pool and spa industry since 1995. Since then, his mission is to make pool and hot tub care easy for everyone. And each year, he continues to help more people with water chemistry, cleaning, and troubleshooting.
Get our FREE cheat sheet to help keep your pool clean without messing with confusing water chemistry.
By entering your email address you agree to receive emails from Swim University. We'll respect your privacy and you can unsubscribe at any time.