Have you ever dove into a pitch-black pool? It's a little scary, isn't it? You can't tell how close the bottom is, if there's anything that might be in the way, or whether there's a swamp creature waiting for you in the murky depths.
Aside from keeping you and other swimmers safe during night swims, pool lights and landscape lights can add ambiance, creating a relaxing or even romantic atmosphere. And multicolored lights make the pool fun, and can be part of your pool party decorations. You'll find no shortage of lights for all types of pools, and the area around the pool.
Pool Lights For Safety, Ambiance, and Fun
Whether you have an inground, above ground, or Intex pool, you can find several options to add light and color to your swims. Don't forget to add some lights around the pool deck and in the landscaping, too.
Best Inground Pool Lights
Your inground pool probably already has lights installed. But have you thought about upgrading them? If you don't already have LED pool lights, give them a try. They add brightness and longevity while using less energy to save you money.
1. TOVEENEN LED High Brightness Pool Light
Older style incandescent pool lights give off warm light that's further dimmed by the water. This bright white light creates a clearer swimming environment, making night swims safer for you and your family. This 60W LED light is specifically designed to replace 500W R40 incandescent bulbs.
Replacement is easy. Simply unscrew your incandescent bulb and install the LED lamp, then watch the energy and electricity bill savings roll in.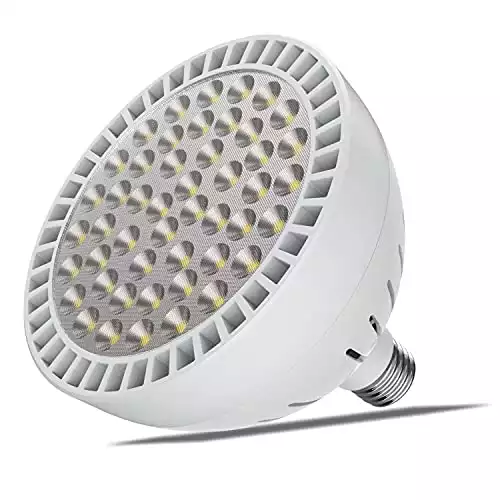 2. LAMPAOUS RGB Multicolor LED Pool Light
Want something more than just plain white? Try a multicolored one! This 35W screw socket LED light offers five colors, and multiple show speeds for a variety of effects.
It's also the perfect option to replace halogen or incandescent bulbs for brighter lights, less energy use, and lower electric bills. One small inconvenience may be that it has no remote, and must be operated by the main power switch. But that may be a small price to pay for better and brighter pool lights.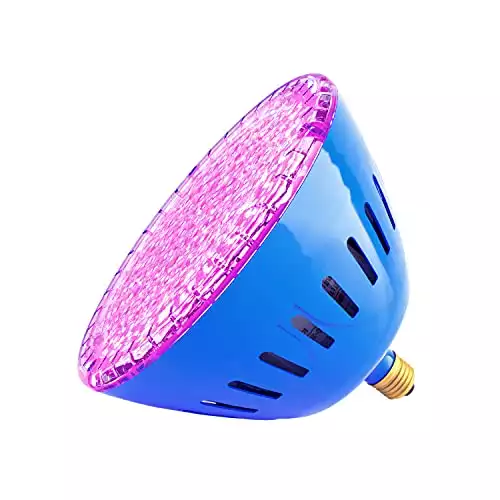 3. TOVEENEN Color-Changing LED Pool Light
Like the bright white TOVEENEN, this multicolored LED light is specifically designed to replace incandescent pool lights. The LED will provide more light and last longer than any incandescent option, and just one bulb can light up 16 × 32 foot pool.
The light simply screws into an existing lamp base, and offers seven brilliant fixed colors, and nine dazzling light shows. It also has a memory featuree, which saves the last color mode in use when the lamp is turned off, saving you from having to program your favorite options over and over again.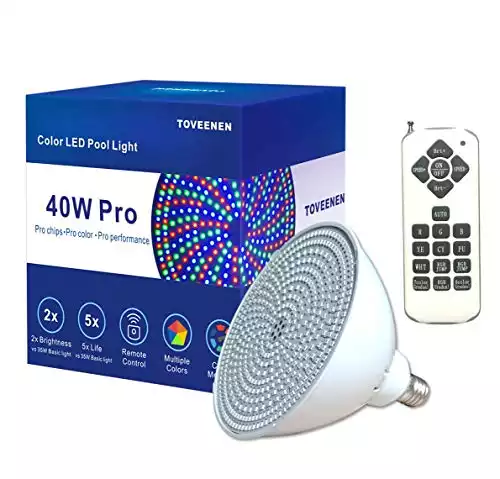 4. S. R. Smith LED Pool Light
With even light distribution and a wide beam spread, this LED light eliminates the end shadow effect common with other pool lights. In addition to the six colors it produces—including white—it has two color-changing modes, and four colored trim rings, allowing you to match your pool's surface.
This light is ideal for gunite, fiberglass, and vinyl liner pools, and can be used for new construction, retrofits, or conversions to LED. The light offers 50,000 hours of lamp life, and comes with a three-year warranty.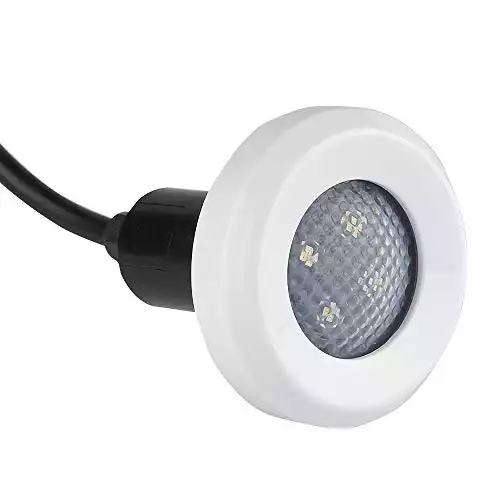 Frustrated by adding chemicals and trying to keep your pool clear all the time?
We cut out all the confusion of pool maintenance in this easy-to-read illustrated ebook and video course. It'll help you save $100 right away on pool care!
Get Instant Access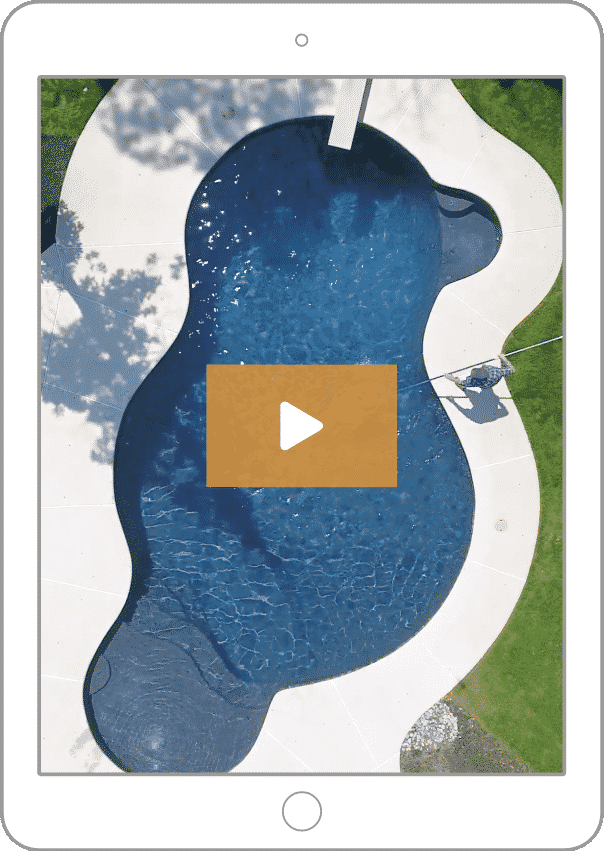 Best Above Ground Pool Lights
You may not be able to install any pool lights directly into your above ground pool walls the way you can with an inground pool, but that doesn't mean you have to swim in the dark.
5. Pentair AquaLuminator Aboveground Light and Water Return
So what happens when you have an above ground pool, and you can't plug any pool lights into the walls? You use a light and water return combo! This light fits the existing water return hole pre-punched by most aboveground pool manufacturers. So there's no need to cut new holes and risk voiding your pool manufacturer's warranty.
This light has a 25-inch plug-in cord. It also comes with a hard plumbing adapter, and a fountain attachment is also available.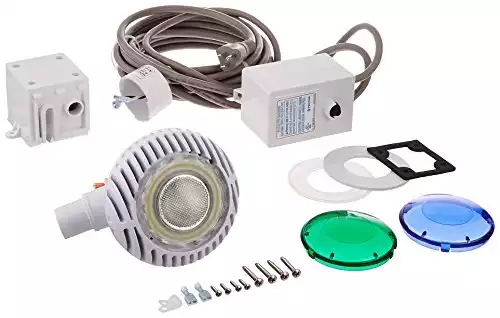 Best Pool Landscape Lights
Now that your pool's all lit up, create even more outdoor ambiance with landscape lights.
6. ZUCKEO Waterproof LED Landscape Lights
This set of eight lights does double duty, adding beautiful warm light to your garden and pool area while also enhancing your yard's security. Each light is a 5W LED light that gives off 500 Lumens, and only uses between 12v and 24v.
Their thick aluminum bodies and glass lens covers are water resistant, which means they can stand up to wet weather and pool splashout. The lights are rotatable with a 90-degree beam angle and 270-degree adjustable heads. The lights will require a transformer, wire connectors, and low-voltage wires, which are not included.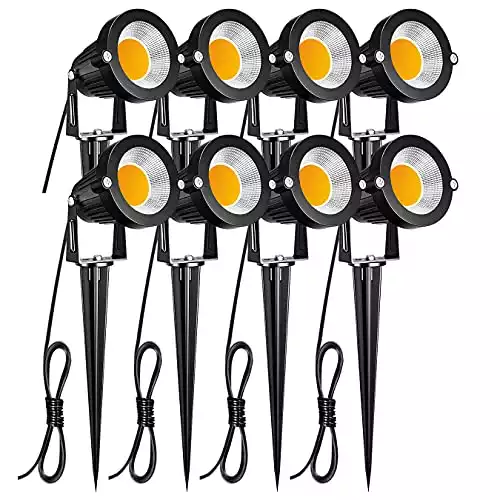 Light It Up!
No matter what kind of pool you have, or how big (or small) your back yard is, you can add safety, beauty, ambiance, and fun with a handful of carefully placed pool lights and landscape lights.
It's not difficult, and doesn't have to be hard on your budget, either. It's just a matter of choosing what works best for you, and what you find most appealing. Have fun with it!
Happy Swimming!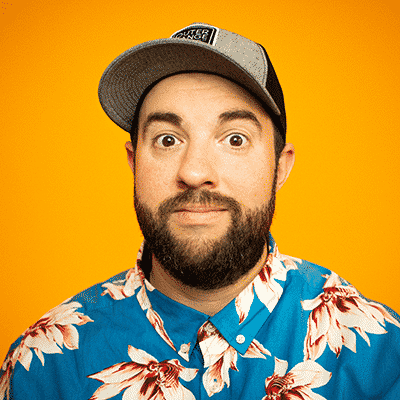 Matt Giovanisci is the founder of Swim University® and has been in the pool and spa industry since 1995. Since then, his mission is to make pool and hot tub care easy for everyone. And each year, he continues to help more people with water chemistry, cleaning, and troubleshooting.