There is nothing quite like the soft and slick feeling of a pool liner on your feet while you swim. However, sometimes those liners can become wrinkled. If that happens, what are you to do?
Dealing with pool liner wrinkles is just part of owning a pool with a liner, so you need to be prepared to deal with them when they happen. There are many ways you can remove wrinkles from a pool liner that are relatively easy for you to do yourself, although it will take a little bit of work.
Tips to Remove Pool Liner Wrinkles
If you have noticed wrinkles in the liner of your pool, then the time has come to act. Don't allow those wrinkles to sit there for too long. The longer they are allowed to exist, the tougher it will be to get rid of them. Try the following tips to remove wrinkles from a pool liner so your feet don't have to touch those ugly wrinkles whenever you go for a swim.
Tip 1 – Fill Your Pool
Sometimes pool liner wrinkles can form after the pool has sat for an extended period of time. If your pool water is low or you need to replace the water after it has sat there for a while, then try filling your pool with fresh water and slowly working the wrinkles out as you fill the pool.
Tip 2 – Start Walking
One of the easiest ways you can get rid of at least some of those pool liner wrinkles is by putting on some soft soled shoes and walking across the wrinkles gently stretching then from one side or another as you go. This will often take care of most minor wrinkles without you having to do anything else, but some wrinkles may be tougher to remove.
Tip 3 – Grab a Plunger
Believe it or not, a toilet plunger is a great tool for pulling out those pool liner wrinkles. Place the plunger on either side of the wrinkle and then plunge. This will pull the liner each way removing that wrinkle once and for all. Just make sure you use a clean, unused plunger for the task.
Tip 4 – Warm up the Pool
Liners often develop wrinkles in colder water. These colder temperatures cause the liner to harden forcing it to wrinkle. Before you try anything, you may want to consider trying to heat the water up to 92°F so the liner softens. You can then work out the wrinkles with a pool brush, your feet, or the plunger solution.
Our Top Pick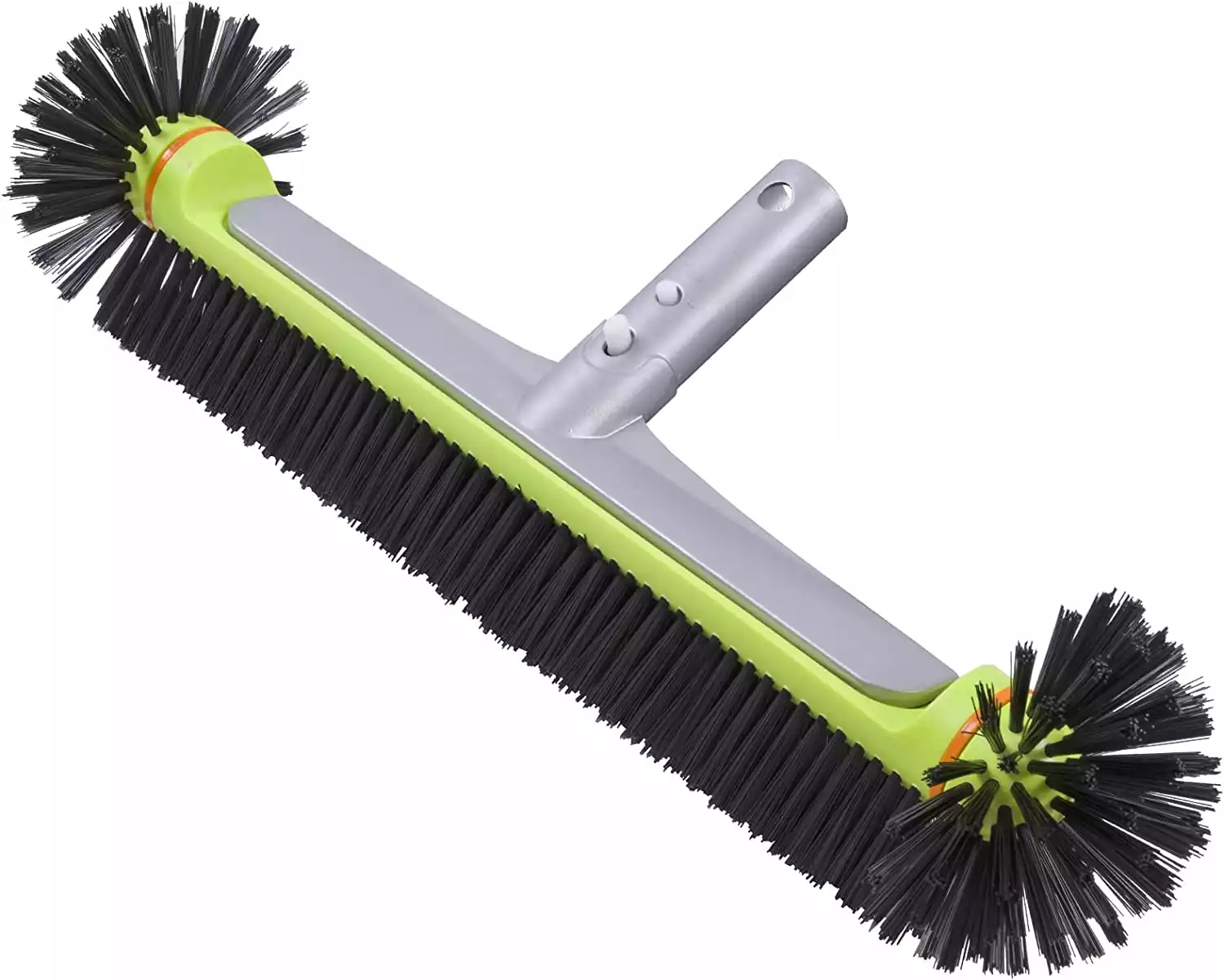 Heavy Duty Round Pool Brush
The wide pool brush with 360-degree reach helps clean hard-to-reach surfaces and tough crevices. Perfect for any type of pool, including vinyl liners, fiberglass, and painted concrete.
Buy Now From Amazon
If you click this link and make a purchase, we earn a commission at no additional cost to you.
Tip 5 – Drain the Water
Sometimes, pool liner wrinkles may be so bad that you have no choice but to completely empty the pool. Make sure you know how to drain a pool before you begin. This is especially important for inground pools, which can be heavily—and expensively—damaged if they're emptied incorrectly.
Once all the water is gone, you can then use a Shop-Vac to suck out those wrinkles one by one. When you do this, make sure that the liner remains wet at all times and be sure you vacuum between the frame and the liner instead of directly on the liner as the shop vac could damage the liner.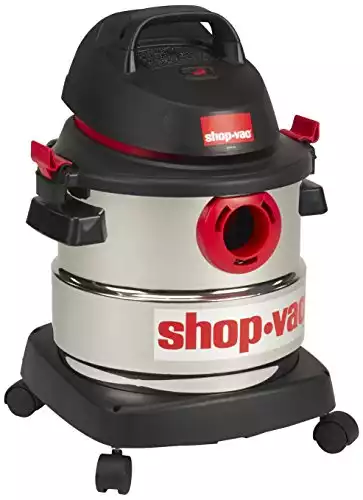 Tip 6 – Check Your Landscaping
Double check your landscaping to see if any trees, bushes or shrubs are directing water where it shouldn't be, or even extending into your pool area. If you have noticed any shifting of the ground, you will need to take the proper steps to shore up the ground so it doesn't continue to shift. Once this is done, you can get rid of those wrinkles and they shouldn't return.
Frustrated by adding chemicals and trying to keep your pool clear all the time?
We cut out all the confusion of pool maintenance in this easy-to-read illustrated ebook and video course. It'll help you save $100 right away on pool care!
Get Instant Access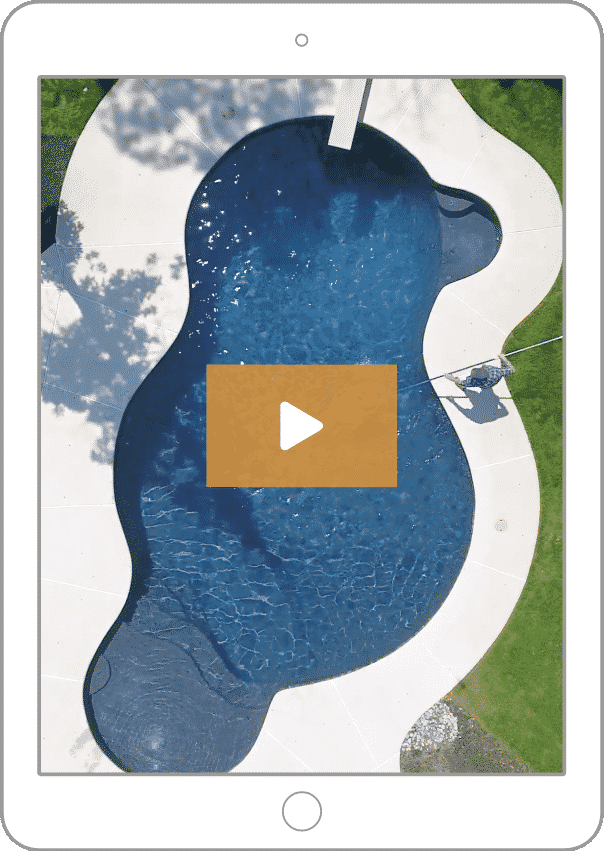 Tip 7 – Watch for Leaks
One of the most dangerous causes of pool liner wrinkles can be small water leaks. These leaks allow water to get underneath the liner forcing it up in places. When this happens, you will need to locate the leak quickly and you may even have to drain the pool to patch it properly before you can start pulling out those unsightly wrinkles.

Leakmaster Pre-Filled Leak Finder Dye
This pre-filled dye tester helps you find the precise location of structural pool leaks. Simply squirt the syringe into the water close to the potential problem area and the dye will flow towards the source of a leak.
Buy Now
If you click this link and make a purchase, we earn a commission at no additional cost to you.
Tip 8 – Blow Out the Liner
If all else fails, you can try draining your pool and then blowing out the liner itself. Using a Shop-Vac in reverse, place the hose between the liner and the frame and turn it on. This will push air between the liner and frame and push those wrinkles right out of the liner. Once they have come out, reverse the suction again and pull out the excess air that you have pushed under your liner.
Tip 9 – Call in the Pros
No matter how much or how hard you work on your pool liner, sometimes you have to call in the professionals. Draining your pool regularly to try and fix wrinkles can put the structure of your pool in danger, not to mention cost you an arm and a leg in water bills. If you have tried everything and you still have wrinkles in your pool, then you may want to call for backup.
Tip 10 – Replace the Liner
I have to admit, sometimes you simply won't be able to get those pool liner wrinkles out. Sometimes they are just there to stay and no amount of work will make any difference. If you have reached that point, then the time has come for you to replace that liner with a new one. Just make sure the new one is installed correctly so you don't notice wrinkles forming in it soon after it has been installed.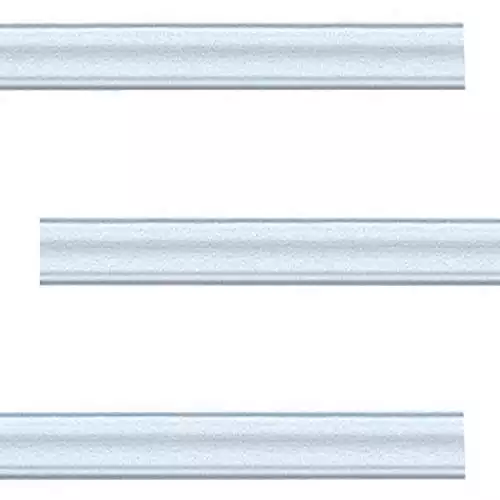 A Wrinkle in Line(r)
Dealing with pool liner wrinkles is just part of owning a pool with a liner. These ten tips should help you remove those unsightly wrinkles so your pools liner is as smooth as it was the day it was installed. Remember, pool liner wrinkles look bad and feel even worse on your feet, and the longer they stay there the harder they will be to remove. So make sure you act fast.
By following these tips, you should be able to get rid of those pool liner wrinkles with just a little bit of hard work on your part. If you do run into problems, don't be afraid to call in a professional to help you. In most cases, if you follow these tips you should be able to get rid of the wrinkles in your liner. Once they are gone, you can refill your pool and go back to enjoying a nice long swim to cool off in the warm weather.
Happy Swimming!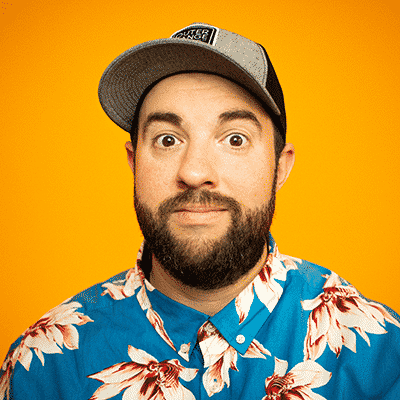 Matt Giovanisci is the founder of Swim University® and has been in the pool and spa industry since 1995. Since then, his mission is to make pool and hot tub care easy for everyone. And each year, he continues to help more people with water chemistry, cleaning, and troubleshooting.