You already know your pool has a plumbing system, and that water moves from the pool, through the pump and filter, past the heater, and then back into the pool. It's a perfect circulation system.
But what happens if you need to divert water from one place to another? Or you need to make sure water doesn't flow backward into the pool, putting back all the nasty stuff that was sucked out to be filtered? That's where pool valves come in. Managing your pool's water flow is a matter of understanding the different types of valves, and then properly using them at the right times.
What are Pool Valves?
You already know how important pool circulation is to keeping the water clean and swimmable. If pool water didn't move, it couldn't go through a filter where all kinds of dirt and debris is removed. It wouldn't flow through the heater to be warmed before being sent back into the pool.
All that water moves out of and back into the pool through pipes. Pool valves control the direction of water flow, not just in and out of the pool, but in and out of your pool equipment as well.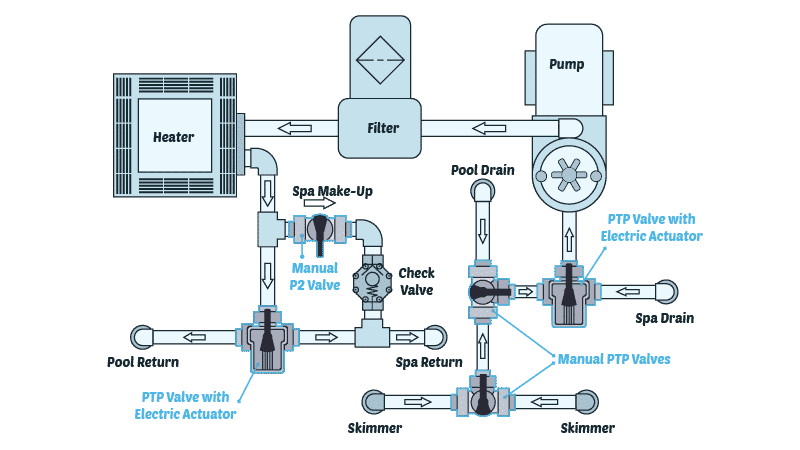 For example, you want the pool water to enter the filter, and then be expelled in the right direction to continue its path through the plumbing and back to the pool. If the water moved backward through the filter, you'd get a lot of dirt, debris, and bacteria sent back into the pool. This is why you backwash a pool filter to clean it.
Pool valves make sure the water keeps moving in the direction it's supposed to. As far as how it moves and why, that depends on they type of valve.
Pool Valve Types
Among all the equipment and pipes connected to your pool, you'll find four types of pool valves that help keep water flowing the right way.
Multiport Valves
A multiport valve is usually found on the filter. It allows you to direct water through the filter to either clean the water, rinse or backwash the filter, or expel water to waste, which is helpful when you want to, say, vacuum your pool.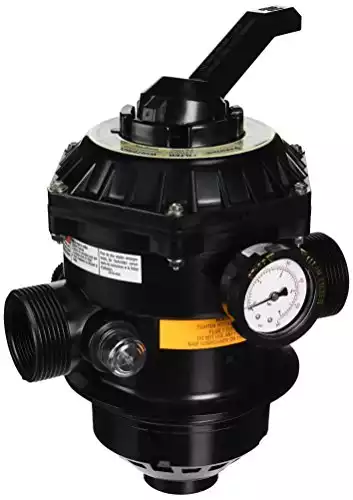 Pentair 6-Way Clamp Style Multiport Valve
This is a replacement multiport valve for Pentair sand filters. Fits Pentair Meteor, Sand Dollar and Tagelus pool and spa sand filters. Also fits Pentair Sta-Rite Cristal-Flo II pool and spa.
Buy Now
If you click this link and make a purchase, we earn a commission at no additional cost to you.
You can also recirculate water without filtering it if, say, you're using a flocculant to clear a cloudy pool. It also allows you to close the valves, which you may do when you clear the lines to open your pool. And there's a winter setting to prevent water from getting into the lines where it can freeze and cause damage.
https://www.youtube.com/watch?v=FPtfSFACM
Diverter Pool Valves
Exactly as the name suggests, diverter pool valves let you divert or redirect the water flow from one part of the plumbing system to another. You'll find two types of diverter valves available:
2-way valves: These control the water flow to or from just one port. They can turn the flow completely, completely off, and partially on or off. They're controlled by a handle that turns 90 degrees.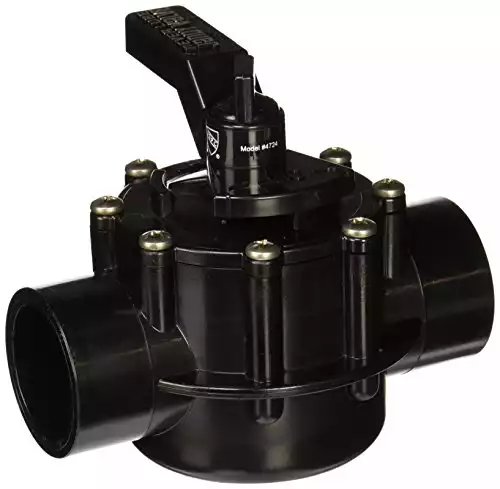 Jandy 2-Way Diverter Valve
Our recommended 2-way diverter valve that never requires lubrication. Designed for easy automation. Made from durable CPVC. Proprietary NeverLube technology. Maintenance-free!
Buy Now
If you click this link and make a purchase, we earn a commission at no additional cost to you.
3-way valves: These have one port on each end, and one port in the middle. They allow you to partially or fully turn on or off water flow through either end port, but not through the center port. They're controlled by a handle that turns 180 degrees.
This type of valve would be used to, for example, partially or fully turn the skimmer or the drain on or off, through one port or the other. But because the center port doesn't close, you could not divert water flowing to the pump.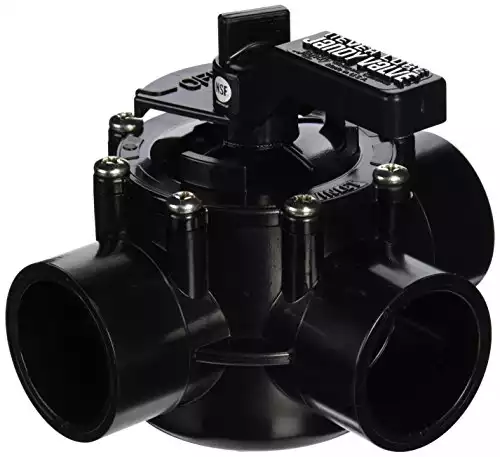 Jandy 3-Way Diverter Valve
Our recommended 3-way diverter valve that never requires lubrication. Designed for easy automation. Made from durable CPVC. Proprietary NeverLube technology. Maintenance-free!
Buy Now
If you click this link and make a purchase, we earn a commission at no additional cost to you.
Diverter valves are available with or without unions. If you have one with unions, you can repair or replace the valve without having to cut it from the plumbing pipe.
Check Valves
Whenever you turn the pump off, it's important to prevent water from flowing backward. This is what check pool valves do. They're important in numerous situations and for a variety of equipment.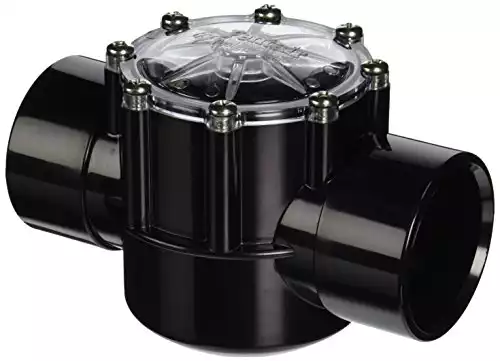 Pentair Check Valve for Pool Pumps
Get Ready For The Pool Season With Preventative Maintained On Your Pool Equipment. No Assembly Required.
Buy Now
If you click this link and make a purchase, we earn a commission at no additional cost to you.
Automatic Chlorinators:
If you use either a salt chlorine generator or an automatic pool chlorinator, it should be the last piece of equipment water flows through before going back into the pool.
This is because chlorine generators release concentrated chlorine, which is then diluted in the pool water. If the water were allowed to flow backward after you turn off the pump, that concentrated chlorine could damage your other pool equipment.
To prevent this, you must install a check valve between the chlorinator and the piece of equipment that precedes it, which will be either the filter or heater.
This will ensure that, when you shut off the pump for any reason, water will not flow between the chlorinator and any other equipment, in either direction, thereby protecting your filter and heater from the concentrated chlorine they're not meant to handle.
Hot Tubs:
If you have a spa connected to your pool, you'll notice that the water level in the hot tub is higher than the pool's water level. When you turn off the spa pump, you want to ensure that the water levels in both areas remain consistent, meaning you don't want the hot tub to drain into the pool, throwing off your water chemistry in both places.
A check valve keeps this from happening by keeping the spa water where it belongs.
Water Features:
If you have any kind of fountain or other water feature in your pool, the feature draws water from the pool to function. But it's likely that it also draws directly from a contained reservoir. Installing a check valve in the water feature's feed line will keep that reservoir from draining back into the pool when the feature is turned off.
Solar Heating:
If you're using a standard pool heater or heat pump, you don't need to worry about this part because you likely have a diverter valve between the heater and the pool return.
But if you're using a solar pool heater, you'll need to install a check valve in the pipe that leads to the solar panels.
These panels must be continuously filled with water in order for the water to capture the sun's heat, and maintain the pool temperature. Usually, the solar panels are installed on a home's roof to best capture the sun, putting them at least eight feet above the pool pump.
This means that whenever the pump is shut off, the water would obey the laws of gravity, and flow backwards in the pipe, away from the panels and back toward the pump and the pool. Putting a check valve on that pipe prevents this backflow.
Valve Actuators
We've got automatic chlorinators, automatic timers, and all kinds of other automation going on with a pool, right? So why not automate the valves, too? That's what valve actuators do.
Rather than having to walk over to your pool equipment area and manually turn diverter valve handles to control water flow, you can install valve actuators on top of the diverter valves, and wire the actuators to your pool's control box.
Then, when you want to redirect water flow for any reason, all you have to do is push a button, and the actuator automatically moves the valve handle. Valve actuators will also allow you to turn on your connected hot tub or water features, all with the push of a button. Pretty cool, huh?
Frustrated by adding chemicals and trying to keep your pool clear all the time?
We cut out all the confusion of pool maintenance in this easy-to-read illustrated ebook and video course. It'll help you save $100 right away on pool care!
Get Instant Access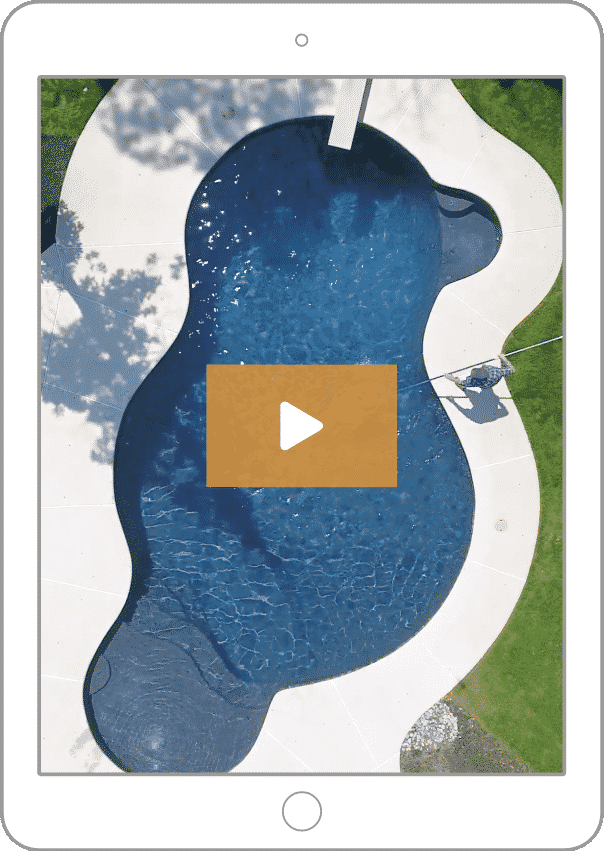 How to Replace Pool Valves
Just like anything else you use, pool valves are not indestructible and don't last forever. At some point, you'll need to either repair or replace one or more valves.
And if your pool has been around since before the mid '80s? It's time to do this now. Pool valves have improved a lot over the past 35 years.
Take Control of Your Pool's Water Flow
Of all the equipment and devices you use to maintain your pool, it's amazing that a few little plastic pieces can have such an effect on your pool's function and health.
Don't underestimate the value or necessity of pool valves to make sure the plumbing functions the way it should, and your pool water stays clean and sparkling.
Happy Swimming!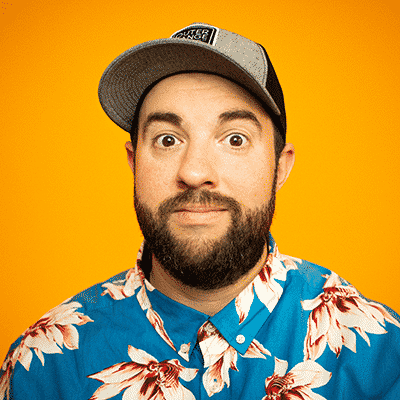 Matt Giovanisci is the founder of Swim University® and has been in the pool and spa industry since 1995. Since then, his mission is to make pool and hot tub care easy for everyone. And each year, he continues to help more people with water chemistry, cleaning, and troubleshooting.