Your pool isn't connected to any kind of moving body of water. It's not a pond fed by a stream, or a lake at the end of a river. Those bodies stay clean thanks to the water's movement. If your pool's water didn't also move, it would quickly become stagnant, which is a fancy word for disgusting. OK, not really. But it should be.
Pool jets are what keep water moving in a pool. Without that pool circulation, the water would quickly grow algae, collect dirt, and not be anything you wanted to swim in. Want to keep your pool clean and swimmable? Keep that water moving.
The Power of Pool Jets
When you look at them, they don't seem like much. Just little plastic openings in the pool walls, releasing water back into the pool once it's gone through the filtration system. But pool jets are so much more than that.
Sure, they put the water back into the pool. But those pool return jets also help distribute chemicals through the water. Chlorine wouldn't do much good if it all sat in one spot. The rest of the pool would be dirty and unsanitary.
Also, as the jets return water to the pool, they keep the water level above the skimmer. This is the only way the water can enter the skimmer, and be pushed through the filter. If the pool jets aren't working, guess what? The water's dirty. Simple as that.
How Does Pool Circulation Work?
The pool water isn't going to spontaneously move. You need equipment to make it happen.
Water Flows Out of the Pool
Every pool should be equipped with a pump and a filter, at the very least. The pump sucks in the water from the pool via the skimmer, the rectangular port with the flap door in the pool wall.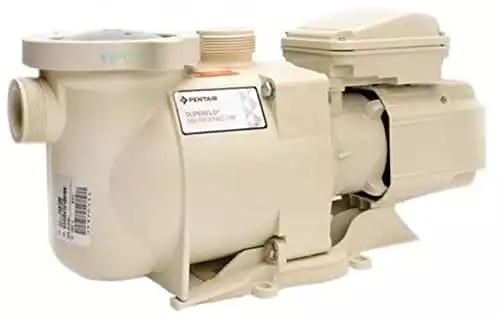 SuperFlo High Performance Pumps 1HP
SuperFlo pumps feature thick-walled body parts, a heavy-duty 56-square flange motor, and highly engineered hydraulics. SuperFlo pumps' silent running capability and small footprint allow it to easily drop into a compact equipment pad.
Buy Now On Amazon
If you click this link and make a purchase, we earn a commission at no additional cost to you.
Water Flows Through the Pump and Filter
Once the water is sucked out the pool by the pump, it passes through the pump and into the filter. The filter cleans the water by removing debris and contaminants. Some filters even remove the smallest contaminants at the molecular level.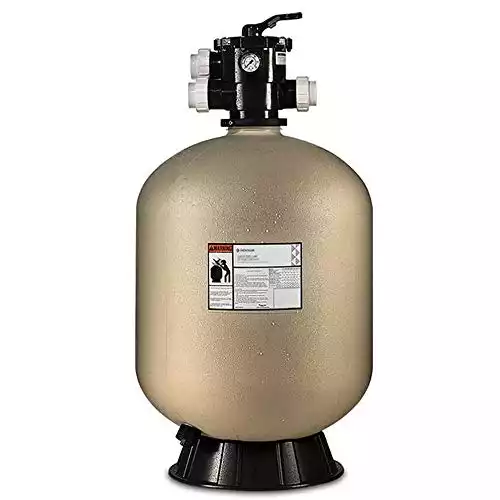 Pentair Corrosion Resistant Top Mount Pool Sand Filter
Efficiently keep your pool water cleaner and safer. A highly efficient design provides all the clean, crystal-clear water your pool requires, year after year. Pool water is routed through a sand-filled pressure vessel to filter out particles.
Buy Now On Amazon
If you click this link and make a purchase, we earn a commission at no additional cost to you.
Water Flows Back into the Pool
After it passes through the filter, the water is pushed through the pool jets, which are all those little round holes in the pool wall. Most pools have multiple jets, and some even have multiple skimmers.
In order to create pool circulation, you need to be able to direct the water flow. To do this, pool return jets should be multi-directional, meaning you can adjust them. If the jets in your pool aren't adjustable, get new jet fittings that are.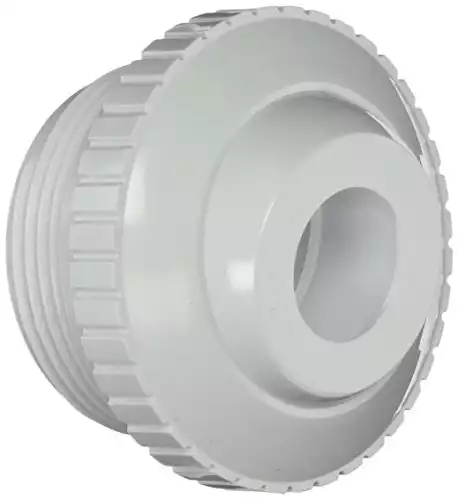 How To Improve Pool Circulation
It's good practice to point your return jets in a direction that will circulate the water in your pool.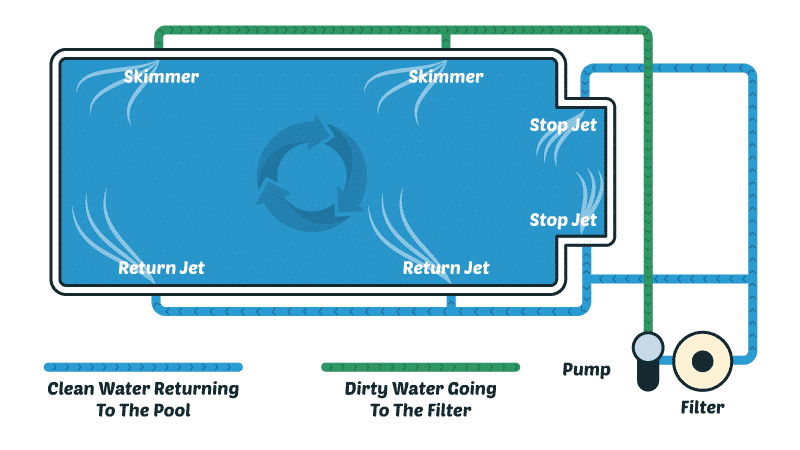 If your pool only has one jet, point the jet toward the skimmer and downward. This will circulate the water, and push the water at the bottom of the pool to the surface.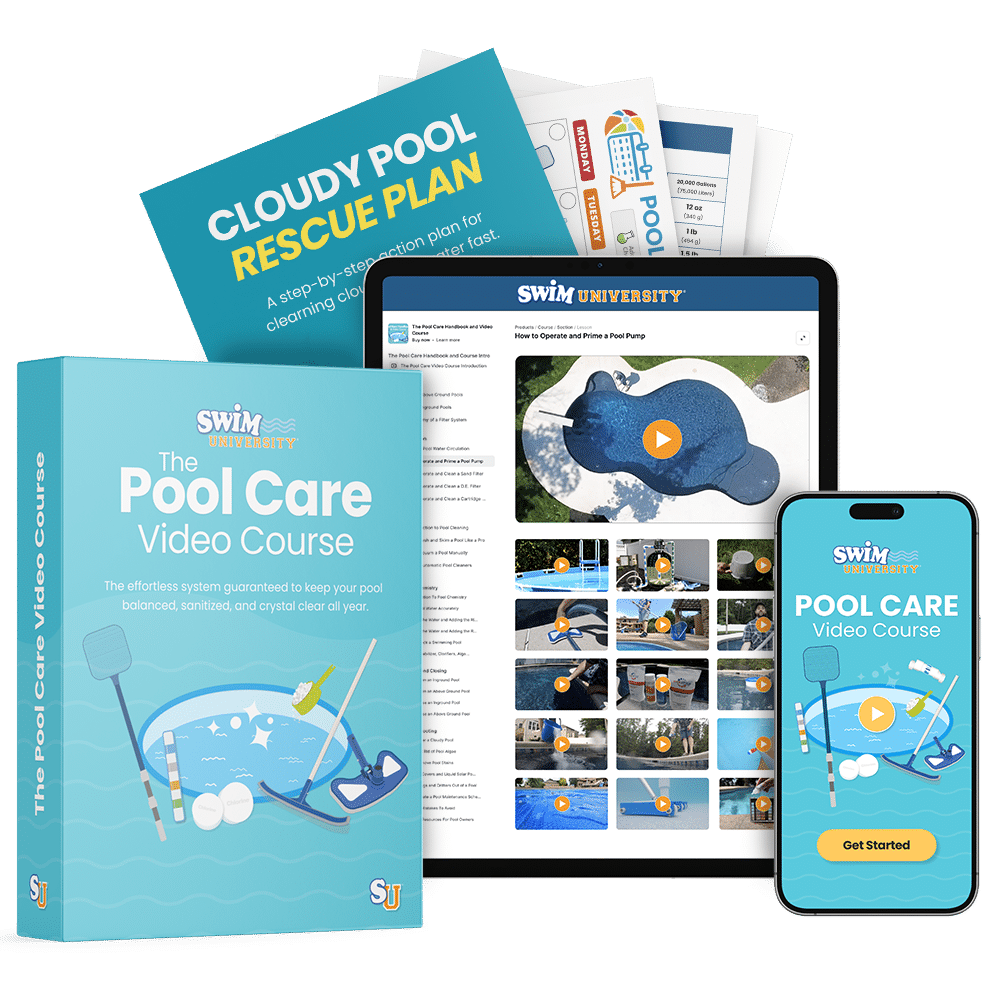 Tired of wasting time, money, and chemicals trying to keep your pool clear?
Cut the confusion with our easy-to-use video course. Save $1,000's on pool care and keep your water clean and clear for good!
Check Out The Course Here
Watch for Dead Areas
Spots in your pool that have poor circulation are called dead areas. Some commons spots include:
behind the ladder(s);
in and around pool steps;
all cracks, corners, and crevices; and
underneath the skimmer(s).
Sometimes these dead areas are unavoidable. You can do your best to point your return jets to improve these areas, but you may just have to take care of these areas manually. This is why it's important to always have a pool brush handy.
Brush the Pool
This is a major part of pool circulation. Every pool is going to have a few dead spots, so practicing good circulation also includes brushing your pool. You should brush your pool often—at least once a week.
Brushing dead areas, as well as the rest of the pool, helps to break up debris or microorganisms like algae. It gets these uninvited guests into the water, instead of clinging to other parts of your pool, so that your filter will be able to filter them out.
Our Top Pick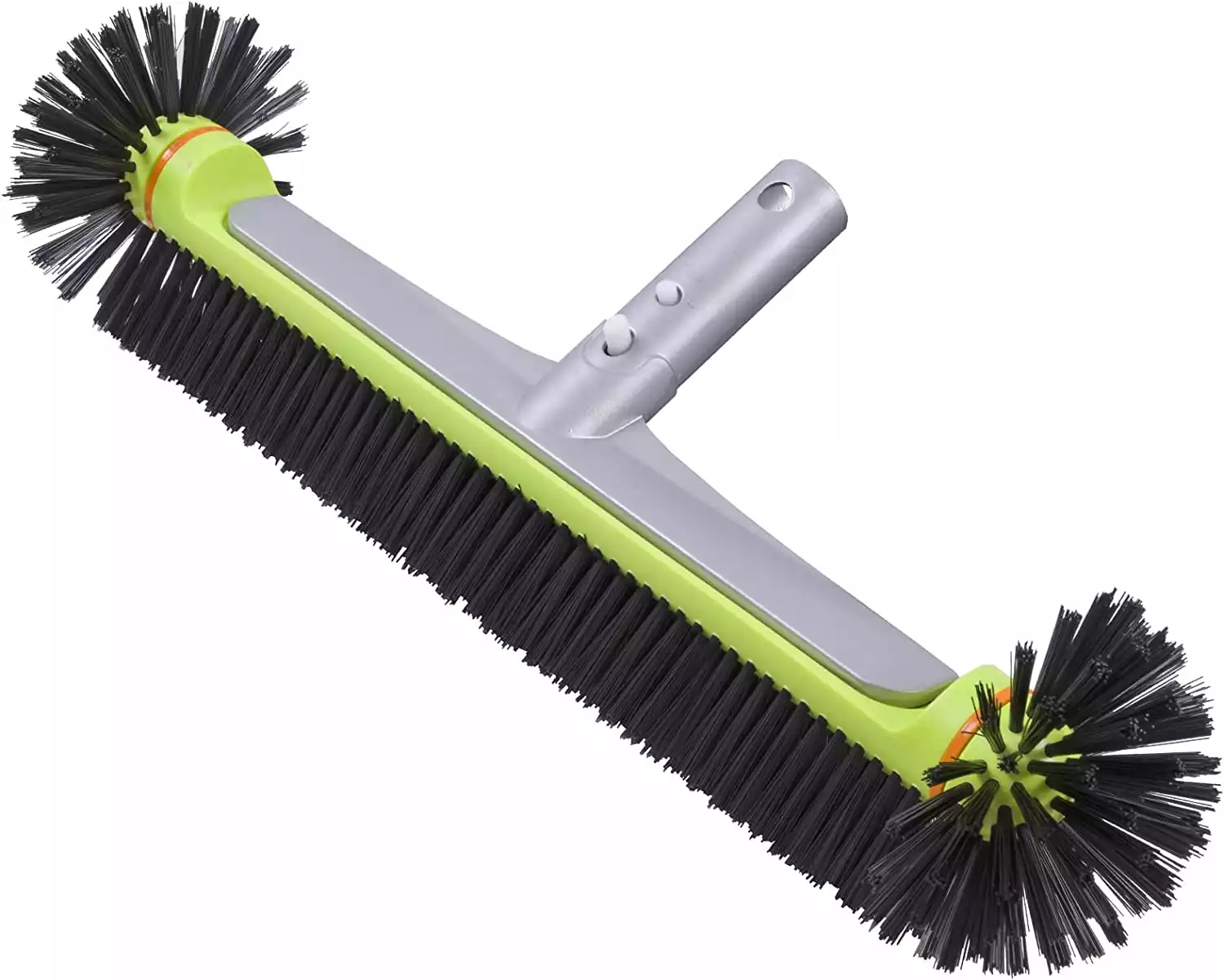 Heavy Duty Round Pool Brush
The wide pool brush with 360-degree reach helps clean hard-to-reach surfaces and tough crevices. Perfect for any type of pool, including vinyl liners, fiberglass, and painted concrete.
Buy Now From Amazon
If you click this link and make a purchase, we earn a commission at no additional cost to you.
Determine Your Pool's Turnover Rate
The turnover rate is the amount of time it takes to circulate all the water in your pool through the filtration system. It's not necessary to know the rate for a home swimming pool, but you can certainly do the math if you want to. If you don't want to calculate it, just make sure you:
run the pump and filter 8 to 10 hours a day;
keep the skimmer and pump basket(s) clear of debris;
angle the return jet(s) to push the pool water in a circular motion;
point at least one jet toward the bottom of the pool; and
brush the pool at least once a week and hit all the dead areas.
Follow the Three C's
My 3 C's of pool care include: cleaning, circulation and chemicals. Read these posts to understand how to keep your pool clean and healthy all season long:
Happy Swimming!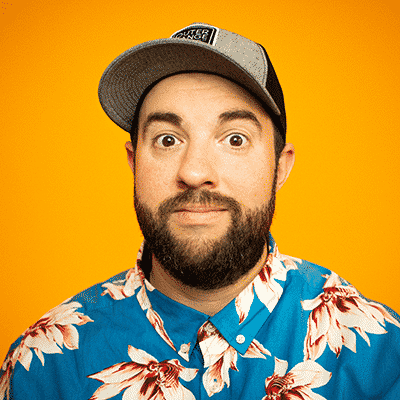 Matt Giovanisci is the founder of Swim University® and has been in the pool and spa industry since 1995. Since then, his mission is to make pool and hot tub care easy for everyone. And each year, he continues to help more people with water chemistry, cleaning, and troubleshooting.