If you notice sand at the bottom of your pool and you own a sand filter, guess what? That's where it came from.
If you don't own a sand filter, and live nowhere near sand, chances are it's not sand. Actually, it might be yellow (mustard) pool algae. To test, brush it up. If it forms into a cloud, you'll have to get rid of mustard algae in your pool.
How Did Sand Get in My Pool?
Well, you know it came from your sand filter, but how? Inside your sand filter is a pipe that runs down the center of the sand. At the bottom of that pipe, are laterals. Here is a picture of what I'm talking about: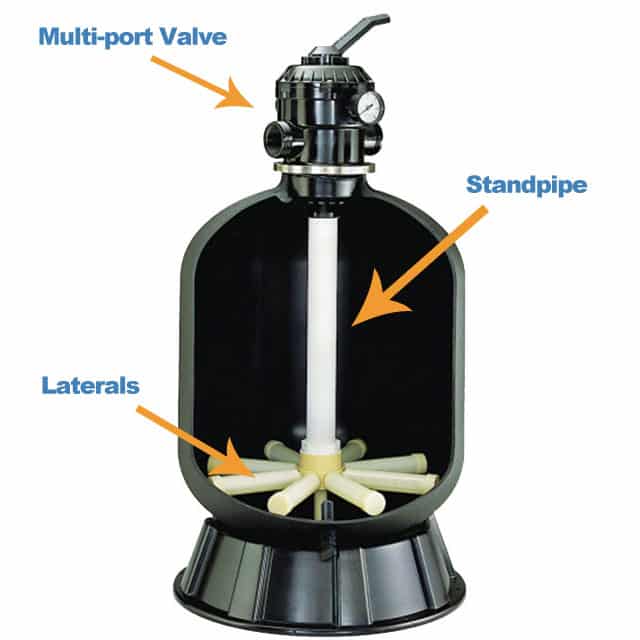 Either your standpipe or your laterals cracked — chances are it's one or more of the laterals located at the bottom of the standpipe. The standpipe is pretty thick and harder to crack than the laterals at the bottom, and only one of them needs to crack in order for it to leak sand into your pool.
You may never find out how it happened. Maybe your filter got moved, shifted the standpipe, and under the heavy weight of the sand, cracked the laterals. Or perhaps your filter is old and it was just its time. No matter how it happened, you need to fix it.
How to Fix a Broken Sand Filter Standpipe or Laterals
Here's the problem: you're gonna have to take apart your sand filter, remove all the sand, replace whatever piece is broken, and add new sand back. I say it's a problem because it's a time-consuming project and I'm lazy, but it's not hard. In fact, you don't need a professional to fix this for you because it's actually pretty easy.
I filmed a video on how to change the sand in your sand filter, which you can see below. In this video I demonstrate how to remove the old sand from your filter and replace it with new sand. I can honestly say that this process took us about two hours, and anyone who watches this video can do it with little to no problems.
The only step you'll need to add is actually replacing the broken pieces inside your filter before adding new pool filter sand If you click this link and make a purchase, we earn a commission at no additional cost to you. . You need to do this first before you move on to getting the sand out of your pool.
How to Get Sand Out of Your Pool
Once you have the filter back up and running, you can focus on getting out the sand your broken filter dumped in it. You'll need vacuum your pool manually to do this.
Instead of vacuuming with your multiport valve set to "Filter," you will need to set your valve to "Waste." This will pull the water from your pool and directly out of the backwash port — the water never enters the filter. You want to vacuum the sand directly out of the pool and not through your filter or else the sand will get stuck in the laterals inside your filter.
Of course, you'll want to do this quickly because you'll lose a lot of water in the process. I recommend you overfill your pool before you start so you have a lot of water to work with, and keep your garden hose running too. Again, try to vacuum as fast as possible so you don't waste a lot of water.
TIP: Before vacuuming, use a pool brush If you click this link and make a purchase, we earn a commission at no additional cost to you. to get all the sand into one area so it'll be easier to vacuum, just like sweeping your kitchen floor and using a dust pan at the end. Simple.
It's Not as Hard as it Seems
You might be thinking, "I can't do this!" But trust me, you can — it's super easy. If you run into any problems, just leave a comment below and I'll respond quickly.
Happy Swimming!