The right solar pool heater for your above ground pool needs to be effective, energy-efficient, and take little to no money to heat your water.
When choosing the best solar heating system for your swimming pool, you need to think about your local climate, the length of your swim season, the size of your pool, and the cost to purchase and install a solar heating system.
With these things in mind, our pick for the best solar heater for above ground pools is the SunHeater S220 Solar Pool Heater. It's built with the ability to connect multiple panels together, letting you customize how powerful you need your solar heater.
For smaller, pre-mounted options, we recommend either the  GAME 72000-BB SolarPRO or the very affordable Goplus Solar Dome.
Remember that solar heaters require plenty of sunny days to have enough energy to heat your pool. That's why they're best suited for areas with lots of sunshine and where winters are mild.
So if you're in a colder climate with a limited swim season, or if you want to heat your water faster, you'll need an electric pool heater or gas pool heater. They can heat more water in less time compared to solar.
Want to build your own solar heater? We have a step-by-step walkthrough on How To Build a DIY Solar Pool Heater for Less Than $100.
If you still want help deciding on the best heater to buy for your pool, here's our complete guide to above ground pool solar pool heaters and how to pick the right one.
FYI: We're a small team of pool industry experts and researchers that care about recommending quality, reliable pool products. If you do choose to click a link and buy any of the products we recommend, we earn a commission at no additional cost to you.
Best Solar Pool Heater: SunHeater S220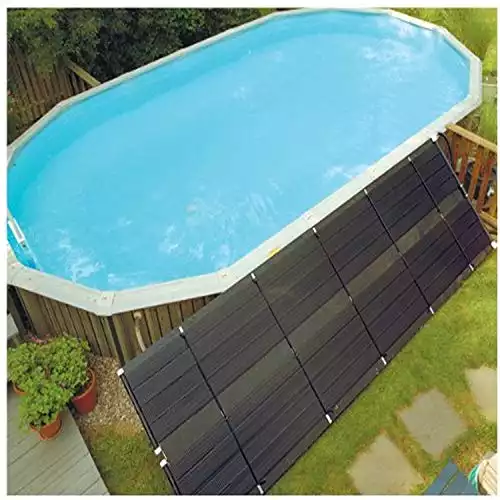 SunHeater S220 Solar Heating System for Above Ground Pools
Sunheater's Solar Pool Heating System is an efficient and cost-effective method to heat your above ground pool. This heater uses your existing filtration system and comes with the necessary fittings for easy installation.
As your pool's pump pushes water through the panel's tubes, it's warmed by the sun and then returned to your pool. This system can raise the water temperature up to 15°F and extend your pool season by weeks.
Buy Now on Amazon
If you click this link and make a purchase, we earn a commission at no additional cost to you.
The SunHeater S220 Solar Heating System maximizes solar collection with its flat-panel style tubing. Since this solar heater uses your existing pool pump, it should be installed near your pool. And while its versatility gives you plenty of options and is easy to set up, it does not come mounted on anything. That means you'll need space to lay it flat, like on a rooftop or deck.
A single installation kit comes with one panel that measures 2' x 20' (40 sq. ft.). So it's perfect for heating above ground pools that are 24' round pools or 15' x 30' oval pools. But keep in mind that additional units will be necessary to heat larger pools.
Best Smaller Solar Pool Heater: GAME 72000-BB SolarPRO
Our Top Pick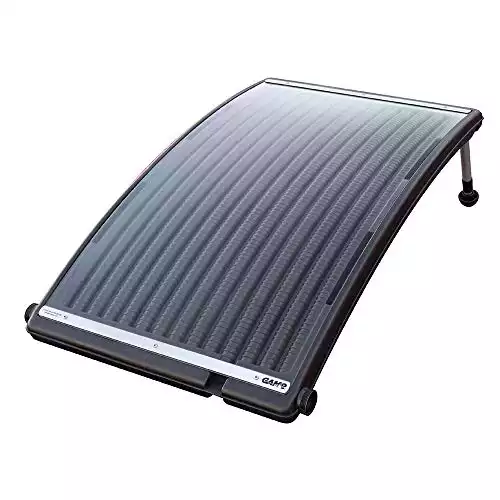 GAME 72000-BB SolarPRO Curve Solar Above Ground Pool Heater
The SolarPRO Curve Solar Pool Heater is an affordable way to increase your pool temperature steadily using the sun. For an 8,000-gallon above ground pool, expect your water to increase by 5 degrees in 4 days.
Buy Now on Amazon
If you click this link and make a purchase, we earn a commission at no additional cost to you.
The SolarPRO is a great option for those with smaller pools and limited space. Since it's a curved solar pool heater, it allows it to maximize heat collection throughout the day. It also keeps the solar unit from killing your grass. And the adjustable legs make it compatible with multiple manufacturers, such as Intex and Bestway.
An 8,000-gallon pool can expect an increase of five degrees over several days. If you have a larger pool or need more heating power, it's possible to add more solar panels to the system. But this might not be the most effective solution. And purchasing multiple units also means you'll need bypass kits.
By the way, if you need more help taking care of your above ground pool, be sure to check out our Pool Care Video Course!
Frustrated by adding chemicals and trying to keep your pool clear all the time?
We cut out all the confusion of pool maintenance in this easy-to-read illustrated ebook and video course. It'll help you save $100 right away on pool care!
Click Here to Learn More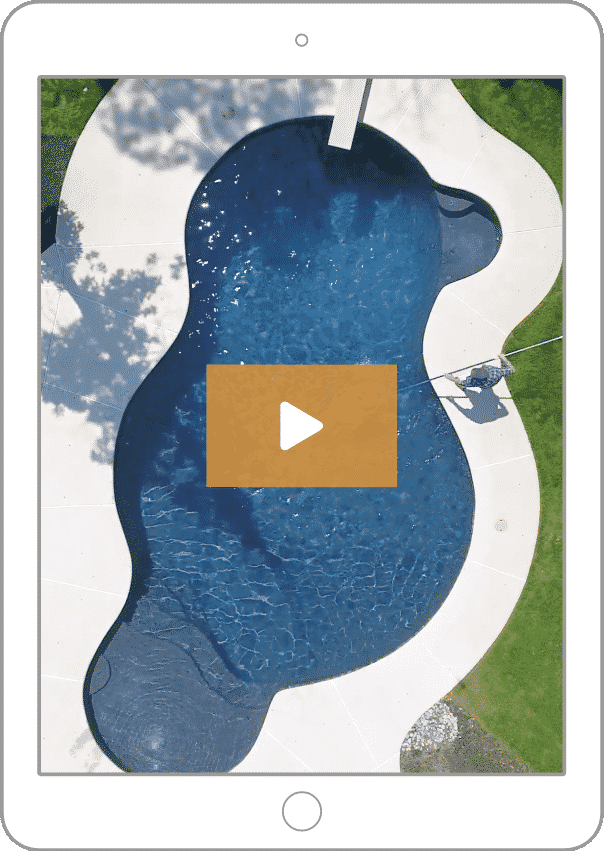 Best Budget Solar Heater: Goplus Solar Dome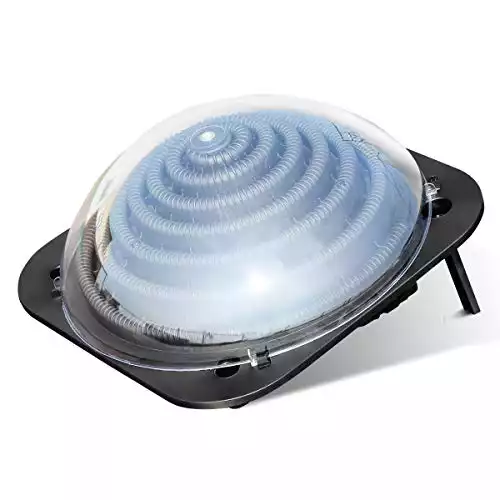 Goplus Solar Dome Pool Heater
This affordable, space-saving solar dome will help you extend your swimming season and heat your pool to a warm, comfortable temperature. It's best for smaller pools, but multiple units can be connected to heat more water.
Buy Now on Amazon
If you click this link and make a purchase, we earn a commission at no additional cost to you.
As one of the cheaper options out there, the Goplus Solar Dome is a cost-effective way to heat a small pool. The dome style provides a compact size while maximizing the energy collection surface. And at only 11 pounds per unit, it's easy to fit multiple units together if you want more power.
Each dome features rotatable hose connectors and foldable support legs. So it's easy to adjust toward the sun and convenient to store. But because the hoses are only 38.5'' long, you'll need to install the system near the pool itself. And it won't work for rooftop installation.
A single unit can heat a 6,000-gallon pool by 5 to 10 degrees. But with additional kits required for larger pools.
How Do Solar Pool Heaters Work?
Solar pool heaters work by directing your pool water through a series of valves to reach your solar collectors, which are solar panels. Water enters the collectors and is heated by solar energy. The heated water returns to the pool. The cycle repeats itself until the pool reaches your desired temperature.
Even though solar heaters are made from several types of materials, polymer systems are most common for above ground pools.
Polymer Solar Heating Systems
Polymer systems can be made out of PVC, polypropylene, rubber, plastic, and more. You can find them in mat and coil configurations, these are the most common options for above-ground pools. Many are affordably priced and offer an easy installation process. And they can usually be mounted on the ground close to the pool or on a rooftop or deck.
However, these models aren't suitable for areas where below-freezing temperatures are common and require seasonal draining. This can damage the solar heater material.
Flat vs. Mounted Solar Heaters
With polymer systems, you'll find either flat-lying or pre-mounted options. With a mounted model, like a dome, the system comes already tilted towards the sun and off the ground. This makes setup extremely easy. Also, dome configurations are also better for tight spaces where you don't have the space to lie down a full mat. However, flat-lying options can collect more sunlight and can be mounted on sunny spots like a rooftop.
How To Choose The Best Solar Pool Heater
There are several considerations to keep in mind, including your access to sunlight and how much space you have around your pool.
Local Climate and Pool Season
The warmer your outdoor air is, the less your pool heater will have to work. That also means you can get by with a smaller pool heater. If you have a small pool or a short swimming season, solar heating panels are an eco-friendly way to heat your pool.
But if you're in a cooler climate, a solar pool heater, even with multiple panels, may not be enough to help you achieve a comfortable water temperature. Solar heaters can only increase the temp by about 12 degrees, max.
Pool Size
The larger your pool, the more solar panels you'll need to achieve the correct temperature. If you're in a naturally cooler climate, it may not be possible to achieve it with solar alone.
It's not just the size of your pool that matters – it's also the size of the panels, and whether you have an open pool, screened pool, or shaded pool. For roof installations, you also have to account for the size of each panel.
For the basic solar domes and solar mats, one unit will heat a 6,000 to 8,000-gallon pool. Read manufacturer's descriptions carefully, as the bypass kits you need to connect multiple units may need to be purchased separately.
Pool Heater Location
With solar pool heating systems, you could have a solar dome or mat on the ground next to the pool. Or you could have it raised off the ground nearby. Many kits allow for roof or rack installation. If you do a rack installation, you'll need an area large enough to hold all the panels that also gets the necessary sun exposure.
Installation Requirements
Solar heaters are the easiest for DIY installations, but they still require planning, and the installation itself is time-consuming. With the right tools and adequate space on your property, you can take care of it.
Winterization
You must completely remove your solar heater from your pool to winterize it safely. This means turning off your circulating system and allowing the solar collectors and pipes to drain. Check all connectors, bypass valves, etc. Store the components in a dry place. If you're planning on keeping everything in the basement or garage, it's a good idea to keep it all in a box to protect the system from rodents.
If you run a year-round swimming season, shut the panels down if a hard freeze is expected.
Maintenance
The biggest part of maintaining your solar pool heater involves taking care of your pool and filtration system. Keep the filter clean and the chemicals balanced to ensure proper water flow goes to the collectors.
Frequently Asked Questions About Solar Pool Heaters
Need more help picking out the right solar heater? Here are some commonly asked questions and answers.
What size solar pool heater do I need to heat my above ground pool?
Choosing the right solar pool heater size depends on the solar panel's surface area and the size of your pool. You'll need enough solar paneling or tubing to equal 50% of your pool's surface area. For example, if your pool's surface area is 600 square feet, you'll need 300 square feet of solar panels or tubing to heat it. Smaller above ground swimming pools of up to 8,000 gallons can get by with one unit. Larger pools require additional units with bypass kits. You'll also need to consider local landscape features and how much sunlight you get.
Is solar pool heating worth it?
Solar heating is a cost-effective way to gradually boost your pool's water temperature. In warmer climates where there are plenty of sunny days, it's an energy-efficient way to keep your pool warm. But if you're in a cooler climate, solar heating isn't as effective as gas or electric pool heaters. To maximize solar pool heat, use a solar pool cover. This will help prevent evaporation and heat loss, especially at night.
How much warmer does solar heating make a pool?
Compared to an unheated pool, a solar pool water heater is on average, 8 to 12 degrees warmer. But that can be over the course of several days of heating. And your pool will still lose heat on cloudy days and overnight. Using a solar cover helps to reduce heat loss, but won't completely prevent it.
How can I heat my above-ground pool fast?
If you need to warm your above-ground pool quickly, it's most effective to use a gas pool heater or an electric heat pump. Pool solar panels are designed to heat the water gradually, over a period of several days. Gas and electric models can heat a larger volume of water over a period of hours.
Need More Pool Maintenance Help?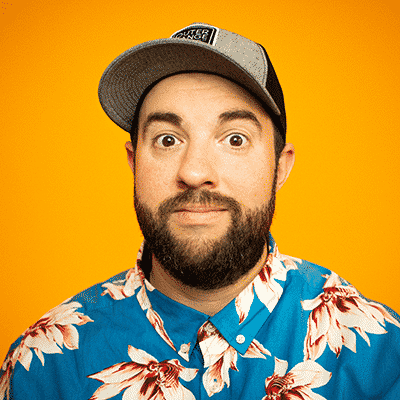 Matt Giovanisci is the founder of Swim University® and has been in the pool and spa industry since 1995. Since then, his mission is to make pool and hot tub care easy for everyone. And each year, he continues to help more people with water chemistry, cleaning, and troubleshooting.
A Cheat Sheet For Perfectly Balanced Pool Water and Crystal Clear Swimming
Download this FREE printable cheat sheet to keep your pool clean and clear without any fuss. You'll never worry about your pool again with this easy-to-use guide.
Click Here For The FREE Cheat Sheet