When swimming season is finally over, before you start getting ready for autumn and all the upcoming holidays, give a little consideration to your pool. Actually, consider yourself and how much easier it'll be to open your pool in the spring if you use a winter pool cover.
It'll keep out dirt and debris, reduce the number of opening chores you'll have to do, and especially in the case of an above ground pool, it'll protect the pool from damage.
What is a Winter Pool Cover?
The name is pretty self-explanatory, but you may be asking what the difference is between a winter pool cover and any other type of pool cover. It's easy to explain:
Automatic Pool Cover: An inground cover deployed by an automated mechanism. It sits very close to the top of the water, and below the lip of the pool.
Solar Pool Cover: A blanket made up of bubbled plastic (it looks like bubble wrap), it sits directly on top of the water and concentrates solar energy to heat the water below it.
Pool Safety Cover: A strong cover secured by pins or ties, it lies flat over an inground pool, even with the deck. It's pulled taut, and while it does keep debris out, its primary purpose is to prevent people and animals from falling into the pool.
Winter Pool Cover: A plain cover (sometimes even just a tarp) laid over the pool, and secured on the deck with water-filled bags. On above ground pools, a winter cover sits on top of the pool and is secured to the walls with cable tied through grommets and tightened with a winch. Its purpose is to keep debris out of the water while the pool is closed, and it offers little to no safety benefit.
If you don't have children, and you don't have any worries of pets or other animals possibly falling into the pool, a winter pool cover is all you need to protect the pool while it's closed.
Double Chamber Winter Pool Cover Water Tubes
We recommend double-chamber water tubes over single-chamber when it comes to holding down you winter cover for both inground and above ground pools.
Buy Now On Amazon
If you click this link and make a purchase, we earn a commission at no additional cost to you.
05/26/2023 09:34 am GMT
How to Protect an Above Ground Winter Pool Cover
While they're usually less expensive than other types, but you still don't want to have to buy a new cover every year. It'll last longer if you take proper care of it. Don't winterize your above ground pool without one.
Secure the Cover
If you're buying an above ground winter pool cover for the first time, make sure you buy a good heavy-duty cover with grommets. These are holes around the edge of the cover with metal rings. If you just use a plastic tarp, it may not have grommets, and it'll be more difficult to secure.
If you buy a winter cover designed for above ground pools, it should come with a cable and a winch to ratchet down the cover. Wrap the winter cover under the rails and loop the cable through the grommets. Make sure it's nice and tight when you ratchet it down.
Here is how you properly loop the cable through the grommets on an above ground winter pool cover.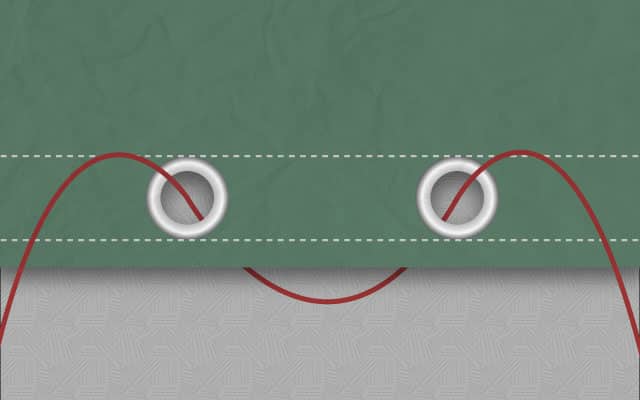 Ready To Close Your Pool For The Winter?
Save over $300 by winterizing your pool in our step-by-step video course. Works for inground, above ground, and inflatable pools.
Click Here to Learn More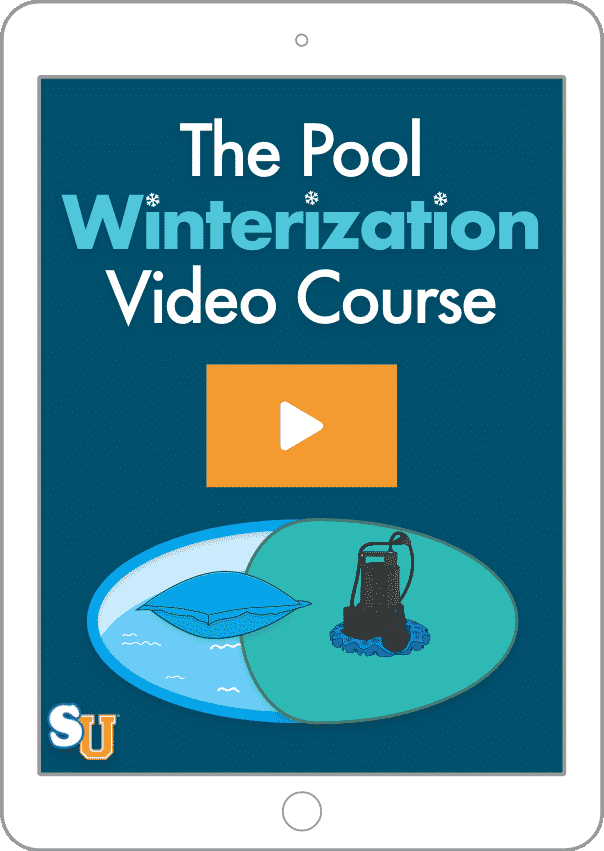 Use Cover Clips
We recommend using these in addition to the cable-and-grommet cover. The clips are just an added level of security.
They're simple devices that clip on the cover directly under the above ground pool rail. They're inexpensive, so the more you use, the better.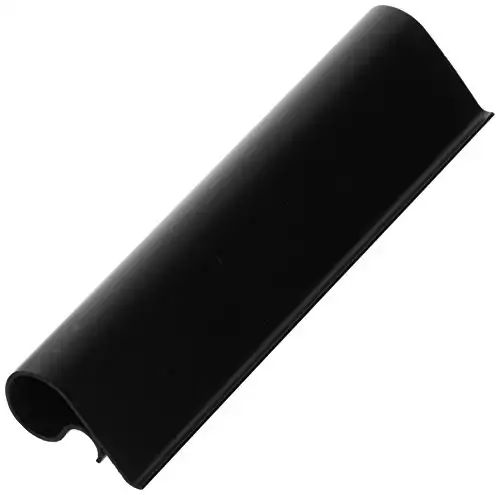 Add Water to the Cover
Even tied down, a cover is susceptible to the wind. One good gust under the cover can blow it off, and repeated gusts can tear it.
Adding just one to three inches of water on the cover top will help protect it from wind damage. Remember to keep an eye on the water level, though. If it rains, and you get too much water on top, the cover may sink down into the pool water. Keep a pool cover pump handy to remove excess water.
The same goes for snow. If you allow too much to accumulate, the weight will push the cover down into the pool. Make sure you remove snow from the pool cover before it gets to that point.
Use an Air Pillow
Also called an ice compensator, a pool pillow helps protect your above ground pool from ice damage.
If the pool water freezes during the winter, and the ice expands, it can push the pool apart, sending all that water gushing into your yard. It can also possibly damage the pool to the point where you'll need to replace it altogether.
The pillow under the cover will absorb the expansion and protect the pool walls from damage.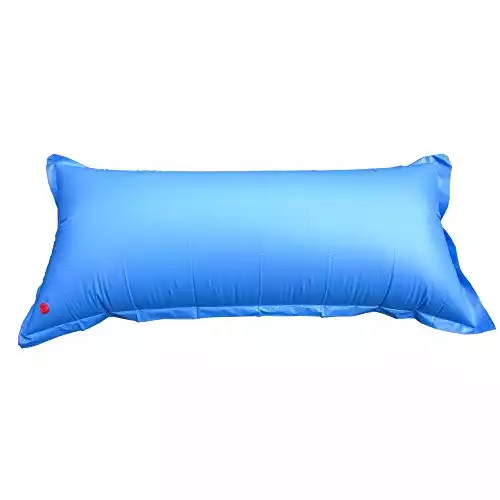 Winter Pool Cover Air Pillow For Above Ground Pools
Made from 16 gauge vinyl, this air pillow absorbs pressure caused by ice expansion, protecting the swimming pool walls from damage during the winter months.
Buy Now On Amazon
If you click this link and make a purchase, we earn a commission at no additional cost to you.
05/26/2023 05:13 am GMT
How to Protect an Inground Winter Pool Cover
While there's no danger of your pool collapsing if anything happens to the cover, it's still advisable to take some steps to help the cover do its job throughout the winter season. When you close your inground pool, make cover care part of the routine.
Remove Ice
To protect the cover against ice, let the ice melt so you can remove it with a cover pump. Don't try to remove frozen ice because it can have sharp edges and possibly tear the cover.
Put Water on the Cover
The weight of even just one to three inches of water on the cover can protect it from wind gusts that can make it flap and tear, or possibly even blow it off the pool.
Remove Rain and Snow
To keep rain and melted snow from weighing the cover down and causing it to sink, remove excess water (more than the one to three inches you're keeping there to fight wind) with a cover pump.
Our Top Pick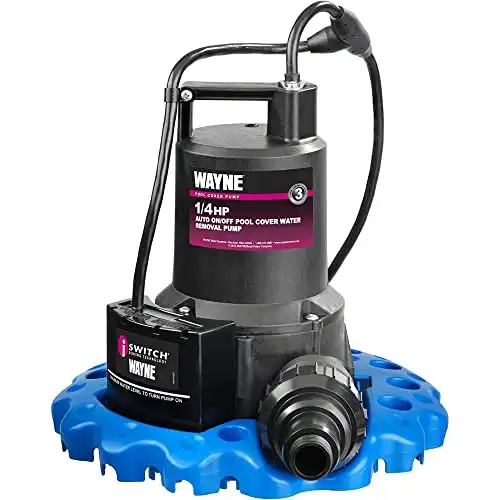 WAYNE Automatic Pool Cover Pump (1/4 HP)
Set it and forget it! The built-in iSwitch technology turns the pump on and off by sensing the presence of water and includes automatic freeze protection to prevent damage during the winter.
Buy Now
If you click this link and make a purchase, we earn a commission at no additional cost to you.
05/26/2023 06:19 am GMT
Remove Overhanging Tree Limbs
The fastest way for any pool cover to tear is for a dead tree limb to fall onto it. You just don't want limbs falling into your pool anyway.
To protect your cover and pool, hire a professional tree specialist to remove any overhanging tree limbs that may land in your pool.
Keep Animals Out
Install a sturdy pool fence to keep pets and other critters off the winter pool cover and out of the pool. A five- or six-foot fence is usually enough to keep out most four-legged animals.
Also, keep the cover clean so animals won't be as attracted to your pool.
Patch Holes Immediately
If your cover has suffered some damage and is in need of a repair, you can temporarily fix it with duct tape. Is there anything you can't fix with duct tape? No, there is not. Patch holes and tears promptly to prevent them from spreading.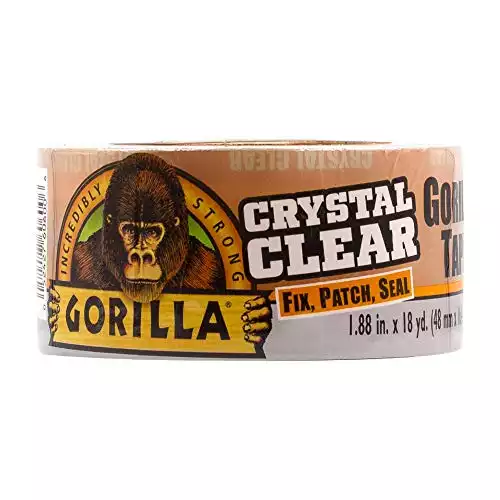 It's a Cover-Up!
But in this case, that's a good thing. Protect your pool during the winter and make opening less work in the spring just by using a simple winter pool cover. Your future self will be glad you did.
Happy Winterizing!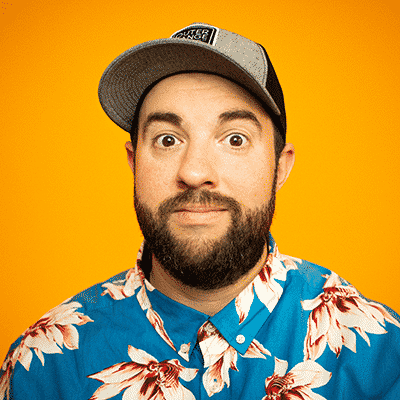 Matt Giovanisci is the founder of Swim University® and has been in the pool and spa industry since 1995. Since then, his mission is to make pool and hot tub care easy for everyone. And each year, he continues to help more people with water chemistry, cleaning, and troubleshooting.
A Cheat Sheet For Perfectly Balanced Pool Water and Crystal Clear Swimming
Download this FREE printable cheat sheet to keep your pool clean and clear without any fuss. You'll never worry about your pool again with this easy-to-use guide.
Click Here For The FREE Cheat Sheet