5 Best Digital Pool Thermometers
Click here
to get our
FREE
weekly pool maintenance newsletter!
Digital pool thermometers are the best way to tell what the temperature of your swimming pool is. I know it sounds pretty obvious, but not all pool thermometers are the same. There are two different categories of thermometers: digital and standard mercury ones. And you can have a floating or handheld one.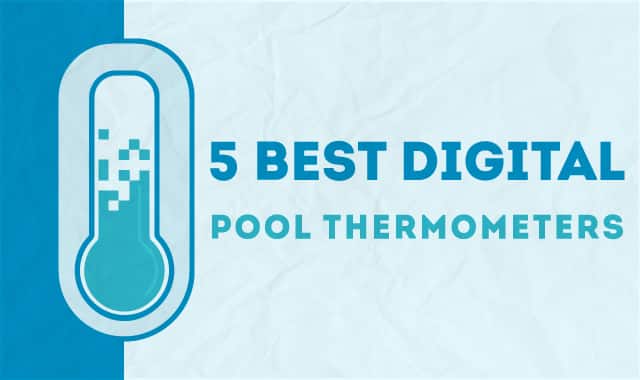 Mercury-filled floating thermometers can be damaged from either severe weather or swimmers. If they break, you could have a real mess on your hands, including mercury in the water and broken plastic. Not to mention broken glass that could rip your liner, or worse, hurt a swimmer.
Here are the best 5 digital pool thermometers that I recommend.
| | |
| --- | --- |
| List Price: | $16.99 |
| Price: | $12.99 |
| You Save: | $4.00 (24%) |
It floats, it's easy to read and it's DIGITAL! What more could you ask for? It comes with 2 AA batteries, so it won't be hard to find batteries when they run out, and you can use rechargeable batteries if you're looking to be more Eco-friendly. You can secure it to a ladder or deck using the supplied nylon cord, or you can simply place it in your skimmer basket.
Buy Now On Amazon
| | |
| --- | --- |
| List Price: | $77.99 |
| Price: | $77.45 |
| You Save: | $0.54 (1%) |
A point and shoot laser thermometer. Just aim the device at the water in your pool (preferably the center of your pool), hit the trigger and the temperature will display on the screen. It's a very handy device, literally! You can also use it for cooking.
Buy Now On Amazon
| | |
| --- | --- |
| List Price: | $39.99 |
| Price: | $19.99 |
| You Save: | $20.00 (50%) |
This is a multi-functional thermometer that monitors both water and indoor/outdoor temperatures. It even records the temperatures so you can view the increases and decreases in water temp over time. You can also set an alarm for when your pool reaches a certain temperature which is perfect for finding the perfect time in the day to swim at the temperature you like.
Buy Now On Amazon
Floating thermometer with built-in digital display transmits temperature data to the indoor temperature display station. Sensor range of up to 300 feet allows flexible placement of the temperature display station within your home. Audio and visual alarm alerts you if temperature is not within your defined range. Convenient frost warning feature activates when pond water temperatures drops below 39.2 degrees Fahrenheit.
Buy Now On Amazon
| | |
| --- | --- |
| List Price: | $36.91 |
| Price: | $36.91 |
This simple, floating digital pool thermometer has a large easy-to-read LCD display which includes temperatures to 1/10th of a degree and a long-life battery.
Buy Now On Amazon
NOTE: Make sure to remove all digital thermometers when adding chemicals to the pool.
Happy Swimming!
Recommended Reading
Frustrated by adding chemicals and trying to keep your pool clear all the time?
We cut out all the fluff and confusion of pool maintenance and stripped it down to the bare bones in this easy-to-read illustrated digital guide.
Click here to learn more
Last Updated: Sunday, July 28th, 2013