When it comes to buying an inground pool heater, there are a few factors you must consider: the size of your pool, the type of energy you want to use, the climate you live in, how quickly you want to heat your water, and how easy you need it to be to install.
With those considerations in mind, tour top picks for the best inground pool heater are:
For pool owners with smaller pools who want a cheaper option, we recommend the Pentair MasterTemp 125.
If you live in a colder climate, skip the solar pool heater and opt for the heat pump or gas pool heater. A gas pool heater will heat your water faster and work better in colder temperatures. But the heat pump is more energy-efficient and you'll spend less money running it.
For those in sunnier climates who don't mind waiting a day or two for the water to heat up, a solar heater is a good option. Depending on the size of your pool, you may need to install multiple panels to reach your ideal temperature.
Want to learn more about the features you should look for in an inground pool heater? Keep reading to see our complete guide on the best inground swimming pool heaters.
FYI: We're a small team of pool industry experts and researchers that care about recommending quality, reliable pool products. If you choose to click a link and buy any of the products we recommend, we earn a commission at no additional cost to you.
How Do You Choose the Best Inground Pool Heater?
If you live in a colder climate or need to heat a larger pool quickly, we recommend the Hayward Universal H-Series Gas Heater (it comes in either propane or natural gas). Gas heaters are extremely powerful and can heat your water up by 20 or 30 degrees. However, it will cost you over time, since gas is the most expensive utility to use to heat your pool.
For a more energy-efficient option that's still powerful, consider the Hayward HeatPro Heat Pump. It utilizes ambient heat from the outside air, helping you save money on your utility bill. But even though this heat pump is more energy-efficient, it may not work as well in extremely cold temperatures as a gas heater.
Finally, if you live somewhere sunny and you don't mind waiting a few days for your pool water to heat up, the SmartPool S601 Pool Solar Heaters is both very affordable and extremely energy-efficient. But unlike a heat pump or gas heater, it can take several days for your water temperature to rise.
Finally, if you have a smaller pool and you want a more affordable option, we recommend the Pentair MasterTemp 125. It's a few thousand dollars less than the Hayward Heat Pump and Natural Gas Heater but it runs on propane and only works in pools up to 15,000 gallons.
Best Inground Gas Pool Heater: Hayward Universal H-Series
Our Top Pick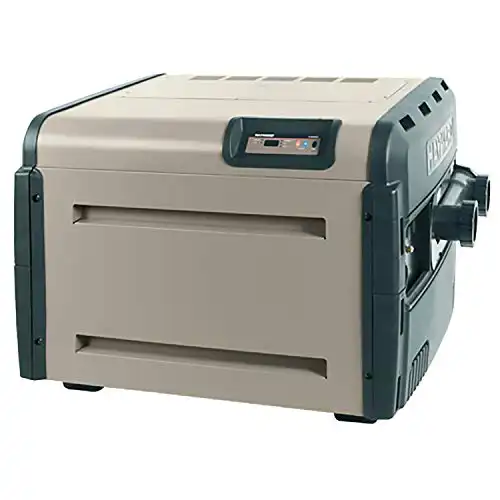 Hayward Universal H-Series Pool and Spa Heater (Natural Gas)
This heater is super reliable and long-lasting. The cupro nickel heat exchanger protects against corrosion caused by unbalanced water chemistry. And it provides major energy savings with low NOx emissions to meet air quality standards.
Buy Now on Amazon
If you click this link and make a purchase, we earn a commission at no additional cost to you.
The Hayward Universal H-Series Gas Heater comes as either a natural gas or propane pool heater. It's available in a variety of sizes, ranging from 150,000 BTU to 400,000 BTU. And it's an environmentally-friendly option for those in locations where low-NOx emissions are required. Keep in mind that you'll likely have to pay to install it: professional installation is recommended to ensure plumbing and gas lines are handled correctly.
With a properly sized heater for your pool, you can expect the temperature to increase by one to two degrees an hour. A 40,000 BTU heater will warm a 33,000-gallon pool from 77 to 86 degrees in eight hours. Once it arrives at the set temperature, it will kick on a few times a day to maintain it.
Looking for another natural gas option? We recommend the Raypak Natural Gas Pool Heater.
Best Inground Electric Pool Heater: Hayward HeatPro Heat Pump
Our Top Pick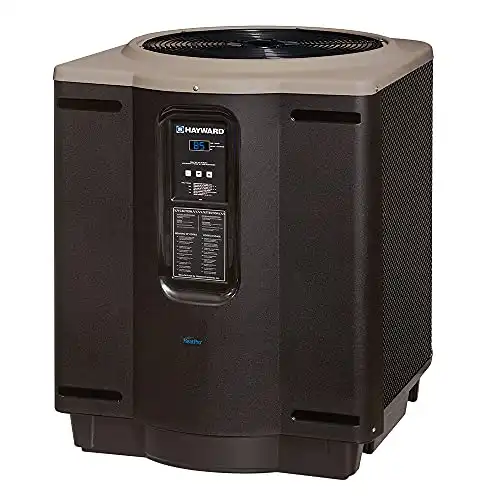 Hayward HeatPro 140,000 BTU Pool Heat Pump
This easy-to-install heat pump uses less energy than natural gas and propane heaters. The Hayward HeatPro Heat Pump will quickly and energy-efficiently heat inground pools.
Buy Now on Amazon
If you click this link and make a purchase, we earn a commission at no additional cost to you.
The Hayward HeatPro is a compact electric pool heater designed to heat your pool efficiently without taking up a ton of room. The titanium heat exchanger and "ultra gold" evaporator coil are chemically corrosion resistant. This makes it a great choice for coastal environments and saltwater pools. The lightweight design (coming in at less than 250 pounds) also makes it easier to transport.
But the best feature? Unlike other heat pumps, the Hayward HeatPro will even work when the outside air temperature is lower.
The HeatPro is fairly complex to install and is best left to professionals. You'll need at least six feet of clearance above the heat pump at installation. And it'll also take several hours to heat the water if you have a larger pool of over 25,000 gallons.
Best Inground Solar Pool Heater: SmartPool S601 Pool Solar Heaters
Our Top Pick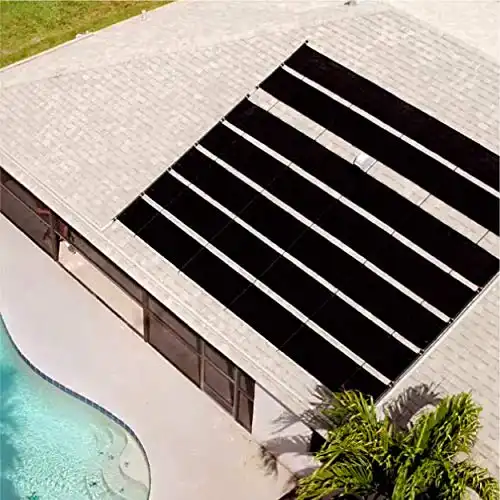 Smartpool Solar Pool Heating System
This solar pool heater features 80 square feet of solar panels that'll raise pool water temperature 6-10°F (4-6°C).
Buy Now on Amazon
If you click this link and make a purchase, we earn a commission at no additional cost to you.
If you're looking for a solar heating system, the SmartPool S601 Pool Solar Heater System is a very affordable option. Designed for DIY installation, this solar heater system will raise your pool water by 6 to 10°F over several days.
Keep in mind that you will need space in the sun for this heater since it measures 4 feet by 20 feet. And it does not come with an installation kit, so you'll need to purchase that separately.
For this particular setup, it's recommended you have enough solar panels equal to at least 50% of your pool's surface area square footage. If your pool's surface is 500 square feet, you'll need 250 square feet of solar panels for 50% coverage.
Best Budget Pick Inground Pool Heater: Pentair MasterTemp 125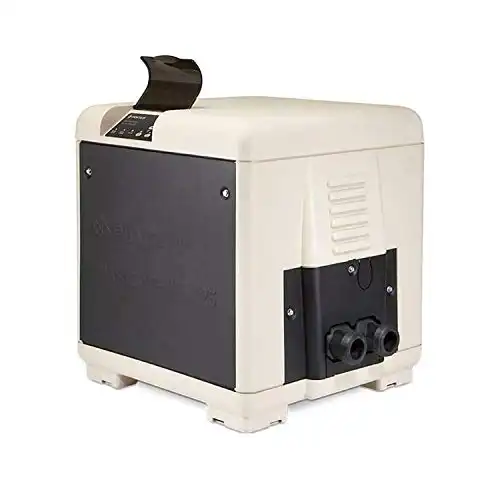 The Pentair MasterTemp 125 is an affordable, propane gas option for smaller pools (up to 15,000 gallons). At only 80 pounds, this compact pool heater ensures it can fit in tight spaces where other heaters aren't an option. It also features a rotating digital display so you can always see the current water temperature.
Because it has less power than the other options, the Pentair MasterTemp 125 won't be enough to keep your pool at an adequate temperature if you have more than 15,000 gallons.
By the way, if you need more help taking care of your pool, be sure to check out our pool maintenance video course.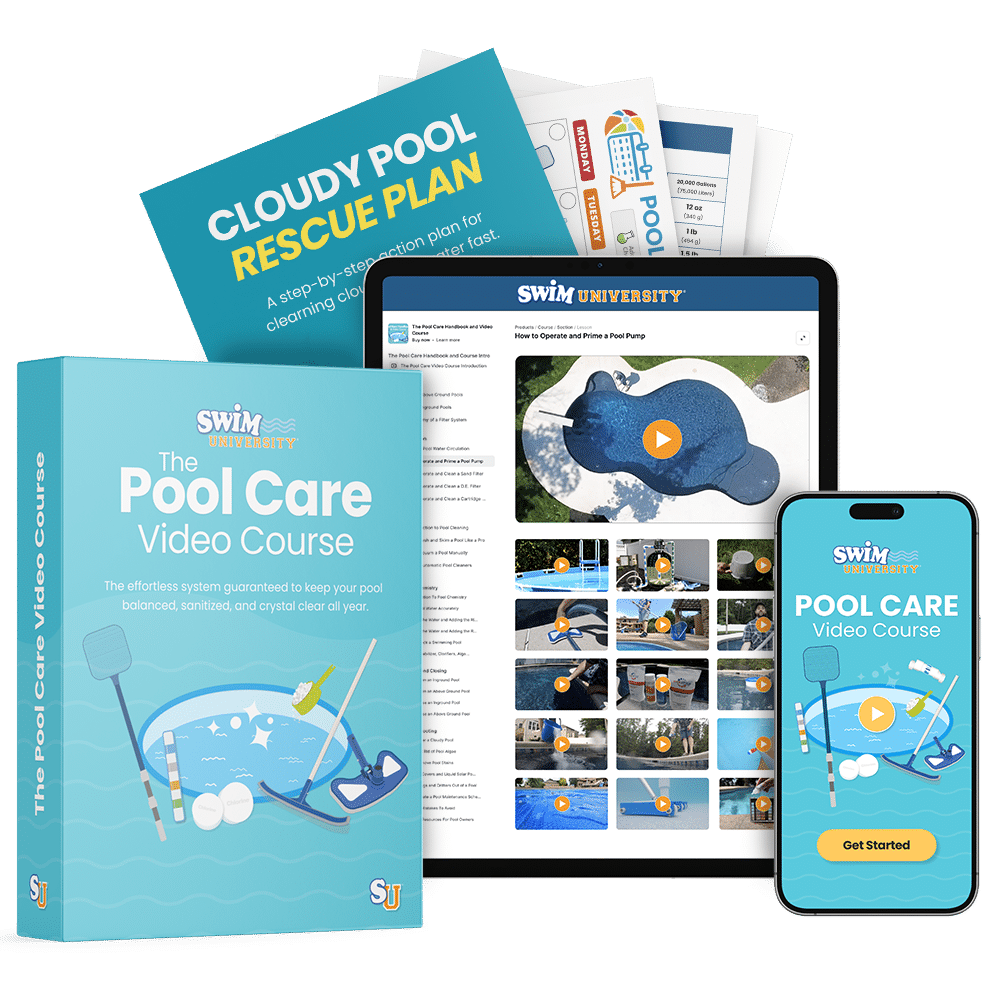 Tired of wasting time, money, and chemicals trying to keep your pool clear?
Cut the confusion with our easy-to-use video course. Save $1,000's on pool care and keep your water clean and clear for good!
Check Out The Course Here
How Do Different Types of Inground Pool Heaters Work?
Inground pool heaters are available in three types: gas, electric, and solar. And each one has its advantages and disadvantages, including energy efficiency and price.
Gas Pool Heaters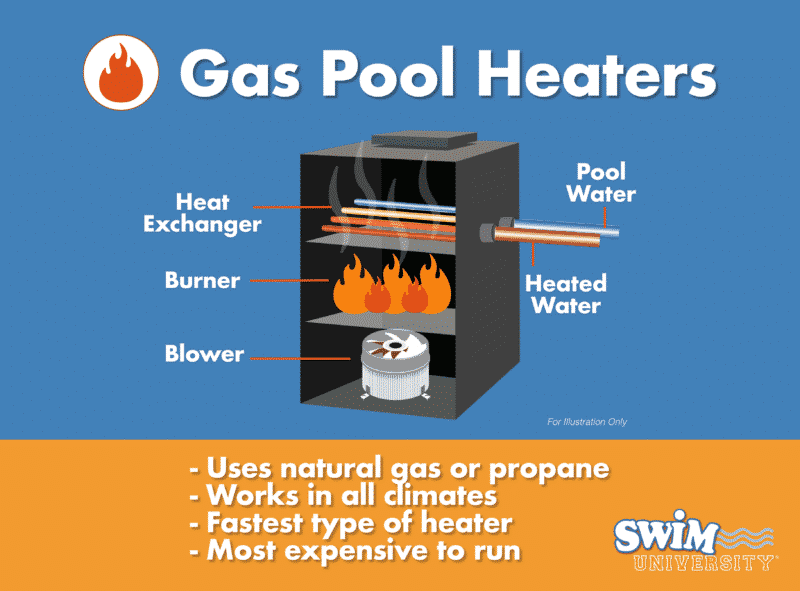 Gas pool heaters are a good choice for those who have an easily accessible gas line near their pool. In colder climates, gas pool heaters are the most popular option because of how effective they are. Though they will cost more to purchase and run than their electric or solar counterparts, they will produce more heat in a shorter period.
Electric Pool Heaters and Pool Heat Pumps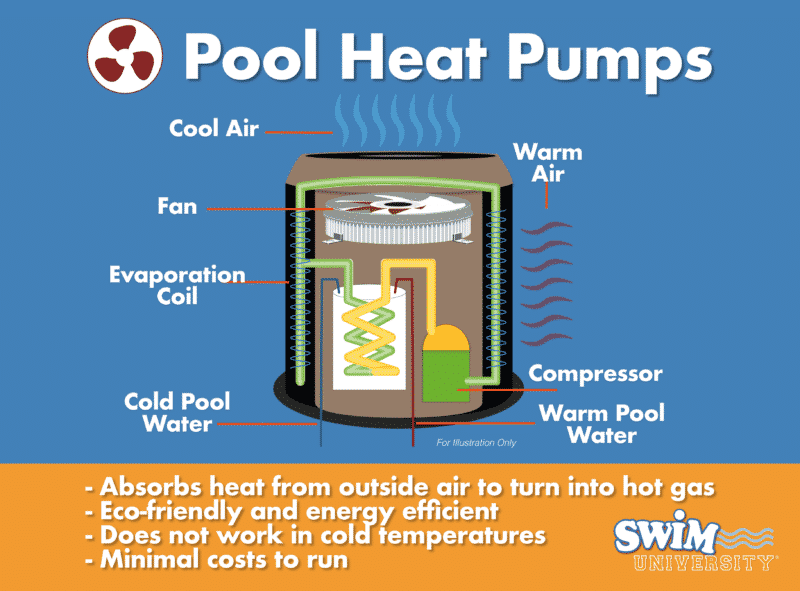 When it comes to electric pool heaters, you have two types to choose from: a direct flow water heater or a heat pump. Heat pumps use the ambient air to heat the water and are one of the most energy-efficient, powerful heating options on the market.
An electric heat pump pool heater works just like an air conditioning unit but in reverse. It pulls the air in, heats the water, and pushes the warm water out of the pool heat pump. Because it's so energy-efficient, a heat pump is one of the best electric options for heating your pool.
Solar Pool Heaters
Solar pool heaters use the sun's warmth to warm up the water. The most effective systems use a series of panels attached to the roof of your home or a rack near the pool.
For solar heaters to work effectively, you must live in a warmer climate with a lot of sunny days to heat the water. If you're in a hot climate, solar is an energy-efficient way to heat your swimming pool. If you're in a cooler climate, solar panels aren't effective.
Keep in mind that solar blankets, solar rings, and liquid solar covers only help reduce evaporation and heat loss. They aren't very effective at heating up the water on their own.
How to Choose the Best Pool Heater for Your Pool
Your Climate and Swim Season
The local climate and the length of your swim season influence the type and size of the pool heater you need. For a warmer climate, any type of pool heater will work. You could also purchase a smaller unit since the heater doesn't have to work as hard to maintain your ideal pool temperature.
If, however, you want a year-round swimming season, even in a warmer climate, you may need a more powerful heater like a gas heater.
Pool Size
If you have a small pool, you can purchase a heater with fewer BTUs. A heater's heating power is measured in British thermal units (BTUs.) And 1 BTU is the amount of energy it takes to warm one pound of water by one degree Fahrenheit.
The larger your pool, the more BTUs you'll need to heat the pool water to a comfortable temperature. And the longer you want to extend your swim season, the more BTUs you'll need as well. In general, a 50K BTU works well for pools up to 13,000 gallons.
While it's not as common to see solar heaters with large pools, you can install multiple solar panels to increase the heating capacity and keep your water at the ideal temperature. However, if you've got a large pool with more than 18,000 gallons, choose either an electric or a gas heater.
Location of the Pool Heater
Depending on the type and size of your pool heater, you may need a lot of space.
Gas heaters generally sit next to the pool or in equipment housing that's close by. This is because they need to connect your pool's pump and water filter system. They're also much larger than electric heaters, but require less room overall than a solar heater.
Electric heaters can be up to half the size of a gas heater. They're also installed next to the pool or with the pump and water filter.
Finally, solar heaters take up the most room and need planning before installation. Some can be placed near the pool, but others may go on the roof or the deck. Measuring beforehand to make sure you have enough available space is key.
Installation Requirements
If you're planning on installing the pool heater yourself, some options are more difficult than others.
Gas heaters are the most difficult to install because they typically require both electrical and gas connections. It's best to hire a professional installer.
If you're planning on an electric heater, it's best to hire a professional for that as well. You can connect the piping for water flow, but an electrician should connect the system to ensure everything is working properly because electrical equipment is in such proximity to water.
Solar heaters are generally the easiest for DIY installations but will take more time. As long as you have the right tools and the necessary space on your property, you might be able to install this option yourself.
Heater Casing
Unless you're dealing with a solar heater, you will have casings around the heating equipment to protect it from water, impact damage, changes in temperature, and more. The casing is insulated to ensure the water stays warm as it flows through before going back into the pool.
If you're worried about aesthetics, the heater casing is designed to blend in with your decor rather than stick out.
With solar heaters, you don't have to worry about casing because it is designed to spread out so that the panels can absorb more of the sun's energy.
Heat Conservation
Pool heaters are insulated with plastic or foam to direct the heat they produce into the water as it flows through. Better insulated heaters will be able to maintain a warm water temperature without working as hard. This results in less energy consumption.
Winterization
Winterizing is a process that prepares your pool and all of its parts for cooler temperatures associated with the winter season. It keeps filters, brackets, hoses, and other components safe from the temperatures and ensures that they work well for you from one swim season to the next.
If you have a solar heater, it can be more challenging to winterize panels located on your roof. It's a bit more straightforward to winterize an electric or gas heater. Simply disconnect the hoses and power sources, remove the water, and securely store all components in a dry location. To ensure the heater is completely dry, you can use a wet vac or a leaf blower before you put it in storage.
Maintenance
Your pool heater will require regular maintenance to insert that it runs optimally. This means taking the time to clean it and repair it when necessary. Depending on the climate you're in, you may also need to winterize it every year.
Regardless of the kind of pool heater you purchase, plan on having it professionally inspected once a year and if you use your pool all year, have it checked twice a year.
If regular maintenance and repair is a major concern, opt for a pool heater that features a longer warranty period. And in general, heat pumps tend to last longer than gas pumps or solar heater systems.
Frequently Asked Questions About Inground Pool Heaters
Looking for more help picking out the best pool heater? Here are some common questions and answers.
How much is a heater for an inground pool?
Plan on spending several thousand dollars on a gas pool heater or pool heat pump. The pricing depends on the BTUs of the unit – with more BTUs required to heat larger pools or smaller pools to warmer temperatures. Solar heater systems are much more affordable but they are far less effective at heating your water.
What is the best way to heat an inground pool?
The best pool heater for your pool depends on how quickly you need to heat your water, the outside air temperature, and how much you're willing to spend on the ongoing cost to run your heater. In colder climates, you'll want either a gas or an electric pool heater, as those have more power to heat the water to hotter temperatures and more quickly. A gas heater will usually cost you more to run than an electric heater. On the other hand, for those in warm climates, using a solar heater can increase your pool water's temperature without any ongoing costs. But it may only increase by a few degrees and over a longer period of time.
How many BTUs do I need to heat my inground pool?
If you have a smaller pool (up to 13,000 gallons), a 50,000 BTU pool heater is enough to heat your water. However, if you want to have a longer swim season in the colder months, you may need a BTU output of up to 65,000.
But if you have a larger pool, up to 21,000 gallons, you'll need a larger heater around 85,000 BTUs. Most heaters provide calculations on their websites.
Can you add a heater to an existing inground pool?
Yes, you can add a pool heater to an existing inground pool. The type and size you should add depend on your climate, your swim season, your budget, and how much space you have to install it. While it's more difficult to install than with an above ground pool, it is possible. It may just require a professional.
Need More Pool Maintenance Help?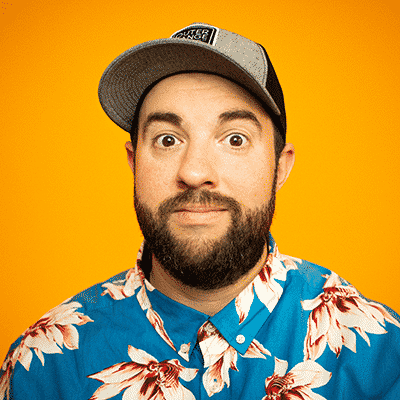 Matt Giovanisci is the founder of Swim University® and has been in the pool and spa industry since 1995. Since then, his mission is to make pool and hot tub care easy for everyone. And each year, he continues to help more people with water chemistry, cleaning, and troubleshooting.