When you need to remove sediment and debris from your pool, you vacuum it. But if you want to save yourself a lot of time, work, and maybe a little back pain, you use an automatic pool cleaner.
Polaris is an industry leader in pool-cleaning technology with a reputation for quality products and attentive customer service. But before you choose just any Polaris model, take a look at how each of the three types of automatic pool cleaners—pressure-side, robotic, and suction-side— would work for you.
Pressure-Side Pool Cleaners
Some of the most popular automatic cleaners available, pressure-side pool cleaners readily pick up medium and large debris. They're great for grabbing leaves and other rubbish in pools surrounded by trees.
How Pressure-Side Pool Cleaners Work
The name comes from the way they're powered—the return jets in your pool. That side of your system is where clean water is pumped back into your pool after being filtered. The opposite side is the suction side, where water is pulled into the skimmer and through your pool filter.
In these models, the body of the cleaner is hooked up to a hose attached to your water return jet. Water pressure drives the floating cleaner around the surface of your pool. A sweep hose wags along underwater, behind the cleaner, blasting the floor and walls of your pool with jets of water that loosen debris.
A skimmer bag at the end of the jet sweep hose collects larger debris, while small debris and sediment kicked up by the sweep hose is captured by your pool filter system. This is a big advantage because it lightens the load on your pool's filter system.
Backup Valve
Sometimes your automatic pool cleaner will get stuck by your stairs or in a corner of your pool. To fix this problem, Polaris pressure-side cleaners have a cool feature called a backup valve.
Every so often this valve kicks on, diverting all the water from driving the cleaner through a small jet on the side of the valve. The force of the water blasting through the backup valve thrusts the pool cleaner to a new position so it can continue cleaning your pool.
If this valve malfunctions, it can prevent your cleaner from working properly, so be sure to check it regularly.
Booster Pumps
Some pressure-side pool cleaners require a booster pump. The addition of this little secondary pump to your pool filtration system increases the water pressure to your pool cleaner so it can move around your pool more easily and clean more effectively. This is an important addition for larger pools.
Note: If you choose a cleaner that needs a booster pump, we recommend having a professional install it.
Polaris Pressure-Side Cleaners for Above Ground Pools
Polaris offers three automatic cleaners for above ground pools, and vinyl or fiberglass inground pools.
Polaris Vac-Sweep® 165
An affordable, basic cleaner designed specifically for inground pools with vinyl or fiberglass surfaces. The Vac-Sweep® 165 can clean a pool up to eight feet deep in three hours or less.
For optimal cleaning, trim the 32-foot hose to four feet shorter than the pool edge farthest from the return jet. Adjust the length of the sweep hose to two feet longer than the deepest part of your pool. Use the pressure relief valve to obtain water pressure between five and ten pounds per square inch (psi).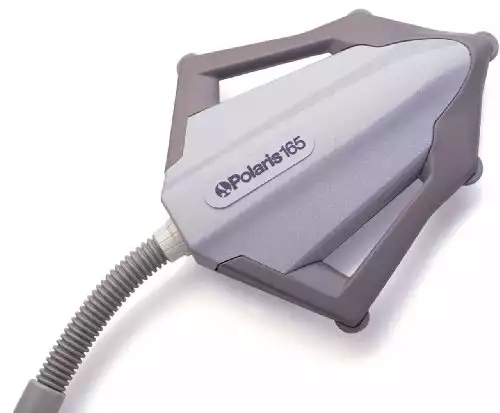 Polaris Vac-Sweep® 65
If you have an above ground pool no deeper than five feet, this basic pressure-side cleaner will work for you.The Vac-Sweep® 65 is otherwise the same as the 165 model. You'll even adjust the hoses and pressure relief valve in the same manner.
Our Top Pick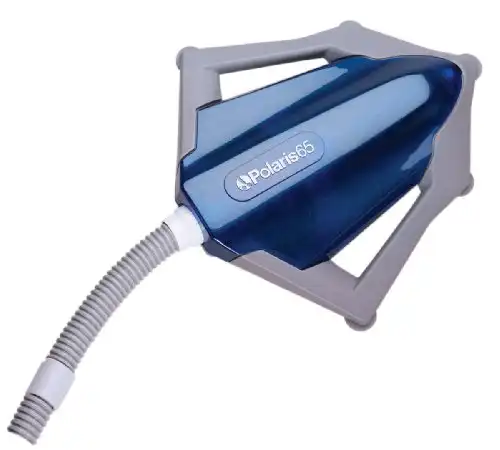 Frustrated by adding chemicals and trying to keep your pool clear all the time?
We cut out all the confusion of pool maintenance in this easy-to-read illustrated ebook and video course. It'll help you save $100 right away on pool care!
Get Instant Access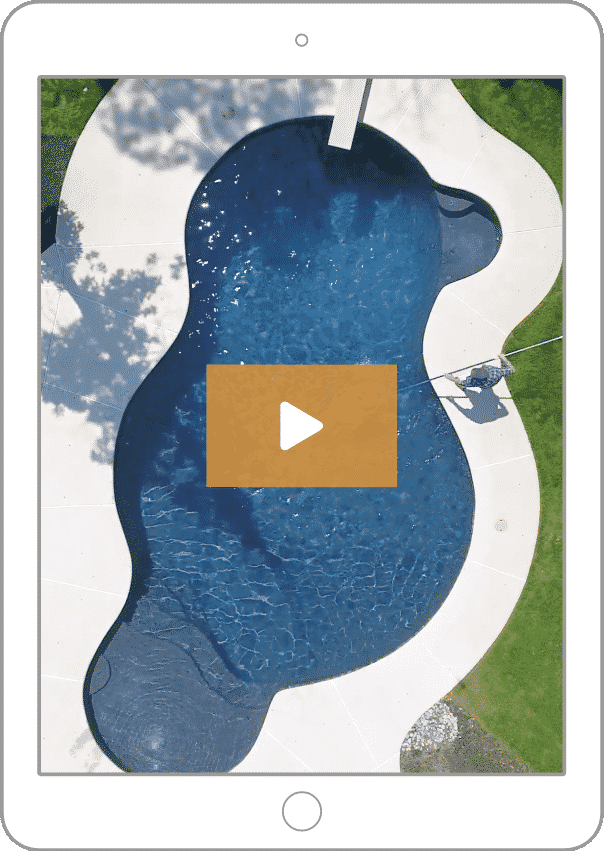 Polaris Pressure-Side Pool Cleaners for Inground Pools
The models in this category roll around the floor and walls of your pool on large wheels. They work in any type of inground pool. They're also powered by your return jets, but some require a booster pump to provide optimum water pressure.
These cleaners feature small water jets that create a vortex which pulls debris up into the filter bag on top. These models also have sweep hoses, some with a little scrubber on the end, to really deep clean the walls and floor of your pool—all in under three hours.
Polaris Vac-Sweep® 3900 Sport
Easily the most impressive pressure-side cleaner Polaris makes, the Vac-Sweep® 3900 Sport boasts all-wheel drive with 50% more torque to its three Wide Trax® wheels. It has the largest vacuum inlet at two and a half inches. It's the only model that comes with the TailSweep Pro, a premium sweep hose that minimizes water spray out of the pool.
It has three jets and a dual-chamber bag to maximize debris collection. It has an automatic backup valve to keep it from getting stuck long. It's so powerful, it even picks up small rocks and acorns. The Polaris 3900 Sport requires a booster pump.
You'll need to measure and trim the leader hose, so it's as long as the deepest part of your pool. When you have the whole line put together, it must be within six inches of the farthest point from your return jet. You can make further adjustments to the length if necessary.
You'll also want to check the revolutions per minute (RPM) of the wheels, thrust jet, and sweep hose, making adjustments as needed. Optimizing these settings will keep your cleaning moving around the entirety of your pool.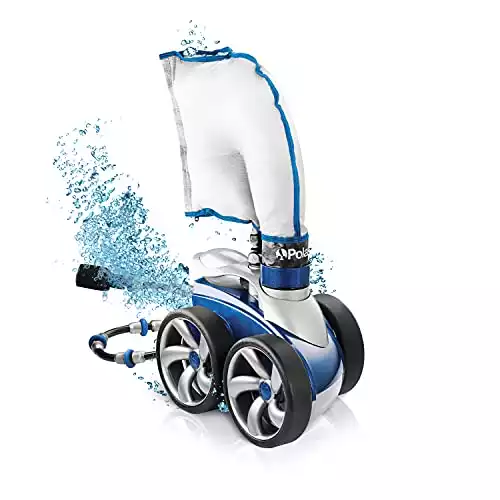 Polaris Vac-Sweep® 380
The second-most powerful cleaner in the Vac-Sweep® family, the 380 pressure-side cleaner has three jets and a two-and-one-quarter-inch inlet. Its all-wheel belt drive keeps the three standard wheels moving along.
It has a single-chamber debris bag. While it comes with a standard sweep, it's compatible with the TailSweep Pro. You'll also need a booster pump to run this model.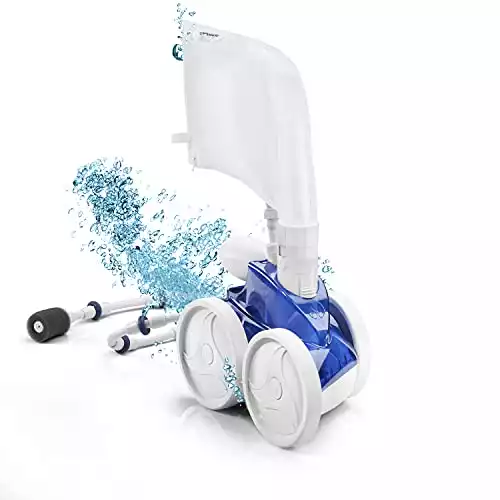 Polaris Vac-Sweep® 360
If you like the looks of the Vac-Sweep® 380, but you don't want to purchase and run a booster pump, the Vac-Sweep® 360 will do the trick. It's got three jets and the same generous inlet, but you won't need a booster for it. You can also upgrade to a TailSweep Pro on this model.
Our Top Pick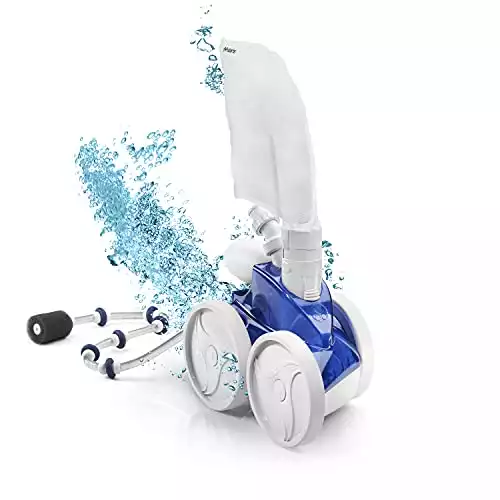 Polaris Vac-Sweep® 280
Don't let the modest features fool you. The Vac-Sweep® 280 is a capable little pool cleaner. It has two jets, plus a two-and-one-quarter-inch inlet. It requires a booster pump.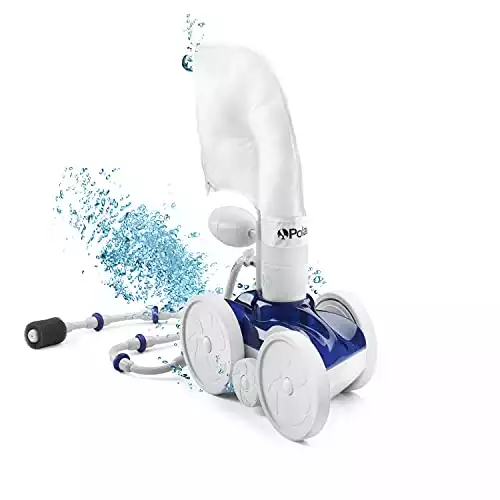 Polaris Booster Pumps
Exactly as its name suggests, this piece of equipment serves to boost the power and efficiency of your automatic cleaner. If you get a Polaris pool cleaner that needs a booster pump, select a Polaris booster pump as well so you can be certain they're compatible.
Note: Remember, if the cleaner you choose needs a booster pump, it's best to have a professional install it.
Polaris PB4-60 Booster Pump
This ultra-high efficiency, three-quarter-horsepower booster pump provides all the power necessary for Polaris Vac-Sweep® 180, 280, 380, and 3900 Sport pressure-side cleaners to work their magic.
It has low flow requirements, so you can even use it with your two-speed pump on low or with a variable speed pump. If you want to retain your manufacturer warranty, you'll need to have a professional install the pump.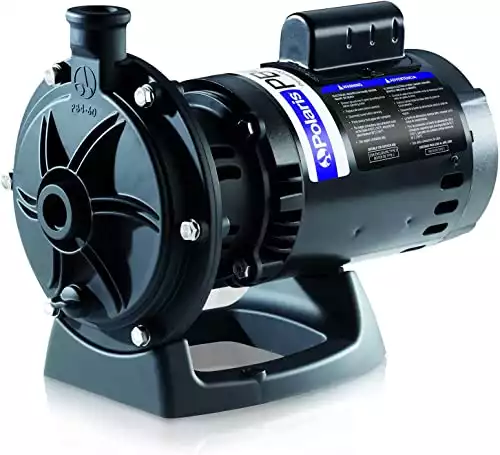 Robotic Pool Cleaners
If pressure-side cleaners take the work out of vacuuming your pool, robotic pool cleaners make it fun. The biggest difference between the two is the former is propelled by water pressure, while robotic cleaners are powered by electricity.
But wait a minute. How can you plug something into an outlet, then safely drop it into your pool?! Robotic pool cleaners are plugged into a ground-fault circuit interrupter (GFCI) outlet (the kind with the little reset button on it) and run on such low voltage, they're completely safe. The snazzy features you get with robotic pool cleaners do come with a slightly larger price tag.
How Robotic Pool Cleaners Work
When you see one of these in action, you'll undoubtedly be impressed. Robotic cleaners are smart, durable, little workhorses. They drive around inground pools, sucking debris into a built-in filter canister. Not only will they scrub and vacuum your pool floor, they'll drive up stairs, and climb your pool walls. They also scrub your waterline and tile.
Polaris Robotic Pool Cleaners
With a feature called the Easy Lift System, you can drain the water out quickly, so removing the cleaner from your pool is a breeze. When the canister is full, you just pull it out, shake the debris out, then give it a quick spray. Polaris robotic pool cleaners work on any surface and come with a convenient transport caddy.
Polaris 9550 Sport
One of the coolest features available on this cleaner is the motion-sensing remote, which lets you gesture to any spot in your pool to direct the cleaner where you want it to go. Choose between four cleaning modes: floor, floor and wall, waterline only, and custom. You can even program a seven-day cleaning cycle.
The 9550 has four-wheel drive, a solid-blade scrubbing brush, and a dirty canister indicator. It will clean pools as large as 60 feet long.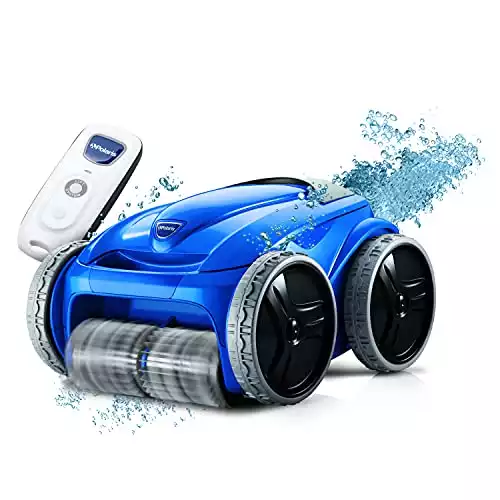 Polaris 9450 Sport
If you want the power and flexibility of a robotic cleaner, but you don't need bells and whistles like a motion-sensing remote, the F9450 Sport may be right for you. It has a seven-day programmable cleaning cycle and two cleaning modes.
This model has four-wheel drive, a pleated brush, and a large filter canister. It's capable of cleaning of 50-foot pool.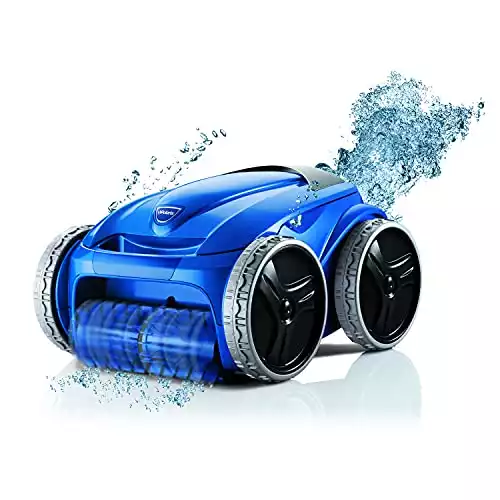 Polaris 9350 Sport
This entry-level model is perfect if you're on a budget, but still want the perks of a robotic cleaner. Dual cleaning cycles and floor, or floor-and-wall cleaning modes offer just enough flexibility.
It has two-wheel drive, a pleated brush, and large filter canister. It can also clean a 50-foot pool.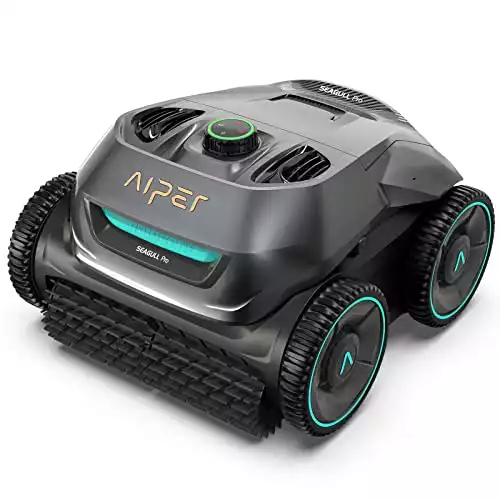 Cordless Robotic Pool Cleaner
An advanced pool cleaner with a unique quad-motor system for thoroughly cleaning floors, walls, and waterlines. Its efficient 4-Wheel Drive navigates all surfaces seamlessly, filtering 130 gallons per minute, capturing debris from leaves to pebbles. This cordless device offers an extended 180-minute battery life, 90-minute charge time, and suitable for inground and above ground pools up to 3,200 Sq.Ft.
Buy Now On Amazon
If you click this link and make a purchase, we earn a commission at no additional cost to you.
Suction-Side Pool Cleaners
If you've got a small budget, but you need an automatic cleaner, suction-side is the way to go. They're not as powerful as pressure-side cleaners, nor do they have the high-tech features of robotic cleaners, but they'll get the job done.
How Suction-Side Pool Cleaners Work
These cleaners are so named because you hook them up to the suction side of your filter system at the skimmer, or a dedicated suction line. As your cleaner works its way around your pool, it vacuums up debris, sending it to your skimmer, and through your pools filter system. This means less work for you, but more work for your pool filter.
You won't find any suction-side pool cleaners under the Polaris brand name. However, their parent company, Zodiac, manufactures suction-side pool cleaners, so you can be assured of the same quality Polaris is known for.
Note: Be aware that because a suction-side cleaner attaches to your pool skimmer and creates a siphon to your filter system, it can potentially damage your filter by picking up rocks or other larger debris.
Should You Buy a Polaris Pool Cleaner?
You can certainly get by cleaning your pool manually. But investing in an automatic or robotic cleaner can save you a lot of work, not to mention precious time.
Most automatic cleaners will also help extend the life of your pool filter by scooping up debris before it cycles through your system. Plus, it's much easier to stick to your pool maintenance schedule when you can program your pool cleaner in advance.
Before you make your purchase, ask yourself three questions:
Do I have an inground or above ground pool? This should be a pretty easy question to answer. At least, we hope it is!
How big is my pool? If you have a big pool you might want to think about buying a Polaris pool cleaner with a booster pump. If you don't know your pool's size off the top of your head, measure before you make your purchase.
What is my budget? If you have a small budget, don't go for the smaller, less expensive model right away. Your budget may be small, but your pool may be large, requiring a bigger, better cleaner with a booster pump. Save up if you have to. There's no sense in buying something that won't be effective. You'll just be wasting your money.
Now, what are you waiting for? Get an automatic pool cleaner, and spend less time cleaning and more time swimming!
Happy Swimming!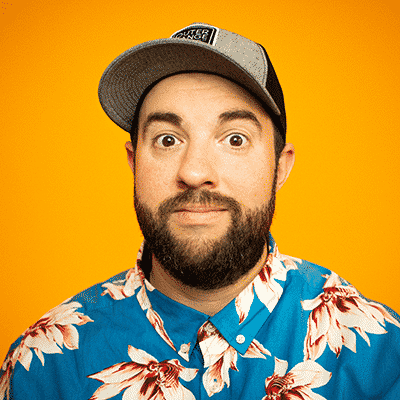 Matt Giovanisci is the founder of Swim University® and has been in the pool and spa industry since 1995. Since then, his mission is to make pool and hot tub care easy for everyone. And each year, he continues to help more people with water chemistry, cleaning, and troubleshooting.