Pressure-side cleaners are available across a wide price range, with most models usually falling between $200 and $900.
NOTE: The following automatic pressure-side pool cleaners are available to buy on either Amazon and InTheSwim.com. Check both sites for availability. All the links are affiliate links which means if you click a link and make a purchase, we earn a commission at no additional cost to you. It helps us keep the lights on 💡
The Best Pressure-Side Pool Cleaner for an Inground Pool: Polaris 360
Our Top Pick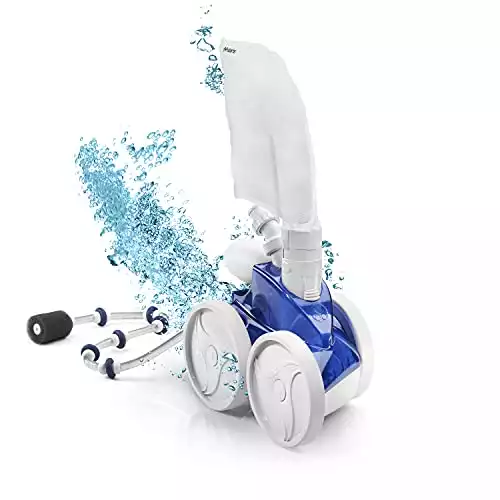 Polaris Cleaners are a trusted brand in the pool industry. And the Polaris 360 is the gold standard in pressure-side automatic cleaners. We chose this one specifically because it DOES NOT require a booster pump and perfect for all inground pools of any size and shape.
The Polaris 360 includes three jets to create the water vortex that vacuums up medium and large debris (see diagram below). It comes with a 31-foot hose and single chamber filter bag. Plus a backup valve that automatically frees the pool cleaner if it gets cornered so it keeps cleaning without interruption.
The Best Pressure-Side Pool Cleaner for an Above Ground Pool: Polaris 65
Our Top Pick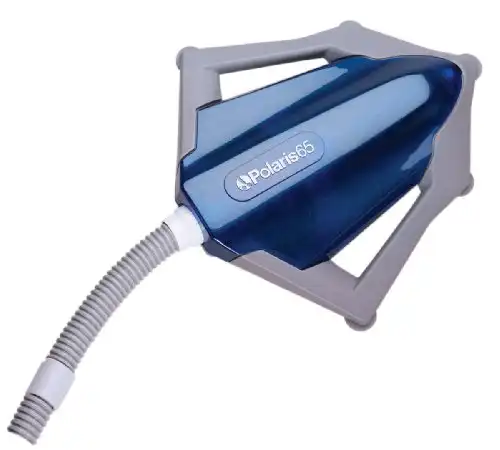 Again, Polaris tops our list for above ground pools. The Polaris 65 is the most unique cleaner on the market. This simple floating spaceship design moves back and forth across the surface of your pool. Then, using water pressure, it has a long 6-foot hose attached to a filter bag that descends to the bottom of your pool sweeping medium and large debris.
You'll be surprised by how well and fast this cleaner works. And it has very few moving parts, so it's easy to fix and maintenance when needed — which is rare.
Frustrated by adding chemicals and trying to keep your pool clear all the time?
We cut out all the confusion of pool maintenance in this easy-to-read illustrated ebook and video course. It'll help you save $100 right away on pool care!
Get Instant Access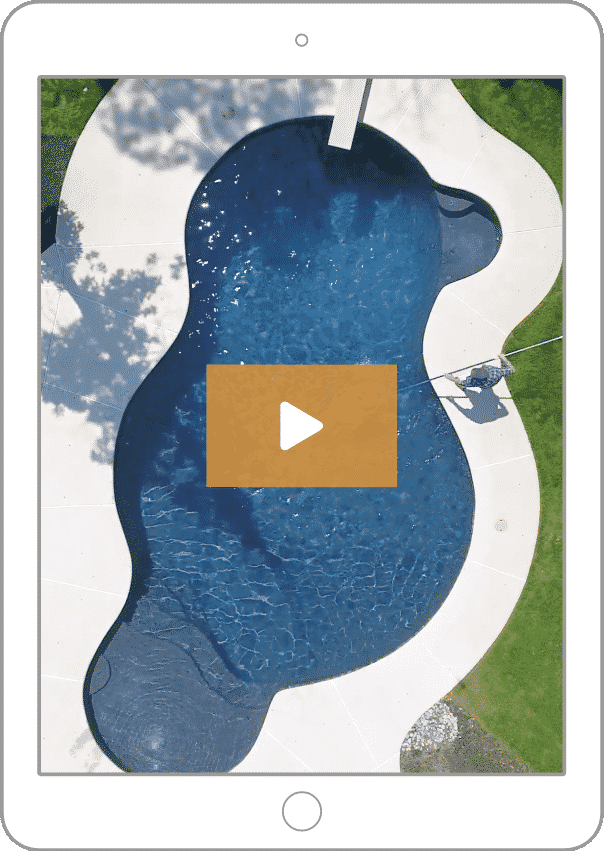 How Do Pressure Pool Cleaners Work?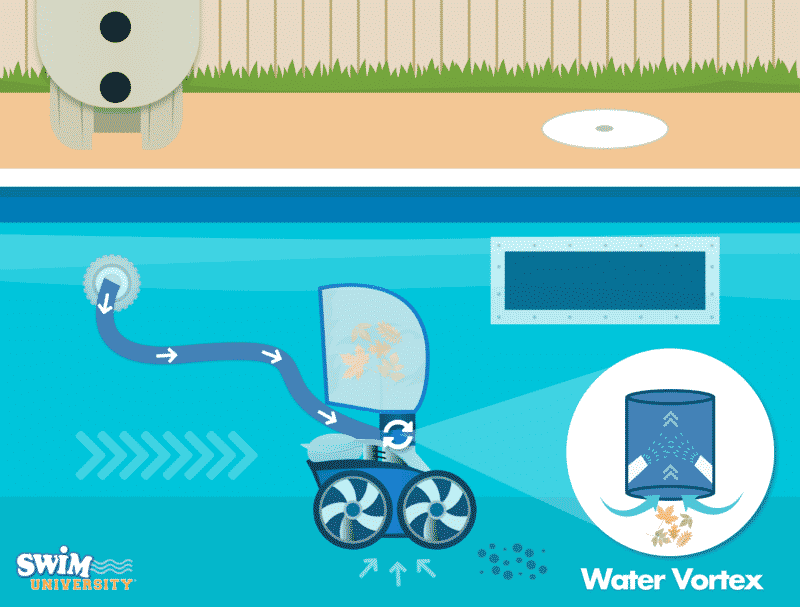 Pressure-side pool cleaners hook up to a return jet in your pool and use water pressure from the filter system to propel itself through your pool and vacuum using a water vortex.
Pressure-side pool cleaners have wheels, a filter bag, a sweep hose, and a return-jet hose. They're great at picking up medium and large debris.
The cleaner moves on its own randomly around the pool. If it gets stuck anywhere, most come with a backup valve. The valve kicks on every so often, stopping water flow to the cleaner and instead, blasting all the water through a tiny jet on the side of the valve. This produces a burst of force that shoves the cleaner to a new location so you can get on with your life and not worry about whether your pool cleaner is doing its job.
What's the Difference Between Pressure-Side and Suction-Side Pool Cleaners?
Suction-Side Pool Cleaners attach to the skimmer. And it uses the suction power of your filter system to move the cleaner and pick up debris from your pool.
Pressure-Side Pool Cleaners attach to the return jet. They use the water pressure from your filter system to power the cleaner and create a water vortex to pull debris into its own filter bag.
A robotic pool cleaner is the best of both cleaners. They clean your pool without the use of your filter system. They use suction instead of pressure and collect dirt and debris in its own filter bag inside.
Buying Guide: 5 Key Features We Looked For In A Pressure-Side Pool Cleaner
We put lots of automatic pressure pool cleaners to the test over the years. And we've read thousands of customer reviews. Ultimately, we narrowed down our top picks to these features.
1. Wall Climbing Ability
This was a must-have feature for fiberglass, vinyl, and concrete inground swimming pools. We even noted if it climbed and cleaned stairs.
2. Does It Require A Booster Pump?
Some pools won't have quite enough water pressure to run certain pressure-side cleaners. If you choose a cleaner that needs a lot of oomph, you may also need a booster pump that hooks into your pool's filter system boosts the water pressure.
Note: If you must use a booster pump, we recommend having a professional install it. It's a little more complicated than just the pool cleaner.
3. Does It Have a Backup Valve?
Many pressure-side automatic pool cleaners have this simple-looking little doodad that helps redirect your pool cleaner so it will clean the entirety of your pool, rather than spend a few hours stuck by your stairs.
4. How Long Is The Hose And Can It Be Extended?
Another important feature for both inground and above ground pools so that our top picks would work for everyone. Even if the hose that comes with the cleaner isn't long enough, we wanted to make sure you could easily add extensions. This also makes it easier to store.
5. Durability and Build
You don't wanna invest in an automatic pool cleaner just to have it break constantly. We looked for cleaners that we felt were made well and durable. Our goal is to recommend cleaners that will stand the test of time and hold up in even the harshest conditions.
Plus, many local pool dealers have the ability to repair Polaris pool cleaners since they're so popular. You won't have trouble finding any parts to keep your cleaner for a very long time.
How to Install and Use a Pressure-Side Pool Cleaner
Once installed, your pool pump pushes water through a hose to jets located underneath the pool cleaner and along with the sweep hose. These concentrated streams of water work to move the cleaner along while also loosening debris and pushing it up into the filter bag. Fine particles will flow through the filter bag and get cleaned out in the pool filtration system.
This process is very similar to the installation and use of a suction-side cleaner, just opposite in some ways as it works at the end of the circulation cycle rather than the beginning.
Clean your pool filter.
Flush your return line by turning your pump on for five minutes, then back off again.
Install a universal wall fitting into your dedicated return line or a return jet.
Trim the leader hose so its length equals the deepest part of your pool.
Screw the leader hose into the wall fitting. Note: The leader hose is installed on the opposite end from suction-side pool cleaner installation.
Attach the leader hose to the feed hose.
Extend the feed hose across the pool surface to the farthest pool edge from the return line. If it extends far past the pool edge, follow the manufacturer's recommendations for trimming the hose. Typically, you'll cut equal amounts from each section when making adjustments.
Ensure all feed hose floats are evenly spaced.
Connect the feed hose to the pool cleaner.
Secure the filter bag per the instructions for your model.
Prime your pool pump. If you're using a booster pump, turn it on next.
Important: Measure rotations per minute (RPMs) of the cleaner's wheels to ensure they're within the range recommended for your model. If your pressure-side pool cleaner's wheels rotate too slowly, the cleaner won't get around the pool well. If they're rotating too quickly, the cleaner will lift off the floor, and won't be able to vacuum properly. Ideal RPMs vary by model, so consult your manual before continuing.
Using a marker, put a small line on one tire.
Turn the cleaner on, and submerge it just below the pool surface.
Set a timer for one minute.
Count one tire rotation each time your mark passes the starting point.
When the minute is up, compare the RPMs you counted to the manual to ensure the total falls somewhere within the recommended range.
If it doesn't, adjust as necessary, and repeat the test until you achieve a good number of RPMs.
Now your pressure-side cleaner is ready to roll! Use it at least twice a week, or as often as needed.
How to Maintain a Pressure-Side Pool Cleaner
Though they save you a lot of manual labor, you'll still need to take a few practical steps to ensure your pool cleaner lives a full life. Keeping it clean is pretty simple, and routine maintenance will keep your pressure-side pool cleaner operating at peak performance.
Carefully remove the filter bag, and allow it to dry out of direct sunlight. Once the debris inside has fully dried, you can easily dump it out.
If the filter bag looks clogged up, give it a good spray with a hose before reattaching it to the pool cleaner. Tip: Alternate between two bags for hassle-free cleaning.
Open the filter assembly. Remove the in-line filter, and wash it out with water.
Secure the filter back inside the assembly.
Check your sweep hose for debris, and hose it down when necessary.
Clear the openings on the end of your sweep hose and in the body of the cleaner as needed. It's a good idea to check these areas after each use.
Ensure snug hose connections by gently hand tightening, if possible. Avoid over-tightening, which can strip the connectors.
Pressure-Side Pool Cleaner Troubleshooting Tips
Every once in a while, your pool cleaner may not work exactly the way it's supposed to. You can fix most problems pretty easily.
RPMs are outside the optimal range: Make adjustments per the manufacturer's specifications. This may involve removing or adding flow restrictors, adjusting the in-line flow, cleaning your in-line filter, or cleaning your pool filter system components.
The pool cleaner isn't getting around the pool the way it should: Most models let you adjust the thrust jet to add or remove some power.
The pool cleaner is spraying water outside your pool, or moving too rapidly: Adjust your sweep hose per your model's specifications. The sweep hose should gently swish back and forth behind your pool cleaner, not flail wildly like a tube man.
The backup valve isn't working properly: Lift the cleaner out of the water. Wait to see if water sprays out of the valve every few minutes. If it doesn't, you may need to replace the valve, or have your cleaner professionally serviced.
Storing a Pressure-Side Pool Cleaner
Closing your pool for the winter? Rinse the cleaner off, clean the filter and filter bag, then allow everything to dry. Store the pool cleaner and all its parts and accessories out of direct sunlight.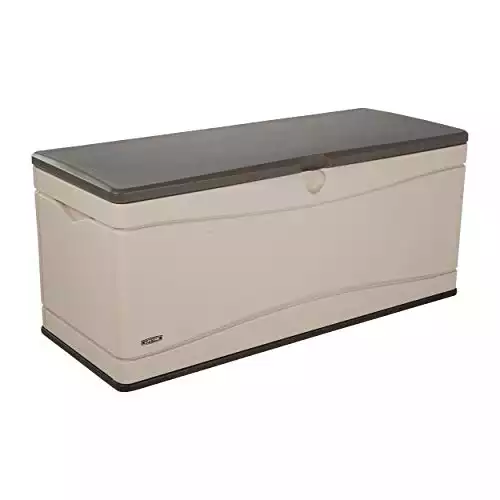 Lifetime Extra Large Deck Storage Box
Perfect for storing pool maintenance equipment like cleaners, nets, brushes, hoses, and more. Also great protecting your pool gear from the sun and critters all year long.
Buy Now On Amazon
If you click this link and make a purchase, we earn a commission at no additional cost to you.
09/27/2023 10:12 pm GMT
Are Pressure-Side Pool Cleaners Any Good?
Bottom line: we highly recommend investing in an automatic pool cleaner. And if you're not ready to invest in a robotic pool cleaner, a pressure pool cleaner is your next best option. You'll be happy with our top picks for inground and above ground swimming pools.
Happy Swimming!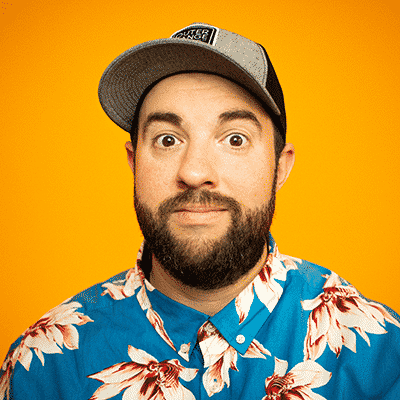 Matt Giovanisci is the founder of Swim University® and has been in the pool and spa industry since 1995. Since then, his mission is to make pool and hot tub care easy for everyone. And each year, he continues to help more people with water chemistry, cleaning, and troubleshooting.