We tested and reviewed a bunch of automatic inground pool cleaners on a variety of pools, both big and small. And here are our top picks for the best pool cleaners specifically for inground swimming pools.
NOTE: The following inground pool cleaners are Amazon affiliate links. If you click a link and make a purchase, we earn a commission at no additional cost to you. It helps us keep the lights on.
The Best Robotic Pool Cleaner
Our Top Pick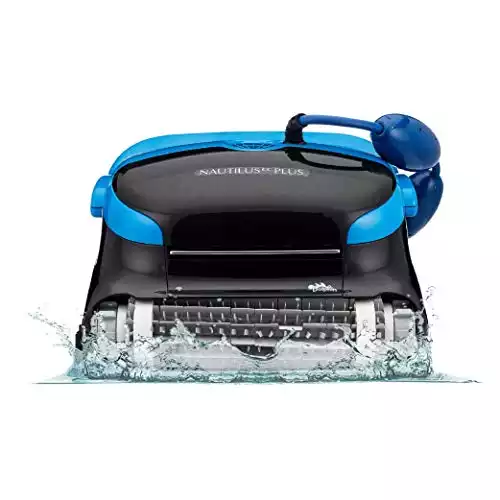 The Dolphin Nautilus CC Plus scans your pool to optimize its path around your pool floor and walls for the perfect cleaning cycle. Very few cleaners do this and it's one of the main reasons we picked it.
The Dolphin Nautilus also has two scrubbing brushes that help scrub and climb walls. Plus, it'll scrub the floor of your pool while picking up small and large debris. It'll work on all pool surfaces including vinyl liner, concrete, and fiberglass pools.
The built-in filters that collect the debris are easy to remove, empty, rinse, and reload.
What is a Robotic Swimming Pool Cleaner?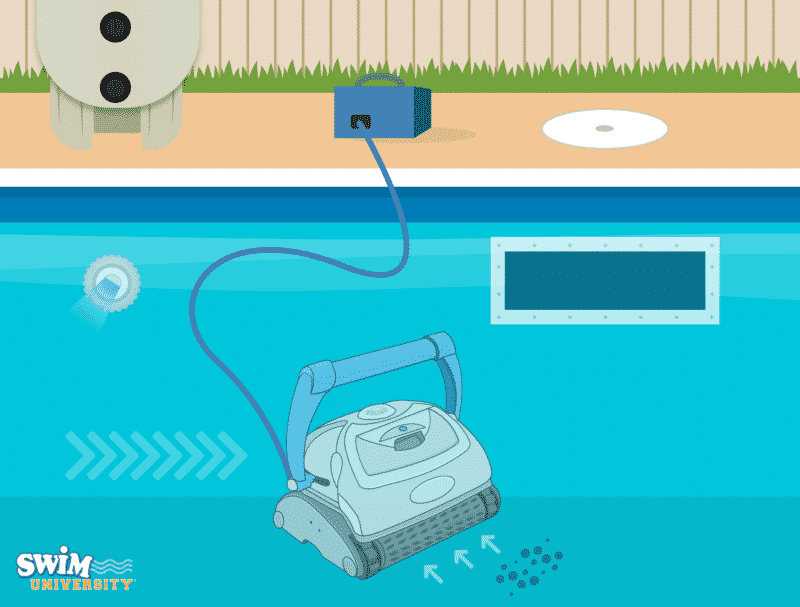 Robotic pool cleaners are our favorite type of automatic pool vacuum. They combine the best parts of suction-side and Pressure-side cleaners and they fall right in the middle when it comes to price.
They have a built-in motor with drives the cleaner around the pool. And inside, they have a mesh filter bag that collects debris via an internal water pump.
It's a completely self-contained cleaner that doesn't require running your entire filtration system to power the vacuum. And pool cleaning can take place when the filter system is off! It even improves water circulation and filters the water through the mesh bag down to 2 microns!
NOTE TO POOL OWNERS: If you're worried about putting an electric cleaner in the pool water, don't be. They're safe. Also, check out our best robotic pool cleaners specifically for both inground and above ground pools.
The Best Pressure-Side Pool Cleaner
Our Top Pick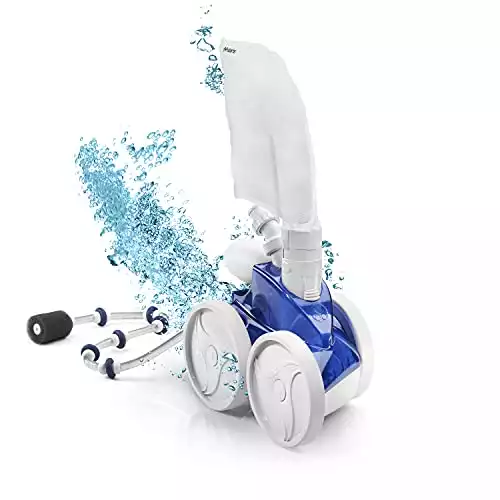 Polaris Cleaners (now owned by Zodiac Pools) one of the most trusted brands in the pool industry. And the Polaris 360 is the gold standard in pressure-side automatic cleaners for inground pools.
We chose this one specifically because it DOES NOT require a booster pump (or extra pool pump) and works for any size pool.
What is a Pressure Side Pool Cleaner?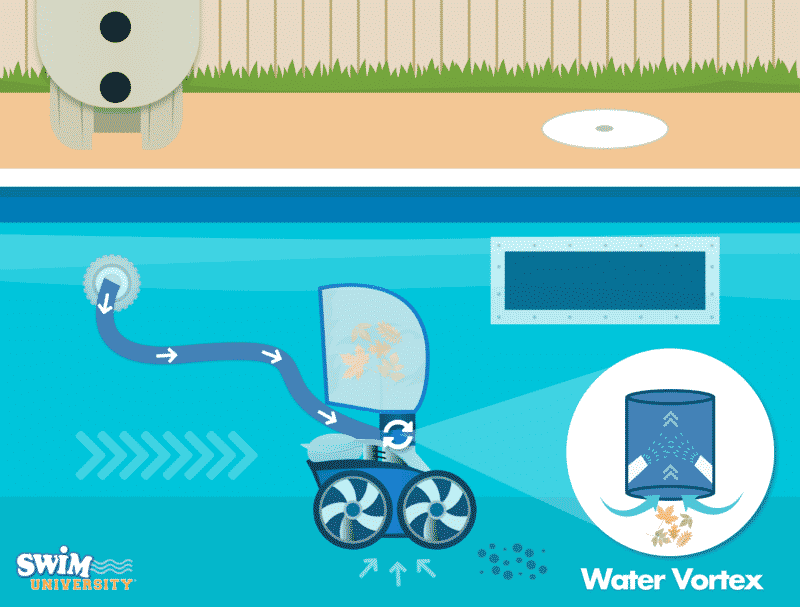 We're huge fans of Pressure-side pool cleaners because they connect to your return jet and use water pressure from your pool filter system. They do not suck debris into your filter system like suction-side cleaners (more on those later).
Instead, the water flows through the cleaner powering the wheels with a turbine and also sprays the water upwards into a filter bag attached to the unit. This creates a water vortex that lifts dirt and debris up into the bag making it a complete self-contained cleaning unit.
Every once in a while, water is diverted into what's called a backup valve which lifts the cleaner off the bottom of the pool and sends it to a different part of your pool. This is awesome just in case your cleaner gets stuck and stops it from cleaning the same spot over and over again.
As far as pricing goes, they're usually cheaper than a robotic cleaner. However, some inground pressure-side cleaners require a booster pump to be installed and they can be pretty expensive. If your pool requires a booster pump to run a pressure-side cleaner, we recommend just going with a robotic pool cleaner instead.
Frustrated by adding chemicals and trying to keep your pool clear all the time?
We cut out all the confusion of pool maintenance in this easy-to-read illustrated ebook and video course. It'll help you save $100 right away on pool care!
Click Here to Learn More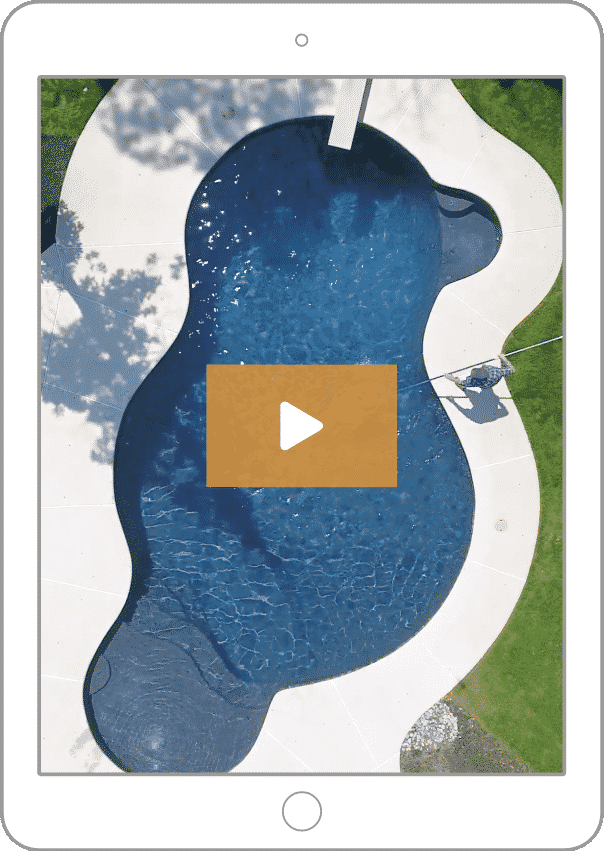 The Best Suction-Side Pool Cleaner
Our Top Pick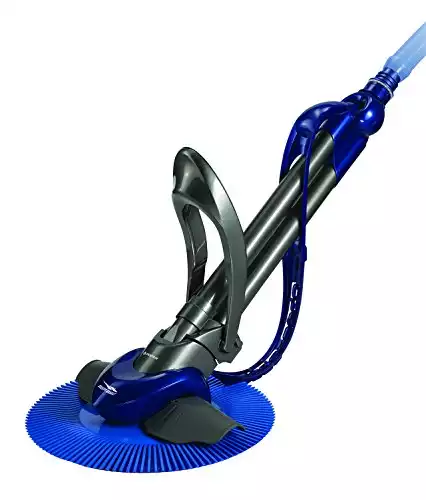 The Kreepy Krauly by Pentair has a built-in navigation system that guides the cleaner from the water line to the wall and to the bottom of the pool. And an automatic valve regulates the flow control and travel speed for thorough cleaning.
It'll clean around steps and ladders and the flapper help grab leaves, dirt, and large debris.
What is a Suction-Side Swimming Pool Cleaner?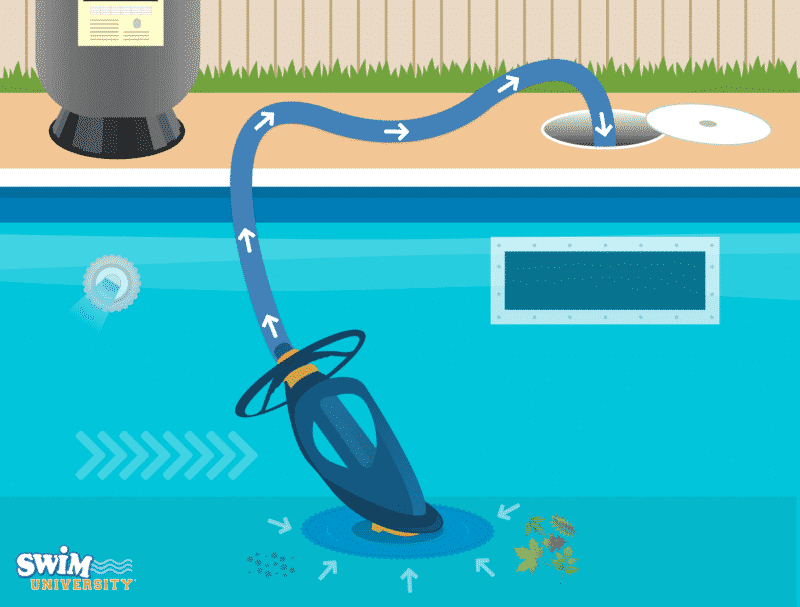 Suction-side pool cleaners use the suction power to vacuum your pool from your pump and filter. It works exactly like your manual vacuum cleaner by connecting to your pool skimmer. The big difference is that it moves around on its own in a random pattern.
These are the most inexpensive automatic pool cleaners on the market. And while they work, they're not our favorite type of pool cleaner.
This is simply because it requires the full power of your filter system to work. Plus, we worry about the cleaner getting stuck or collecting large debris and clogging the filter system when we're not home which can cause a lot of long-term damage.
We recommend to only run a suction pool cleaner while you're home and can monitor its activity.
The Best Inground Pool Cleaners Recap
Here's a recap of what we recommend when it comes to automatic pool cleaners for inground swimming pools of all shapes and sizes.
Our Top Pick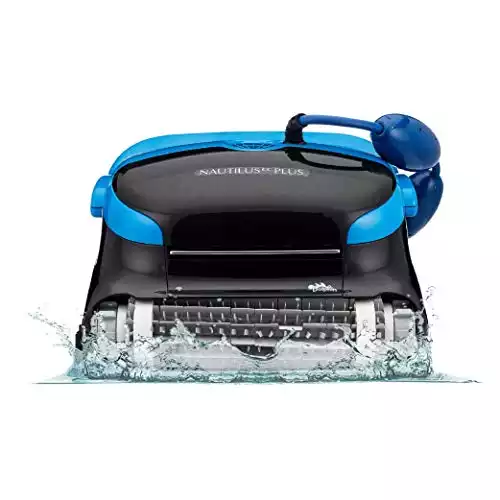 Our Top Pick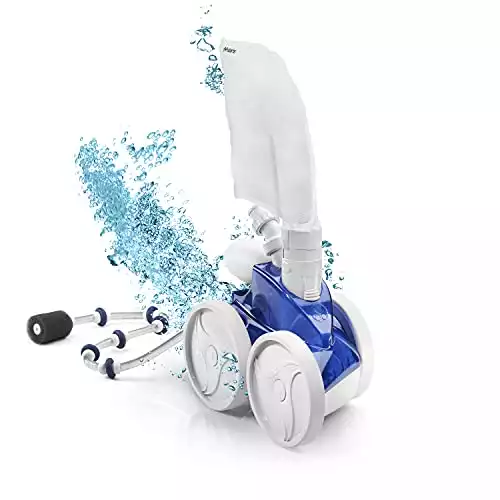 Our Top Pick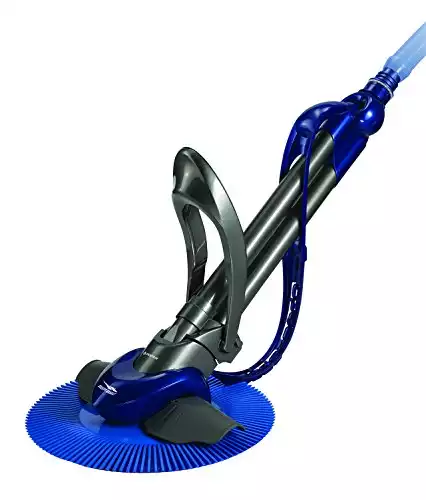 Learn More About Automatic Swimming Pool Cleaners
There are a lot of other brands out there that make great inground pool cleaners including Hayward. But after testing and evaluating the cleaning process, we decided these were our picks.
If you're confused at all between all the different types of pool cleaners there are on the market, I recommend you check out our guides on suction-side, pressure-side, and robotic automatic pool cleaners when you get a chance. It'll explain everything you need to know. And if you happen to know someone who owns an above ground pool, check out our favorite above ground pool cleaners too.
Happy Swimming!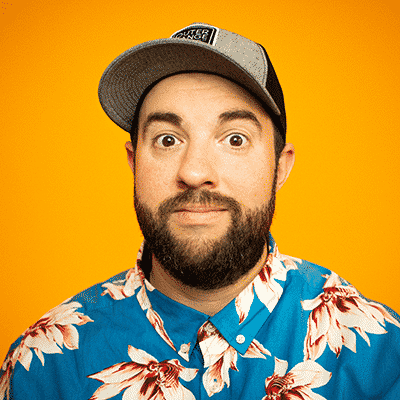 Matt Giovanisci is the founder of Swim University® and has been in the pool and spa industry since 1995. Since then, his mission is to make pool and hot tub care easy for everyone. And each year, he continues to help more people with water chemistry, cleaning, and troubleshooting.
Download Our FREE Pool Care Cheat Sheet
This free printable cheat sheet helps keep your inground, above ground, or Intex pool clean and clear without messing with confusing water chemistry.
Get The FREE Cheat Sheet