Pool automation isn't just for the tech savvy. Even if you write your shopping lists on paper and feel like two TV remotes is one too many, you can still enjoy the perks of automating your pool and spa. Wouldn't it be nice to operate your pool at the touch of a button, even if you're a thousand miles away? You can.
On the other hand, if you manage your entire life via smartphone, and you enjoy leveraging new technology to make life more convenient, pool automation is a natural extension of your smart home. You can control, schedule, and manage everything from adjusting the pump speed, to turning on the spa, all while on the go.
Whether you just want your pump and heater to run on a schedule, or tell Amazon Alexa to get the spa ready for when you get home from work, you'll have the power at your fingertips. All it takes is Wi-Fi, a good automation system, and a few hours of setup, and your smart pool control will be ready to obey your every command.
How Does Pool Automation Work?
Obviously, you won't be able to control your pool (or anything else) unless the wiring that powers those systems is connected to a control or switch. The way these systems work can be confusing if you're not an electrician, but it's actually pretty simple.
First things first. To add smart pool automation, you'll need to ensure you have a reliable internet connection, preferably with upload and download speeds of at least 3 Mbps available wherever your pool pad is located. It's easy to check the strength of your internet connection with online speed testers.
The latest generation of smart control systems connect wirelessly to your home network or, if you prefer, through a wired Ethernet connection.
The heart of your pool automation system will be a control hub that is connected to your pump, heater, and smart relays, which control additional devices such as lights or booster pumps. A touchscreen control pad means you can always operate all your equipment from the pool pad, even if you lose your internet connection.
Additionally, some automation brands will control valve actuators, which enables you to switch from pool to spa with just a tap of your app.
While newer products have made it fairly easy to add automation to your existing pool equipment, installation involves working with electricity and some basic software setup. The latest generation of automation systems can be installed in about two hours.
Important: Safety first. If you're fine with software setup, but aren't a savvy electrician, hire a pro. Aside from ensuring the system will be installed correctly, it'll keep you and your system safe as well.
Do I Really Need Pool Automation?
Maybe you're wondering how exactly pool automation might fit into your life, beyond simply scheduling or adjusting settings from your smartphone. Well, get ready because the possibilities are truly exciting.
Spa Night
You're just wrapping up an amazing dinner date, and it looks like you might be headed for a swim, or a soak in the attached hot tub. The only problem? You're not home yet, and your spa is cold. You want to walk through the door and take your date straight to the water.
No problem. Just open the app on your smartphone and initiate the theme (also called routines or group functions, depending on the app) you named "Spa Night." While you drive back to your place, your spa heater will get the water up to a comfortable temperature, and your landscape lights will kick on.
No interruptions, just a continuation of your already fantastic evening. Not to mention, your date will be duly impressed by your forethought.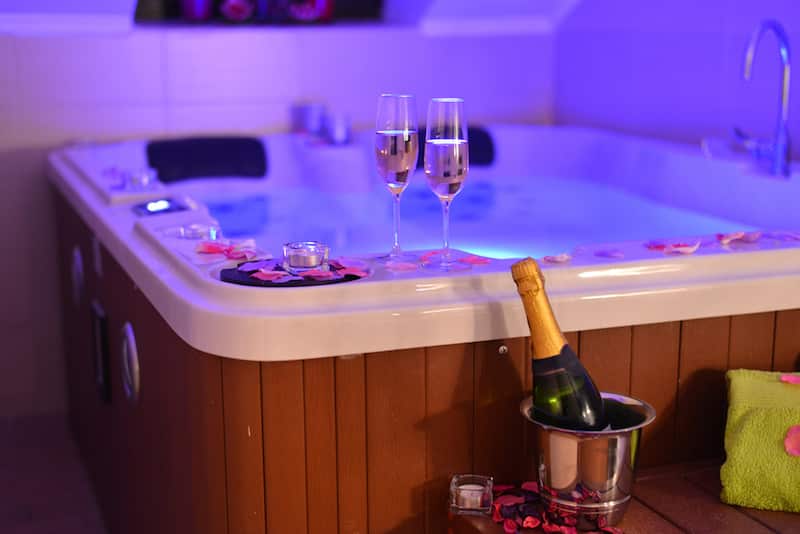 Bonus: You can also activate your Spa Night theme on your way home from a particularly stressful workday. Hey, who says you can't pamper yourself a little?
Vacation
You're lying on the beach outside your hotel, enjoying the sand and surf. The last thing you want to be concerned with is arriving home to cold water, or an algae problem in your pool.
Not to worry. With a "Vacation" theme set up before you go, you can set your automatic pool cleaner to work at specific intervals, keeping your pool spotless for when you get home.
You can also schedule your pump to run at lower speeds automatically every day, and at certain times such as during off-peak hours when power rates are lowest. Check with your local utility.
And if you're traveling during winter, you can set your pool or attached-spa heater to turn on automatically if the temperature drops below a predetermined setting.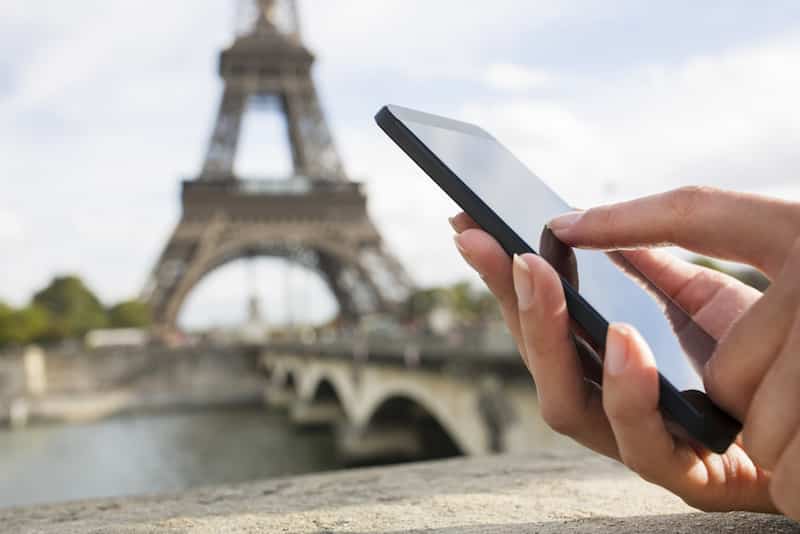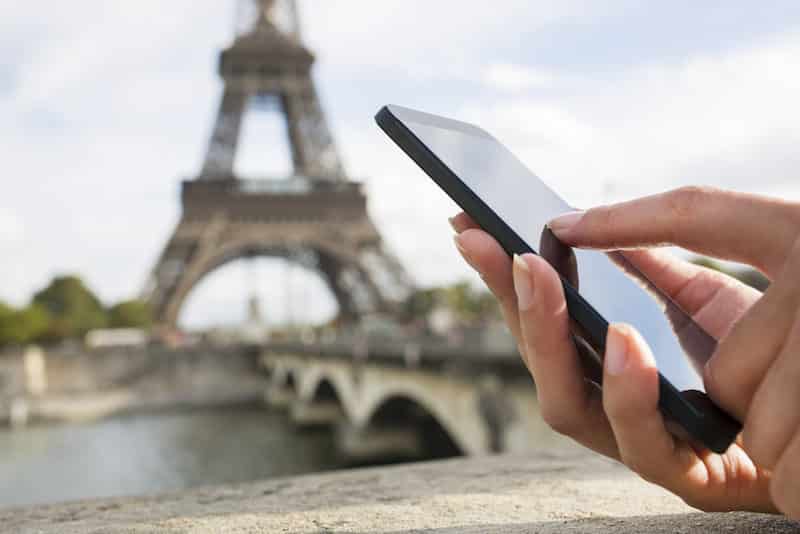 Party Time
You're busy decorating, preparing food, and setting up extra seating. You don't have time to run out to your pool pad and mess with controls. Instead, you can tell your voice-assisted device to initiate your "Party Time" theme.
With that simple verbal command, all the actions preprogrammed into your theme will begin. Kick the pool heater on and bring the water up to the ideal temperature. Run your pump. Turn on water features and backyard lights. Your pool will be party-ready without your lifting a finger.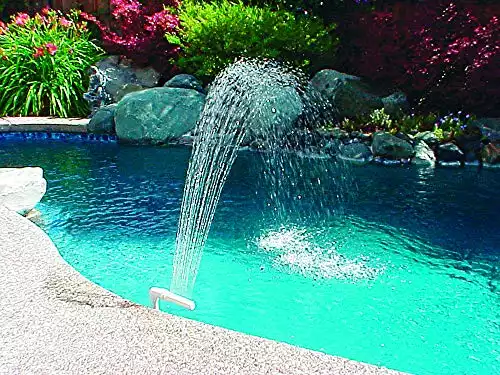 Poolside Fountain
Buy Now
If you click this link and make a purchase, we earn a commission at no additional cost to you.
12/04/2023 04:32 pm GMT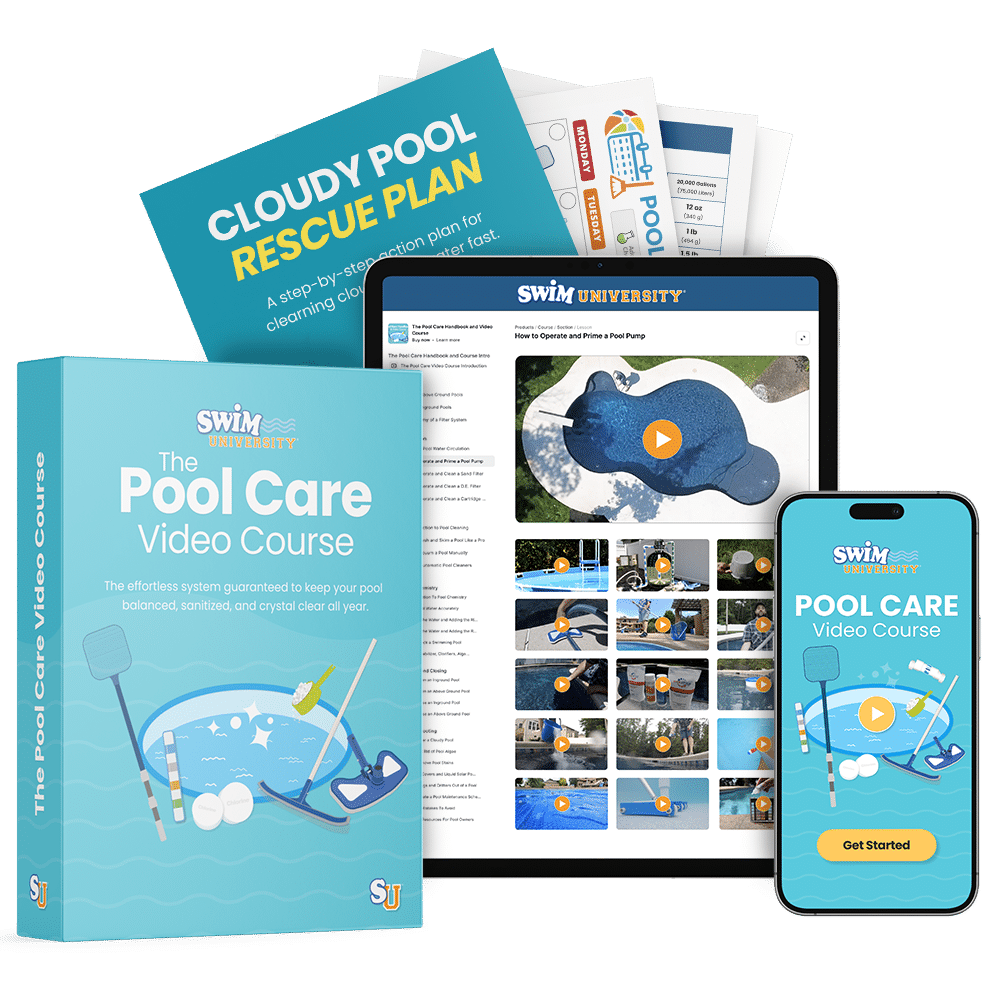 Tired of wasting time, money, and chemicals trying to keep your pool clear?
Cut the confusion with our easy-to-use video course. Save $1,000's on pool care and keep your water clean and clear for good!
Check Out The Course Here
Out-of-the-Box Pool Automation
Some of the latest variable-speed pool pumps include full automation systems that allow you to control your pump, heater, and pool lights from a simple-to-use smartphone app, no matter which brand of pool equipment you already have.
Some of these systems also work with Amazon Alexa by enabling the appropriate "Skill" within the device. If and when you're ready to replace your pool pump, you may want to consider one of these packages. They offer a new pump and a pool automation system, all for one price.
You can also buy complete pool automation systems without a new pump or other hardware. They come with the hub, controllers, and switches necessary to automate your basic pool functions but can be considerably more complicated to install and possibly more expensive.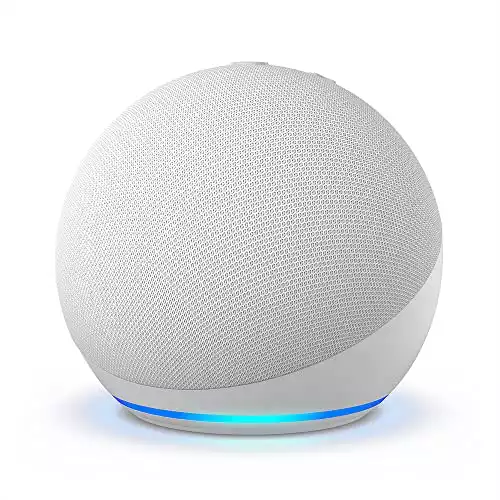 Echo Dot with Alexa
Smart speaker features a sleek design and improved audio for vibrant sound anywhere in your home. With Echo Dot, you can stay on track with help from Alexa, control compatible smart home devices and start routines with your motion.
Buy Now On Amazon
If you click this link and make a purchase, we earn a commission at no additional cost to you.
Piecemeal Pool Automation
If you already have some of the network controls and smart devices you'll need, you can essentially build a pool automation system. This approach will depend on which devices you already have and your comfort level with technology. If you're a DIYer who's comfortable with tailoring your own tech solutions, you'll love exploring all the ways you can customize pool automation to your liking.
To start, you'll still need the basic setup including a hub and controls or switches for each device you want to link to your hub. Since you're not buying a pool-only solution, you'll need a hub, such as the SmartThings hub.
It's similar to the smart hubs created by pool brands, except you'll be able to link multiple components or devices (as many as 200, with some hubs), and create routines to trigger a group of actions with just one command.
Once you have your hub set up, you can begin connecting devices. Your pool pump and heater can be connected using a controller, of course. But you can also connect items such as lights, water leak sensors, smart outlets and switches, motion sensor pool alarms, and sound systems.
For both safety and security, you can connect motion-activated security cameras to get live video alerts on your smartphone when movement is detected in your pool area.
You can even connect door and window alarms to your hub so you can turn them on and monitor activity around your pool area remotely. These functions go a long way to putting your mind at ease with small children and pets in the home.
Additional Pool Automation Integration
What else can you use to control some of these systems besides smartphone apps? This is where you can really have fun if you're comfortable with technology.
Online Software Integration
Software integrations, such as IFTTT (If This Then That), allow you to automate processes based on myriad trigger actions. For example, you can use an IFTTT recipe to turn your pool heater on when Weather Underground says the air temperature in your location has dropped below a certain point.
Other possible recipes for automating your pool area include turning on your pool lights when your GPS shows you've arrived at home, turning on your hot tub or pool heater when GPS shows you leave work, get a phone call if your pool door is opened while you're away, or even turn off a hub-connected device, such as your pool pump, at sunrise each day.
Voice Assistant Device Integration
Controlling your pool cleaner or water features with your voice isn't just fun, it's practically a necessity in some households. At least until we all have Rosie Robots to do everything for us the way the Jetsons did.
Some of the pool brand automation solutions feature integration with voice assistants such as Google Home, Amazon Alexa, or Apple's smartwatch. You'll find other hubs sometimes offer a few more voice assistant compatibility options as well.
These handy and helpful devices are becoming more common among consumers every year. By the end of 2017, about half of Americans were using voice assistants, especially on their smartphones, but also on standalone devices.
If using a voice assistance device is important to you, be sure that the automation system you choose integrates with the devices you already have. Remember, you can use IFTTT recipes with those voice assistant devices, too.
What Are You Waiting For? Automate Your Pool!
You'll find pool automation possibilities for just about every scenario you can imagine. You're only limited by your imagination.
Whichever approach you choose, just remember that pool automation can save you frustration and money every day, help you get even more return on your pool investment, and allow you to spend more time swimming and less time maintaining.
Happy Swimming!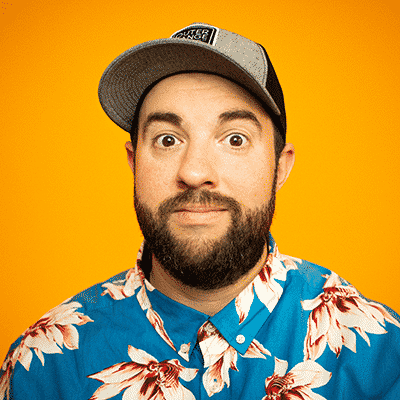 Matt Giovanisci is the founder of Swim University® and has been in the pool and spa industry since 1995. Since then, his mission is to make pool and hot tub care easy for everyone. And each year, he continues to help more people with water chemistry, cleaning, and troubleshooting.