Before you run out to the nearest pool store and plunk down a big ol' chunk of change, make sure you know what pool supplies are actually necessary. You'll save yourself some money, and you'll be ready to take care of your pool like a pro.
NOTE: The following products are available to buy on either Amazon and InTheSwim.com. Check both sites for availability. All the links are affiliate links which means if you click a link and make a purchase, we earn a commission at no additional cost to you. It helps us keep the lights on 💡.
Our Favorite Pool Chemicals and Water Testing Supplies
It's hard to practice good pool maintenance if you don't have the tools to accomplish it. Stock up on a few essentials, and then build from there. There's no point in owning a pool if it's all drudgery. Having the right tools at hand will make your life a lot easier, and allow you to enjoy your pool much more.
Pool Water Testing
We cannot stress how incredibly important water testing is for your pool maintenance. It's best to test your water at least once a week. Regular testing lets you know when you need to add chemicals to your pool to prevent nasty bacteria and algae from moving in.
Our Top Pick
Our Top Pick
Pool and Spa Test Strips
Tests for 7 important chemistries in seconds: Total Hardness, Total Chlorine, Total Bromine, Free Chlorine, pH, Total Alkalinity, and Cyanuric Acid.
Buy Now on Amazon
Learn More
If you click this link and make a purchase, we earn a commission at no additional cost to you.
Instead, stock up on test strips. They're not quite as accurate as liquid test kits, but they're quick and easy to use, and cover all the basic levels you need to keep track of free chlorine, total chlorine, bromine (if you use that instead of chlorine), total hardness, total alkalinity, pH and cyanuric acid.
Pool Water Balancing
You need to balance your pool water by maintaining the proper pH, Alkalinity, and Calcium Hardness Levels. There are four different chemicals you need to help balance the water.
For increasing your alkalinity, you can either use our favorite Alkalinity Increaser or baking soda.
Our Top Pick
Baking Soda
Perfect for raising total alkalinity and pH in your pool along with cleaning tile and more. You'll need plenty on hand.
Buy Now On Amazon
Learn More
If you click this link and make a purchase, we earn a commission at no additional cost to you.
Our Top Pick
NOTE: if you want to lower your alkalinity, you can use muriatic acid.
For controlling your pool pH balance, you can use pH Increaser and pH Decreaser.
Our Top Pick
Our Top Pick
pH Increaser for Pools
This is a proven way to make the water less acidic when swimming in pools. This chemical helps maintain the right level of pH.
Buy Now On Amazon
Learn More
If you click this link and make a purchase, we earn a commission at no additional cost to you.
And finally, you need to control your calcium hardness level if you have an inground swimming pool. You can use calcium hardness increaser and it's something you'll only use about once per year. If you have a quick set-up pool (Intex), then you don't need calcium hardness. Calcium hardness helps prolong the life of your pool lining whether it's concrete, fiberglass, or vinyl.
Our Top Pick
Pool Sanitizer and Shock
Our favorite sanitizer for a swimming pool is chlorine. It's hands down the most effective and widely used one. In fact, if you have a saltwater pool, then you have a chlorine pool because your saltwater generator turns salt into chlorine.
However, if you don't have a saltwater pool, you can add chlorine using 3″ tablets in either your skimmer basket or a chlorinator. And we recommend that you use a chlorinator (here's our favorite one).
Our Top Pick
If you have a smaller pool (under 10,000 gallons), then you can use granular chlorine.
When your pool starts to smell like a hotel pool, it's time to shock your water. Your pool actually shouldn't smell like anything. This chemical smell means your sanitizer level is too low and is no longer doing its job.
Giving your pool a shock will bring sanitizer levels up where they need to be, kill bacteria, and ensure your water is clean. It can also help address mild cases of algae.
To accomplish all those things most effectively, choose a calcium hypochlorite or cal hypo shock. Prevent the dreaded hotel pool smell by shocking your water once a week, or at least once every other week. The more you use your pool, the more often you'll need to shock it.
You'll also want to shock your pool after major water level changes, pool accidents involving someone's bowels, severe rainstorms, or when you need to kill pool invaders like algae.
Calcium Hypochlorite Shock
Use entire contents of bag when opened. If any granules settle to the bottom of the pool use brush to disperse. Add the recommended dosage of this product during evening hours while the filter pump is running.
Buy Now
Learn More
If you click this link and make a purchase, we earn a commission at no additional cost to you.
Our Favorite Pool Cleaning Gear
Algae Brush
Speaking of algae, this scourge of the swimming pool requires special care, so it makes sense to have special tools. When you're dealing with a bad case of pool algae, the first step will be to scrub it off the pool's surfaces.
An algae brush has stainless steel bristles that will easily break algae's hold on walls, steps, and wherever else it may be hiding. It will save you a lot of time, and save your back.
Important: Stainless steel algae brushes are best for concrete or gunite pools. Opt for a regular nylon bristle pool brush if you have a vinyl liner to avoid damaging it.
The Best Pool Cleaning Equipment
Manual Vacuum
Like an algae brush, a manual vacuum can be a lifesaver in the event of an algae infestation. Once you've brushed the algae from your pool's surfaces, you'll need to remove it from the water, and the quickest way to do that is to vacuum it up. Just make sure you vacuum to "Waste" to keep the algae from passing through your filter.
Most compact vacuum cleaner heads are compact, giving you more control when you're cleaning your pool. Sure, an automatic cleaner can save your time a muscle strain, but it might miss hard-to-reach spaces. A manual option in your pool supplies can help you spot-clean minor problem areas before they become major problem areas.
Tip: To use a manual vacuum, you'll also need a telescoping pole and a vacuum hose.
Telescoping Pole
Nope, you're not looking into the heavens with this particular pool supply. A telescoping pole simply means the pole extends like an old-fashioned telescope. This makes it great for reaching the depths of your pool without having to bend, and for taking up minimal space when you put it away.
Telescoping poles are versatile cleaning support tools, especially since most come with the option for interchangeable heads. This means you only need one pole to use a pool skimmer, manual vacuum, or pool brush.
But the true benefit in this pole lies in its telescoping ability. Depending on the width of your pool, you won't have to constantly walk around the deck to chase debris. You'll also have the ability to shorten the pole for cleaning tasks that require a little less reach and more control, like vacuuming the pool steps.
Professional 16-Foot Telescopic Pole
Get those hard to reach places with your leaf net, vacuum, or brush. This professional-grade telescopic pole is what the pros use to clean pools thoroughly.
Buy Now
Learn More
If you click this link and make a purchase, we earn a commission at no additional cost to you.
06/09/2021 01:55 am GMT
Frustrated by adding chemicals and trying to keep your pool clear all the time?
We cut out all the confusion of pool maintenance in this easy-to-read illustrated ebook and video course. It'll help you save $100 right away on pool care!
Click Here to Learn More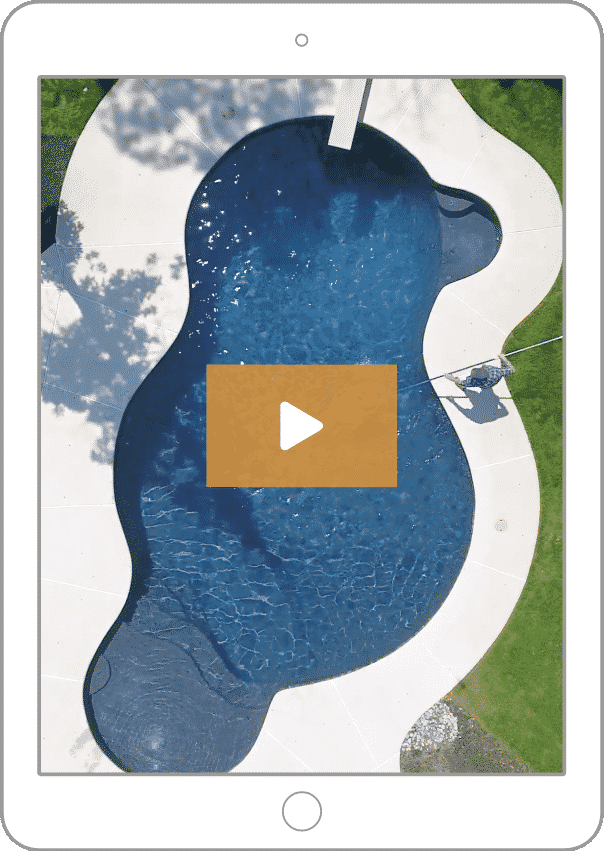 Multi-Purpose Surface Cleaner
Warm water, plenty of sunlight, and potential food sources like your body oils are huge draws for bacteria and algae. While your water chemistry goes a long way to keeping these contaminants at bay, a regular cleaning schedule is essential.
Keeping a mild, multi-purpose cleaner, or even one made specifically for pool surfaces among your pool supplies helps you tackle regular chores from cleaning your waterline to wiping down exposed parts of your pool ladder. (Be honest. When was the last time you gave that a thorough wipedown?)
Make sure you choose something less harsh than other cleaning products, so it's safe for use on sensitive vinyl, fiberglass, and even solar covers. The last thing you want to do is scratch or otherwise damage your pool or any of its accessories.
Filter Cleaner
A significant part of your water's health is directly related to how well your pool's filter functions. Despite all your best efforts, dirt and grime buildup in your filter is an unavoidable part of pool life.
In fact, a little extra dirt might not hurt in some cases; collected dirt acts as an additional filtration layer for smaller particles trying to get through your system.
Still, the time will come when your filter must be cleaned in order to continue working the way it should. Filter cleaners help remove residue, prevent cloudy water, and improve the efficiency of your filter.
The cleaning schedule will depends on how often you use your pool and the type of filter you have. Pay attention to your pressure gauge and your water clarity to determine whether your filter needs a good cleaning.
Skimmer
It's a good idea to have a pool skimmer on hand anyway, but if you have plants or trees near your pool, it's absolutely essential.
Flowers and trees will shed leaves and petals, and they'll fall right into your pool. On a windy day, even more of them will end up in the water. And let's not forget about all those wayward bugs that mistakenly land in your pool and then can't get out.
You need a way to scoop all these things out of the water so you're not swimming through an obstacle course of debris, so keep a pool skimmer handy.
Tip: A regular pool skimmer is fine for the occasional bit of debris or wayward insect. But for bigger jobs, say, after a rainstorm or on a windy day, you'll get a lot more done more quickly if you don't have to stop every few seconds to empty the skimmer net. For that, get a leaf net instead. It'll pick up and hold more, and you won't have to empty it as often.
Our Top Pick
Pool Skimmer and Leaf Net
It's a deep and durable leaf net pool skimmer that can collect a lot of debris all in one skimming. It also includes a lifetime guarantee. This is what the pros use!
Buy Now
Learn More
If you click this link and make a purchase, we earn a commission at no additional cost to you.
06/09/2021 01:39 am GMT
Pool Cover
If you're not a fan of using a pool skimmer, you definitely don't want to skip out on a pool cover. It can help keep all manner of nasty debris out of your pool. Trust us, a good pool cover will save you a ton of headaches and heartache later.
When you close your pool for the winter, you add a significant amount of chemicals to maintain your water clarity and to prevent the growth of bacteria and algae. A pool cover will reduce the potential for water contamination and help protect your pool until you reopen it.
If you have a solid cover, you also don't have to worry about your water level changing throughout the off season. Mesh covers allow for some drainage, but they keep debris and bugs out.
Preventive pool supplies like pool covers can help take the stress out of reopening your pool once warmer weather rolls around. It's the difference between scooping months-old leaves out of your water or jumping right into adding water and restarting your pump.
Automatic Pool Cleaner
OK, so you don't absolutely need this one as long as you have a manual vacuum. But an automatic pool cleaner can save you a lot of time and effort by helping to keep your pool clean, even when you're not around.
Think about it. You have a rough day at work, traffic on the way home is terrible, and all you want to do when you finally get home is take a refreshing dip in your clear, clean pool. Except, while you were at work, a bunch of leaves and other stuff blew into the water, so before you can relax and enjoy your pool, you have to vacuum it. Ugh. You may as well stay inside.
But if you had an automatic cleaner zipping around the pool all day, you'd come home to clear water ready for you to dive in with no hassle at all. We think this makes it one of the most helpful pool supplies you can have in your pool care arsenal.
A lot of pool stores will have a ton of supplies they say you absolutely need to get the job done. And you may find other pool supplies later on that you can't live without. We all have our own ways of handling pool maintenance with little tweaks here and there to reach the same end goal: a clean, healthy pool.
You'll certainly add to your stock of pool supplies as you become a more seasoned pool owner. Just make sure you have the essentials to keep your pool clean, and you'll get a lot more enjoyment out of your investment. And isn't that the way it should be?
Happy Swimming!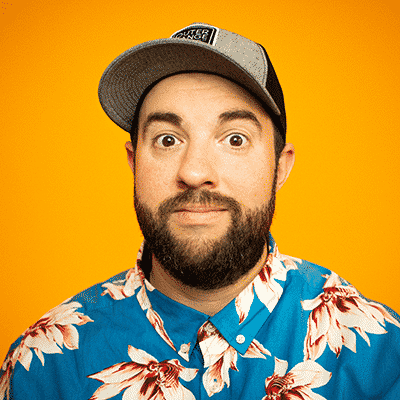 Matt Giovanisci is the founder of Swim University® and has been in the pool and spa industry since 1995. Since then, his mission is to make pool and hot tub care easy for everyone. And each year, he continues to help more people with water chemistry, cleaning, and troubleshooting.
Get our FREE cheat sheet to help keep your pool clean without messing with confusing water chemistry.
By entering your email address you agree to receive emails from Swim University. We'll respect your privacy and you can unsubscribe at any time.