With just a few taps, you can get the pool and hot tub water test results on your smartphone or tablet. Here are our updated recommendations for the best pool and spa chemical calculator apps. Plus, apps to control your swimming pool and/or hot tub.
Pooli (Our Top Pick)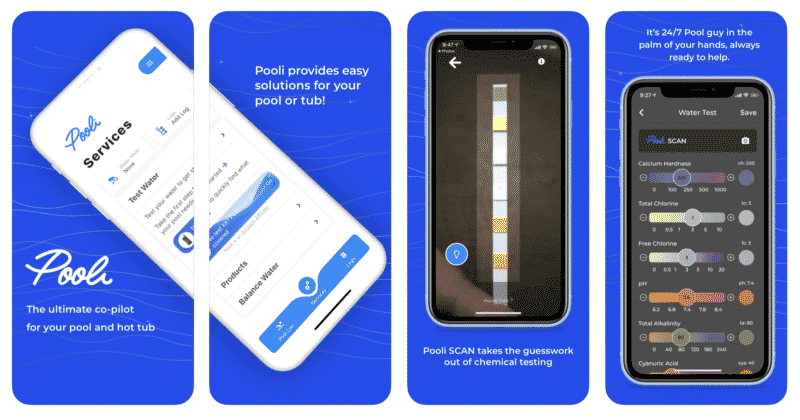 Price: FREE
Compatibility: iOS and Android
We think Pooli is the best pool chemical calculator and pool maintenance app. It looks great and is extremely user-friendly! It has a built-in test strip scanner (using your phone's camera) that delivers instant water test results based on pool volume. Get your chlorine, pH, total alkalinity, calcium hardness, and cyanuric acid (CYA or stabilizer) readings instantly. And it provides the most affordable solutions, chemicals, and equipment. Download the app here!
PoolMath by TroubleFreePool
Price: $7.99 Premium Subscription In-App Purchase
Compatibility: iOS and Android
A simple pool water chemistry tracking app made by the popular TroubleFreePool forum. Track all your pool water tests and it'll tell you exactly how much of each chemical you need to add. It follows the TroubleFreePool method (BBB). Download the app now!
Clorox Pool App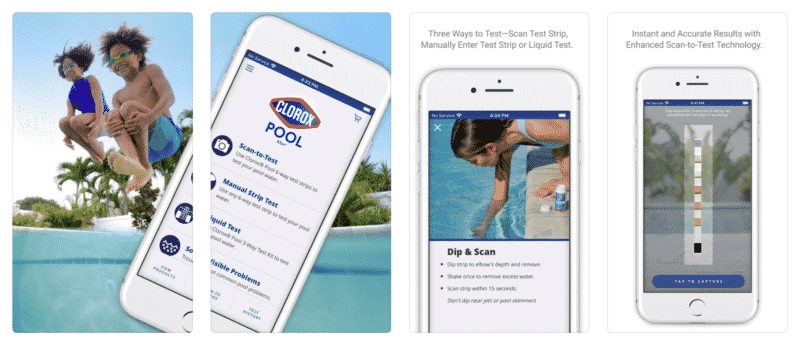 Price: FREE
Compatibility: iOS and Android
Pool owners can use this free, easy-to-use app to scan test strips to provide expert water test analysis. You can also use the app to troubleshoot pool problems, get personalized recommendations, and shop for Clorox products. Download the app here!
Pool Dash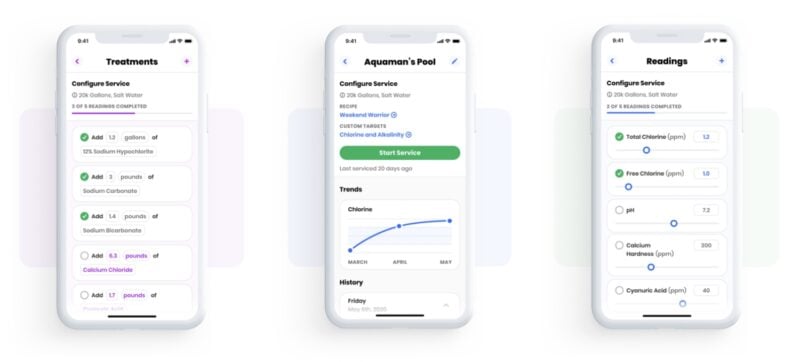 Price: FREE
Compatibility: iOS only
Pool Dash is one of the nicest-looking pool chemical calculators. It's an easy-to-use app for entering your water test results and spitting out the proper amount of chemicals you need to add to your swimming pool. And a lot of Swim University articles are available right inside the app. Download the app now!
The Pool Doctor feature can check and change chlorine, salt, and pH levels. You can also choose what chemicals to use to keep your pool clean. The app can show you the results in different units, like gallons or pounds. It works for many types of pools, like salt water or copper. You can save your results and even send them to someone else if you want to.
Looking for a full in-depth video course on swimming pool maintenance? Check out The Pool Maintenance Video Course and become a pool care master at effortlessly keeping your water clean and clear all season.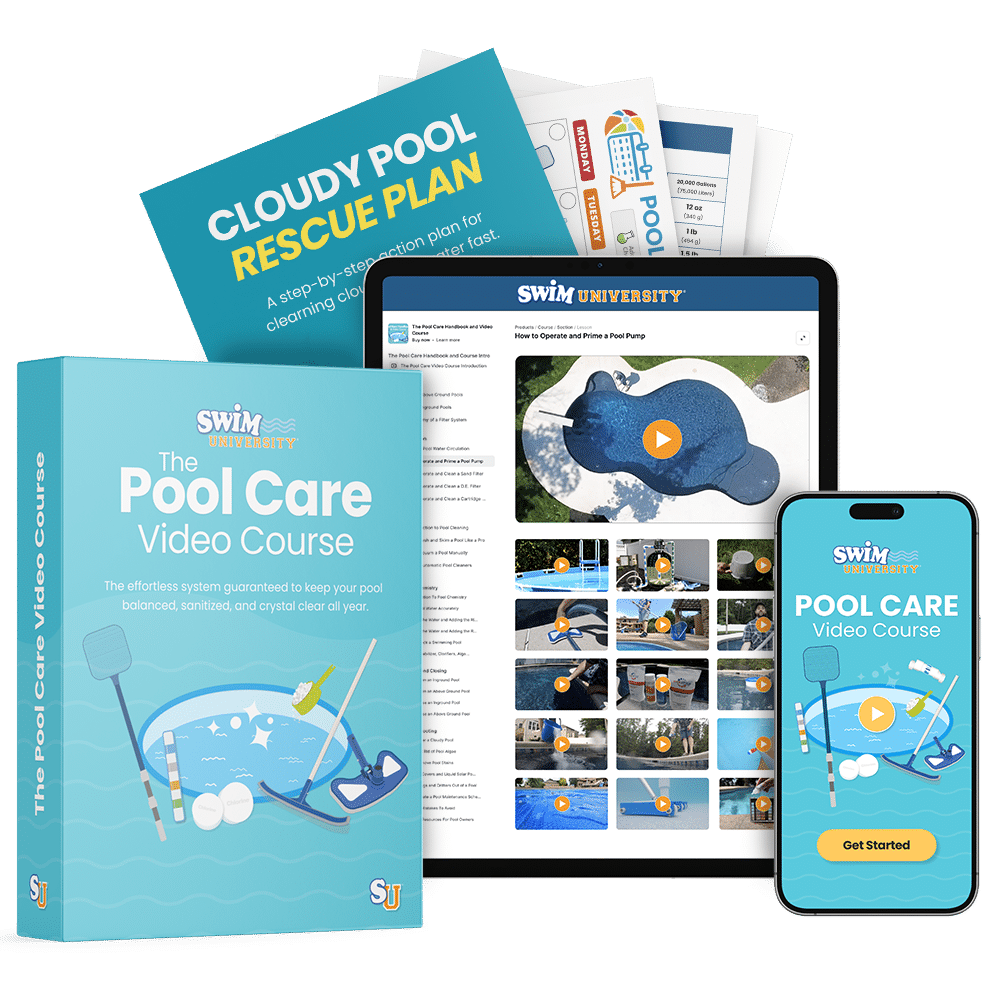 Tired of wasting time, money, and chemicals trying to keep your pool clear?
Cut the confusion with our easy-to-use video course. Save $1,000's on pool care and keep your water clean and clear for good!
Check Out The Course Here
Sutro Smart Water Monitor
Price: $29.99/month
Compatibility: iOS and Android
Easily the sexist pool maintenance product ever made! But that's just the tip (and that's what she said)! The device measures, monitors, and sends you chemical recommendations to your smartphone. It measures pH, chlorine, and alkalinity three times a day. Try Sutro today!
pHin Smart Water Monitor by Hayward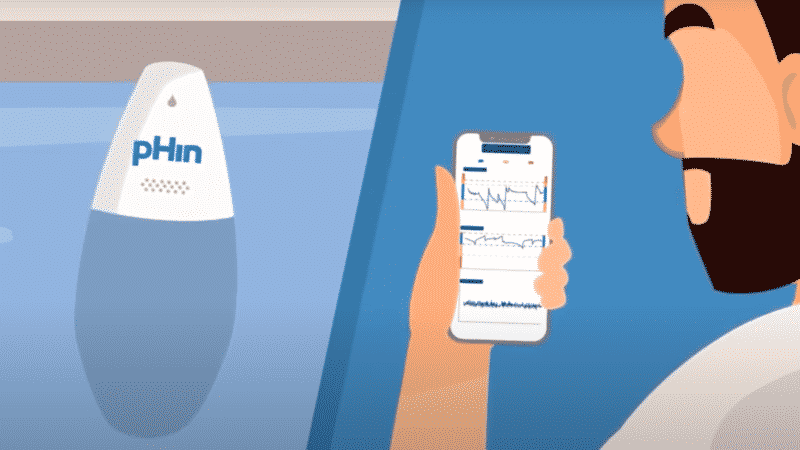 Price: $349
Compatibility: iOS and Android
pHin is a smart pool and hot tub monitor that automatically measures your water temperature, sanitizer, and pH levels. It analyzes the data and recommends what chemicals to add. It works with chlorine, salt, and bromine. Start using pHin here.
iAquaLink 2.0 by Jandy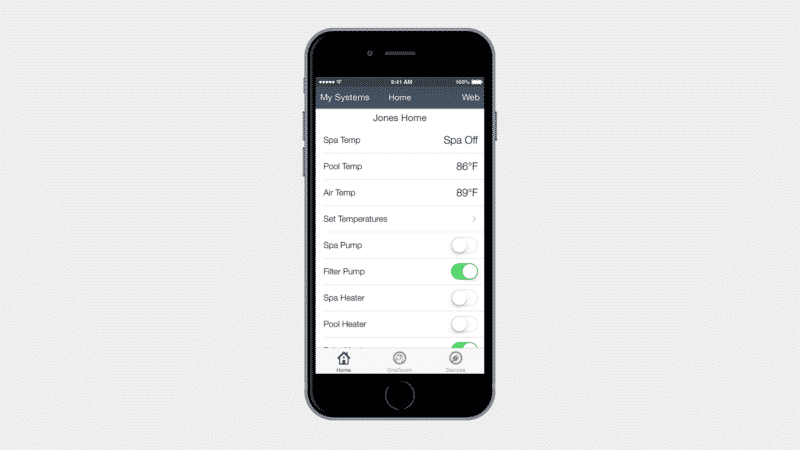 Price: FREE for iAquaLink products
Compatibility: iOS and Android
The Jandy iAquaLink system is one of the planet's most advanced pool management devices. If your pool has a Jandy iAquaLink system installed, you can use the mobile app to manage everything about your pool. Things like lights, pumps, and temperature are easily changed right from your smartphone or tablet. Download App Now!
ScreenLogic by Pentair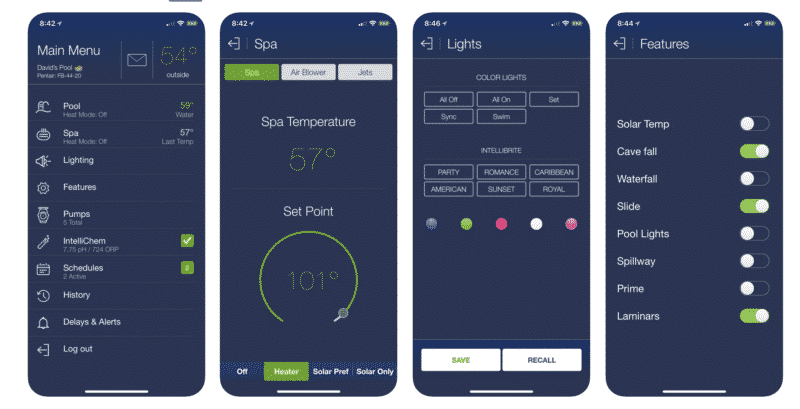 Price: FREE for IntelliTouch® and EasyTouch®
Compatibility: iOS and Android
The Pentair ScreenLogic app works much like the Zodiac App but works with the Pentair pump control systems. It supports changing all of your pool settings on the fly if you have the supported Pentair pump system.Download App Now!
CloudControl by Bullfrog Spas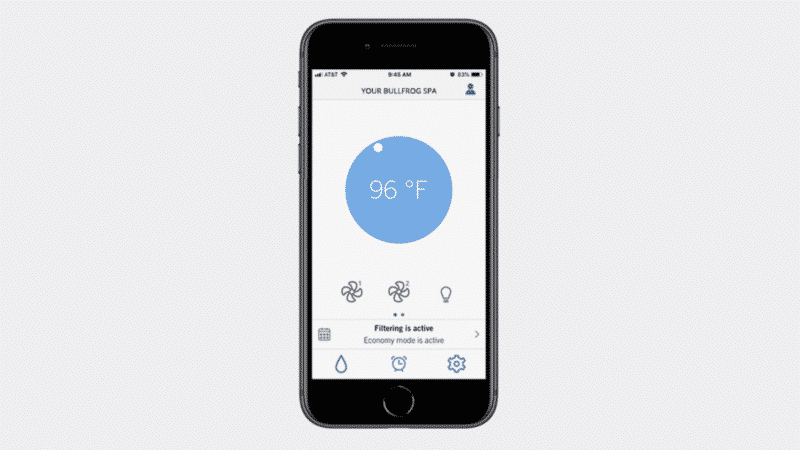 Price: FREE if you have a Bullfrog Spa
Compatibility: iOS and Android
The Cloud Control app will let you control your Bullfrog spa right from your smartphone or tablet. It's compatible with both iOS and Android devices and will let you control a wide variety of hot tub settings from almost anywhere. Adjust your pump and filtration settings, change the temperature, and much more all from your smartphone with this handy little app created specifically for Bullfrog spas. Download App Now!
It has never been easier to transform your pool into a smart pool than it is today. With these apps, you can simplify your pool care so you can spend more time swimming than you do taking care of your pool. While it won't eliminate the work, it will make it go much faster.
Happy Swimming!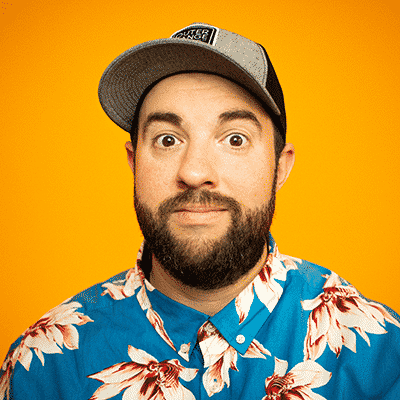 Matt Giovanisci is the founder of Swim University® and has been in the pool and spa industry since 1995. Since then, his mission is to make pool and hot tub care easy for everyone. And each year, he continues to help more people with water chemistry, cleaning, and troubleshooting.