Regular pool water testing is a crucial part of pool maintenance. But there are very different testing methods that provide different and sometimes more accurate results. So what's the best way to test your water: test strips, liquid test kits, or a digital test reader?
Test strips are the most cost-effective and easiest way to test your pool water. But they're limited in what they measure and they can be contaminated easily if they're left unsealed or exposed to moisture.
Liquid test kits offer a broader range of testing options. But they require precision when adding liquid reagents, otherwise, you could get inaccurate results.
Digital readers are fast, accurate, and great for anyone who has trouble reading color. However, they're more expensive than other types of pool test kits.
That said, if you're looking for something to help you with easy, weekly water testing, we recommend the very popular AquaChek Select Connect 7-Way Pool & Spa Test Strips.
Our Top Pick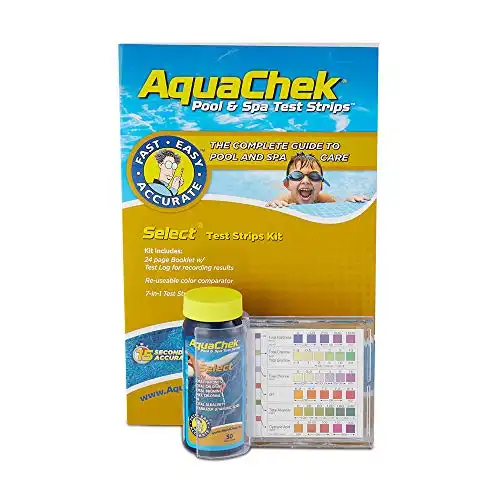 On the other hand, if you're in the market for a more comprehensive pool water testing kit, we recommend the Taylor Complete Pool and Spa Liquid Test Kit.
Our Top Pick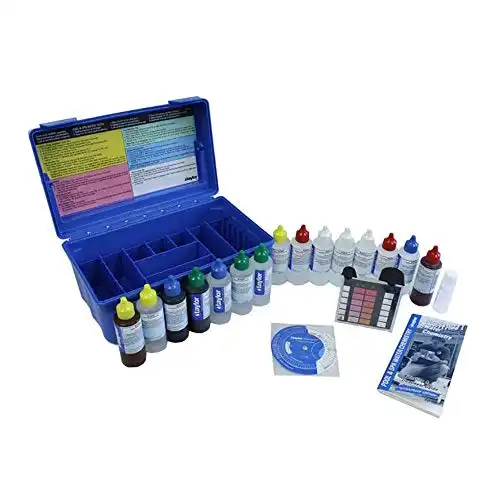 Finally, if you prefer a digital reader or you're having trouble interpreting the color-coded charts on other kits, check out the LaMotte Digital Reader.
Keep reading for more information about each type of test kit and the brands we recommend.
Best Test Strips: AquaChek 7-Way Pool & Spa Test Strips
Our Top Pick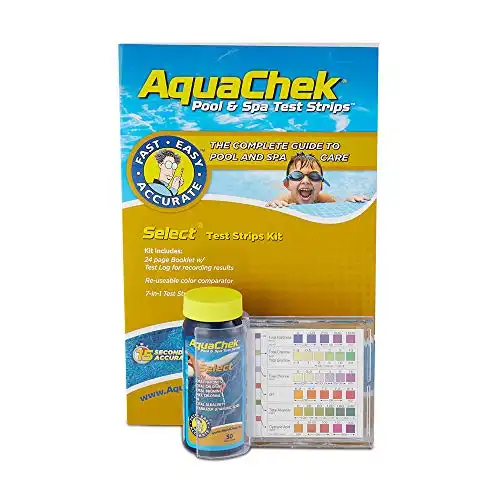 AquaChek test strips are an easy-to-use, 7-way test kit that measures the more important pool chemistry levels: pH, total chlorine, free chlorine, bromine, alkalinity, total hardness, and cyanuric acid. So if you're looking for the easiest way regularly test things like your chlorine levels, this is a great option. These strips also include a free mobile app to help you interpret your results. Overall, AquaChek's popular and affordable test strips are perfect for regular, weekly pool maintenance and testing.
Best Liquid Test Kit: Taylor Complete Pool and Spa Test Kit
Our Top Pick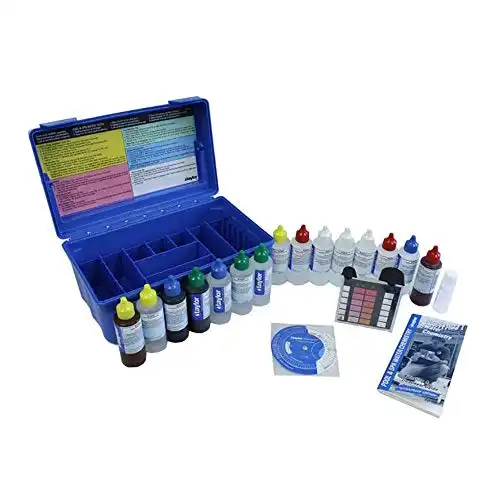 Taylor Complete Pool and Spa Liquid Test Kit tests for all of your important levels, including chlorine, bromine, pH, acid demand, and total alkalinity. This kit includes rapid dissolve tablets to test for free chlorine, and liquid solutions to test for all other levels. And different versions of this kit also include a FAS-DPD bromine test.
Most importantly, Taylor Technologies is one of the most reliable and best pool testing options on the market. However, this kit does not test salt levels, so you'll need to purchase a salinity meter separately. And the reagents that measure your levels are very accurate when fresh, so the kit will need to be stored in a temperature-controlled environment. Also, you'll need to replace or refill your kit components, like Phenol Red and Orthotolidine (OTO), as you use the kit.
Best Digital Test Kit: Lamotte Digital Reader and Test Kit
Our Top Pick
If you don't want to do any color matching, the Lamotte Digital Reader can help. This is the ideal option for those who have difficulty distinguishing color and want more definitive results. The reader runs on 2AA batteries (not included) and features a memory function that lets you store the last nine test results.
Additionally, this digital water tester features a water-resistant LCD display, so you don't have to worry about the pool water damaging the unit. In general, digital testers are more expensive than testing strips or liquid test kits. But they give pool owners a simple, fast, and reliable water testing solution.
What Are the Correct Pool Water Chemistry Levels?
Regardless of which type of testing kit you use, your normal pool water chemistry levels should be:
pH: 7.4-7.6
Total Alkalinity: 100-150 ppm
Free Available Chlorine: 1-3 ppm
Bromine: 3-5 ppm
Cyanuric Acid: 30-50 ppm
Calcium Hardness: 200-400 ppm
Metals: 0 ppm
Phosphates: 0 ppm
Total Dissolved Solids (TDS) for Non-Salt Water Pools: 0-2500 ppm
By the way, if you're feeling confused about pool chemistry, you're not alone. That's why we made our Pool Care Video Course so you never have to feel confused about your chemical levels again. Check it out!
Frustrated by adding chemicals and trying to keep your pool clear all the time?
We cut out all the confusion of pool maintenance in this easy-to-read illustrated ebook and video course. It'll help you save $100 right away on pool care!
Get Instant Access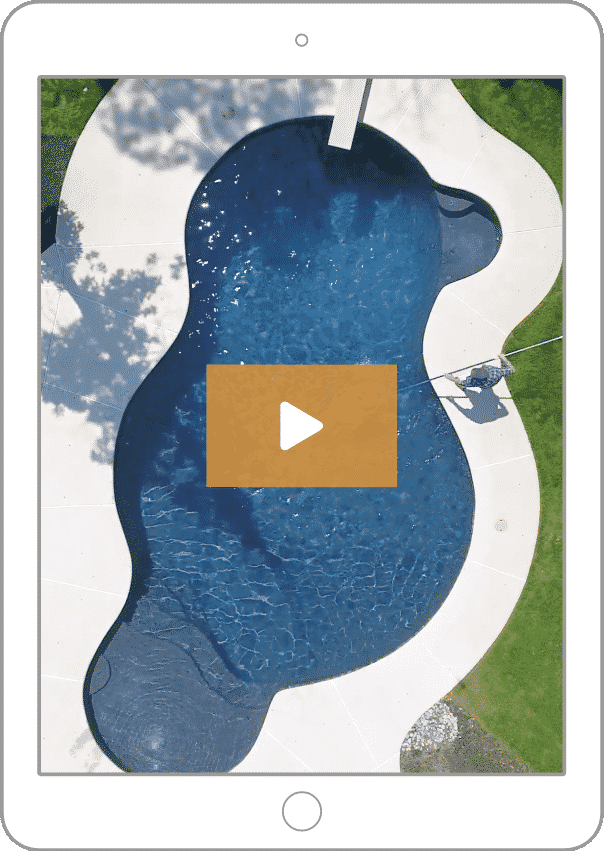 Test Strips vs. Liquid Test Kits: Which Is Better?
While we recommend having both a liquid test kit and a supply of test strips on hand, here are the biggest pros and cons of each.
Pool Test Strips: Pros and Cons
Test strips are incredibly easy to use and the most affordable water testing option. But while they're generally very accurate, they test for fewer chemicals than liquid test kits. To get the most accurate results, use strips before they expire and store them away from moisture. And avoid touching the ends of the strips before you use them to prevent contamination.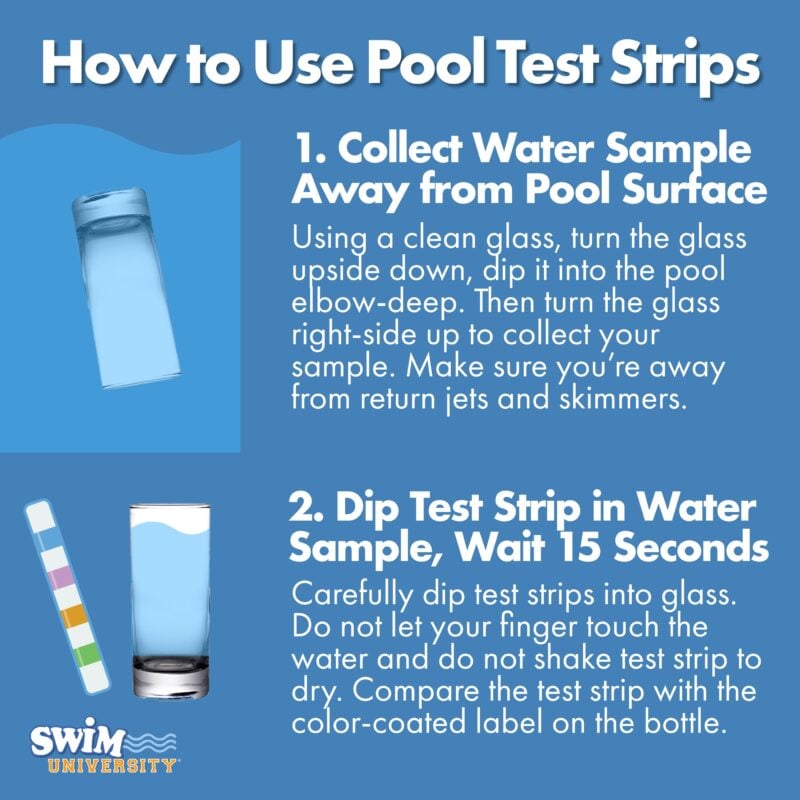 Liquid Test Kits: Pros and Cons
On the other hand, liquid test kits provide a more accurate and comprehensive test. Once you collect your water sample, you'll add a set amount of special chemical drops (known as reagents) into each test kit vial. Then compare the color of the water sample to the color chart. But since you'll need to repeat the steps for each chemical you're testing for, this kind of testing takes more time than using a test strip. Also, if you accidentally add too much of each reagent, your test results for the respective chemical levels are inaccurate.
Purchasing a liquid test kit is more expensive than buying test strips. But when used correctly – that is, with the correct amount of each reagent added to your vial of pool water – your results will be highly accurate. However, you'll need to regularly replace your drops. Similarly to test strips, the reagants and drops in the kit will expire.
Frequently Asked Questions About Pool Test Kits
Need more help deciding between pool test kits? Here are some commonly asked questions and answers.
What is the most accurate way to test your pool?
Test strips provide a quick and easy way to test your swimming pool chemicals and get a general understanding of your water levels. But liquid testing kits, when used correctly, provide more comprehensive and accurate results than test strips. However, if you mess up when adding liquid reagents to your pool water sample, you risk getting inaccurate results.
So if you're looking for a kit to perform simple, weekly chlorine tests or pH tests, test strips will work fine.
Are pool water test strips accurate?
Yes, pool water test strips are accurate. All you have to do is dip the strip into the water and allow the strip to rest for 15 seconds before interpreting the results.
How can I test my pool water at home?
You can test your pool water at home using test strips or a liquid pool water test kit. At a minimum, the kit should test chlorine and pH levels. But you can get more specialized kits to test for metals. However, if your levels are "off the chart" or you're worried you're not getting accurate results, consider bringing a water sample to a local pool supply store.
What does a pool test kit test for?
Most pool test kits will test for the standard chlorine, pH, and total alkalinity. But other pool testing strips are available for additional factors, such as total dissolved solids (TDS), salt, calcium hardness, potential contaminants, bacteria, phosphates, and more.
Need More Pool Maintenance Help?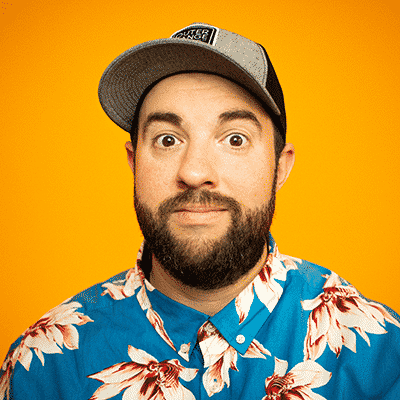 Matt Giovanisci is the founder of Swim University® and has been in the pool and spa industry since 1995. Since then, his mission is to make pool and hot tub care easy for everyone. And each year, he continues to help more people with water chemistry, cleaning, and troubleshooting.