I got an email from a woman who heard a loud sound from her backyard. It woke her up and she almost fell out of the bed. It was a piercing noise that made her ears hurt. She winced in pain, like nails on a chalkboard.
She put on her robe and ran downstairs, sprinting out into the dark blue backyard. She shut off the pool pump and the noise went away. A relief for now, but under the pressure of knowing she would be shopping for a new pool pump in the morning.
This is a common story of a pump gone bad. Maybe you can relate; maybe you can't. Maybe you're pump died suddenly, or you never had a pool pump in the first place. Either way, this post will walk you through everything you need to know about buying the best pool pump for your swimming pool.
The Anatomy of a Pool Pump
If you have a good understanding of how a pool pump works, you'll be better fit to shop for one. A pump is made up of three main parts: the housing, the impeller, and the motor.
The housing consists of a bucket and basket with a clear lid on top. The water is sucked into this bucket, through the basket and up to your filter. The impeller is the fast spinning inverted blade that sucks the water in and pushes it through to your filter.
The motor's sole purpose is to spin the impeller. It's the heavy metal part attached to the back of the pump housing. You'll sometimes hear it referred to as the pump and motor, or just the pump.
It's a simple gadget that's the heartbeat of your swimming pool.
Types of Pool Pumps
In recent years (and years to come), pool pump manufacturers have improved its capabilities. Pumps used to be a single-speed motor that pumped water from your pool through your filter system and back in.
Now, pumps come in three types. All improvements on the motor: single-speed, dual-speed, and variable speed.
1. Single Speed Pumps
Single-speed pumps are the most common pumps available. The motor spins the impeller at only one speed according to the horsepower of the motor. There is nothing wrong with a single speed pump, but improvements in variable speeds have made for more economical and environmental impacts to the energy your pool uses in a single day.
2. Dual Speed Pumps
As the name implies, these pumps have 2 speeds: low and high. The high speed of the pump would be the same as a single speed pump. The low setting allows the pump to run at a lower speed than normal.
For instance, if you were cleaning the pool or taking care of a water issue, you would run the pump on the normal high speed. On the other hand, if you weren't dealing with any issues, you could run the pump at a lower speed, allowing you to turn over the water using less energy.
These types of pumps have increased in popularity over the single-speed pump for energy-saving reasons. However, a step up from a dual speed pump brings us to our last and final type of pool pump.
3. Variable Speed Pumps
While these pumps are extremely popular, they are also more expensive than normal pumps, and rightfully so. Instead of a single or dual speed pump (which use induction motors), variable speed pumps use a permanent magnet motor (which are used in electric cars). This is so you can set the flow rate at any speed that best fits your pool. Less motor friction equals more efficiency.
The woman who emailed me would appreciate the fact that they're quieter, longer-lasting, and digitally controlled. And while they may cost more money up front, they will save you money in the long-run (they only cost around $30 a month to operate).
What Pool Pump is Best For My Existing Filter?
There are three factors when it comes to choosing the right pump for your pool – seems to be a theme of three here in this post. The most important is the horsepower, but before we get to that, you need to know the type of housing mount and voltage you'll need.
1. Pump Housing Mount
You can choose between a top-mount or a side-mount pump. The difference is where the output of your pump is located for your filter. If the intake to your filter is located above ground pump, then you want a top-mount. Otherwise, if your filter intake is located at the same level next to your pump, you'll opt for a side-mount.
Typically, if you're dealing with a sand filter, most of which have a top-mount multiport valve, you'll need a top-mount pump. However, if you have a cartridge or a DE filter, you may need to invest in a side-mount. Every system is different and you'll need to determine the style you have before you shop for a pump.
NOTE: There are different types of pumps for above ground and inground pools. While they're technically interchangeable, you should shop for a pump that is designed for your style of swimming pool.
2. Pump Motor Voltage
Pumps can either be hard-wired into your electricity or require an outline, which you can plug into. It's important to know which style your pool's system is. You'll also need to determine if the power going to your pump is 110 volt or 220 volts.
NOTE: Most above ground pools require a 110v pump. So if you have an above ground pool, this may be all you need. It's really important to find out the voltage you're working with if you have an inground pool.
3. Horsepower
This is the most important factor when shopping for a pool pump. You want to find the right horsepower to fit both the size of your swimming pool and your filter system. However, it's more important that you find the right size pump to turn over the water in your swimming pool rather than try to match it to your filter.
How to Find The Right Size Pool Pump
While filters can be over-sized, pumps need to fit perfectly to your swimming pool. The right size pump will filter through your entire pool in 8 hours. That's the goal!
You need to determine to specific numbers and there's some simple math and cross-checking we can do to help you find the right pump. The 2 numbers you need are:
Desired Flow Rate (GPM – Gallons Per Minute): This number is the number of gallons per minute your pump needs to pump in order to circulate your entire pool in 8 hours.
Resistance (Feet of Head): This number is the average length (in feet) it takes for your skimmer to reach your pump. If you have one skimmer on your inground pool, this will be the number. However, if you have multiple skimmers, you will need to find the average length of them all.
NOTE: If you're shopping for an above ground pool pump, you don't need to know the Resistance (Feet of Head) number. Only the Desired Flow Rate (GPM). Most pumps are located very close to the skimmer on above ground pools.
I'm going to walk you through the steps below, but if you prefer, here's a great video on how to find the right pump by Inyo Pools:
1. Find Out How Many Gallons Your Pool Holds
First, you need to determine how many gallons of water your pool holds. You can do this by entering your pool specs into this handy online pool volume calculator.
You can also use this standard pool gallons chart for both above ground and inground pools.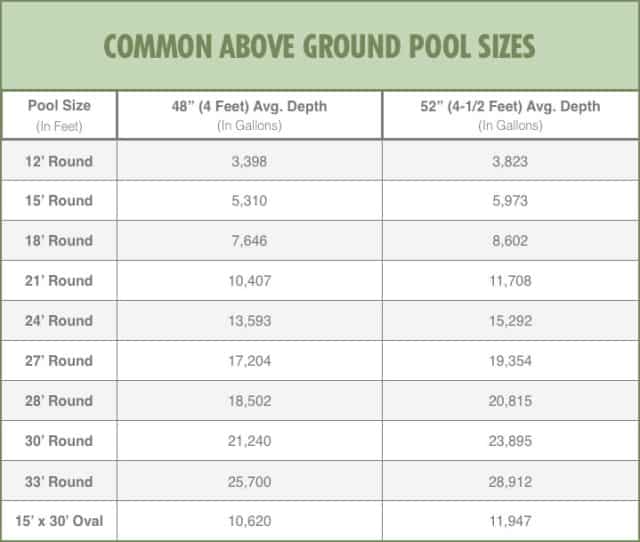 2. Determine Your Gallons Per Minute (GPM)
We need to find out how many gallons per minute your pump needs to pump.
First, divide the total gallons of your pool by 8 – that will give you the gallons per hour (GPH). Then, divide that number by 60 (minutes) – that will give you the final gallons per minute (GPM).
For instance, if you have a 25,000-gallon pool, the math would be
25,000 (Total Gallons) ÷ 8 (Hours) = 3,125 (GPH – Gallons Per Hour)
3,125 (GPH) ÷ 60 (Minutes) = 52 (GPM – Gallons Per Minute)
52 Is Your Desired Flow Rate
3. Measure the Feet of Head
The last bit of math you have to do is to find the average amount of feet it takes for your pump to reach your skimmers. You won't have to worry about this step if you have an above ground pool.
If your inground pool has only one skimmer, measure the distance (in feet) from your skimmer to your pump using the outline of your pool. If you have two or more skimmers, you need to add them all together and divide by the number of skimmers to get your average.
According to the image above, you would take each skimmer line at add up the total feet for each:
Suction Line: 25 + 15 + 5 = 45 Feet
Main Drain: 15 Feet
Skimmer: 10 Feet
You add all of these numbers together and divide it by 3 (since there are 3 lines). That's…
70 ÷ 3 = 23.3 Feet (Average Feet of Head – Resistance)

4. Find The Perfect Pool Pump
Now that you know the GPM you need and the average distance from your skimmers to your pump, you can start shopping for the perfect pool pump.
Just cross-reference these numbers to the flow rate charts offered by all the pool pump manufacturers, which you can find online. For example, if you needed a flow rate of 80 GPM and had 40 Feet of Head (Resistance), you could find just follow the chart cross path to see that you could buy a SuperFlo VS (which only comes in 1-1/2 Horsepower).
10 Best Pool Pumps for Inground and Above Ground
1. Hayward SP1593 Power-Flo Pump
This pump is made primarily for above ground pools and features a large strainer basket to make it easy to clean out debris during maintenance. It can easily be converted from horizontal to vertical to fit in almost any location and even includes an internal drain plug to make winterizing easy. If you have an above ground pool, this is definitely one of the best choices If you click this link and make a purchase, we earn a commission at no additional cost to you. for you.
2. Intex Krystal Clear 3000GPH Pump
This pump and filter combination If you click this link and make a purchase, we earn a commission at no additional cost to you. is designed to be used with the Intex line of pools but can be adapted to other above ground pools, as well. This pump will push 3,000 gallons of water per hour, meaning it is designed for the larger Intex pools that are 16-feet and above. A built-in timer allows you to set when this pump will run and the included sand is virtually maintenance free. If you are an Intex pool owner, then you should consider this pump, as it could make your pool care much easier.
3. Hayward SP3400VSP Pool Pump
One of the most energy efficient units available, this pump from Hayward is made for you if you're looking to reduce your energy costs If you click this link and make a purchase, we earn a commission at no additional cost to you. . It includes a large strainer basket, making it easy to clean, and it can be installed on a variety of pools. You can install it on systems and set it in stand-alone mode or you can connect it to competitive control systems to really take control of your pool's filtration systems.
4. Pentair 011018 IntelliFlow Pool Pump
Another great entry into the world of energy efficient pumps, this Pentair boasts a 90% efficiency If you click this link and make a purchase, we earn a commission at no additional cost to you. over other types of pumps. On top of that, it's one of the quietest on this list. If you hate pump noise, then you should consider this model from Pentair. This pump includes eight programmable settings and a timer so you can determine how and when your pump runs. It's easy to install and maintain and it will save you money along the way as well.
5. Hayward SP2610X15 Super Pump
One of the most reliable pumps If you click this link and make a purchase, we earn a commission at no additional cost to you. on the market, the SP2610X15 has made a name for itself because of its reliability. But there is much more to it. It is quiet and energy efficient and the clear basket that requires no tools to remove make it easy to maintain. It's easy to install and with only 4 bolts, it's very easy to get into to maintain. If you are looking for reliability, this is definitely the pump for you.
6. Best Choice Products Pro 2400GPH Pool Pump
Another great choice for above ground pool owners, this pump is recommended for a maximum of 10,000 gallons. It includes a sand filter If you click this link and make a purchase, we earn a commission at no additional cost to you. so you won't have to buy anything extra when you set up this pump and it's even rated for water that is up to 105 degrees so you could even use it on a hot tub if you really wanted to. If you need a rock solid pump for an above ground pool, this is a great option.
7. Hayward SP2610X152S Dual Speed Pool Pump
This dual speed pump is perfect for almost any type of in-ground pool, and it's been designed to be cool and quiet, despite delivering heavy duty high performance If you click this link and make a purchase, we earn a commission at no additional cost to you. . Its basket is easy to see and remove so you can quickly clean it when it's needed and it's powerful enough to provide the suction lift you need even if it is up to 8 feet above your water line.
8. Pentair 340093 SuperFlo Pump
This self-priming pump If you click this link and make a purchase, we earn a commission at no additional cost to you. is designed to not only be easy to install but also easy to startup. It's yet another energy efficient entry from Pentair but it's also powerful. It includes thick walled body parts and a unique hydraulic system that makes it run much quieter than many other pumps. Its basket is large and easy to access to maintenance is simple and its powerful pump will move more water through your system while using less energy in the process.
9. Intex Krystal Clear 1000GPH Pump
This is another great pump from Intex that's been designed to work with their smaller pools. With a 1,000 gallon per hour capacity, this pump is most suited to small pools If you click this link and make a purchase, we earn a commission at no additional cost to you. and it's lightweight and easy maintenance means it is the perfect companion to your Intex pool and can be broken down and stored with your pool during the off-season. It includes both a sediment flush and an air release valve so you can be sure it will run well all summer with very little maintenance from you.
10. Mophorn 2.5-HP Pool Pump
Designed for both above ground and in-ground pools, this self priming pump If you click this link and make a purchase, we earn a commission at no additional cost to you. is perfect for a wide variety of pools. It comes with built-in thermal overload protection so you don't have to worry about the pump shorting itself out if something goes wrong, and it's powerful motor will push enough water through your system to keep your pool clean and clear all summer long.
As you can see, there are many great pool pumps out there. The key is choosing the pump that fits your pool the best. Remember to consider the type and size of your pool and make sure that the pump is compatible with the type of filter you have chosen.
We all want nice, clean water in our pools. No one wants to swim in dirty water, after all. Your pump is essential in keeping your water clean. So choose one of the best so you will know your water is clean and your pool is functioning in the best way it can.
That way you can worry less about keeping your pool clean and focus more on enjoying the water when it's hot outside.
Need More Help Choosing a Pool Pump?
Hopefully, this post has given you the tools you need to find the right pool pump for your pool. However, if you're still having trouble finding one, email us, and we'll be happy to help.
Happy Swimming!