You know having a pool is about lots of fun in the sun, and taking care of yours is just a part of that. But there's more to it than water chemistry and novelty floats with awesome cup holders. A pool is only at half its potential if it's not a safe environment.
When's the last time you took a moment to think about the measures you're taking—or maybe not taking yet—to keep your family and friends safe around your pool? If it's been a while, there's no time like right now to amp up your pool safety.
What Does Pool Safety Mean?
It's actually a lot of things. It encompasses everything from the equipment you use to keep the pool area free of accidents, to how everyone—including you—behaves in and around your pool.
Every day in the United States, about ten people drown, and two of them are children aged 14 and younger.
Drowning is the worst-case scenario. In an area that's often wet, it's also easy for people to slip and fall, possibly hitting their head or even breaking a bone on the hard pool deck. Common causes of drowning and injuries include lack of barriers, lack of supervision, and alcohol use.
Important: A major misconception about drowning is that you'll be able to hear someone thrash around or yell for help if they're going under. In reality, drowning is usually silent, and you may not know someone is in trouble until it's too late.
To prevent accidents from happening, we recommend taking precautions to help ensure the safety of anyone who may be in or around your pool.
Supervision
This is the number one way to prevent accidents and injuries. We can't stress enough how important it is to pay attention at all times when people are around your pool. It can be tough to have your eyes on multiple children at once, especially if you're entertaining guests.
Remind all the adults to be aware of the children in or around the water. Also, in party situations, keep an eye on any intoxicated adults who could fall in or forget to be vigilant about supervising their own children.
If young children or weak swimmers are in the pool, be sure there is a competent adult within arm's reach of the child at all times. This is commonly called "reach supervision."
Learn to Swim
Make sure your family's swimming skills are up to snuff by taking a class. Solid swimming skills are a must, but don't assume you can let your guard down once your kids take lessons. Even big kids shouldn't swim alone.
The jury is still out on whether early childhood swimming lessons or "swim survival" classes aimed at infants and toddlers necessarily prevent drowning, but research suggests they reduce the chance. But reach supervision is still recommended for little ones, even if they've taken classes.
You can never be too careful with the lives of your children, or any children, or anyone who sets foot in or near your pool.
Until they build up their swimming skills, smaller kids can benefit from a little help in the pool. Consider getting them a pair of arm floaties. Some of them even have an extra inflatable part that goes across the chest for added buoyancy.
Learn Cardiopulmonary Resuscitation (CPR)
No one wants to believe that the worst imaginable outcome could happen in their own pool, so it's easy to think you'll probably never need to know CPR. But if an accident does occur, you certainly won't have time to learn CPR in the moment.
We highly recommend you and your family members take the time to learn as soon as possible. The Red Cross even offers online-only CPR courses. The online course doesn't give you certification, but it still teaches you the skills you need to save a life.
Frustrated by adding chemicals and trying to keep your pool clear all the time?
We cut out all the confusion of pool maintenance in this easy-to-read illustrated ebook and video course. It'll help you save $100 right away on pool care!
Get Instant Access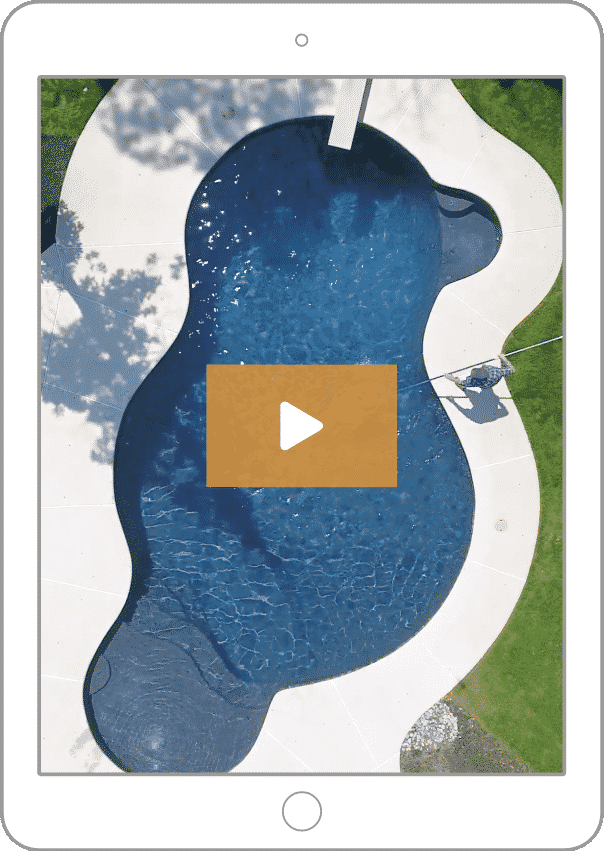 Establish Ground (and Water) Rules
Every play area needs to have a few rules to keep it safe. For example, kids need to understand why it's dangerous to run around on the pool deck. And that dunking their friends isn't funny or safe. And that not all toys are meant for use in the pool.
Be sure that anyone who uses your pool is aware of your rules, and know that everyone will need reminders from time to time, especially kids who will easily forget once they start splashing around and having a good time.
Pool Safety Equipment
In addition to knowledge and behavior, having the right equipment can help you make your pool area even safer.
Fences
Physical barriers around the pool area can stop a child from even getting far enough to set off a surface or subsurface pool alarm. A pool fence usually features a walk-through gate only adults or taller children can reach. And an above ground pool fence is an added level of security around the pool itself.
A fence can help keep people from falling into the pool accidentally, and keep small children from quietly wandering into the pool unnoticed. They can also help keep critters out of the pool.
Gate Alarms
Installing a fence is only a half measure. Kids can figure out how to open gates, and still find their way into the pool area without your knowledge.
The solution is a gate alarm, which will sound when the connection between the fence and the gate is broken. It's an invaluable tool in your quest for pool safety.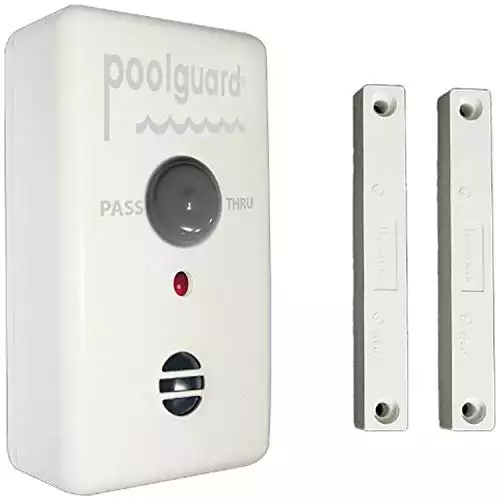 PoolGuard Outdoor Pool Gate Alarm
Made for any gate, outside door, or screen, this alarm protects access to your pool. The alarm automatically resets and is always on, preventing anyone from accidentally leaving your gate open for children or pets to wander to your pool.
Buy Now On Amazon
If you click this link and make a purchase, we earn a commission at no additional cost to you.
Door Alarms
You can take safety a step further by installing a door alarm on the door that leads to the back yard or pool area. Most models contain a contact sensor, which means the alarm sounds as soon as contact is broken, meaning as soon as the door is opened. The goal is to give you time to reach your child before they reach the pool.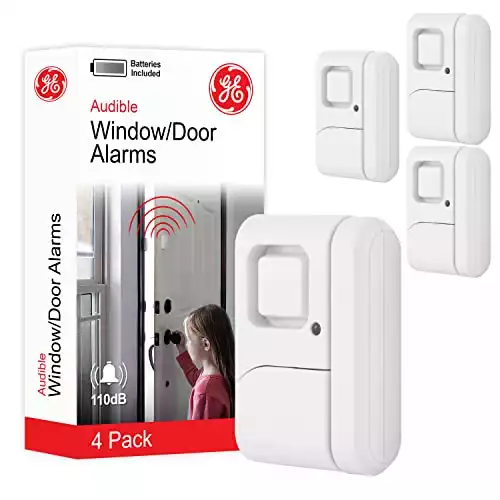 Personal Security Window and Door Alarm
This alarm is perfect for doors and windows around your pool enclosure. The wireless system allows you to monitor your security system directly from your smartphone.
Buy Now On Amazon
If you click this link and make a purchase, we earn a commission at no additional cost to you.
Pool Alarms
If, by some chance, a child makes it past the back door and past the pool fence, a last line of defense is a pool alarm. This type of alarm is partially submerged in the pool, and will sound when a certain level of movement in the water is detected, such as a child falling in.
Some models also come with a receiver you can keep in your home to further guarantee you hear the alarm when it goes off. These types of alarms are available for both above ground and inground pools.
Our Top Pick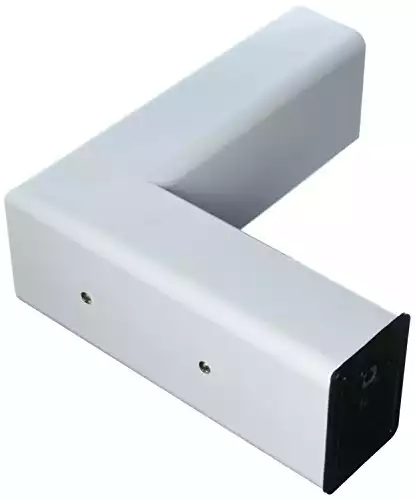 PoolGuard In-Ground Pool Alarm
Installed at the edge of your pool, this battery-powered alarm is tamper-proof and simple to operate. It's equipped with an in-house remote receiver to help alert you both at the pool and in your home.
Buy Now On Amazon
If you click this link and make a purchase, we earn a commission at no additional cost to you.
Safety Covers
If you want a barrier for when no one needs access to the pool, consider a pool safety cover. No person or animal can slip into your pool when a safety cover is properly installed.
Float Lines
This is a good piece of safety equipment to keep in the pool even when it's being used. You can stretch the line across the water from side to side, and the floats will keep it on the surface.
If anyone starts to have trouble staying afloat, they can hold onto the line, which will keep them above water until help arrives until help arrives. Consider two or even three lines, for the shallow and deep ends, and the middle of the pool, if children or seniors will be swimming.
Swimming Pool Safety Rope
Poolzilla's safety ropes, equipped with rust-resistant stainless steel hooks, are essential for dividing your pool into shallow and deep ends and creating swim lanes. Pre-assembled and adjustable, these premium quality ropes promise fun, safety, and durability for multiple seasons.
Buy Now On Amazon
If you click this link and make a purchase, we earn a commission at no additional cost to you.
Life Preserver
If someone starts to have trouble keeping their head above water, you can toss a life preserver to help them stay afloat until you reach them. It's much easier to assist someone who is floating on the surface than it is to pull someone from under the water to the surface.
Trying to save someone who is already under water also puts you in danger because if the person panics, they may pull you down with them. The life preserver gives them something to hold onto and can help keep them calmer while you help them.
Pool Safety Hook
Like a life preserver, this piece of pool safety equipment gives the struggling person something to hold onto to keep from going under. To avoid falling in yourself, lie down on the deck and extend the hook to the person in trouble. Once they grab hold of the hook, slowly pull them toward the side of the pool.
A pool hook is also useful for gently pulling small animals from the water when they need help escaping the pool.
Critter Escape Ramp
Aside from just wanting to help small animals escape the pool when they fall in, it's no fun to retrieve dead frogs, mice, squirrels or other unfortunate animals from your pool. And smaller creatures can actually be pulled into the filtration system, causing a blockage and potentially damaging equipment.
Help them find their way out by placing two or three escape ramps around the perimeter of your pool. They won't drown, and you can feel good about helping animals in need whether you're near the pool or not.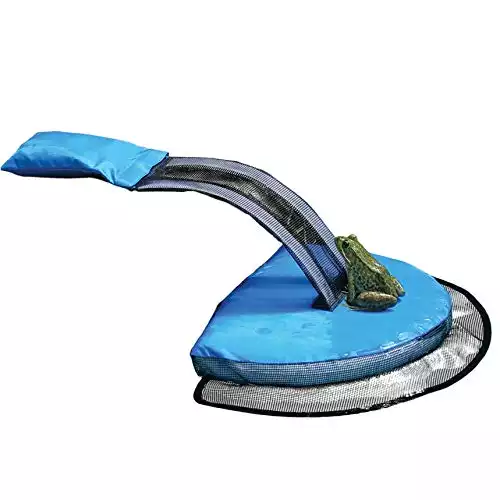 First Aid Kit
Not all pool accidents happen in the pool. Kids can get involved in playing and forget they're not supposed to run on the pool deck. One slip in a puddle or a stray patch of algae, and down they go.
Keep a first aid kit on hand that contains disinfectant and bandages for those bumps and scrapes, as well as other minor medical emergency supplies.
A poolside kit should also contain a first aid blanket for anyone retrieved from the water after nearly drowning, as they will likely be in shock.
Note: We don't recommend allowing anyone with a bleeding would back in the pool. Sure, your sanitizer may neutralize it the way it does other organic contaminants. But it's best not to tax your sanitizer any more than necessary. Plus, no one wants to swim in water with someone's blood floating around in it. Ew.
Virginia Graeme Baker Pool and Spa Safety Act
In June 2002, seven-year-old Virginia Graeme Baker drowned in a hot tub when the drain's suction trapped her under the water. As a result, in 2007, Congress passed a law that called for a national pool safety campaign, which is called Pool Safely.
This law created new safety standards for public pools and spas, plus a state grant program to encourage state safety laws for residential pools.
Since the act was signed into law, a few states have created laws pertaining to residential pool safety, such as required use of pool alarms, but some only apply to new builds or remodels. Check with your local code enforcement for up-to-date regulations to ensure you're in compliance.
Safety Rules!
It's a well-worn cliche, but it really is better to be safe than sorry. Taking steps toward pool safety will allow you and everyone else who uses your pool to do so with less worry and fear. And that will just make it more enjoyable for everyone.
Happy Swimming!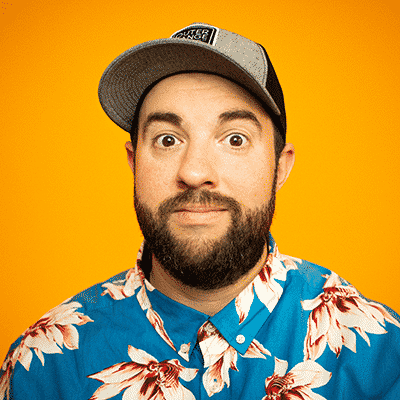 Matt Giovanisci is the founder of Swim University® and has been in the pool and spa industry since 1995. Since then, his mission is to make pool and hot tub care easy for everyone. And each year, he continues to help more people with water chemistry, cleaning, and troubleshooting.