How do you get into your hot tub? Sure, you could sit on the side and swing your legs over, unless your spa's up on a platform. Or maybe you could just climb over the side the same way you climb out of a pool, except that'd probably be painful. Then there's taking a running start, and … no, scratch that. It's probably not a good idea.
What you're left with is the best—and really, the only—option for getting in and out of your hot tub: steps. OK, they may not be as much fun as a cannonball, but they're infinitely safer. It's just a matter of choosing the right set of steps for you.
How to Choose Hot Tub Steps
There's really not much to it. Selecting a set of hot tub stairs is really about three key factors:
Weight Capacity
The hot tub steps you choose need to be able to safely accommodate the heaviest person who will be using your spa. Otherwise, they could break the steps. Even worse, they could fall and injure themselves.
Material
Those moving boxes you have lying around in the garage may seems sturdy, but they're not made to handle the weight of an adult. You'll need to look for hard plastic resin, which offers the added bonuses of being water resistant and easy to maintain.
Or you can buy or even make wooden steps, but they'll need to be treated or coated with something to protect them from moisture. They'll also need to be sanded and completely smooth. You don't want anyone climbing them with bare feet and getting splinters.
Safety
Yes, weight capacity and material are also about safety, but you need to look for features beyond that. Non-skid tread on the steps. Handrails. Enough width to allow a person to climb them without losing their balance.
Luckily, it's not too difficult to find hot tub steps that offer all of those features and look good while they're doing it.
1. Confer Plastics Spa Step with Storage
This little set of steps packs a big set of features. They're sturdy enough to hold up to 300 pounds, yet are also constructed of a lightweight, maintenance-free resin. At three feet wide, you and your guests should be able to comfortably—and safely—climb the steps in and out of your hot tub.
Flip up the top tread, and you'll find a removable storage compartment where you can keep hot tub accessories, including chemicals. But note that the compartment is not lockable, so think twice about using it for chemicals if you have kids or pets in the house.
Tired of trying to keep your hot tub clean all the time and dealing with chemicals?
You'll save $100 right away with this easy-to-follow digital ebook and video course. This is the ultimate maintenance guide that hot tub manufacturer doesn't provide you.
Get Instant Access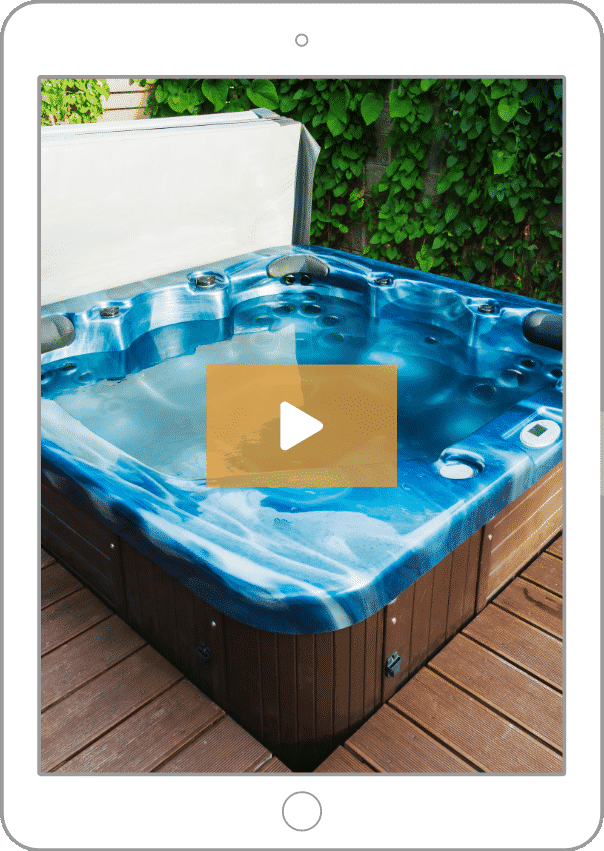 2. QCA Spas Storage Step
Made of lightweight but durable resin, these hot tub steps support up to 300 pounds, and measure 36 inches wide and 23 inches deep, offering plenty of space for entering and exiting. The steps come in a stylish two-tone finish to complement your decor.
This unit also has a storage compartment to keep your hot tub accessories handy. No more running across the room to get a towel!
Spa Step
The generous storage compartment under the top tread of this spa step offers great convenience. Doubles as a cooler too.
Buy Now On Amazon
If you click this link and make a purchase, we earn a commission at no additional cost to you.
3. Festnight Handi-Step for Round/Straight Sided Spas
Doesn't matter whether you have a round or square spa, these steps will fit. The treads are reversible to accommodate either shape. Plus, the steps are non-skid, adding safety to your entry and exit. They're made from a high-quality, sturdy plastic, making them durable but lightweight, so you'll have no trouble placing them right where you want them.
4. Confer Handi Step Spa Steps
These hot tub steps require a little bit of assembly, but the effort will be worth it. They can support up to 300 pounds. Between that and the 29-inch width and 24-inch depth, you could probably carry another person piggyback into the hot tub. (Note: Don't carry another person piggyback into the hot tub.)
They're made of molded plastic which is lightweight, water resistant, and easy to clean. The steps have a non-slip surface for added safety, and are available in seven colors. As a bonus, the steps can be swapped to fit either straight-sided or round hot tubs.
Step Right Up!
Whatever type of hot tub steps you choose, just make sure you choose some. No sense hurting yourself, or at the very least giving yourself a nasty wedgie trying to climb into your spa. No one wants to see that.
Just select a set that offers the kind of weight capacity you need, is made from material that's durable but attractive, and above all is safe. After that, it's just a matter of which ones you like the best. The important thing is, they'll get you in and out of your hot tub with ease so you can enjoy your spa even more.
Happy Soaking!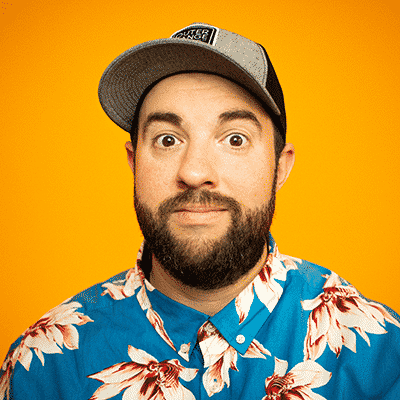 Matt Giovanisci is the founder of Swim University® and has been in the pool and spa industry since 1995. Since then, his mission is to make pool and hot tub care easy for everyone. And each year, he continues to help more people with water chemistry, cleaning, and troubleshooting.