We have all seen the funny signs posted next to hot tubs and pools telling you not to pee in the water. These signs are funny and we all get a good laugh. But believe it or not, they are there for a reason.
Unfortunately, many people simply ignore these warnings thinking what harm could it really do. The fact is, pee in a hot tub is gross and can even be dangerous to you and other bathers.
Why You Shouldn't Pee in a Hot Tub
Everybody knows that they shouldn't do it, but many still do. But there are many reasons why you shouldn't ever consider a hot tub your personal toilet.
It's Inconsiderate
While it isn't a good idea to pee in your own hot tub, it is downright rude to pee in a public hot tub where many other people are enjoying the warm water or in a friend's hot tub who will then have to take the time to clean their hot tub to get rid of pee you left behind.
It's Gross
Would you like to take a bath in your toilet? I didn't think so. When you pee in the hot tub you are essentially taking a urine bath. Sounds refreshing, doesn't it?
While there may be sanitizer in the hot tub to keep the water clean, it doesn't change the fact that once you have emptied your bladder while bathing meaning you are essentially bathing in your own urine.
It Can be Dangerous
While you may think pee in the hot tub is innocent and harmless, it can actually be dangerous to both you and other bathers alike.
The Dangers of Hot Tub Tinkling
One of the main chemical compounds found in pee is urea, which is one of the main nitrogen containing substances found in urine. Studies of urea have shown that it is combined with chlorine and it begins to break down the urea, a new chemical by-product is formed called chloramine.
Chloramines are potentially harmful if it comes into contact with skin in the water or if it is inhaled by breathing the steam of a hot tub. In most cases, the symptoms are mild including irritated and red skin, burning and itchy eyes and even mild coughing.
In more extreme cases, it has been shown to aggravate asthma sufferers. Routine breathing of chloramine could also increase sensitivity to different forms of bacteria and fungi as well.
So, the next time you want to be lazy and not get out to go pee, think about the potential harm you could do to both yourself and others simply by peeing in the hot tub.
Learn How to Keep Your Hot Tub Clean and Clear All Year
You'll save $100 right away with this easy-to-follow digital ebook and video course. This is the guide that hot tub manufacturer doesn't provide you.
Click Here to Learn More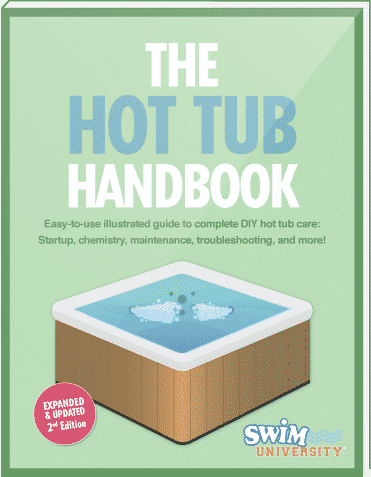 What To Do About It
If you believe someone has peed in your hot tub, you will need to take action to properly clean the hot tub to be sure it is safe for bathers. Pee prevention is often your best defense against unwanted urination but it may not always be enough.
Establish Rules
Having a posted set of rules for your hot tub is a great way to help stop at least some of the hot tub tinkling in your hot tub. This is especially important if you have young children using your hot tub.
Once you post the rules, remember to strictly enforce them so you can keep your water free from pee.
Shower Before Soaking
Believe it or not, there can be both urine and feces on your body even if you consider yourself clean. Before getting into the hot tub, take a shower to wash off the extra feces and urine on your body.
Showering will also remove any types of lotions and oils on your skin that will also pollute the hot tub's water as well, which will help keep the water cleaner for much longer.
Shock the Hot Tub
After using your hot tub, if you suspect the water to be full of pee, you should consider shocking the water to oxidize the urine and remove it from the hot tub. Remember, when you shock your hot tub, you will need to wait until the chlorine levels drop before you can use it again.
Drain the Hot Tub
If all else fails, you can drain your hot tub to remove all of the contaminated water from the tub. Once drained, you will need to make sure you properly clean the sides of the hot tub to be sure you remove any traces of urine from the spa.
Hot tubs are a great way to relax and even heal and rejuvenate your body. But when you are using a hot tub and especially someone else's hot tub, don't be inconsiderate and gross. Save that pee for the toilet and don't use the hot tub. Pee in the hot tub will contaminate the water and could even place other bathers at risk.
Happy Soaking!
Matt Giovanisci is the founder of Swim University® and has been in the pool and spa industry since 1995. Since then, his mission is to make pool and hot tub care easy for everyone. And each year, he continues to help more people with water chemistry, cleaning, and troubleshooting.
Learn How to Keep Your Hot Tub Clean and Clear All Year
You'll save $100 right away with this easy-to-follow digital ebook and video course. This is the guide that hot tub manufacturer doesn't provide you.
Click Here to Learn More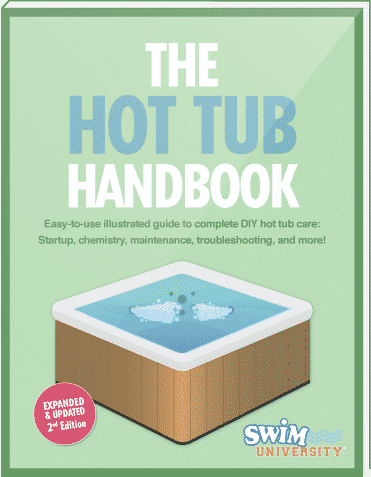 Subscribe To Our FREE Hot Tub Owner Newsletter
By entering your email address you agree to get a weekly email newsletter from Swim University. We'll respect your privacy and unsubscribe at any time.