Taking care of your pool on a day-to-day basis is one thing. Putting on a true DIY hat and doing something like painting your pool? That's a whole other game of Marco Polo. You may be thinking that such a large task is better left to a professional. That may be true in some cases.
But we think it's totally doable. The first step is just choosing the right pool paint for the type of surface your pool has. And if you're not starting with a blank slate, you also need to know what kind of paint is already on your pool walls. Once you've determined those things and chosen the right paint, it's smooth rolling.
Is Pool Paint Different From Other Paints?
Absolutely! It has to be completely waterproof, for one thing. It also has to stand up to days, months, and even years of ultraviolet rays, as well as chlorine and other chemicals you use to keep your pool clean and sparkling.
Then there are the scratches and scrapes it gets from pool toys, rambunctious kids, and maybe even your dog. Pool paint is the workhorse of paints.
It's also not cheap, and you'll need a lot of it. So before you incur that expense, not to mention the hours it's going to take to finish, ask yourself whether your pool really needs a new paint job.
How to Know When to Paint Your Pool
If all you want to do is change the color, hey, more power to you. But if painting your pool doesn't exactly sound like the most fun you could have, you may want to hold off until new pool paint is absolutely necessary.
Be on the lookout for a few things to know when that time comes.
The Pool Paint is Stained or Faded
Any paint fades over time, especially outdoors where it's exposed to the elements, and especially pool paint that's exposed to chemicals. You may also see some stains if your water has high metal or mineral content.
Before undertaking a huge paint job, you can acid wash your pool. The acid will remove dirt, scale, and stains, and can dramatically improve the appearance of your pool, depending on how dirty and stained it is.
If an acid wash doesn't work, or if you just prefer, you can also apply new pool paint to brighten up a faded pool, and cover up stains and waterline rings.
Note: You won't want to just paint directly over stains and scaling. Just like any other paint job, you'll need to prepare the surface, which will include cleaning and possibly sanding. No amount or type of paint magically covers surface problems. They will eventually make their way through the new coat and you'll be right back where you started.
Our Top Pick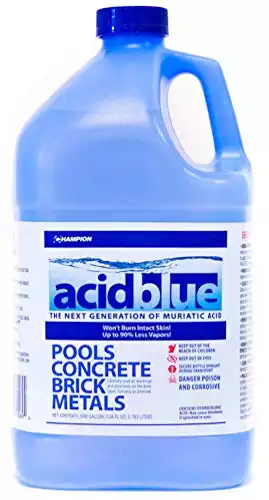 Muriatic Acid for Swimming Pools
Used for lowering alkalinity and pH in your pool water. It's also used for cleaning pool filter grids, filter cartridges, and concrete pool surfaces.
Buy Now On Amazon
If you click this link and make a purchase, we earn a commission at no additional cost to you.
The Paint is Slippery
Because they're waterproof, pool paints are slippery. This can sometimes make getting out of the pool more difficult, and may even pose a safety issue if you have small children or pets. And if the steps are slippery, anyone can slip and fall.
If your pool is slippery, you can fix the problem with a new paint job in one of two ways.
First, you can mix a few tablespoons of very fine sand or soft rubber particles into the paint you use on the steps, any swim outs or benches, and perhaps the shallowest part of the pool.
Alternatively, you can broadcast a few tablespoons of soft sand over the steps after you've painted them.
Important: Don't use more than just a few tablespoons of sand in or on the paint. Any more than that, and the steps and benches will be gritty and even painful to walk or sit on. Too gritty, and they may even damage wet skin.
The Paint Has Bubbles or Blisters
If this is an issue in your pool, you may not have to repaint the entire surface. Pool paint will blister if the surface was not prepared properly. As with any paint, pool paint needs to be applied to a clean, dry (unless you're using acrylic paint), and at least mostly smooth surface.
If the surface was dirty, wet, or had any rough spots, you'll eventually see bubbling. It could also be that the paint was applied too thickly, or the surface was too hot.
Whatever the cause, if your pool paint is blistering, you can just repair and repaint those spots rather than the entire pool. Of course, if your pool surfaces are also faded or stained, or suffering any other problems, it's a good idea to paint the entire pool while you have it emptied.
Important: Mid-summer is not the best time to paint your pool. The hot surface will cause the paint to eventually blister. Wait for fall or winter (if it's mild where you live), and paint during cool, dry weather.
The Paint is Chalky
This actually isn't a problem with the paint. It's about your pool chemistry.
If you don't keep your water chemistry balanced—specifically the pH and alkalinity levels—or if you use too much or too many harsh chemicals, the pool paint will eventually start to break down. When this happens, the pool surface will become chalky. You'll notice a white, powdery residue that will rub off on your hands, feet, and bathing suits.
The pool water will also become hazy, and won't clear up no matter how much you shock it. In fact, calcium hypochlorite shock can contribute to chalking over time.
Once this occurs, the only solution is to repaint the pool. And then make sure to keep your water chemistry properly balanced to avoid future chalking.
Note: We think calcium hypochlorite is the best pool shock you can use. To reduce the effect it may have on your paint, simply dissolve it in a bucket of warm water before adding it to your pool. If you prefer, you can use non-chlorine shock instead.
Our Top Pick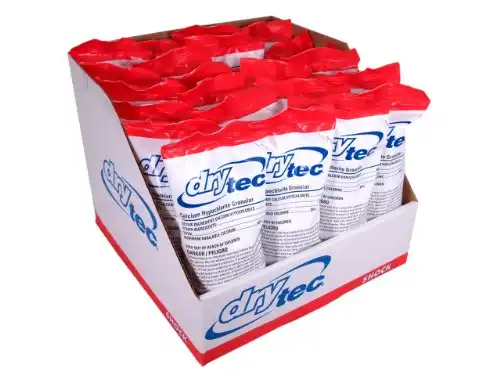 Frustrated by adding chemicals and trying to keep your pool clear all the time?
We cut out all the confusion of pool maintenance in this easy-to-read illustrated ebook and video course. It'll help you save $100 right away on pool care!
Click Here to Learn More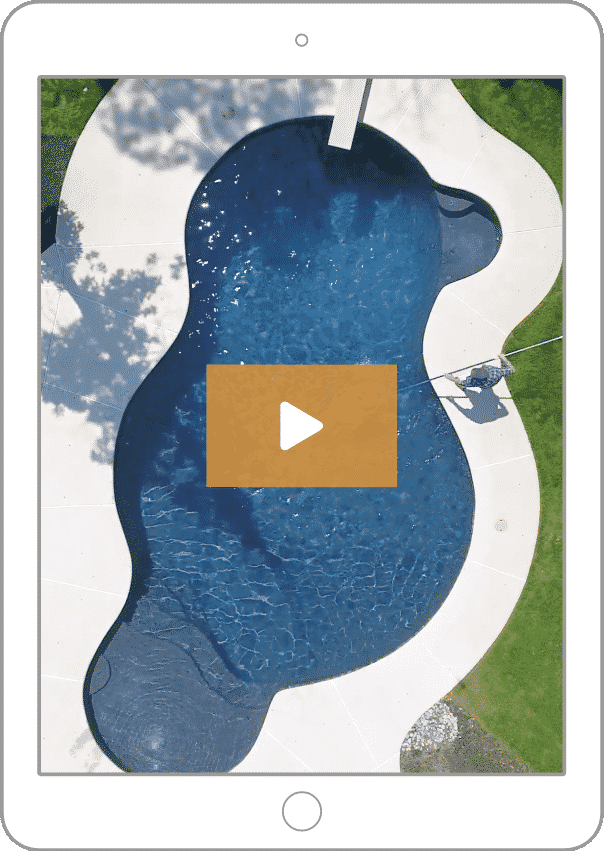 Pool Paint Types
You have three primary types of pool paint to choose from.
Epoxy Paint
Water-Based Acrylic Paint
Premium Acrylic Paint
What About Rubber Paint?
We have just one word for this type of paint: nope. Chlorinated and synthetic rubber paints are chemically resistant, which is why people starting using it to paint swimming pools. However, the substances that make rubber paints resistant to chemicals are polychlorinated biphenyls, or PCBs, which are known to cause detrimental neurological, reproductive, and endocrine effects, as well as cancer and other conditions.
PCBs are no longer produced in the United States, but not all paint is manufactured in the United States. You'll still find chlorinated and synthetic rubber paints available from some manufacturers and retailers, but we highly recommend using one of the other three types to protect the people who swim in your pool from being exposed to PCBs. It's not worth the risk.
Before You Choose a Pool Paint
If you're starting with a brand-new pool, you can use whatever type of pool paint you prefer, as long as it's compatible with the pool's surface.
But if your pool is already painted, you need to know what kind paint is already on it. Ignore either of these two important factors, and you could have a mess on your hands.
Identify the Existing Paint Type
If you're not the one who painted your pool, it's pretty easy to figure out what kind of pool paint was used.
If these tests are inconclusive, or you're just still not sure what kind of paint is on your pool, you can send a small paint chip to a paint manufacturer called Ramuc, and they will analyze it for you. Other paint manufacturers may offer the same service.
Once you've determined what kind of paint you're working with, you can choose one that's compatible with both the surface and the existing paint, and will give you the best finish and performance.
Denatured Alcohol
Odorless and Smokeless Flame in alcohol-burning appliances.
Buy Now On Amazon
If you click this link and make a purchase, we earn a commission at no additional cost to you.
Time to Call in a Pro?
If all of this still sounds too daunting, you're not sure how to drain a pool in order to paint it, or you just don't have the time or the inclination to paint your own pool, you can always call in a professional. Just be prepared for the increased expense as you'll not only have to cover materials, but labor as well.
Paint Your Masterpiece!
Well, OK, maybe not quite a masterpiece. But we guarantee that once you've painted your pool, you'll feel a tremendous sense of accomplishment, as you should. It's a big job! But it's not an impossible one.
As long as you properly identify your current pool surface and paint types, and then choose the correct pool paint, you'll be on your way to a bright, new surface that will make your pool even more beautiful than it was before. And hey, go ahead and sign that baby when you're done. It's not every day you create such a large piece of artwork, right?
Happy Swimming!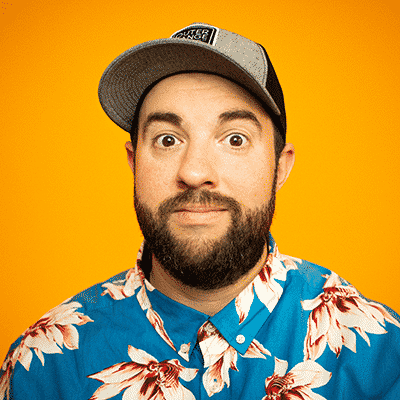 Matt Giovanisci is the founder of Swim University® and has been in the pool and spa industry since 1995. Since then, his mission is to make pool and hot tub care easy for everyone. And each year, he continues to help more people with water chemistry, cleaning, and troubleshooting.
A Cheat Sheet For Perfectly Balanced Pool Water and Crystal Clear Swimming
Download this FREE printable cheat sheet to keep your pool clean and clear without any fuss. You'll never worry about your pool again with this easy-to-use guide.
Click Here For The FREE Cheat Sheet