Have you been wishing you had a nice, big tree near your pool to throw some shade across the water? Swimming on a sunny day is fantastic, and one of the reasons you love having a pool. But sometimes, it'd be nice to take a little rest in a shady spot without having to get out of the water.
The solution? A pool umbrella. It may be more expensive than a tree, but there's no work to plant it, and you don't have to wait years for it to grow and actually provide that shade you're looking for. Made to be in the pool or right next to it, with or without lights and speakers, you can find one that fits your style and your pool.
Why Get a Pool Umbrella?
As if you don't already have enough pool accessories, right? That may be true. But unlike some accessories that are just fun, this one's also functional and offers several tangible benefits.
While some umbrellas are built specifically for pool use, you can always place a large patio umbrella near the pool's edge and get the same benefits. But you got a pool to swim in the sun, right? So why would you bother with a pool umbrella? Well, for a few reasons.
Avoid Sunburn and Skin Damage
You already know a sunburn is painful and that sun damage can cause everything from leathery wrinkles to skin cancer. Even if you're diligent about slathering on a good amount of water resistant sunscreen, that only lasts so long, and you can still get burned. This is especially true if you have sensitive skin.
Putting a pool umbrella either in the water or on the deck next to the pool edge can give you a spot to rest and give your skin a break from the harsh sun. It'll also be just a little cooler under there.
Protect Kids From Sunburn
When your toddler is just learning how to swim, having a shady spot to splash around in will let them enjoy the pool while protecting their delicate skin from the sun. Don't forget the sunscreen for them too, though.
Give Seniors a Shady Spot to Exercise
Seniors like to spend time in the pool just like anyone, and maybe even do some exercise in it because it's easier on their joints.
But standing in the hot sunlight for half an hour doing water aerobics isn't any fun. A pool umbrella can provide a shady area where the seniors in your life can have fun and stay fit without worrying about heat stroke.
Give Your Pool-Loving Dog Some Shade
Yes, your dog is covered with fur, which protects her from sunburn—except on her snout. The hair on a dog's snout is extremely thin—more like fuzz, really—and there's no hair on her nose at all. Without protection, she can get sunburned quite easily.
Granted, she probably won't want to just stay under the umbrella, so double up on protection by applying a sunscreen for dogs, specifically for her nose and snout.
Important: Even when it's labeled "all natural," always check with your vet before applying any kind of product to your dog's skin. Better to check first than inadvertently apply something harmful and have a sick dog and vet bills to take care of.
Spend More Time in the Pool
If you have kids, you know it practically takes a crowbar to get them out of the pool. You don't want to leave them unattended, but you also don't want to get a sunburn.
Put up a pool umbrella, and you can stay out with them a little longer and be more comfortable while they get all pruny.
To take advantage of these benefits, it's just a matter of finding the right pool umbrella for your needs and your setup.
Frustrated by adding chemicals and trying to keep your pool clear all the time?
We cut out all the confusion of pool maintenance in this easy-to-read illustrated ebook and video course. It'll help you save $100 right away on pool care!
Click Here to Learn More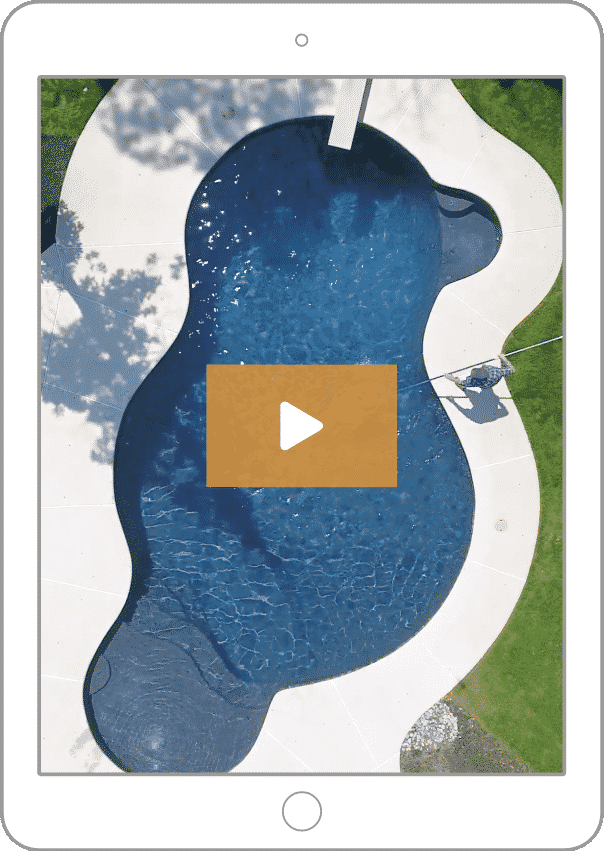 4 Best Pool Umbrellas
If you've seen one pool umbrella, you've seen 'em all, right? Not so fast, sparky! We found a few with some cool features to help keep you, uh, cool.
1. Purple Leaf Double Top Offset Square Patio Umbrella
This 10-foot square pool umbrella offers multiple height and angle options to block the sun from any direction. Its high-quality polyester fabric is UV resistant, waterproof, and won't fade from sun exposure. The fabric is also easy to clean.
The heavy-duty aluminum ribs and steel frame are sprayed with an anti-oxidation coating for longevity. A storage cover and base are included, but you'll need to get base weights separately to keep it from blowing over on a windy day.
2. Le Papillon Double-Sided Aluminum Patio Umbrella
Planning a party? Cover an even larger portion of your pool with this 15-foot umbrella. It's easy to operate with a crank lift, and features not one or two, but three wind vents at the top. They increase air flow for added comfort, but the vents also reduce wind pressure to keep the pool umbrella more stable. The polyester fabric is durable and easy to clean.
Be sure to pick up the matching base so the umbrella won't fly away like its namesake. The base is made from heavy-duty, weather-resistant plastic, and can be filled with water or sand for added stability.
3. KINGYES Offset Cantilever Umbrella
Thanks to its offset cantilever design, you can set this umbrella near the edge of your pool, and enjoy its full 10 feet of shade. The fabric is heavy-duty, waterproof, fade resistant polyester made to block UV rays.
The crank makes it open to easy and lift, and the 360-degree rotation makes opening and closing this pool umbrella easy. The frame is constructed from heavy-duty, powder-coated steel to protect against rust, corrosion, chipping, and peeling. Note that you'll need to weigh the base down to keep it stable in windy conditions.
4. Ainfox Solar Patio Umbrella with LED Lights
Just when you thought all these pool umbrellas were pretty much the same, there's this one with built-in LED lights! A total of 32, to be exact—4 lights on each of the 8 ribs. They're dimmable to you can turn them up for an evening card game in the pool, or lower them for a cozy, romantic evening in the water.
Not only that, the lights are solar powered, providing light for 6 to 7 hours. You'll find the small, round charging panel at the very top of the umbrella, where it's unobtrusive yet effective. Made from high-quality, waterproof, fade-resistant polyester, the 9-foot umbrella is made to last.
4 Best Pool Umbrella Accessories
Even if the pool umbrella you choose doesn't come with any neat accessories like drink holders and lights, don't despair. You can get those separately, and create a custom mini-sanctuary under your umbrella, ella, ella, eh, eh, eh.
5. Best Choice Products Square Umbrella Base
Does the pool umbrella you want to get not come with its own base? No problem. This base's sturdy 4-plate design is built to keep most offset umbrellas secure. Each plate features an easy-to-fill spout, and can hold 13 liters of water or 44 pounds of sand to help keep the umbrella upright when it's windy.
This base is made from heavy-duty, weather-resistant plastic, so it's durable and easy to clean. It doesn't require any assembly other than filling the plates. Remember to double check all the measurements to make sure it'll fit your umbrella stand.
6. DC America Stone Umbrella Base
Love the look of metal but not the possibility of rust? Here's the answer. This umbrella base is made from cast stone, but has a bronze finish, so it'll be just as sturdy as metal, but without the rust worry.
This 18-inch base comes with plastic inserts that will allow for a 1- or 1.5-inch pole, and without the inserts, it'll hold a 2-inch pole. Be sure to measure your pool umbrella first to make sure it will fit.
7. OYOCO Patio Umbrella with Cordless LED Lights
If your pool umbrella didn't come with lights pre-installed, you can add them yourself, no wiring necessary! This umbrella attachment features 28 lights total—24 bright, and 4 super-bright. By simply pressing a button, you choose whether you have 4, 24, or all 28 lights on depending on your mood or activity.
No tools are required to install this accessory. It attached to your umbrella pole with an adjustable clamp that will fit poles from 0.86 inch to 1.81 inches. You can't get much more specific than that. The light attachment requires 4 AA batteries, and comes with a 1-year warranty.
8. MYARD Umbrella Tray
Isn't it a pain to have to get out of the pool and run to the patio every time you want a sip of a cool drink? Well, stop doing that! Instead, get this multi-function pool umbrella tray to hold your drink, snacks, sunglasses, phone, whatever you need to keep nearby when you're hanging out in the pool.
It's made from weather-resistant, anti-UV plastic for durability and longevity. The tray measures 15 inches in diameter, will fit umbrella poles up to 1.5 inches in diameter, and holds up to five pounds. All you have to do is slide it onto your umbrella pole to whatever height you wish, attach the included adapter, and tighten the included plastic screw to keep it in place. It comes with a 1-year manufacturer warranty.
Cover Up, Buttercup!
Stop waiting for that tiny palm tree you planted to sprout up overnight. Get instant shade with a pool umbrella, and then add an accessory or two to really get the most out of your now-cooler pool time.
Happy Swimming!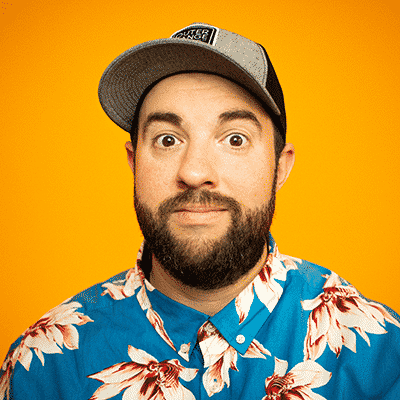 Matt Giovanisci is the founder of Swim University® and has been in the pool and spa industry since 1995. Since then, his mission is to make pool and hot tub care easy for everyone. And each year, he continues to help more people with water chemistry, cleaning, and troubleshooting.
A Cheat Sheet For Perfectly Balanced Pool Water and Crystal Clear Swimming
Download this FREE printable cheat sheet to keep your pool clean and clear without any fuss. You'll never worry about your pool again with this easy-to-use guide.
Click Here For The FREE Cheat Sheet