It's easy to get so caught up in maintaining your pool that you forget it's actually there to enjoy. Keeping your water balanced and clear can sometimes feel like a full-time job. We get it.
That's all the more reason to add some pool accessories that will put some of the enjoyment back into your back yard. And you don't have to spend a ton of money to do it, either.
The Best Pool Accessories are Fun or Functional
Or a combination of the two. Take LED pool lights, for example. They're great for seeing during night swims, but can also add color and sparkle to your pool.
Don't stop there. How about a pool float with a canopy? A patio table and cooler combo? Or maybe a towel warmer? Doesn't matter whether you have an inground, above ground, or Intex pool, we found a little bit of everything for you.
1. Wireless Floating Pool speaker
It's just not a pool party without music. Before you place your speakers to face outside, turn your stereo up to eleven, and annoy the heck out of the neighbors, get a couple of wireless floating pool speakers instead.
These are completely waterproof, and offer several volume levels and a powerful subwoofer for rich stereo sound in crisp high definition. You can connect it to your smartphone, tablet, or computer to access your favorite playlists, and easily control the volume and other functions from your device.
Floating Bluetooth Speaker
Waterproof Bluetooth speakers for 100% protection against water and dust, rubberized rugged exterior for ultimate impact resistance. Enhanced bass and loud volume: 10W subwoofer for loud sound and three passive radiators for rich bass.
Buy Now on Amazon
If you click this link and make a purchase, we earn a commission at no additional cost to you.
2. Poolmaster Pool and Spa Waterfall Fountain
You know how important pool circulation is. Sure, you've got the pump and everything, but a well-placed fountain can not only be pretty and cooling, it can help move your pool water around even more. Win-win!
This fountain's spray height and direction are fully adjustable. It fits most 1.5-inch threaded return fittings, and works for both inground and above ground pools. It's also super easy to install, so what are you waiting for?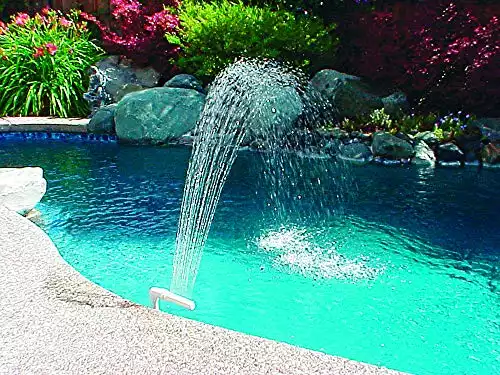 Poolside Fountain
Buy Now
If you click this link and make a purchase, we earn a commission at no additional cost to you.
09/18/2023 04:54 am GMT
3. Swimline FrogLog Critter Saving Escape Ramp
You may not think of this particular pool accessory as being about fun, but consider for a moment how NOT fun it would be to swim in a pool with poor little drowned frogs floating around. So this little escape ramp helps our amphibian friends make their way out of the pool, and keeps you from having the sad duty of removing little froggy bodies from the water.
This ramp isn't just for frogs, though. Squirrels, mice, birds, snakes, rabbits, and even bees can benefit. Helping those critters get out of your pool also means less cleaning for you. It's so to easy assemble and place, you may even want to get a few of them to place around the pool.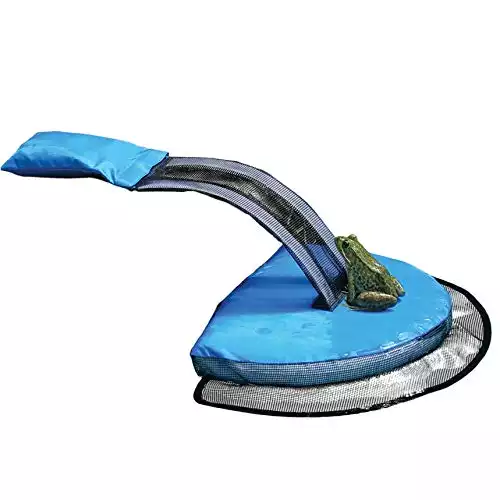 4. Aquatix Pro Aluminum Pool Accessory Hangers
Leaving your telescopic poles, your skimmer, your vacuum hose, and any other essential pool accessories lying on the ground is just asking for trouble. They're much more likely to be damaged, and won't last as long as if you keep them up off the ground where they can dry and be protected. Plus, leave them on the ground, and someone's bound to trip over them eventually.
Put a few of these equipment hangers on your fence, and clear your pool deck making it more attractive and much safer. These hangers are made from heavy-duty, lightweight, rust-resistant aluminum, and can hold up to 33 pounds each. Don't have a fence? You can also mount them on concrete walls, metal posts, vinyl siding, or pretty much anywhere else. They also come with all the mounting hardware, and a 100% money-back guarantee.
5. Brookstone Towel Warmer
This isn't just for the bath or spa! Heck no! Plug this baby in on the patio, and always have a nice, warm towel waiting for you when you get out of the pool. This extra-large capacity towel warmer can hold up to two oversize towels, or a few smaller ones.
It keeps your pool towels at a perfectly toasty 120°F (49°C), and has an auto shutoff so you never have to worry about anything overheating and being damaged. It plugs into any standard 120V AC outlet.
Note: Anytime you plug something in near water, it's best to use a GFCI outlet for safety. If you don't have one near your patio, you can install one. Or, if you're not comfortable working with electrical components, check with a professional electrician about having one installed.
6. Pool & Spa Footbath
You spent all morning skimming your pool, pulling every last leaf and twig out of the water, making it nice and clean to have guests over to swim. Then they arrive, walk through the grass, jump into your pool, and you're left with another chore—skimming out all that grass and debris after they leave. Almost makes you want to call the whole thing off.
No more! Just set this durable little plastic footbath on the deck near the steps, and everyone can rinse their feet off before they get into the water. Your water will stay clean, they'll swim in a clear pool, and you'll have a lot less work to do later.
Pool & Spa Footbath
Buy Now
If you click this link and make a purchase, we earn a commission at no additional cost to you.
09/19/2023 01:27 am GMT
7. Inflatable Flamingo Drink Holders
You MUST get these drink holders, if for no other reason than they're cute little flamingos! But they're also useful.
They'll securely hold your drink, and they're designed to not tip over while they do it. And come on, who doesn't want cute little flamingos floating around the pool?!
Frustrated by adding chemicals and trying to keep your pool clear all the time?
We cut out all the confusion of pool maintenance in this easy-to-read illustrated ebook and video course. It'll help you save $100 right away on pool care!
Get Instant Access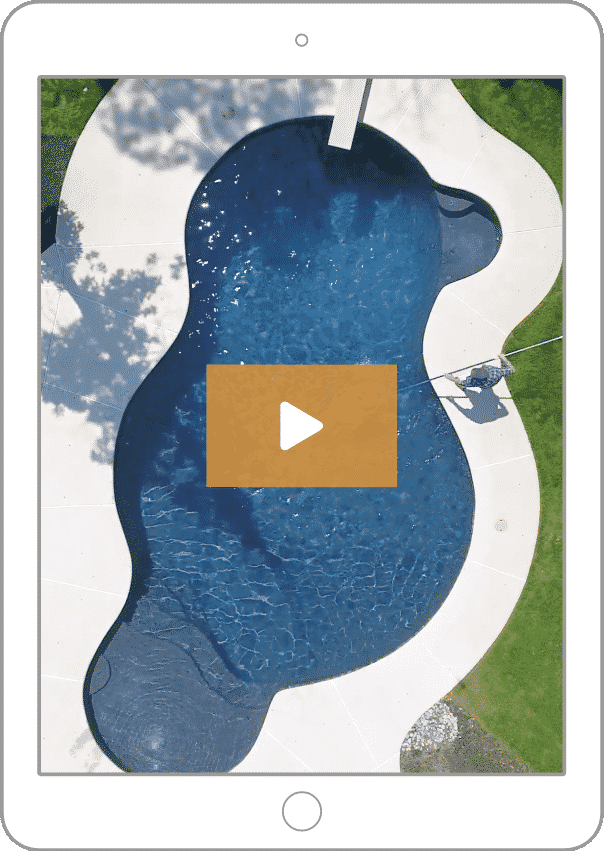 8. Pool Toy and Float Storage Bin
Does your back yard look like a pool float factory exploded? Yeah, we've been there. Time to get it together with a storage bin to keep all your pool accessories in one place. They're protected, and no one will be tripping over noodles. Have fun explaining that one to the ER nurse.
This storage bin is made of high-quality mesh, which allows air to circulate so your pool toys will dry. This also decreases the chance of mold cropping up on them or the storage bin itself. Yuck. It requires no tools to assemble, which is a big plus in our book, and it has wheels to make it easy to place wherever you want, whenever you want.
9. Intex Canopy Island Inflatable Lounge
Don't let the brand name fool you. This super comfy pool lounge can be used in any type of pool as long as there's water in it. Well, maybe not a kiddie splash pool, but you get our meaning. It has a back rest so you can relax as you float around the pool, and the sun shade will help keep you cool and fend of sunburn.
But when you're ready for a little more sun, that sun shade is easily detachable. You'll also find two built-in cup holders—one for water to keep you hydrated, and the other for your favorite summer beverage. It also comes with a repair patch, just in case. It's got everything!
10. Outdoor Cooler Table
OK, so you don't really need a pool for this one. But you know why it's perfect if you do have a pool? Because no one will have to go inside, dripping pool water all over your floors, just to get a drink. That alone makes this cooler/table combo worthwhile.
The cooler's capacity is 7.5 gallons. Set a couple of these out for your pool party, and you'll have a hard time running out of drinks! When things cool down, you can close the cooler part, and just use it as a sleek, contemporary design patio table.
Outdoor Cooler Table
This ice bucket comes with sufficient inner space to accommodate 8 gals of drinks, making you feel convenient for outdoor activities such as party, BBQ etc. It also has a drainage plug inside the cooler to easily drain out melted ice and water.
Buy Now On Amazon
If you click this link and make a purchase, we earn a commission at no additional cost to you.
11. Fill-O-Matic 2000 Swimming Pool Water Leveler
Your pool water needs to stay at a certain level for the skimmers to work properly, which helps your filter work properly. But a lot of swimming and splashing around can bring that water level down pretty quickly. Set up this pool water leveler, though, and you won't have to worry about a thing.
It works with both inground and above ground pools, regardless of liner type. The rubber base keeps it in place so it won't fall into the pool, and the brass, acrylic, and stainless steel hardware and connectors ensure it'll keep working for years to come.
12. Intex Clear Color Tube
Usually, our best advice is to spend a little more on your pool because you're investing in its long-term care and use. But in this case, a few cheapie inflatable tubes can be a lifesaver. (Get it?!)
Next time you have a bunch of people over—especially a bunch of kids—leave the more expensive pool floats in the shed and break these out instead. Everyone can have fun with a float, and if one of them pops or is otherwise damaged, you're only out a few bucks instead of a few dozen. Besides, they're cute and colorful, and measure 36 inches in diameter, so they're perfect for just about anyone.
13. Gemmy Deluxe Inflatable Movie Screen with Storage Bag
Yeah, we know. This technically isn't a pool accessory. But come on. A giant inflatable movie screen?! Are you seriously saying that wouldn't look good at one end of the pool while everyone floats around watching, say, Jaws? You wanna get on that right now and you know it.
The screen measures 123 inches by 70 inches, and the entire unit measures 12 feet high by 11.5 feet wide. It includes stakes and tethers to keep it in place during your double feature, and a storage bag for when movie night is over. This movie screen also has two built-in fans for fast and easy inflation. Start popping the popcorn now!
14. Aqua Monterey 4-in-1 Inflatable hammock Pool Float
It's a lounge chair, it's a hammock, it's a convertible pool float! It can also be a drifter and an exercise saddle for when you feel like working out in the pool. The woven fabric is not only comfortable, it keeps you cool while you're floating around.
This 4-in-1 float measures 54 inches by 27.5 inches and can hold up to 250 pounds, so it can accommodate just about anyone. It's easy to inflate and deflate, and even easier to use.
Time to Accessorize!
Next time you have to buy some necessary pool supplies, why not throw in a few fun pool accessories? Choose a few with function, and you can easily justify your purchases as being "necessary." We won't tell.
And hey, what time should we be over for the movie?
Happy Swimming!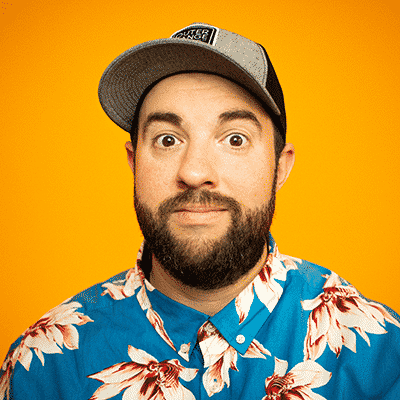 Matt Giovanisci is the founder of Swim University® and has been in the pool and spa industry since 1995. Since then, his mission is to make pool and hot tub care easy for everyone. And each year, he continues to help more people with water chemistry, cleaning, and troubleshooting.