So you just installed a beautiful new above ground pool. Your water levels are normal and it is properly balanced, your work is finished, right? Wrong.
Now that your new above ground pool is in, it is time to think about how to landscape around it to create a beautiful space that you and your friends can enjoy each year. There are many things you can do that will beautify the space around your pool as well as make it more functional. Let's take a look at some of the most common ways you can landscape around your above ground pool that will provide not only a much better look, but also a much more functional space for you to enjoy.
Decking
The first bit of landscaping you should consider once you complete your pool installation is a pool deck. Your pool deck will not only look great, it will also give you easy access to your pool when you want to get in and out of the water. Do it right, and you won't have to have one of those ladders on the side of your pool that goes all the way to the ground.
There are three main types of decking you can choose from:
Standard resin – This type of deck is typically offered by the same companies that sell above ground pools. These can easily coordinate with your pool for a seamless look and may even include covering so you can protect your pool more easily.
Wood – By far the nicest of all the options, at least in my opinion, a wood deck can be built to the exact size you need. When you build your deck, you can customize it however you want it. Want an area to lounge on? No problem. Maybe a multi-leveled deck would really set your lawn apart. The options are endless.
Composite – Finally, if wood requires too much maintenance or you are worried about splinters, you could choose a composite option. This will give you the look that you want much like wood but without the worry of splinters. It also requires much less care.
Whatever you choose, make sure to get exactly what you want. If you can afford it, don't try to skimp on the deck. After all this will become a focal point of your lawn, so you should invest properly to get a high-quality deck that looks and feels just like you want it.
Furniture
While this is technically not landscaping, once you have completed your deck you may want to consider adding some types of lawn furniture for you and your guests to sit down and enjoy your pool. With the right furniture, you can transform your pool into a real showplace that you can use for many different activities. From small gatherings with friends to large parties to just a nice quiet afternoon all to yourself, the addition of furniture in and around your pool can truly transform the space into something you will enjoy all summer long.
Frustrated by adding chemicals and trying to keep your pool clear all the time?
We cut out all the fluff and confusion of pool maintenance and stripped it down to the bare bones in this easy-to-read illustrated ebook and video course.
Click here to learn more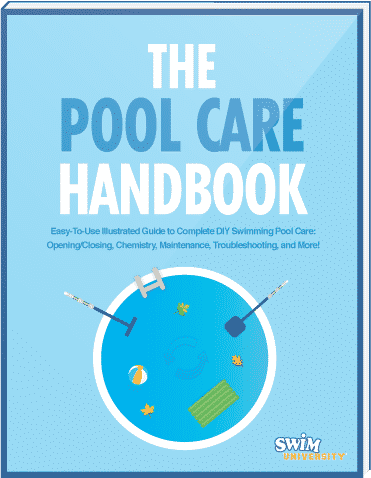 Plants
Once your deck is in place, it is time to check your green thumb. By adding a few flowers, shrubs and other plants, you can really spruce up the place so it looks its best. First, add a layer of mulch around the pool area and plan house plants and shrubs of your choosing. Evergreens make a great choice as they will look good all year long, but choose the shrubs you like best.
If you are looking to add a little color to your new garden, try blooming perennials and maybe even try something that will cover the entire ground. What you choose is entirely up to you and your tastes. With the right balance of green and other colors, you can really create a place that you will proud to show everyone you know.
Just make sure that whatever plants you choose will thrive in the lighting conditions and soil conditions of your lawn. If they won't, you could have a tough time getting them to take root and you will probably end up having to replace them as you simply won't be happy with the results.
Trees
Trees are another great way to really set your pool area apart from all the rest. They can add some much-needed shade to your area and, once they've grown up a bit, will add a bit more privacy to the pool area. Just be careful about what trees you choose. Do your homework and figure out which trees don't lose a lot leaves during the season, especially in the summer when your pool will be open.
In the fall, make sure you cover your pool to prevent the excess leaves from falling into your pool. Remember, trees with hardy, large leaves work best. If you choose badly, you will be skimming leaves out of your pool every day for the entire swimming season.
An above ground pool can be a great investment, but your investment doesn't stop once the pool installers leave. Take the time to landscape around your pool and build yourself the perfect outdoor area for your family and friends to enjoy. You will be glad you did.
Happy Swimming!
Frustrated by adding chemicals and trying to keep your pool clear all the time?
We cut out all the confusion of pool maintenance in this easy-to-read illustrated ebook and video course. It'll help you save $100 right away on pool care!
Click here to learn more